The Film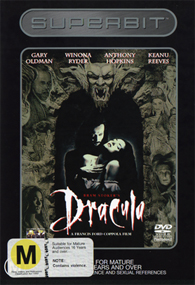 When Frances Ford Coppola was making this film his production company American Zoetrope was in a serious financial situation. Much like when he was filming Apocalypse Now he in fact had to mortgage whatever he had and sell off assets to complete filming. In this case Zoetrope was on the verge of bankruptcy. Dracula saved them, the earnings from the film where enough to bring the company back to the surface. It was a risky choice none-the-les for the iconic director, the Dracula story is one of the most adapted pieces of horror property in cinema. How do you tell a story that almost everyone is familiar with and has been so cinematically for over 80 years since the dark prince's silver screen debut in F.W. Murnau's 1922 classic Nosferatu. Since that time both the character and story have seen many creative licences taken, so instead Coppola did an adaptation of the original Bram Stoker novel, with a few changes made for cinematic reasons.
Young real estate lawyer Jonathan Harker (Keanu Reeves) has been given an assignment to travel to Transylvania have a deed signed from the elusive Count Dracula (Gary Oldman) who has recently purchased land in London.
Harker soon finds himself in a gothic nightmarish village, at the top of which, is Dracula's castle. It is not long before the Count encounters a photograph of Harker's love Mina (Winona Ryder) that he is reminded of his once upon a time love Elizabeta. Entranced by her image the Count imprisons Harker in his castle to travel to London in search of his long lost love.
The Count seeks Mina and begins a torrid reign of seduction, but in order for Dracula to remain among the living he requires life and blood of others. Using the life of Mina's closest friend Lucy (Sadie Frost). Running a high fever brought on by a bite mark to the neck her friends and family begin to worry about her health and the famous Professor Abraham Van Helsing (Anthony Hopkins) is brought in to examine the poor girl. He discovers something sinister and suspects a Vampire at work, Harker's escape and subsequent return to London with tales of the unordinary regarding Dracula's hold on him only solidify Van Helsing's suspicions and the hunt for Dracula is on.
It's been quite some time since I've seen this film and I was looking forward to it immensely. I remembered certain images that stood out from the last time I viewed the film. Images that were haunting and beautiful, melodic and nightmarish such as the train ride Harker endures to Transylvania as he's dictating a letter to Mina. The image of Dracula walking across the frame as if he's floating with his menacing shadow emblazed on the gothic walls of his castle, and most certainly the scene in which he licks the blood off of Harker's razor. Coppola had a distinct vision for this film and the mood and atmosphere he created can be described as an elegant nightmare. His portrayal of the vampire's lifestyle as romantic and sensual lent an eerie and disturbing feel that leaped from the screen. These themes where aided by audacious performances from his amazing cast with the exception of Keanu Reeves, who even Coppola openly criticized his own reasoning for casting him as he needed a hot young star to lure in the girls. Aside from Reeves' less than excellent but not entirely awful turn as Harker, it's Oldman who owns this film. His performance demands power and respect, he's not just playing the Count he is the Count, the raw emotion comes through in spades for what is certainly one of cinemas most memorable character performances. Hopkins and Ryder also bring their experiences and presence to the film in stirring fashion. The scenes in which, Ryder shares with Oldman are nothing short of amazing, considering rumours where abound that the two could not get along on set and constantly battled with each other, if this was the case they should be lauded as the two of the greatest actors in the world considering their electric onscreen chemistry.
Coppola has created a visually stunning rendition of one of horror cinema's most prolific villains. A dark sensual tale that will leave you excited and drained (pun intended). The vivid imagery combined with fine talent make for an excellent film.

Video


Although the packaging states that the ratio is presented in 1.85:1, it is actually 1.78:1, I found that image clarity and sharpness is consistent throughout the film. Additionally colour representation is bright and rich, black levels (of which, there are plenty of in this film) are bold and well defined as are shadow detail I could not spot any major problems in these areas, however the transfer is not as perfect as would have liked. Film grain is evident throughout some of the film and the occasional artefact appears on screen usually in the form of white sparkle and more than just the occasional black spots. Aside from these minor problems they were never a direct annoyance and this transfer is still considerably better than the previously released non-superbit version.

Audio


This disc features two soundtracks both in English, one in Dolby Digital 5.1 and the other in DTS 5.1. I had the opportunity to test out both soundtracks, the Dolby Digital 5.1 track is generally very good, dialogue was always clear and distortion free, the sound mix itself was very impressive demonstrating wonderful use of the 5.1 space, atmospheric surrounds are well utilised to enhance the track. Additionally the music is also balanced rather well in this track and is never overbearing. There were drop-outs in the audio that I noticed but this occurs rarely and is not a fault of the soundtrack mix but possibly due to the original source. The DTS demonstrates the same quality as the Dolby Digital, but this track has the edge only slightly, it trumps the Dolby track with its broader range mix, the surround activity, music and bass had considerable more depth.
This disc also features optional subtitles in English, English for the hearing impaired, Dutch and Hindi.

Extras


Superbit releases use the entire disc space for the image and sound transfers, so feature no extras.

Overall


Bram Stoker's Dracula is a stunning, well-acted and engaging vampire horror that remains faithful to its literary source, the romanticised imagery of blood, pain and eternal life are brought to the screen by legendary filmmaker Frances Ford Coppola. Dracula ranks as on of the top vampire movies ever made and it's just as good now as it was on first viewing. Sony's superbit DVD presents the film with a good transfer that is considerably better than the previous release and have included two very strong soundtracks to choose from including an impressive DTS track.
| | | | | |
| --- | --- | --- | --- | --- |
| The Film: A- | Video: B+ | Audio: A- | Extras: | Overall: B+ |