The Film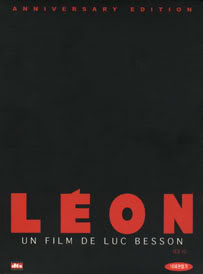 What ever happened to Luc Besson? It seemed that for a while he was making some of the most kick ass movies, La Femme Nikita, Lťon and The Fifth Element every time I saw a poster that read A film by Luc Besson Iíd buy a ticket right away and be entertained for two hours. That was before he started producing fogetable martial arts films and not directing anything since 1999ís long winded epic The Messenger: The Story of Joan of Arc. Having a quick glance at his IMDB listing he has 15 projects listed as a producer in some stage of development. It seems we may have a French Quentin Tarantino on our hands delivering a new movie as a director once every 5 or 6 years. We wait in anticipation, in the mean time we can at least check out the filmmakerís previous action masterpieces on DVD, bless the DVD gods for such a fine gift indeed.
Lťon AKA Lťon: The Professional as known to western audiences has had itís day on DVD many times before, ten years after itís original release the film gets another release. This time a deluxe version with a nice new Superbit transfer and a DTS track! Before we get into the DVD specifications mumbo jumbo, letís take a quick look at the film that made Jean Reno a household name and introduced the world to a lovely young actress who would later become the mother of Luke and Leia in Star Wars, Natalie Portman.
One day 12 year-old Mathildaís (Natalie Portman) life gets turned upside down when her entire family is brutally murdered by corrupt cop Norman Stansfield (Gary Oldman). Taken in by the mysterious Lťon (Jean Reno), a neighbour in the same apartment building. Mathilda, dealing with her familyís death most notably her little brother whom she loved so much eventually discovers Lťonís unusual profession, a professional hit man. Eager to learn the ropes, she persuades him to teach her the ins and outs of professional assassinations. Lťon, overwhelmingly takes care of her and unofficially adopts Mathilda into his life. Eventually Mathilda uses her training to seek revenge on the cop that killed her little brother, an act that ends in a confrontation that leads Lťon against the entire New York Police force.
Many people that I know who are fans of this film all talk about how the action is intense, thrilling and mind-blowingly fantastic and is grounded in reality unlike a lot of the - check your brain at the doorí fare we see and thatís the filmís strongest element, but I disagree I think that itís a nice bonus, but what makes this film so engaging are the characters. Besson nailed them as people that we can relate to and that allows us as an audience to accept the situation that Mathilda was thrown into and the subsequent ride that became the thrust of the film. How many action films show a human side to the characters? I can never relate to action film characters that are super heroic who blow s**t up all the time, shoot millions of rounds of bullets and save the world and doesnít even get a scratch. Iíve seen so much over the top bulls**t in movies that once in a while itís refreshing to see a hit man character taking care of a plant and making sure the girl he unofficially adopted drinks her milk. And Reno and Portman do a great job at making these characters real most importantly in their relationship, Reno adds a certain clumsy charm to the icy killer that takes the edge off and Portman delivers a performance thatís wise beyond her years and proves that she has the chops to act with the best of them and is achieving that to this day. One canít comment about the characters and the performances in this film without brining up the always amazing Gary Oldman, playing the corrupt cop Stansfield. Oldman plays the filmís villain in a performance that can be described as comic but not in the funny ha ha way. I mean comic in that over-the-top, twisted and sinister kind of way, in many scenes Oldman steals the show with a memorable and entertaining performance.
I mentioned earlier that the action in the film is a nice bonus, which it certainly is because Besson handles the action extremely well. It flows organically from the seeds plated in the beginning, the payoff naturally is at the end and it does not disappoint. The S.W.A.T. siege of the apartment remains as one of the most memorable sequences not only in this film but in general. The build-up is deliberately slow, Besson pushes you as far on the edge of your seat as possible and then lets loose with a barrage that continues to escalate. Itís as if heís conducting a massive orchestra and every instrument in his arsenal from his cast, to the shot blocking, the cinematography, practical effects, the editing and sound are working in perfect unison to create a sequence that for me has been the benchmark for how a modern day shoot out should be like.
Lťon was great when I first saw it 10 years ago at the ripe age of 16 and itís still great now, the film has a simple story that never feels convoluted, a superior cast that give wonderful performances and some action scenes that simply kick ass. What more could you possibly ask for? If youíve seen this movie before and loved it, watch it again thereís no reason why not besides itís better than anything Michael Bay can throw at you. If you havenít seen it yet what are you waiting for someone to hold a gun to your head?

Video


Since two versions of the film are presented here I though it would be crucial to have a look at both and evaluate the transfers.

Longer International Version: Presented in the filmís original theatrical ratio of 2.35:1 this widescreen anamorphic image is basically a direct port of the Region 1 Superbit transfer. For the most part the image is quite good, however isnít as sharp as Iíd like it to be. There doesnít seem to be an overall consistency of sharpness throughout this transfer, which is a real shame. The colours are rendered beautifully, especially skin tones. Blacks are bold and well defined and shadow detail is impeccable. There are some instances of dirt primarily in the opening moments of the film and the occasional speck and dot pops up from time to time. Itís not a perfect transfer but it will certainly do for now and is much better than previous DVD versions.

Shorter US Theatrical Cut: Also presented in the filmís original theatrical ratio of 2.35:1 this widescreen anamorphic image is not the best but is also far from being the worst. In fact itís very near to the same as the International Version however there are the occasional edge enhancement present throughout the print that the longer version seems to have eliminated almost entirely. Aside from that there isnít that much different.

Audio


Having viewed both versions of the film I was able to assess the sound quality for both versions.

Longer International Version: This version of the film includes two tracks that you can choose. An English DTS 5.1 and English Dolby Digital 5.1, for the purposes of this review I chose to view this version of the film with its DTS track. Dialogue is always clear, atmospheric surrounds are mixed well and donít feel out of place, and the action scenes provide your speakers with fair bit of a work out additionally the music is well separated over the 5.1 sound space. Although itís a good track I was to be honest a little bit under whelmed, I expected a big sound to smash through my speakers, I expected the action scenes to immerse me in there and tear my ears off, but what I got was just enough to tease me. Iíve heard many DTS tracks that are much more immersive for films that have very little action. Perhaps I was expecting more especially since this is a direct port of a Superbit release, it wonít blow your roof off but it will give it a good shake.
This version also comes with optional subtitles in English and Korean, being a Korean release the default subtitle is set to Korean so youíll have to switch them off at the menu or by your remote if you donít need them.

Shorter US Theatrical Cut: This version of the film includes two tracks that you can choose. An English Dolby Digital 5.1 and an English Dolby Digital 2.0 Stereo track, for the purposes of this review I chose to view this version of the film with its Dolby Digital 5.1 track. I could not really detect any major differences between this DD 5.1 track and the DTS one on the Longer Cut of the film aside from the fact the DTS track has a very slight edge, simply by having more depth to the action scenes.
This version also comes with optional subtitles in English and Korean, being a Korean release the default subtitle is set to Korean so youíll have to switch them off at the menu or by your remote if you donít need them.

Extras


The first extra we have is a featurette entitled Behind the Scenes, this piece runs for 2 minutes 24 seconds and is raw footage taken on the set of the film set to music, thatís basically it. There are some interesting moments but nothing thatís worth repeat viewings.

The next featurette has more meat to it. Entitled 10 Year Retrospective: Cast and Crew Look Back runs for 24 minutes 33 seconds and includes interviews with producer Patrice Ledoux, actress Maiwenn Le Besco, casting director Todd Thaler, actor Jean Reno, director of photography Thierry Arbogast, actress Natalie Portman, costume designer Magali Guiasci, actor Frank Senger, editor Sylvie Landra, actress Ellen Greene and actor Michael Badalucco. The piece focuses on the experiences this cast and crew had on the film, some of the topics they cover are how the film came about, Renoís involvement and the casting of Mathilda, shooting in New York, costuming and finding the right look for Mathilda and the cast and crew reflect on the filming of key scenes in the film. Overall this is a very good extra that covers quite a lot but suffers from the obvious exclusion of the filmís director. It would have been nice to hear some of Bessonís thoughts.

Following that is another featurette entitled Jean Reno: The Road To Lťon which runs for 12 minutes 24 seconds. This piece focuses on Reno and takes a look at his childhood, how he got into acting and his subsequent meeting with Besson. Reno also reflects on playing Lťon and collaborating with Besson. This is an informative piece that gives us a unique insight into the life of actor Jean Reno.

The fourth and final featurette is entitled Natalie Portman: Starting Young and runs for 13 minutes 49 seconds. Here the actress discusses the process of getting the part, considering she was just 11 at the time of filming there were a few conditions that her parents had laid out. We also get to see the original screen test for the part. Much like the Reno piece before it, Portman opens up and gives us a few stories from the filming, and is overall a nice extra to have included.

A music video follows that the song Shape of my Heart by Sting is presented here in a black and white clip of shots from the film and runs for 4 minutes 58 seconds.

The final extra on the disc is the filmís original theatrical trailer presented in 1.33:1 full screen and in English Dolby Digital 2.0 Stereo, the trailer runs for 2 minutes 25 seconds.

Packaging


Spectrum have released this film as a 2-disc set with both the Shorter US Theatrical Cut entitled The professional on Disc 1 and the Longer International Cut entitled Lťon on Disc 2. The DVDís are packaged in a handsome black 3-panel digi-pack with a slipcase.

Overall


Lťon is simply awesome, it stands as one of the best films filmmaker Luc Besson has ever made. Its impact and repeat viewing value has not diminished in the ten years the film has been out for.
Spectrumís DVD release includes decent image transfers and soundtracks for both versions, however the sound isnít as explosive as Iíd like it to have been, it still does the job though. The extras are a welcomed addition but the lack of involvement from the filmís director was a let down. Perhaps next time we could get a commentary of some sort. Overall itís a nice package and if you donít already own it, you might want to consider rectifying this glaring omission in your DVD collection.
| | | | | |
| --- | --- | --- | --- | --- |
| The Film: A | Video: A- | Audio: B+ | Extras: B | Overall: B+ |