The Film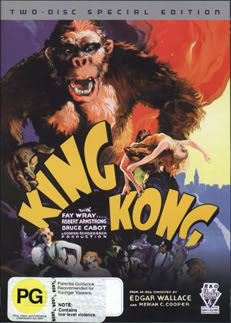 Released in 1933 King Kong was a cinematic achievement that marveled audiences around the world, with its then groundbreaking special effects the exciting tragic adventure was a bona fide box office hit during the then struggling film industry (released in 1933 during the Great Depression, movies weren't exactly on the tops of 'to do' lists). In fact at the film's early screenings in California people where reported to have left the theatre screaming, some scenes where so gruesome for the time that word of mouth spread quickly and throughout the 1930's up until the early 1950's the film was re-released over and over again into theatres each time appearing as a new version. Four different edits where produced as a result each shorter in length than the last.
In 1971 director Merian C. Cooper released his Director's Cut version of the film, adding back all the cuts that where made to the original version of the film, this restored version is the most common edit currently on DVD, which includes this Region 4 release.
In King Kong, filmmaker Carl Denham (Robert Armstrong) is seeking to shoot a new film on a remote island. With his newly cast leading lady the beautiful actress Ann Darrow (Fay Wray) they embark with an expedition team to the remote island said to be populated by Natives who have built a giant wall to protect them with what lies on the other side of the island, the fabled Kong.
After having landed on the island the team encounter the Natives who offer to pay six of their women for the golden beauty that is Ann Darrow, disagreeing to such a Preposterous offer the team return to the safety of their ship. They eventually find out that Ann has disappeared; she has been captured by the Natives in order to sacrifice to the mighty Kong.
King Kong takes the bait and the team is now on a rescue mission, making their way through a part of the island that appeared to have been forgotten by time, seeing sights of which have not been seen for millions of years. But when they come across the king of all beasts King Kong their rescue attempt is in vein as he escapes to his cave. Where he curiously examines his new trophy, eventually Kong falls in love with Ann. The team mounts another rescue mission, this time successful. Carl also decides to capture Kong using some smoke bombs that he transported with him. Believing that Kong would make a wonderful attraction for the masses to see, after capturing Kong they transport him back to New York City.
Shackled and exhibited to the masses does not go down well with Kong. His love for Ann, and the need to be with her, prompts his escape by breaking free of his shackles. He runs amok in New York with his beauty in his clutches, all leading to the iconic Empire State Building showdown with the air force planes ordered to take Kong Out.
King Kong is one of the silver screen's most classic of films, the film is riddled with high-stakes adventure, snappy dialogue, some very theatrical performances and most importantly some of the best stop motion animation for it's time. A technique pioneered by Willis O'Brien, who inspired many to follow suit including the great Ray Harryhausen.
Effects and adventure aside this film is very much a product of it's time, depression era USA was a tragic and frustrating time for many people, millions were left unemployed and many homeless. Kong in a sense symbolised the tragic hero, stripped of his life and home and shackled, a sentiment shared by everyone hit by the depression and Kong lashed out. If anything this was supreme escapism for audiences. Today the film still stand strong as an example of classic epic adventure filmmaking of yesteryear, something that will never be captured again. King Kong is one of those great Hollywood classics that never die and it seems to be able to continue to find new audiences, even 73 years since its release, if you haven't already seen this classic I urge you to check it out, pronto!

Video


Traditionally Kong hasn't had the best treatment on home video, the only decent release was the original Criterion Collection Laserdisc, most DVD releases have exhibited poor transfers. Now looking at Kong's history in terms of film elements goes no original negative exists today, which is a shame. So this restoration has been made with the use of 3rd generation prints (or so I believe). Warner Brothers have done a phenomenal job in bringing this classic to DVD, they searched for years for the best elements, which is largely why this release has been continually delayed. The image is quite soft at times and the occasional minor (and I mean very minor) bit of dirt pops up and that's about all that I could see, the black levels are fine and grayscale is consistent, whites are not as clean as I'd have liked but this is the absolute best that this film has looked.

Audio


The only track we have here is the original English Dolby Digital 1.0 Mono soundtrack, much like the image this track has also been fully restored getting rid of annoying hiss, pops, drops outs and other common problems that are prevalent with soundtracks of this age. The dialogue is clear and presents the film well.
Optional subtitles are also included in English, English for the hearing impaired, Czech, Hungarian and Polish.

Extras


DISC ONE:

First up is the feature-length audio commentary by visual effects artists Ray Harryhausen and Ken Ralston along with archival excerpts from actress Fay Wray and producer/director Merian C. Cooper. The special effects wizards comment on the techniques utilised to bring Kong and the other Skull Island creatures to life. The provide some in sight into the process as well as reflect on the film and what it means to them. The archival sound bites include Wray and Cooper in what appears to be stock media sound bites talking about the film. Overall this was a fantastic track that provides some excellent tidbits into the history of this film.

Next we have a collection of Merian C. Cooper trailer gallery this section features 2 original theatrical trailers of Cooper films. These trailers include:
- King Kong" which runs for 1 minute 32 seconds.
- "The Searchers" which runs for 2 minutes 45 seconds.

DISC TWO:

Fist up is the "I'm King Kong! The Exploits of Merian C. Cooper" documentary which clocks in at 56 minutes 56 seconds. Narrated by actor Alec Baldwin, this piece covers Cooper's adult life, his military duty and subsequent involvement in films and aviation. You discover the amazing life this unique individual has led and comes across as a real life Indiana Jones, a true adventurer in every sense of the word . Friends, colleagues, historians and fans of his work (such as Harryhausen) all contribute to this well detailed chronicle. It's worth checking out and stands as a great biography.

The centerpiece to this DVD set has got to be the "RKO Production 601: The Making of Kong, Eighth Wonder of the World:" documentary, running in at a whopping 158 minutes 45 seconds, this documentary is split into 7 parts that can be viewed individually or as a whole with a 'play all' function. The piece covers the following:
- The Origins of King Kong
- Willis O'Brien and Creation
- Cameras Roll on Kong, the Eighth Wonder
- A Milestone in Visual Effects
- Passion, Sound and Fury
- The Mystery of the Lost Spider Pit Sequence
- King Kong's Legacy

No question is left unanswered, this is bar none one of the best documentary produced chronicling a single film's production, going into massive detail, you'll certainly learn something new here, all the contributors speak about the importance of this film, especially in context to how films are made today and show us the groundbreaking legwork that was done to make it a reality. RKO pictures certainly took a risk on it and it paid off in spades as one of the most memorable films of all time. One of the best moments in this entire piece is a look at Weta Workshop's recreation of the lost spider pit sequence. Warner Brothers have taken the time and care required to assemble this love letter to Kong and the fans most definitely appreciate it.

Following that is the "The Lost Spider Pit Sequence" a reconstruction by Peter Jackson with the aide of the artisans at Weta Workshop, running at 5 minutes 58 seconds we get to see the entire scene. This is not only one of the most unique extras on a DVD and provides a snap shot at what that scene may have been like.

Rounding out the extras is the abandoned film "Creation (1931)" test footage with audio commentary by visual effects artist Ray Harryhausen, which runs for 4 minutes 56 seconds. We get a brief look at this footage in the "RKO Production 601: The Making of Kong, Eighth Wonder of the World:" documentary but here get to see the footage in its entirety with comments by Harryhausen providing some background on these clips.

Overall


King Kong is the ultimate monster movie, and after all these years as popular as ever. Since the launch of DVD this has been one of the most requested titles and finally Warner Brothers have given us the best possible presentation for this beloved classic. The wait was truly worth it, an excellent restoration of the audio and visual elements with a result that is beautiful and paired with the excellently produced extras make this a must buy DVD.
| | | | | |
| --- | --- | --- | --- | --- |
| The Film: A | Video: A | Audio: A | Extras: A+ | Overall: A |