The Film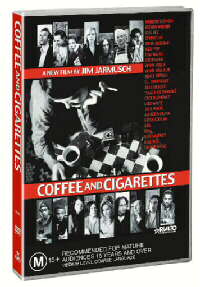 Independence, this is something many filmmakers fight for, even when they are working with the studios. The money men want profit and the filmmaker wants to create their art, to have final cut over the edit, to make the film they want to make. But to truly be independent you cannot rely on a studio too much. Some say that George Lucas is the ultimate poster boy for independent filmmaking but ironically enough he has become the very thing he fought against as a young filmmaker. When I think about a true independent filmmaker only one name comes to mind, Jim Jarmusch, taking a look at his filmography will only solidify this, Jarmusch once said that

I have no desire to make films for any kind of specific audience. What I want to do is make films that . . . tell stories, but somehow in a new way, not in a predictable form, not in the usual manipulative way that films seem to on their audiences. (Current Biography Yearbook 1990).

But to pursue this credo Jarmusch sought to remain free from studio restraints. This path led the way for some of American cinemaís finest works that include the award winning Stranger than Paradise (1983), Down by Law (1986) and Dead Man (1995) among others. In 1986 Jarmusch started what would become a continuing project, Coffee and Cigarettes a short film starring Roberto Benigni and comedian Steven Wright, a strange meeting of two funny men as they sip coffee and smoke cigarettes. The short was popular at festival circuits and in the years to some Jarmusch would continue filming off the all and quirky segments in what would become a series of vignettes. In 1989 the second Coffee and Cigarettes - Memphis Version was completed featuring Steve Buscemi as the waiter and Cinqu√© Lee and Joie Leeas the twins, 1993 saw rockers Iggy Pop paired up with Tom Waits in Coffee and Cigarettes - Somewhere in California which, won the Golden Palm at that yearís Cannes Film Festival for best short film. Since then a many more segments have been filmed with the likes of Cate Blanchett, Jack White and Meg White of the band the White Stripes, Alfred Molina, Steve Coogan and Bill Murray among many others.
This film is not like any other, it does not follow a traditional narrative, it does not follow the same characters throughout, what we have here are 11 short films with two or more characters conversing over a cup of coffee and a cigarettes or in Molina and Cooganís clip some tea as good English chaps should. The conversations are often funny and sometimes totally hilarious, not only that but it feels like the viewer is spying on something they shouldnít be. Coffee and Cigarettes are a series of shared experiences that Jarmusch is trying to present to people. Each segment is unique and different but all share obvious fundamental similarities, the cast is superb especially Iggy Pop and Tom Waits, their segment is a pure delight to watch.
Photographed in splendid Black and White by four different cinematographers the look manages to retain a simplistic beauty about it and the location used for each of the segments and put together for the first time, itís possibly not for everyone but this piece is a must for Jarmusch fans and cinephiles alike.

Video


Presented in 1.78:1 anamorphic widescreen, the image is stunning and considering that parts of this film were shot 17 years ago and some recently in the 90ís and in 2003 you wonít notice any difference at all with this transfer. It all looks as if the entire film was shot just this year. The film is in black and white and one very important aspect when dealing with a black and white transfer is to get your levels spot on. And from what Iíve seen Warnerís has done a fine job, greyscales and the black levels are just phenomenally detailed as are shadows there is virtually no signs of aliasing. While the image is quite sharp there is evidence of fine grain but that is subject to the use of black and white film stock as opposed to colour, purely an artistic choice by the director. The transfer is notably clean from most imperfections; Warner Brothers have delighted me yet again with a superb job on this indie favorite.

Audio


There is only a single audio track present on this disc, an English Dolby Digital 5.1 surround track. Now this is an entirely dialogue driven piece so no directional effects are included, no intricate sound design or over the top musical scores here, just dialogue and subtle background noise. Thatís it, a simple 2.0 surround track could have done the trick but here we get a 5.1 set up, which in all honesty is a nice addition, but one thatís not really needed unless all directional channels are fully utilised. None-the-less the dialogue and minimal other sound design elements come out clear and distortion free.
This DVD does not feature any subtitles.

Extras


This Warner Brothers DVD only includes a small amount of extras, in fact itís miniscule. We have the filmís original theatrical trailer plus a series of five images presented in a photo gallery. Why not include the other extras from the US Region 1 release? Not sure folks but thatís all we have, as a side note none of these extras are even listed on the packaging. A Jarmusch audio commentary would have been a priceless addition, perhaps next time.

Overall


Coffee & Cigarettes is not for everyone, thatís for sure. This little art house flick is purely for lovers of fringe cinema. Fine performances all around from all the players, stunning Black and White photography and smart, clever and amusing dialogue make for a pleasurable escape, so grab a cup of fresh coffee, light up a cigarette (if you smoke) and enjoy.
The DVD includes a stunning transfer and fine surround track, but the overall package is let down by the lack of any decent extras, if you havenít seen this I suggest a rental before purchase.
| | | | | |
| --- | --- | --- | --- | --- |
| The Film: A | Video: A | Audio: A | Extras: F | Overall: C+ |