The Film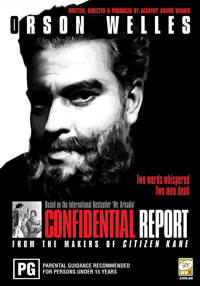 Confidential Report is the kind of movie that usually makes its way into the 'Classics' section at your local video store. This would only ring true, however, if the term 'Classic' was expanded to include pretentious, egotistical, pompous drivel. An Orson Welles creation; not only did he write, direct, produce and star in Confidential Report, he was also the costume designer. If you are a first-year film student you will love this film, right up until the point one of your second-year lecturers refers to it as 'the poor man's Citizen Kane'. I for one feel that this statement is far too insulting to poor people.

The film opens with a pseudo-'deep' quote and an ominous piece of melodramatic narration and then we are flung into the story proper. An American smuggler, Guy Van Stratten (Robert Arden) is released from prison and at once attempts to insinuate himself into the life of the beautiful Raina Arkadin (Paola Mori) or, more precisely, into the world of her father, the enigmatic millionaire Gregory Arkadin (Orson Welles). Mr Arkadin has another plan for Van Stratten, though, and explains to Guy he has amnesia before sending him on a quest to uncover Arkadin's mysterious past. However, all is not as it seems - but then again, is it ever?

Perhaps the single greatest flaw in this film is the butchery that tries to pass itself off as 'editing'. Mood is destroyed and the story struggles to maintain tension and narrative flow. Am I wrong, or should characters be allowed to finish sentences before the plot is moved to another continent? This is partially salvaged by Welles' direction, which brings some outstanding sets and shots, but too often steps into the realm of self-indulgence.

The performances from Arden and Mori were very strong. Arden, in particular, was wonderful and at times downright hilarious. But again, I find myself having problems with Welles. His attempt to portray Arkadin as shadowy and mysterious was overblown, and often left his character looking like a portentous buffoon. The supporting cast was absolutely wonderful, and Van Stratten's interviews with the eccentric men of Europe were, I felt, the most outstanding scenes in the film.

I do know that Citizen Kane is a cinematic masterpiece, and I recognise all the brilliant work that this one man did for the art of film. So if you feel that I have been too harsh to a beloved auteur then I urge you to see this film for yourself. If only so that you can honestly utter the phrase, 'That was ninety minutes of my life that I will never, ever get back'.

Video


Presented in its original theatrical ratio of 1.33:1, the black and white image is not the best. Constant film grain runs throughout the film, considering black and white has a fine film grain effect this is beyond that. Additionally there are many scratches, blotches, sparkle and artifacts that plague this transfer. Aside from this the grey scale of the image isn't all that bad, blacks are generally quite bold but could use some work, shadow detail is sometimes minimal and sharpness does become an issue especially in scenes that take place in the dark, which is an annoyance at times but isn't too distracting, it's basically the overall shape of the source material with it's inherent flaws that cause most of the problems with this transfer.

Audio


This disc features a single audio track in English Dolby Digital 2.0 Mono, for the most part the sound quality is reasonable, dialogue is audible and comes across clear, although there are occasional distortions in the way of low level hiss and the occasional pop, which can be a common occurrence with films of this age. Aide from this it's primarily a dialogue driven film and because of its age you don't really expect use of the full sound spectrum, so the mono track is more than suitable.
The disc also features optional subtitles in English for those that require it.

Extras


There are no less than three memo style text notes included on this disc. The first entitled Internal Memo: Confidential Report are two page notes that cover a brief history of the film, these are mainly trivia notes that cover such things as the film's alternate titles, it's premiere and briefly touch on the lengthy legal battle between the producers that saw a belated general release for the United States. The notes are short and to the point but hold room for improvement, considering the film's history it would have been nice to expand on some of the notes.

The second set of text notes are entitled Internal Memo: Orson Welles also a two page set of notes that cover the iconic filmmaker's career, basically a biography of the man and his work.

The third and final text notes are Internal Memo: Short Notes, two pages of more trivia on key moment's in Welles' career.

Additionally we also have a gallery of five images from the film.

Finally a series of DVD credits, that consists of a single text page with contact information.

Overall


Confidential Report is one of those 'Classic' films you either love or hate, while there are many fine performances and set pieces I couldn't help be distracted by it's amateurish editing that completely takes me out of the film every time and the overall pretentiousness of it. Many may disagree with me on this one, but I certainly think that Welles has done better.
DV1's provide an average transfer that's plagued by flaws inherent in the source but frankly I have seen worse, at best this is a tolerable transfer, if anything this film needs a good cleanup, a suitable audio track is also provided and extras that really leave a lot to be desired. A documentary on the film's turbulent past and a commentary would have been priceless additions to this release.
| | | | | |
| --- | --- | --- | --- | --- |
| The Film: C- | Video: B- | Audio: B | Extras: C- | Overall: C |