Seraphim Falls
R4 - Australia - Warner Home Video
Review written by and copyright: Shane Roberts and Noor Razzak (2nd March 2008).
The Film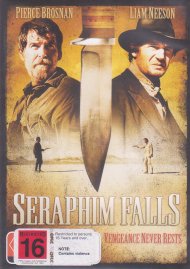 In the post Civil War American West of the 1860's Gideon (Pierce Brosnan) is hunted by Carver (Liam Neeson) and his small band of hired guns. During a chase that stretches from the mountain ranges of Oregon to the desert plains of New Mexico both men are relentless in their quest for either escape or revenge.

There havenít been many new Westerns recently and as a fan itís always nice to see a new one come along. Unlike "The Proposition" (2005) with itís Australian Outback setting and "The Assassination of Jesse James by the Coward Rober tFord" (2007) which was based on a true story and told from a new perspective, "Seraphim Falls" is a more conventional, good old-fashioned B-movie Western like dozens that were made in the genreís heyday of the 50's and 60's. Closer to last yearís "3:10 to Yuma" (which itself was a remake of a classic from 1957), both feature a simple story of a cat and mouse battle between the two main characters. Where "Yuma" took place around one town, this film features a chase spread over hundreds of miles of rough terrain which illustrates the untamed and lawless state of America at the time. The only sign of upcoming civilization that either encounter is the construction of the railroads which will bring about the end of the Wild West and their way of life. Of course, thatís a theme thatís already had an entire film devoted to it with Sergio Leoneís "Once Upon a Time in the West" (1968).

Starting with a thrillingly staged and shot 20-minute action sequence, veteran TV director David Von Ancken makes his feature debut and continues to build the suspense through the rest of the first half as the characters are all fleshed out but the reason for Gideon being hunted is only hinted at. This provides an interesting mystery as to which one is really the villain and both are shown to be as ruthless as each other. Unfortunately this then becomes one of the filmís faults in the second half as the pace slows to a crawl at times and the reason for Carverís hate is held back for far too long. The big revelation then turns out to be far too familiar and clichťd.

In the bible the Seraphim were the highest ranking angels in heaven so as well as being a pivotal location in Gideon and Carverís past the title also refers to their fall from grace as they slide into damnation. There are multiple other religious references, mostly of which are subtle and blend in with the story however two near the end, in the shape of cameos by Wes Studi and Angelica Huston, send the film off on a supernatural tangent that throws the tone off and leads to the film being about 20-minutes too long. Thereís a scene involving a dead horse that should have been the perfect ending but it just keeps going.

Although the last quarter lets it down itís still a very entertaining Western thatís beautifully shot by cinematographer John Toll ("Braveheart" (1995) and "The Thin Red Line" (1998) among other great films) and, as well as Brosnan and Neeson has a fantastic cast of character actors including Michael Wincott, Xander Berkeley, Ed Lauter, Tom Noonan, Kevin J OíConnor among others.

Video


Warner releases this Icon Production in a widescreen ratio of 1.78:1 and is anamorphic, which is a hame considering the film's original ratio is a much wider 2.40:1 and this transfer appears cropped on either side making the image feel a bit cramped. This is the transfer biggest fault, which is unforgivable. Furthermore the image appears soft and detail is limited in wider shots, especially in the first 15-20 minutes of the film. Although the transfer is clean of dirt and specks the cropping and the softness of the transfer are enough to give it a failing grade.

Audio


Two audio tracks are included here, one in English Dolby Digital 5.1 and the other in English Dolby Digital 2.0 stereo. For the purposes of this review I chose to view the film with its 5.1 soundtrack. Having seen several Westerns this year and being impressed with the sound quality I was expecting a stunning sound package with this release, but alas the sound is about as average as they come. The dialogue is distortion free but sometimes appears mixed a bit low, in fact in certain situations it was hard to make out what was being said unless I pumped the volume right up. The ambient sound are present but don't draw you in as much as they could have, and the film's score falls a little flat. It was a little dissapointing to say the least.
This disc does not include any optional subtitles.

Extras


This disc is pretty much barren of extras, the only thing that Warner saw fit to include are a couple of bonus trailers for:

- "Black Sheep" which runs for 1 minute 58 seconds.
- "Severance" which runs for 1 minute 52 seconds.

Overall


Warner Brothers has really dropped the ball with this release, the cropped transfer alone is enough to skip this release despite the fact the film isn't that bad.
| | | | | |
| --- | --- | --- | --- | --- |
| The Film: B+ | Video: F | Audio: C+ | Extras: F | Overall: E+ |

---
DVD Compare is a participant in the Amazon Services LLC Associates Program and the Amazon Europe S.a.r.l. Associates Programme, an affiliate advertising program designed to provide a means for sites to earn advertising fees by advertising and linking to amazon.co.uk, amazon.com, amazon.ca, amazon.fr, and amazon.de.