The Film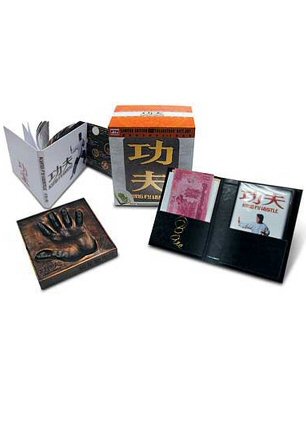 I honestly think that Stephen Chow is the funniest man making movies in Hong Kong today - there I said it! His previous two films The King of Comedy (1999) and Shaolin Soccer (2001) were not only huge successes but provided some of Asian cinema's finest comedic moments committed to film. And Chow has been shaping up as one of Hong Kong's premiere filmmakers, with Shaolin Soccer scoring huge numbers to become the highest grossing Hong Kong made film in Hong Kong a record only to be surpassed by himself in 2004 with Kung Fu Hustle, a film that has spent the better part of four years in production.
Kung Fu Hustle tells the story of a pair of gangster wannabes, Sing (Stephen Chow) and his overweight sidekick (Chi Chung Lam). The time is 1940's China and the vicious Axe Gang has taken over the streets from the Crocodile Gang. Sing has aspirations of joining the gang it's been a dream of his to be a bad guy ever since he was a kid. One day in the town of Pig Sty he and his sidekick decide to impersonate gang members in order to extort a local barber but things turn sour for the duo when the real Axe Gang show up only to be beaten by three of the locals, the noodle maker Donut (Dong Zhi Hua), the tailor (Chiu Chi Ling) and a coolie (Xing Yu) who just happen to be Kung Fu Masters. This doesn't sit well with the Axe Gang leader Brother Sum (Kwok Kuen Chan), The bad guys are supposed to do the beating not get beaten. Sing and his sidekick are blamed for the shameful event but are given a chance to prove themselves to Brother Sum, if they kill someone they can join the gang. That proves a little harder than expected when it turns out that the Landlady (Qiu Yuen) and her husband the Landlord (Wah Yuen) of Pig Sty exhibit extraordinary powers and are retired Kung Fu Masters that vowed never to fight again. The Axe Gang is out for blood and send The Harpists (Kang Xi Jia and Hak On Fung) to take out Donut, the tailor and coolie. The Landlady realizes that in order to protect the people and defend their turf is to face the Axe Gang and the number one fighter The Beast (Siu Lung Leung). The battle of these titans is so furious but when Sing is swept into it, his terrific beating unlocks a true Kung Fu Master, one that can perform the Buddha Palm move.
Kung Fu Hustle plays out as a kind of cross between Abbot and Costello comedic sensibilities and Hong Kong action. While the action is nothing short of exciting it's the characters that play a memorable part and add to the overall charm of this film. Each character has their own unique over the top style that not only helps craft the performance but makes the ride all the more enjoyable.
The film features a series of very funny sight gags such as the scene with the knives and snakes and parodies most notably the burley brawl scene near the end that lampoons The Matrix: Reloaded, and there are a lot of cartoon like gravity and physics defying moments, the most memorable belonging to the Landlady. In order to accomplish these cartoon-like character traits such as super-speed running, mega jumps and also to enhance the fight scenes CGI techniques were employed. I found that generally the standard of the effects to be very high, especially of a Hong Kong production that doesn't have nearly the budget of a big Hollywood feature, but not all the effects were convincing enough. Sing's swollen lip after the snake bites is one that immediately comes to mind, was this deliberately made to look fake? For some reason it didn't seem to work. But really that's the only quibble I have with this film. Yuen Woo-Ping's action choreography is spectacular, each fight is bigger and better than the last and never lets up, this is complimented with Hang-Sang Poon's cinematography, each angle and shot set up is perfectly capturing the action that almost makes you feel you are right there in Pig Sty watching it all go down.
The movie is funny, over the top, exciting and also a little bit violent at times, which is all part of Chow's dark sense of humor that works really well here. It's probably the most fun you'll have in a movie this year, I've seen Kung Fu Hustle three times already and manage to find something new about it every time, it definitely deserves repeat viewing. But for those that haven't yet seen it, give this one a spin you won't regret it.

Video


The film is presented in its original theatrical ratio of 2.40:1 widescreen. This anamorphic transfer is simply beautiful, the image is sharp and crystal clear, colours are rendered well, black levels are bold and well defined and shadow detail is exceptional; take a look at the night time showdown with the Harpist Kung Fu masters fighting the Pig Sty three: Donut, Tailor and Coolie for a good example of this. The source material would have been very clean as there are no signs of problems that normally plague films from Hong Kong such as scratches, dirt and artifacts. Columbia has done an excellent job with this transfer.

Audio


The film includes three separate soundtracks two Cantonese tracks in DTS 5.1 and one in Dolby Digital 5.1 and one Dolby Digital 5.1 track in Mandarin. For the purposes of this review I viewed the film with the DTS track in its original language of Cantonese. The DTS track is a very good accompaniment to the excellent transfer. The dialogue is clear and distortion free at all times however there was one instance of 'crackling' during the Landlady's first scream in the courtyard of Pig Sty the rear speakers gave off a popping-like sound that was not only noticeable but was also a little unpleasant, whether this was intentional or not is unknown. Otherwise the DTS track performed well, the 5.1 mix exercised precise and well-placed separation throughout the channels, the action scenes are full of directional effects that enhance what's happening on screen and the music is very well mixed and very immersive and never gets in the way of the dialogue.
Optional subtitles are also included in English, Chinese and Korean. Since I cannot understand either Chinese or Korean I viewed the film with the English subtitles. I did not see any spelling or grammatical mistakes at all and the subtitles stayed on the screen long enough to read without having to skip back.

Extras


The only extras included on this disc are the film's original theatrical trailer plus a series of bonus trailers for The Forgotten, Anacondas: The Hunt for the Black Orchid, Hellboy, Little Black Book, Suspect Zero, Sniper 3 and So Close.

I was very disappointed with the lack of extras on this disc, a commentary and making-of would have made of welcomed additions. Perhaps we will have an extra features packed edition later on. In the mean time there are a few nice collectible items included in this set to keep you busy with.

Packaging


Columbia Tri-star has presented Kung Fu Hustle in it's original Uncut Hong Kong Theatrical version, in an exclusive Limited Edition Collector's Gift Box. Firstly the DVD and its contents are housed in a brown leather case with the title embalmed on the front. Inside you will find the DVD in an amaray case, a 32-page booklet that features production notes, character notes and photos (all text is in Korean) as well as a 40-page hardcover photo book that includes photos of the cast as well as production photos from the film set. A certificate of authenticity is also present and each set is numbered from a production run of 3,000 only. The gift set also includes a very cool collectible item in the form of Stephen Chow's handprint and autograph in a copper plate, this is a full-size 1:1 scale item and is the crowning piece in this set.

It's this packaging and collectables that stop the extras rating below an awful F for failed!

Overall


Kung Fu Hustle is a hugely enjoyable action comedy that features one of Hong Kong's rising talents. It's style is slick, the performances memorable and the action over the top, it even has a lovely romantic sub plot that pays off in the end. The DVD features an excellent audio and visual transfer but the extras are very thin. The Limited Edition Gift Box comes with a few collectibles that add to it's overall value especially the hand print copper plate.
| | | | | |
| --- | --- | --- | --- | --- |
| The Film: A | Video: A+ | Audio: A | Extras: C+ | Overall: B+ |