The Film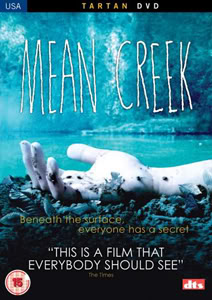 Filmmaker Jacob Aaron Estes makes his feature film directorial debut with a sort of Stand By Me (1986) meets teenage boat trip meets juvenile prank gone wrong scenario, Mean Creek is a slow boil thriller that has all the hallmarks of low budget filmmaking (use of small and isolated locations, a cast of virtual unknowns and effective non-complicated camera techniques) and unfortunately also those of a first time feature filmmaker.
Mean Creek takes place in a small town in Oregon, USA. Sam (Rory Culkin) an introverted little boy is bullied constantly by George (Josh Peck), an annoying sort that doesnít care about anyone elseís feelings. One day George beats up Sam for messing with his video camera. When Samís brother Rocky (Trevor Morgan) hears of this, they formulate a plan to deliver some payback. Rocky, his friends Clyde (Ryan Kelley) and Marty (Scott Mechlowicz) are all in on the plan, joined by Sam and girlfriend Millie (Carly Schroeder), they take George on a river trip for the purpose of playing a prank to humiliate George in order to teach him a lesson. But when George opens up to the group suddenly Sam sees him in a different light, and wants to abort the plan, however things have already been set in motion and itís too late to turn back.
Estes has his head in the right place but fails at creating a disturbing atmosphere for the audience by spoiling all the tension building moments that the serene middle of nowhere location provides by adding unnecessary music. Music that tries too hard to build an artificial sense of Ďdreadí, itís almost as if Estes is afraid of silence. We know somethingís going to go wrong pretty much right from the start, using silence to your advantage would have allowed the filmmakers a way to spring the moment on us. Rather than use music to cue our senses that something bad comes this way. Lesson number one in creating an uneasy atmosphere, donít overdo the score sometimes less is more. Another hallmark of a first timer are the performances, the cast is young so there isnít a whole lot of acting maturity here, however for the most part all seem to fit well in their parts - all except one, Josh Peck who plays George, the victim of the prank. Peck is terribly miscast in this role, one that on paper seems complex yet onscreen Peck is the opposite and doesnít seem to have a grasp of his character. He felt hollow and uninteresting, most annoyingly his delivery seemed forced and disconnected from the rest of the cast. Itís as if he was waiting for his cast mates to finish their lines before he jumped in with his.
Despite this not all is lost, Estes has given us ample breathing room at the start to get to know these characters, something that is often rushed in most films. But here he has the patience to build the characters and move the story along at a steady pace throughout the filmís duration. I was equally impressed with the naturalistic and believable performances by the rest of the cast, Culkin and Schroeder exhibit some real chemistry on-screen which works nicely when their relationship is tested through the crisis they face later in the film. The scenes and dialogue didnít feel out of place or contrived for their age all adding to the believability factor. This is something that Estes clearly spent time developing through the scripting process.
Mean Creek will not likely be a classic in years to come but itís a sign to look out for Estes as an emerging talent. While the film certainly has its share of flaws itís not a bad effort for a first feature.

Video


The film is presented in 1.78:1, this anamorphic widescreen image exhibits a fair amount of grain. The film was shot on an exceptionally low budget on super 16mm stock, which was blown up to 35mm for theatrical exhibition. This is the reason for the filmís graininess and despite this the image is quite clear, and colors are rendered beautifully from the rustic landscape of Oregon to the green hues of the riverís water. Itís as good a transfer as youíre likely to get from a blown-up film print.

Audio


Three English audio tracks are included on this release, we have a DTS 5.1 surround track as well as a Dolby Digital 5.1 surround and Dolby Digital 2.0 Stereo tracks. For the purposes of this review I chose to view the film with its DTS 5.1 track, which serves the film very well. Dialogue is clean and distortion free (although for some reason it looks like Georgeís dialogue was looped, it didnít feel as natural as the rest of the cast). Surround activity makes its presence known as environmental directional effects that place you right in the middle of that river. The subtle effects make good use of the 5.1 sound space and never feel out of place. This DTS track is a solid effort by Tartan, nice work.
Optional subtitles are included in English for the hearing impaired.

Extras


First up we have a feature-length audio commentary by writer/director Jacob Aaron Estes, editor Madeleine Gavin, director of photography Sharon Meirand cast members Trevor Morgan, Ryan Kelley, Carly Schroeder and Josh Peck. This is a great way to produce a commentary, get a whole bunch of people involved in the film, sit them in a room and comment over the film. Youíll end up with multiple perspectives and some interesting chatter about the film and thatís what we get here. Estes and crew discuss various aspects of the production as well as character motivations, shot selection, editing issues among other topics. The track is never quiet, moves at a steady pace and is filled with interesting information. The only downside is that almost all the participants seem like they took sedatives before the recording session as they all sound very somber.

Next up we have an in-depth interview with writer/director Jacob Aaron Estes which runs for 27 minutes 45 seconds. In this clip Estes discusses the genesis of the project, the choice of setting the film on a river and most importantly the town had to be small enough so that when these kids came back what they had done would have a certain gravity to it that things would change significantly in their lives. Estes also covers the difficulty in finding young actors with enough experience to tackle these roles, the visual Ďlookí of the film mainly the juxtaposition of the serene beauty of the location and the ugliness of the act committed among other issues that include what the character Millie represents, the message of the film, issues related to the characters and directing. Itís interesting to hear Estes talk about a scene that was shot where a Park Ranger discovers the kids [SPOILER WARNING: please highlight to read]burying Georgeís body, which was not included in the final cut, how come we donít get any deleted scenes on this DVD? I would have been nice to see that and possibly other scenes that didnít make the cut.

Next up we have a storyboard gallery that is made up of 11 images, these boards are well made, some of which in colour but most of them in black and white. It would have been nice to see more than just a dozen boards.

Also on this disc is the filmís original theatrical trailer which runs for 2 minutes 37 seconds. As well Tartan have included a collection of bonus trailers:
- "DiG!" which runs for 2 minutes 20 seconds.
- "Sky Blue" which runs for 1 minute 56 seconds.
- "Silver City" that runs for 2 minutes 37 seconds.
- "Palindromes" which runs for 1 minute 46 seconds.
- "Mysterious Skin" that runs for 1 minute 44 seconds.

Rounding out the discís extras is a booklet that features an essay by Kaleem Aftab.

Overall


Mean Creek is a serviceable slow boil thriller with a rather thin plot that however, includes some fine performances and photography. For a first feature itís too bad, it will be interesting to see what Estes does in the future.
Tartan has given this film a decent image transfer matched with an excellent DTS track, the extras are a little thin but the commentary and the interview are excellently produced and include tons of information.
| | | | | |
| --- | --- | --- | --- | --- |
| The Film: C+ | Video: A | Audio: A+ | Extras: B- | Overall: B+ |