The Film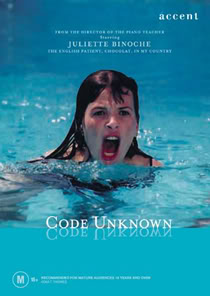 Iím 90% certain that the final scene of Code Unknown would explain the entire film that preceded it. However, the scene is told entirely in sign language, and since Iíve never quite mastered the language, it remains a complete mystery to me. But this is perhaps the point of Michael HanekeĎs 17th film.
Thereís quite a distinct possibility that bowing to Hanekeís sublime talents could be tantamount to praising the emperors new clothes, since he is an aloof storyteller, whose narratives tend to evade deconstruction, while contemplatively staring back at its audience. His cinema is akin both Tarkovsky (Russian) and Kubrick (Quasi English/American ex-pat), and therefore, thoroughly European Art House, which is a term I particularly detest, yet is entirely appropriate for a genre of films which defy traditional identification.
That said, Haneke certainly has the ability to be pretentious, and one would only have to sit through Funny Games (1997) to be suitably pissed off at his art-house snobbery. But this is only frustrating because heís such a gifted filmmaker, whose prodigious talents should be put to better use than the meta-cinematic mind-f***s that a Z-grade student filmmaker would come up with (Funny Games may not be that bad, but its recent contemporary is The Last Horror Movie (2003), which regardless of quality, is poor company to be in).
On the other hand, a talent like Haneke and the right material makes for master-class cinema, and his adaptation of The Piano Teacher (2001) is a magnificent textbook in psychological drama; intellectual, heartfelt, poignant and devastating.
With Code Unknown, Haneke tackles the much larger problem of the ever-growing social strata within Paris, a city that he has emigrated to from Germany. His proximity to the city affords him the kind of analytical lens, which makes Code Unknown probing and lavish in its expanse. From the countryside to the city, Haneke focuses his camera with a ferocious gaze, creating intriguing stories with absolute precision, and creating one of the most intriguing soundscapes in recent years. Beginning at a chance meeting, Jean (Alexandre Hamidi) has run away from his fatherís farm, and is looking to take up refuge with his brother Georges (Thierry Neuvic), a wartime photographer and his actress girlfriend Anne (Juliette Binoche). The meeting sets off a spiral of events that seem ultimately unconnected, but slowly draw together to form the weave of the Parisian streets and a rhythm matched by the films only soundtrack, loud united drums.
But this is no Magnolia (1999), nor Short Cuts (1993), nor even LíArgent (1983). Haneke draws on the small moments that may not resonate immediately, but subtly find their way into the lives of those co-habitants which we bump into on a daily basis. Part of the texture may be the way in which we communicate, but here, the problem is a failure of language on all fronts. Jeanís father is silent and emotionally absent, his older brother can only navigate the world through his photographs and Maria (Luminita Gheorghiu) a Romanian street beggar is outside the realm of visible significance, unless perched on the footpath. This isnít the kind of subject that needs pontificating, and thankfully, Haneke is not the kind of filmmaker to do so (except unsuccessfully in Funny Games). But the refusal of resolution may leave some viewers cold, and in truth is as sombre as Paulís direct to camera conversations in Funny Games. Haneke is testing the lengths of an audienceís patience by sharply cutting his stories abruptly shifting from one to another without any sense of reason or purpose. But while Haneke antagonised his audience in Funny Games with Code Unknown, he reaches out and engages in a way few filmmakers could achieve.

Video


Presented in the filmís original theatrical ratio of 1.85:1, this anamorphic transfer is basically a direct port of the French MK2 print. This is a very good transfer, itís sharp and colors are vibrant, blacks are deep and shadow detail is excellent. Itís a fairly recent film so youíd expect a quality transfer and thatís basically what is presented here. There were a few minor flaws, itís not entirely perfect. I noticed some scratches and minor print damage but aside from that itís a solid effort.

Audio


The film includes itís original French Dolby Digital 2.0 Surround track, dialogue is clear and distortion free but the track lacks depth, most dialogue comes from the centre speaker and the left and right occasionally get some use once in a while. This is primarily a dialogue driven film so a full blown 5.1 track wouldnít really add anything of significance. Although it lacks depth itís a decent audio track that presents the film well.
The film also includes optional subtitles in English, I could not find any spelling or grammatical errors and they were easy to read. However there were a few occasions when they flew by a little quickly and I had to rewind to read them.


Extras


Accent has only provided a selection of theatrical trailers for this release, the films original trailer is included and runs for 3 minutes 1 second, additionally a handful of bonus trailers for other Accent releases include Persona which runs for 2 minutes 34 seconds. Criminal Lovers for 30 seconds, A Heart in Winter for 1 minute 59 seconds, La Belle Noiseuse which runs for 1 minute 12 seconds and finally Scenes from a Marriage that runs for 48 seconds.

Overall


One of Hanekeís finest films, cinephiles will enjoy this one. If you have no patience for the storytelling to unfold then youíll probably dislike this film.
Accentís DVD includes decent image and sound quality however the lack of any substantial extras is an unfortunate disappointment.
| | | | | |
| --- | --- | --- | --- | --- |
| The Film: A | Video: A | Audio: B+ | Extras: E- | Overall: B- |