The Film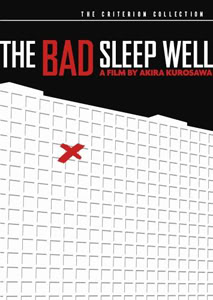 Legendary filmmaker Akira Kurosawa is known for many of his samurai films such as Seven Samurai (1954), Hidden Fortress (1958), Kagemusha (1980) and Ran (1985), however there are many from his filmography that are little known and often overshadowed by his most famous pictures. The Bad Sleep Well is one example, made in 1960 it was the fist film to be produced by Kurosawaís own Production Company. Throughout his career he gained a reputation of being a stringent perfectionist, often causing productions to go over time and often over schedule. Toho encouraged him to start his own production company in order to minimize the risk.
For this film, Kurosawa would set his story in a contemporary setting and would be his ultimate statement about corruption in post-war corporate Japan. In order to tell his story he would yet again borrow from Shakespeare (In this case from Hamlet) to help develop his plot and would again re-team with actor Toshiro Mifune. The Bad Sleep Well weaves a tale of corporate conspiracy fueled by greed as the executives try to keep their secrets secret, no matter what the cost. Even human life, those who cause problems for the Vice President are encouraged to commit suicide to protect fellow executives. One such person was the father of a young executive, Koichi Nishi (Toshiro Mifune) who changed his true identity (by exchanging his identity with another man) in order to get closer to the companyís Vice President Iwabuchi (Masayuki Mori) so that he can exact his revenge on his fatherís suicide. He eventually marries the Vice Presidentís Daughter Yoshiko (Kyoko Kagawa) and plans to use her as a tool for his vengeance. Nishi attempts to expose the men responsible for his fatherís death and uncover their dirty dealings for the media in the hope they will commit suicide themselves.
Yet again, Kurosawa has crafted a wonderful film that mixes the classic elements of noir with his own distinct style of storytelling and a dash of social criticism. This film feels very much like a samurai film set in contemporary times. This revenge tale asks the question Is there anything honorable left in corporate Japan? as the main character Nishi plans to unravel the company and expose their dirty laundry that led to the death of his own father, we learn his story and motivations as the film progresses as well as his deviously splendid plan he has in store for the Vice President and his family. What he didnít count on was actually falling in love with the woman he married to get close to the Vice President.
The Bad Sleep Well is packed with a brilliant cast that lends wonderful performances. The characters themselves all feature an interesting duality, especially reflected in their acts, for example the main character Nishiís motives are entirely rested upon revenge, yet heís in love with his wife and is an honorable person. The Vide President finds it easy to involve himself in corruption and influence people into committing suicide to protect the higher levels of management yet on the flip side of the coin he is a devoted husband and father. The line is clearly blurred, but certainly makes for more interesting characters rather than the run of the mill.
The Bad Sleep Well has enough thrills and suspense than a Hitchcock film and is a Kurosawa film that definitely deserves more attention.

Video


Presented in the filmís original theatrical ratio of 2.35:1, this anamorphic transfer has been restored and significantly cleaned up for this release, however itís not entirely sharp as Iíd have like it to be. The image does still suffer from a bit of softness, there are occasional marks on the print but nothing that becomes entirely distracting they are once in a while occurrences. The contrast between black and white is superbly handled, blacks are deep and bold which is a nice touch. Overall this is a fairly decent print that does have some room for improvement but is likely to be the best presentation of the film to date.

Audio


The Criterion Collection presents the film with its original Japanese Dolby Digital 1.0 Mono sound track. It lacks definition and depth, there is not atmospheric mood created by this soundtrack which is a shame, but it is the filmís original soundtrack and does the job presenting the dialogue clear of distortion, mainly pops, hiss and the occasional drop out that films of this age suffer from.
Optional subtitles are included in English only. The subtitles are 16x9 friendly and are a nice size on-screen. The subtitles are easy to read and feature no grammatical or spelling errors and appear on-screen for long enough to read without having to stop and rewind.

Extras


First up is the documentary originally produced by Toho for the series Akira Kurosawa: It Is Wonderful to Create this feature runs for 36 minutes and features interviews with Kurosawa collaborators as they discuss the process from script to screen, the actors reminisce about working with the master filmmaker and also provide trivia and stories from the set. The entire piece is in Japanese and features subtitles in English. For a short piece itís pricelessly informative about this little known Kurosawa masterpiece.

Next up is the filmís original release theatrical trailer presented in 2.35:1 and also in Japanese with English subtitles. The trailer runs for 2 minutes 45 seconds.

Rounding out the discís extras is a booklet that features two excellent essay, the first entitled The Higher Depths by film columnist Chuck Stephens, the second is Shakespeareís Ghost by filmmaker Michael Almereyda. Also included in the booklet are a chapter listing, cast credits, as well as information regarding the transfer, DVD production credits, special thanks and acknowledgments.

Overall


The Bad Sleep Well is a terrific film that Kurosawa fans will enjoy and it's also an easily accessable film that newcomers to Kurosawa will likely enjoy, as it provides a good introduction to the iconic filmmaker.
The Criterion Collection has provided a decent transfer, however does leave room for improvement and paired it with an adequate soundtrack. Extras include an excellent documentary and minor additionals, while a nice package it could have benefited with a commentary.
| | | | | |
| --- | --- | --- | --- | --- |
| The Film: A | Video: A- | Audio: B | Extras: C | Overall: B |