The Film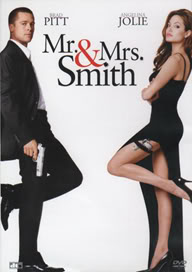 Mr. & Mrs. Smith almost never happened, several times. The film has taken 5 years to get off the ground, numerous writers were brought in for many rewrites of the script (over 50 different versions of the script had been written), several members of the cast dropped in and out of the production and even director Doug Liman originally said no to doing this film. Eventually after 5 years of trying the pieces eventually began to fit for the producers and the screenwriter. Liman came on board just as Brad Pitt had and eventually a leading lady was found when Nicole Kidman, who was originally cast but left the project to pursue another role, with every boyís wet-dream of a girl Angelina Jolie. Mr. & Mrs. Smith was finally on track and ready to go in front of cameras.
Mr. & Mrs. Smith tells the story of John and Jane Smith played by Pitt and Jolie. The Smiths are a couple whose marriage has seen better days, their days consists of suburban mundanity and a lackluster sex life. The only thing keeping these two going are their lives outside of their marriage; you see the Smiths are assassins that work for competing agencies. When one day both of them discover their secrets and a war between husband and wife ensues, as they are ordered to take each other out. But that is easier said than done, when their feelings for each other are re-ignited amidst their attempts to knock the other off.
This film works on many levels the fist of which is its script, for a popcorn action film the script demonstrates some intelligent writing that doesnít for one moment pander to the audience or take them for granted, as some action films seem to. This film also has characters that many people can relate to, especially since they both have flaws demostrated by their struggling relationship. Itís these character moments they share at home and in therapy that makes them seem real and add a three-dimensional quality. The filmmakers allowed time for us to get to know them and enter their world and as a result let the action develop naturally as the film progresses. Most action films would start the film with a big set piece rather than a therapy session with husband and wife. Itís certainly unconventional but it works and sets up the film in an awkwardly entertaining way.
Another key to this filmís success are the two mega-star leads, Pitt and Jolieís chemistry jumps off the screen. Itís no surprise that these two eventually fell for one another, but thatís a story for all the tabloids and not here. On the page these characters arenít really special by any great means, but these two light up the screen with energy that breaths life into them and more importantly is exciting and entertaining to watch. The support cast is equally impressive, Vince Vaughn especially, bringing his dry motor-mouth wit to this film created a memorable character that steals scenes and has some of the funniest lines in the film.
The action, however is the cherry on the cake, Liman has learned a lot from doing The Bourne Identity (2002) in just a few short years this independent filmmaker responsible for Swingers (1996) and Go (1999) a film thatís been referred to as the teen Pulp Fiction has graduated to big budget action directing and has filled the screen with exciting, visually interesting and over the top sequences that manages to maintain a level humour which reminds the audience not to take things so seriously. While there was a couple of instances that made me say Ďyeah rightí and took things a bit far, such as the zip-wire escape at Janeís HQ and some parts of the final shootout, however for the most part it was fun to watch and once you check your brain at the door youíll have an even better time.
The film may be a bunch of Hollywood mumbo-jumbo, letís face it thereís nothing particularly amazing about the plot, but bottom line is that this film has a pulse. Youíll be entertained and itíll put a smile on your face. If a film can do that then itís worth seeing in my book.

Video


Presented in the filmís original theatrical ratio of 2.35:1, this anamorphic widescreen image is beautiful to say the least. The image is sharp and crisp, the print is very clean without any evidence of damage or artefacts which is expected from such a recent release. Colour is rendered beautifully, I detected no bleeding and skin tones are natural and true to life. Additionally blacks are deep and shadow detail is consistently good especially during night scenes. Fox have done a superb job with this flawless transfer.

Audio


Three audio tracks are presented on this release, an English DTS 5.1 track, an English Dolby Digital 5.1 and a Thai Dolby Digital 5.1 surround track. For the purposes of this review I chose to view the film with its DTS track, and I was happily blown away by it. Dialogue is crystal clear without any evidence of distortion, environmental directional effects are subtle yet make good use of the surround space to place you within the world of these characters from the mundane suburbs to the spy headquarters to other far off locations and immerse the viewer right in. The best part about this track is the action, once guns are fired, missiles are launched, mayhem ensues and stuff gets blown up the activity will rattle the walls. it's well balanced throughout the 5.1 channels creating a depth that is both exciting and believable. Itís the perfect track that matches the splendid visuals. Just make sure you crank it up!
Optional subtitles are included in English, Cantonese, Mandarin, Thai, Korean, Bahasa Indonesian and Tagalog.

Extras


First up we have a feature-length audio commentary by the filmís director Doug Liman and screenwriter Simon Kinberg. The track isnít exactly screen-specific but they try to remain on track as they discuss various aspects of the production from what attracted them to it, how the film was pitched and the difficulty in doing so because it had elements of a thriller, a romantic comedy, a drama and an action film all rolled into one. The participants also cover issues relating to the cast, certain action sequences and how they were filmed, they reveal actual locations that substituted for New York or other more exotic locations as seen in the film. They provide a fair amount of insider knowledge here and the track is generally very good and certainly worth a listen for anyone that wants to know more about this film.

Next up is the second feature-length audio commentary this one is by producers Akiva Goldsman and Lucas Foster, there is a fair but of repetition here but there is also a fair bit of coverage the producers talk about that isnít spoken about in the previous track such as issue pertaining to budget, the use of stock footage enhanced for their film to minimize cost. They also gloss over the cast and shovel a fair bit of praise in their direction. They also let us in on some tricks used to sell certain shots as well as scenes that had to be re-shot, re-edited or re-tooled along with scenes in the original script that didnít make it into the film. Overall itís a decent track aside from the fact that thereís quite a bit of info covered in the previous track.

A short featurette follows, entitled Making a Scene this clip runs for 8 minutes 3 seconds and is a promotional piece created for the Fox Movie Channel. It briefly covers the synopsis of the film but for the most part focuses on one particular scene in the film. Itís the chase scene after the couple has basically found each other out. The clip looks at the staging of the scene, the motivational drive that propels it, the action included in the scene and how they pulled it off, as well as the seamless VFX. Itís brief but gets to the point and isnít diluted by a bunch of people talking about how cool everyone is. I, however would have preferred a well produced making of documentary than this, but at least something is better than nothing.

A collection of three deleted scenes are included, you can choose to view them individually or with the option of a Ďplay allí function. The scenes are more extended scenes than they are deleted scenes but they make a welcomed addition to this DVD none-the-less, the scenes included are:
- John and Eddie in the Kitchen which runs for 2 minutes 41 seconds, in this scene we get some additional dialogue of Eddie trying to help John get over his hurt plus puts a few ideas into his head about what his wife could be up to.
- House Cleaning runs for 3 minutes 37 seconds and we get extensions to both the scenes where Jane and John go back to the house after they discover each other's identity, in Janeís clip we see some additional moments of rummaging through the house and with John some minor additional dialogue between him and his neighbour that he uses as a human shield to enter the premises.
- Homemade Store Shootout runs for 2 minutes 25 seconds, here we get some additional gunplay on one floor of the shop and then John and Jane get back into the elevator.

Rounding out the discís extras are the filmís original theatrical teaser which runs for 1 minute 53 seconds as well as the slightly longer theatrical trailer which runs for 2 minutes 26 seconds.

Overall


Mr. & Mrs. Smith is a smart and entertaining popcorn action film that includes brilliant performances with some great action sequences. Liman has crafted an enjoyable film that is over the top in its story and action but manages to keep our disbelief suspended by creating a tone that doesnít take itself too seriously and casting the leads perfectly.
The Fox DVD includes a terrific image and audio transfer with a handful of extras that youíre likely to go through rather quickly, itís also unsure why the third audio commentary that appears on the US region 1 release was not included on any International release.
| | | | | |
| --- | --- | --- | --- | --- |
| The Film: A | Video: A+ | Audio: A+ | Extras: B- | Overall: A- |