The Film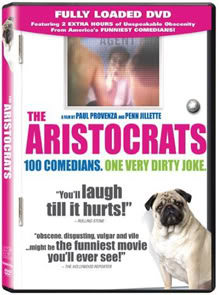 So a family of performers walk into an agentís office and says to the agent Ďhave I got an act for youí. From that point on it gets a bit vulgar, but thatís basically what this documentary is about. A joke with a punch line ĎThe Aristocrats!í what goes in-between the first line and the punch line is basically up to the teller of the joke, but usually consists of a family of performers that do all manner of deviously disgusting acts that basically cover bestiality, incest, fecalphelia, I could go on but itíll probably make the average person a little sick. This joke has basically traveled around the stand-up world and just about everyone in the business has their own version of the joke. Itís a joke that has transcended time and taste. This documentary is a journey to discover how the joke originated and interview 100 comedians to give their version of the joke. What ensues is 90 minutes of the filthiest obscenities you will likely hear in one film. And some of it is actually pretty damn funny too.
Filmmaker Paul Provenza follows around comedian and sometimes illusionist Penn Jillette (of Penn and Teller fame) take us on a journey throughout the nation showing us the different interpretations of the joke, along the way we also learn some insights about the comedianís personalities, how they heard the joke and itís use in stand-up. While mostly regarded as an in-joke told by comedians to comedians it has sprung up in public a few times. One such hillarious example is included in the film, when Gilbert Gottfried (the man with the most annoying voice in the world) used it on the Comedy Central Roast of Playboy founder Hugh Hefner, it all started with a 9/11 joke, keep in mind that this roast was three weeks after the tragedy. When things started going south for Gottfried he pulled out The Aristocrats joke taking things way out of line and changing the tone of the entire evening. Traditionally it was used by comedians as a mental exercise by telling the joke as a way to warm up before a gig. Basically the documentary teaches us three things, the first that there is this sort-of secret joke told between comedians that is rarely ever performed on stage, the second that itís a joke that is totally adaptable to oneís personality and finally the point is to be as obscene and disgusting as you possibly can after all the punch line's effectivness is much greater the the more over-the-top the joke is. Aside from these three insights and some laughter thatís about all youíre likely to get from this film. Different people will likely react differently to a telling of the joke, thatís what makes this documentary unique and interesting but having different interpretations of the what is essentially the same joke retold to you over 90 minutes can get a bit tedious, not to mention a little boring. I also found the back and forth heavy cutting of the film a bit distracting. Aside from this those that appreciate a dirty joke will have a good way to kill 90 minutes, be entertained and most importantly shocked at what some of these comedians are capable of coming up with. However if you offend easily then itís wise that you skip this offering.

Video


Presented in the filmís original ratio of 1.33:1, this full screen transfer is not consistent in quality, it tends to jump from good to not great. One thing to keep in mind is that this film was shot on DV tape and on consumer cameras that just about any one get a hold of. The production value is not high so donít expect an amazing transfer. There are a lot of problems associated with digital tape, occasionally pixels show up, the depth of field is virtually non-existent, many scenes are shot in poor light and causes a heavy amount of grain so it's occasionally very soft in these moments of the film.

Audio


Two audio tracks are included on this release, both in English. The first is a Dolby Digital 5.1 surround and the other is a Dolby Digital 2.0 Stereo track. This is basically an entirely dialogue driven film so donít expect anything amazing. I would have been happy with the Stereo track but the 5.1 does itís job presenting the dialogue clearly without any major problems.
The film unfortunately does not feature any subtitles.

Extras


First up is the feature-length audio commentary by Filmmaker Paul Provenza and comedian/illusionist Penn Jillette. Since the filmís pace is rather quick this isnít entirely screen-specific and the two mention that at the start. The participants discuss the genesis of the project, the provide background on the featured comedians as well as interesting and often funny trivia. Provenza basically takes hold of this track while Penn provides the bullet points that propel Provenza into giving details. You wouldnít think that a commentary for a film that is essentially about one joke would be all that interesting or informative but it is highly amusing, perhaps even more so than the film itself.

Next up we have a section entitled More from the Comedians in the sub-menu you will find what is essentially 21 deleted or alternate scenes they include:
- Gilbert Gottfried, this clip runs for 6 minutes 59 seconds and features Gottfried telling us where he originally heard the joke and we also get alternate version of his telling of it.
- Bob Saget: I Have No Filter which runs for 13 minutes 1 second, this is basically some b-roll outtakes of Saget backstage from a show trying to tell his version of the joke.
- Hank Azaria: The Ultimate Punchline which runs for 6 minutes 36 seconds, here Azaria tells us the joke as an old family joke passed onto him. He gives us many different variations to compliment Ďthe ultimate punch lineí
- Kevin Pollack: Itís a Possession runs for 4 minutes 34 seconds and tells the joke by impersonating Albert Brooks and then wonders why heís never funny as himself but always when impersonating other people.
- Sarah Silverman: People Think Itís a Weird Way to Grow Up runs for 5 minutes 45 seconds, Silverman explains how she was an Aristocrat and places herself into the joke in what turns out to be a rather dark telling of the joke.
- Lewis Black: Thatís Really All I Have to Say runs for 1 minute 50 seconds, here Black presents the joke as a pitch for TV executives.
- Taylor Negron: I Am An Aristocrat runs for 3 minutes 34 seconds and features Negron talking about how a man of his position wouldnít talk about sex.
- Pat Cooper: Iím The Genius of Myself runs for 3 minutes 59 seconds, here Cooper blasts the filmmakers for making a documentary about a sucky joke, tells them he doesnít Ďdo jokesí but then cracks a few.
- Jason Alexander & Peter Tilden: Never Open With That runs for 5 minutes 53 seconds. The two present the joke as a show they both saw in Las Vegas involving testicle torture.
- Jon Stewart: Iím Not Telling the Joke runs for 4 minutes 3 seconds and Stewart outright refuses to tell the joke, and tells what heíd rather do instead.
- Doug Stanhope: Remember When I Took You To Sea World runs for 4 minutes 31 seconds, here Stanhope gives us yet another version of the joke.
- Whoopie Goldberg: Iím a Story Teller runs for 4 minutes 7 seconds, Goldberg tells is us the joke how her mother would have told it.
- Phyllis Diller: Iím a One Liner-Queen runs for 4 minutes 11 seconds, Diller explains where she originally heard the joke and what she likes about it, as well telling us the first racy joke she told on TV.
- Richard Jeni: I Can do This runs for 2 minutes 37 seconds. Jeni tells us his opinion why the joke has been around for so long, and how we all can relate to it.
- Jake Johannsen: Iím Not Sure Iím The Best Guy To Tell It runs for 2 minutes 4 seconds, in this clip we get a break down of the joke.
- Merrill Markoe: I Went to Art School runs for 4 minutes 8 seconds, Markoe discuses how the family in the joke would make a great cast for an HBO show.
- Otto & George: The Teabags are resting Nicely on the Bench runs for 2 minutes 16 seconds, here Otto tries to tell the joke but is hassled by George (a ventriloquist puppet) to hurry up, George eventually tells the joke.
- Ron Jeremy: Twas on a Lovely Day in May runs for 2 minutes 22 seconds, here Ron recites the joke as a poem.
- Billy the Mime: The Abortion runs for 3 minutes 10 seconds, this is a pantomime of someone going to a clinic to get an abortion.
- Terry Gilliam: We Talked About Filmmaking runs for 1 minute 59 seconds, for some reason there is no Gilliam audio on this clip, instead Paul Provenza provides a narration as to what they talked about.
- The Royal Debonaires: Love Theme From The Aristocrats which runs for 2 minutes 14 seconds, this is basically a music video for a song that is featured on the filmís soundtrack CD.

Next up we have a highlight reel entitled The Aristocrats Do The Aristocrats which runs for 5 minutes 18 seconds. This is basically a condensed version of the film, or perhaps a really, really, really long trailer that features a bunch of the comics telling the joke. Itís a good way to introduce someone to the film, but aside from that itís a rather useless extra.

Following that is the For Johnny Carson segment which runs for 2 minutes 5 seconds. This clip features some comics talking about how the Aristocrats joke was Johnnyís favorite joke and tell how he would have delivered the joke.

Behind The Green Room Door: Comics Tell Us Some Of Their Favorite Jokes featurette runs for 16 minutes 8 seconds, in this piece a bunch of the comics take time out to tell us some of their favorite classic jokes, these are all story-jokes and one interesting side note is that not one of them knows anyone that wrote any of the Ďclassicí jokesí - where did they come from? Some of the jokes you would have likely heard, while others you may not have. Some are funny and some are lame, I guess it depends on what you think is funny.

Next we have a series of two clips called Be An Aristocrat Contest Winners I guess there was a competition at some stage to find people who tell the joke in the funniest way possible, these two winners are Flap Jack which runs for 7 minutes 2 seconds and features a guy dressing up like some 1920ís cartoon character and telling the joke to strangers on the street. The second clip is Ball Sack Follies and runs for 3 minutes 1 second, this is a series of animated stills that tell a story of an agent who meets an unusual family.

A collection of two bonus trailers for When Stand-up Stood Out which runs for 2 minutes 10 seconds and The Untold Story of Emmitt Louis Till which runs for 2 minutes 7 seconds are included on this disc.

Rounding out the filmís extras is a liner note booklet that includes notes from Filmmaker Paul Provenza and comedian/illusionist Penn Jillette.

Overall


The Aristocrats is an often funny but occasionally repetitive film about the untold joke among the comedianís circle. It features some extremely talented people and is certainly worth checking out - that is unless you have a weak stomach or offend easily.
Think Film have provided an average transfer with average sound quality for this film's release (Although this quality is mainly due to how the film was shot and not necessarily Think Film's doing), we also get a collection of extras that will take you some time to look through, although they much like the film can get a bit tedious. The commentary is most definitely the stand out extra on this disc.
| | | | | |
| --- | --- | --- | --- | --- |
| The Film: B- | Video: B- | Audio: B | Extras: B+ | Overall: B |