The Film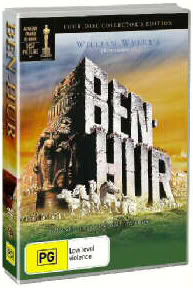 There are few films that are etched into peopleís consciousness, films that transcend time and culture that break boundaries and are an experience to be shared by all. Ben-Hur is one such film, a film that when released in 1959 was greeted with thunderous applause, a product of itís time when McCarthyism had singled out the communists among the film community, films that touched on patriotism or religion became subjects of popular titles released in the 1950ís as a result, a religious and patriotic person cannot be cold-blooded evil commie (so the thought was at the time). It was also in an era where television was gaining popularity, theater numbers were falling and Hollywood answered with the epic. But what makes this film so popular that after 46 years since its release is still regarded as one of the best films ever made, the American Film Institute has placed Ben-Hur at number 72 in their 100 years 100 movies list. It won 11 Academy Awards in 1960, the most awards ever awarded to a single film, a feat matched only twice in Hollywood history by Titanic in 1998 and The Lord of the Rings: The Return of the King in 2004. Ben-Hur stands today as a marvel of filmmaking, a film of epic proportions but at the heart lays a tale of friendship broken apart by beliefs, betrayal and revenge. These are classic themes that echo throughout human history, themes that are easily relatable to. Itís a film that includes sequences of sheer beauty and magnitude, scenes that are thrilling and memorable (especially the famed Chariot Race, even people that have never seen the movie will tell you they know about this scene). These are the reasons why this film has endured for so long, loved by many and cherished by cinephiles, certainly one of the best epics committed to film.
The film certainly has an impressive legacy, and I was very interested in reviewing this film. Prior to viewing this DVD I have not actually seen Ben-Hur in its entirety, I know this may be seen by some as cinephile sacrilege. I was curios to see for myself first hand why many people regard this film among the best.
Ben-Hur tells the tale of a wealthy Jewish Prince Judah Ben-Hur (Charlton Heston), while living in the holy city Jerusalem with his family, an old friend, Messala (Jack Hawkins) returns and takes office as the new Commander of the Judea Garrison. After a friendly reunion itís soon clear that these two menís principles and political views differ. These differing views cause a rift in their relationship.
During a parade to welcome the new government of Judea a roof tile falls from Judah's house while they are viewing the procession and nearly hits the governor. Roman troops embark on Judahís house and arrest him, his mother Miriam (Martha Scott) and sister Tirzah (Cathy OíDonnell) for the crime of attempting to kill the governor. They are imprisoned without trial and Judah is sent to the galleys as punishment. Messala, who knew of their innocence, sentenced them anyway as an example of his power. Condemned to the galleys of Romeís finest ships, in servitude chained to an ore Judah never lost hope and the fire to avenge this wrong. When one day he saves the life of Nobel Roman Quintus Arrius (Jack Hawkins) who pardons Judah and takes him to Rome. Eventually after five years, he returns to Jerusalem to exact revenge on Messala and retrieve his mother and sister from prison.
The story of Ben-Hur takes place around the same time as the story of Christ. At the beginning of the film Christ is born, in the middle of the film we see him giving water to a chained and dehydrated Judah, and at the end we witness his crucifixion. Threaded within the story of Ben-Hur is Christ's.
Ben-Hur is a monumental feat in epic filmmaking, director William Wyler's grand vision is expertly presented in this 222 minute opus. The story is engaging and interesting, especially the first half of the film and leading up to the memorable chariot race scene. Judah is a character you root for right from the start, the injustice laid upon him only strengthens the audienceís sympathy with the character. Charlton Heston portrayed as a strong willed and determined hero, a performance that earned the actor the Oscar for Best Actor. Although impressive, I found that there were many over-acted and scene stealing moments throughout the film, something not uncommon in films from the 50ís. This isnít entirely distracting but rather charming, serving as a time capsule of theatrical performance in films during this period.
The film is full to the brim with outstanding performances, I was also amused and also a little disappointed in Hugh GriffithĎs performance of the Arab Sheik Ilderim (a performance that earned the actor the Best Supporting Actor Oscar), I found his characterization was a little over the top, almost a stereotypical representation of what an Arab should be, it sometimes seemed too comic and not entirely natural like, for example Alec GuinnessĎ performance of Prince Feisal in Lawrence of Arabia.
One canít write about Ben-Hur without mentioning the amazing set design, cinematography and music. All the hallmarks of what makes an epic film so epic in the first place (well, those things and a hefty runtime also help). The set piece are truly phenomenal, in a time were no computer effects existed, all the sets were created for the film, to extend Rome and Jerusalem matte paintings were created. But if you look closely at the backgrounds and sets almost everything was built, including the massive coliseum set (Although additional matte and miniature effects where used to make it look so grand) were they staged the chariot race. Thereís no cheating here, some shots are framed so wide itís truly astounding how they managed to do this all back in the 50ís.
Robert SurteesĎ cinematography is in a word stunning, the film was shot in a 65mm format called MGM Camera 65, the ultra wide frame puts cinemascope to shame. The photography is lush and textured with shadows and darkness, unlike many films made during that time, Surtees wasnít afraid of using darkness and shadows to create shape and form in the image. He was after all nicknamed The prince of Darkness he certainly pioneered a dramatic shift in film cinematography and his image is beautiful to behold.
Complimenting the photography is the score by composer Miklos Rozsa, using blaring horns and string sections, Rozsa created a score that capture the feel and tone of the story perfectly, adding rich music to the key action set pieces of the film while also allowing scenes to play out without musical interludes. Rozsa knew where and when to use music and made dramatic use of it here. Fledgling composers can learn a lot from his style and use of music.
Ben-Hur is an overwhelming experience, while I enjoyed almost the entire film it was in the last 30 minutes that I was let down. The film goes from excellent film about freedom, vengeance and retribution to culminating with a heavy handed Christian propaganda about faith and the lord. I felt that the painfully schmaltzy ending hurt the overall impact of film. Many people may choose to disagree with me on this point. Despite this, I cannot deny the filmís sheer magnitude, itís an impressive feat of filmmaking and Iím glad to have the opportunity in seeing it.

Video


The case states that the film is presented in a widescreen ratio of 2.76:1, however after measuring the image it comes to approximately 2.74:1, this anamorphic transfer is beautifully restored from the original 65mm camera negatives. Colour definition is fantastic, the image itself is razor sharp (also helped by the fact the film was shot on 65mm, the sharpness of that format was impressive). Blacks are bold and shadow detail is excellent, especially during the night scenes and also in the Leper colony inside the caves serves as great examples. This is a terrific transfer, Warner Brothers have clearly spent time in making this film look as good as the day it was originally shown.

Audio


The film includes three audio tracks all of which are presented in Dolby Digital 5.1, they are in English, French and Italian. For the purposes of this review I chose to view the film with its English soundtrack. Although the film's original mono presentation is not included on this release this new 5.1 Dolby track is indeed very good. The dialogue is clear and distortion free, but most impressively is that the film's score blares over the 5.1 channels, the sound effects and directional surrounds are mixed quite well and never feel out of place. The film's sound does occasionally lack definition and sometimes comes across a little hollow but keep in mind that this film is 46 years old.
The film also includes optional subtitles in English, French and Italian.

Extras


DISC ONE:
The first disc includes the first part of the film Ben-Hur (1959), the only extra we have on this disc is the feature-length audio commentary by actor Charlton Heston and film historian T. Gene Hatcher. Heston makes occasional comments here and there, the track is guided largely by Hatcher. We learn more about the filmís original source material the novel written by Lew Wallace. We also get a concise history of the filmís production. Heston chimes in regarding his character as well fondly remembering his esteemed director. Itís also interesting to find out about the considerable risk that this film was, in terms of scale and budget as well as in terms of casting and the choice of director. The commentary continues on the second disc.

DISC TWO:
This second discs included the second part of the film Ben-Hur (1959) and sees a continuation of the audio commentary by actor Charlton Hestonand film historian T. Gene Hatcher. The track continues with general facts about the production, we also learn more about the famous chariot race scene, Heston informs the listeners about the difficult challenge in filming that scene as well as the intense preparation required to sell the many complicated shots. Overall itís a info-packed track that fans will enjoy, however getting through it can be an ordeal considering the filmís runtime!

DISC THREE:
On this disc we get a bonus film, a remastered version of the original 1925 silent classic Ben-Hur: A Tale of the Christ in this version directed by Fred Niblo we get a much more Christ-centred version than the 1959 one. This film is presented here with itís original tints and also boasts a stereophonic orchestral score (recorded in 1987 according to IMDB) composed by Carl Davis. This version makes a welcomed companion piece to the 1959 version. For a film 80 years old it looks very good, although the transfer still has excess amounts of grain, dirt and debris itís still fantastic for its age.

DISC FOUR:
Here is where all the good stuff is kept, the fourth and final disc in this epic set includes all the extras you may in fact need. Starting with a brand spanking new documentary entitled "Ben-Hur: The Making of an Epic" clocking in at 58 minutes 5 seconds this piece is a wonderful look at the impact and importance this film has and is. The feature includes interviews with many Hollywood heavyweights as they reflect on what Ben-Hur means to them and to cinema history. Overall this is a solid piece that uncovers some great history and brings to light what a truly magnificent feat of filmmaking this was.

Next up we have the 1994 documentary narrated by Christopher Plummer entitled Ben-Hur: The Epic That Changed Cinema" running for 57 minutes 40 seconds this feature was previously included in the last DVD release and takes a look at the history of Ben-Hur from the original novel adapted as a big budget stage production in the early 1900ís, the fist film version appeared in 1907 that was made by a company that didnít have the right to use the characters and story (in fact that case was the precedent for copyright law). The feature also takes a look at the first official screen version, the 1925 silent film as well as the current 1959 version. Itís a fine documentary and makes an excellent companion piece to both versions of the film included in this set.

Following that is a feature entitled Ben-Hur: A Journey Through Pictures", which is a slideshow that runs for 5 minutes 6 seconds. This piece features photographs, sheet music, concept art and clips from the film all accompanied by music from the score. Itís an interesting but brief look at some memorable moments from the film but Iíd have preferred a proper gallery displaying the photographs and artwork.

We also get a series of 4 screen tests pf actors that tried out for the parts of Judah Ben-Hur and Messala, included also is a make-up/costume test. In the documentary it mentions that when casting Ben-Hur many major stars where considered and MGM conducted casting calls, these tests includes various actors form those casting calls in costume playing out moments from the screenplay and include:
- Cesare Denova as Ben-Hur and Leslie Nielsen as Messala. This test runs for 6 minutes 55 seconds.
- Leslie Nielsen as Messala and Yale Wexler as Ben-Hur. This test runs for 11 minutes 22 seconds.
- George Baker as Ben-Hur and William Russell as Messala. This test runs for 5 minutes 32 seconds.
- Finally we also have a costume and make-up test for Haya Harareet who played Ben-Hurís love interest Esther, the test is silent and runs for 5 minutes 4 seconds.

Next up we have a collection of 6 vintage newsreels, thy include:
- Costliest Film Makes Screen History which runs for 1 minute 4 seconds features footage from the filmís box office opening, with actor Charlton Heston greeting crowds.
- The Night Ben-Hur Comes To Broadway which runs for 1 minute 45 seconds, showcases the filmís world premiere red carpet gala in New York.
- West Coast Welcomes Ben-Hur which runs for 1 minute 16 seconds, features footage from the filmís L.A. premiere at the Egyptian Theater.
- V.I.P. opening: Capital Welcome For Ben-Hur runs for 1 minute 21 seconds and features footage of the Washington D.C. premiere, where we see international delegates and politicians attending the screening.
- Japanís Emperor Goes To The Movies running for 1 minutes 9 seconds, we get a clip of the Tokyo premiere that was attended by the Japanese Royal Family.
- Oscar Likes Ben-Hur which runs for 2 minutes 55 seconds, features highlights from the 32nd annual Academy Awards where the film made history by winning 11 Oscars.

We also get highlights from the 4/4/1960 Academy Awards ceremony. This clip runs for 9 minutes 43 seconds and features the award presentations of all 11 awards. The footage also includes some red carpet moments at the beginning.

Rounding out the discís extras are a series of 5 theatrical trailers that include:

- The 1959 Loew's theater promo, which runs for 54 seconds.
- The filmís original theatrical trailer that runs for 2 minutes 52 seconds.
- The filmís 1961 re-release teaser trailer that runs for 2 minutes 57 seconds.
- The 1961 re-release theatrical trailer that runs for 2 minutes 57 seconds.
- The 1969 70mm re-release theatrical trailer that runs for 3 minutes 53 seconds.

Packaging


Warner Brothers has presented this special Collectorís Edition DVD in a 4-disc deluxe amaray case with a cardboard slip-cover.

Although the packaging states that the region coding for this release is R4 it is actually dual encoded R2 and R4.

Overall


Ben-Hur is a film of epic and grand proportions that has a permanent place in Hollywood history and is lovingly restored to its original splendour here on this impressive Warner Brotherís 4-disc Collection, along with a series of impressive extras. Film fans will want to get their hands on this set.
| | | | | |
| --- | --- | --- | --- | --- |
| The Film: B | Video: A+ | Audio: A- | Extras: A+ | Overall: A- |