The Film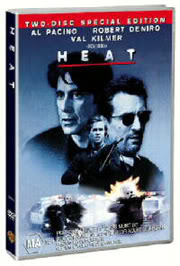 In the late 1980s Michael Mann was just coming off of his popular TV series Miami Vice (now currently being filmed as a feature film). His next project, which he had been developing for quite some time over many years, was based on a true detective story. Mann had been researching the case and wrote a script which would later become Heat. However in 1989 Mann stripped down the lengthy script and eventually made it into the TV film L.A. Takedown a moderately successful heist film which was later revisited by the filmmaker in 1994 this time his complete version of the story would be made with an all-star cast and a cinematic pairing that was years in the making that led to one of the most famous and beloved scenes in the entire film.
In 1995 Heat opened to resounding critical praise, the filmís box office takings were not spectacular by todayís standards but it certainly made profit. However it wouldnít be until years later that this crime saga was truly appreciated for what it is. Ten years since its original release and no other film of this genre made recently has been able to match or better the greatness of Heat.
Heat tells the story of expert thief Neil McCauley (Robert De Niro) and obsessive detective Vincent Hanna (Al Pacino). McCauley is the best there is and his long standing philosophy of no-attachments has served him well over the years. Hanna is a man driven by his obligations to the shield. His job comes first and everything else second - even his family. He will do everything he can to bring down McCauley.
McCauley and his crew Chris (Val Kilmer), Michael (Tom Sizemore) and Trejo (Danny Trejo) are sizing a big score, a bank hit that could bring in a huge payday but at every turn Hanna and his crew are there. It soon becomes a game of cat and mouse, between these two, the finest professionals that each side of the law has to offer.
Iíve seen this movie many times, it in fact ranks as one of my favourite films of all time. So in reading this review you may think that itís a bit biased, that is if you havenít seen it. If you have then youíd agree with what I am about to say. This film is pure cinematic gold, Heat is a virtually flawless epic that includes quite possibly the best performances from De Niro and Pacino in what is largely considered their last great film. Although this filmís central narrative ties these two very different men together around a score in a cat and mouse scenario, deep down inside itís really a love story. Pacinoís Hanna character is in love with the chase, he says in the film All I am is what I am going after even if that means his marriage is on the down-slope and De Niroís McCauley character is in love with the outcome, the score, but more importantly the path he creates to get to the score and blindsiding his pursuer in order to get to it without keeping any attachments.
In the famous coffee shop scene the two meet for what is a truly inspired and unorthodox scene for a genre of this kind. The Pursuer and the pursued, just sitting down having a chat about their lives and what each one has to do, the duality of these characters is apparent and the resulting scene ties the first half of the film with what is to come. You hear both sides of the spectrum, however the distinction between hero and villain is not easily made, and these two are so complex but at that very moment everything is stripped away and what we get is electrifying. Mann paints these characters so well you wonít know who to root for, and in some ways that could be the point of this scene, it is here in this scene that the entire film rests itís shoulders on. And the best part about this scene is that there are no tricks, no CGI, nothing complicated. Shot-reverse-shot between the two actors and what we see is pure acting, two of Americaís greatest in a symphony of dialogue.
Although this scene is regarded as being the most memorable, the film has many others that only add to its heightened sense of tension. The filmís opening armoured car heist is a good example, which should be considered compulsory viewing by aspiring editors for how to create a rigid, energetic sense of anxiety. Also the filmís Los Angeles City Street shoot out marks itself as the most exhilarating shoot out action sequence ever committed to film, itís a perfect example of the level of destruction that must inevitably occur in order for these two polar opposites, Hanna and McCauley to co-exists only to come to a devastating final solution in the filmís airport chase climax.
Heat demonstrates every good thing a filmmaker strives for, a terrific script thatís interesting, explosive and includes well defined characters that you actually care about. It has a director whose vision is undeniably stylistic and has the ability to craft scenes that involve the viewer and play with your emotions with surgical precision. It has a cast of excellent actors that all give the best performances of their careers. Heat also works on a technical level, from the filmís dynamic editing to Dante SpinottiĎs cinematography that present Los Angeles in a stark and uncompromising light, which captures the mood of the film precisely, and finally Elliot GoldenthalĎs score plays over the film like a low hum that reached apexes throughout key scenes. For a film of this kind itís a rather unconventional score made up of electro-acoustic piece that compliments the look and feel of the whole film. In fact the only flaw that I can see is that the filmís runtime nears the three hour mark, so youíd need to set aside a good chunk of time to see it but once you get into this movie youíll hardly notice the time tick away.
If you havenít seen this film before, what more reason do you need? If youíre already a fan then I donít really need to say anymore.

Video


Presented in the filmís original theatrical ratio of 2.35:1, this anamorphic transfer does the job. But only just, having been previously released on DVD as a movie-only edition this new SE release doesnít really seem to feature much difference with its older counterpart. Overall the image looks a fraction brighter and sharper but we are talking a minute amount here. For the most part the muted colour palette has been accurately rendered as are flesh tones I could not spot any instances of colour bleed, the transfer shows a fair amount of detail however there are instances where the image is a little soft. There is a moderate amount of film grain, but not so that itís distracting. Black levels and shadow detail come off beautifully, there are many dark scenes and the detail holds up very well during those moments. I also noticed a few instances of dirt and debris on the print early during the credit sequence and on occasion pop up during the course of the film, but again these instances are so isolated and minor you wonít be distracted.
I wish this film could have warranted a new transfer struck for this release, itís one of those classic films that require perfection. While the transfer is not mind-blowingly amazing itís not all that bad either.

Audio


Four separate audio tracks are included on this release, an English Dolby Digital 5.1 and 2.0 Surround as well Dolby Digital 5.1 tracks in French and German. For the purposes of this review I chose to view the film with its English Dolby Digital 5.1 surround track. And just like the transfer I believe that this soundtrack is the same as the one on the previous movie-only release. The dialogue is very clear and demonstrates excellent spatial separation, but the soundtrack shines during the action scenes and score. The opening heist sequences is just amazing, the full 5.1 sound space is utilized, providing a depth that so many other DVDs try to achieve. The real moment of aural pleasure is during the city street gun fight near the end of the film, this is by far the most realistic sounding gun battle you will ever hear and will put your subwoofer through a rather strenuous exercise. This film relies heavily on creating an 'Äėatmosphereí and the score helps you slip into the mood very quickly and sometimes without even knowing it. Elliot GoldenthalĎs score is quite low-key in parts and sometimes understated but enhances each scene and heightens the tension perfectly and is rendered here perfectly. While this is an excellent track, the film could still have benefited with a new enhanced soundtrack, perhaps a Dolby Digital 5.1 EX or DTS ES 6.1 surround tracks would have made a welcomed addition to this DVD, perhaps next time.
This DVD also includes optional subtitles in English, English for the hearing impaired, German, Portuguese, Danish, Hebrew, Norwegian, Swedish, Greek, French, Arabic, Dutch and Finnish.

Extras


DISC ONE:
The first extra we have on this disc is the feature-length audio commentary by writer/director Michael Mann. Mannís commentary covers just about everything you need to know about this film from its history, its unique locations, key scenes and all. Mann discusses the hoopla caused by the media regarding the coffee shop scene and whether De Niro and Pacino were actually there together (They were in fact there together). As well as provides us with many interesting behind-the-scenes titbits, his commentary is largely scene-specific and carries at a terrific pace throughout the entire filmís runtime. This is an excellent track and a worthy listen, the only thing that could possibly make it better would have been the inclusion of key actors and crew.

The first disc also includes a series of three theatrical trailers all of which are titled, they are: Surprise of a Lifetime, Two Actors Collide and Closing In.

DISC TWO:
Disc two kicks off with a making-of that is split into five featurettes that cover different aspects of the film.

The first entitled True Crime runs for 14 minutes 45 seconds features writer/director Michael Mann discussing the origins of the story and the real-life people who inspired the main characters in the film.

The second featurette is In Crime Stories runs for 20 minutes 25 seconds and covers the creation of the screenplay and itís history from the original TV version L.A. Takedown and the process Mann went through in order to make a feature version.

The third piece is entitled Into The Fire, which runs for 24 minutes and features the filmís cinematographer Dante Spinotti as he discusses the benefits of shooting on location in L.A. specially the downtown city street shoot out sequence. The featurette also covers the various weapons training the cast had to go through to prepare for the film as well as aspects of the filmís post-production.

Next up is the Pacino And De Niro: The Conversation featurette that runs at 9 minutes 55 seconds and just as the title suggests we take a look back at that famous scene with some retrospective thoughts from some key cast and crew personnel.

The last of the featurettes entitled Return To The Scene Of The Crime is a 12 minute 3 second piece that features location manager Janice Polley and associate producer Gusmano Cesaretti re-visiting some of the key locations used in the film.

Rounding out the discís extras are a series of eleven deleted scenes, all presented anamorphically in the film original ratio of 2.35:1, the transfer varies in quality but are roughly of the same video quality as the film itself. The scenes include:
- Seasonís Starting Early running at 33 seconds this scene shows Michael buying the hockey masks for the filmís opening armoured van robbery.
- Nicest Guy On The Block a short 39 second scene with Michael and his family.
- Albert and Hanna is an alternate take to a scene thatís already in the film and runs for 18 seconds.
- Shakedown runs for 1 minute and 28 seconds, shows Hanna getting information from a barer bonds man.
- Murder in C-Block runs for 35 seconds and is an extension to an existing scene in the film featuring Hanna and Albertís friend Richard (Tone Loc) having a chat in the club.
- Letís Dance" runs for 45 seconds and features Hanna and his wife dancing at a get together with workmates at a club.
- Late Arrival runs for 38 seconds and features Michael arriving late to meet with McCauley and Chris, Michael discovers that their moves are being watched by the cops.
- Whereís Ana? runs for 2 minutes and 18 seconds, it features McCauley and the crew staking out the bank before the heist.
- Double The Worst Trouble runs for 40 seconds and features McCauley threatening Dr. Bob (Jeremy Piven) who helps them after the bank heist asking for more money.
- Nate Delivers runs for 1 minute and 11 seconds, Nate (Jon Voight) organises McCauleyís travel plans out of L.A. after the bank heist.
- No Response runs for 31 seconds and features McCauley and girlfriend Eady (Amy Brenneman) as they drive off to the airport.

Overall


Heat is nothing short of amazing, itís one of those rare films that work on just about every level and ten years after its initial release it still has the same power in itís screenplay and itís stars performances, masterfully directed and totally engrossing.
Warner Brothers Special Edition DVD features the same image and audio transfers from the previous bare-bones release but includes a series of very nice new extras that include a priceless directorís commentary, the video extras are interesting however once complete it leave you wanting more. If you already own the previous release dump it now and get this straight away, if you donít already own this what are you waiting for?
| | | | | |
| --- | --- | --- | --- | --- |
| The Film: A+ | Video: B+ | Audio: A | Extras: A- | Overall: A |