The Film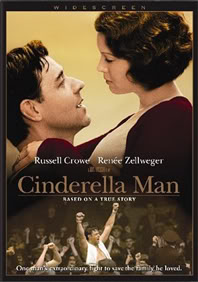 On the back of the DVD, near the top, there is a quote from a reviewer. Most movies you get out will have this. It's to provide some positive reinforcement for the film you are about to watch. This one is a bit different though. Instead of your 'A superb film, Howard nailed every aspect' or 'two thumbs up' this one quite simply says 'One of the best movies ever' - Larry King. That's a fairly big call to make and upon scrutiny this film is not one of the best movies ever, it is pretty bloody good though. A rundown of the plot is necessary before I start praising and criticizing.
James Braddock was a boxer of some note in the late 1920s. After a successful run of fights he was given a title fight in his light heavy-weight division against Tommy Loughran. Braddock got owned over 15 rounds and with this loss his career went into freefall. Couple this with the stock market crash of 1929 and life was not going well.
The movie picks up about here with Braddock struggling to get work on the docks as a laborer and his fighting career has continued to spiral down; so far so that the Boxing Commission revoke his license after one particularly uneventful fight. What follows is one man's search for redemption and a second chance.
You always start at the standout point and in this one it's not what you might expect. In every scene that he's in Paul Giamatti completely steals the show. His performance as Joe Gould, Jimmy's manager is quite outstanding. He is almost comic relief but we are shown that he too is suffering from the depression when Mae (Renee Zellweger) goes over to his house and finds the furniture consists of a table and 3 chairs. If you are a devout Christian you may not appreciate Giamatti's performance because every second word out of his mouth is 'Jesus Christ' or other such blasphemy but in terms of acting you cannot fault him. His character ranges from anxiety, hope, fear and sympathy for Jimmy's cause through to the raging ring-side manager when Jimmy's opponents commit the odd foul act whilst Jim remains virtuous.
And that's the biggest problem in this film. Part of enjoying a film is identifying with one if not the main protagonist. Russell Crowe's Braddock is brilliantly portrayed but seems to be far too much of a decent guy. Where are his character flaws? Sure, I'm a nice guy also but I do have my flaws. As do we all, it's what makes us human. Braddock does not appear to have any. He's a loving husband and father, has an unbelievable work ethic, refuses to admit defeat and best of all keeps his promises to his kids. A Beautiful Mind (2001) suffered likewise, John Nash was a brilliant man sure and yes he had mental issues but the film didn't deal with his being arrested in 1954 for indecent exposure. It didn't deal with the accusations of his alleged homosexual experiences either. It's as though Ron Howard has been Richie Cunnigham'd into thinking that every American who's a lead in his film is right out of Happy Days!
In almost what seems to be a lame attempt to balance this, Max Baer (Craig Bierko), Braddock's title fight opponent at the climax of the film, is portrayed as an absolute bastard with no redeeming features whatsoever. He's cocky, arrogant, swaggers, womanizes, yells at females, kills men in the ring and brags about it and embraces the playboy spirit just a little too much. As there is no way Braddock can be this good, Baer cannot be this bad. I've met some pricks in my time but they still have the odd good character trait.
Just while I'm in the zone having a rant, Renee Zellweger's performance must be pointed out. How did she ever win an Oscar? I haven't seen Cold Mountain (2003) but if her performance in that is anything like the one in this film then she must've spent a lot of time on the casting couches of the Academy members! At no stage did I sympathies with her situation whatsoever, her character served as an annoying whiney tool rather than sympathetic mother. She also delivers the most trite line I've heard from a film ever. You are the champion of my heart delivered in the changing room prior to Braddock's title fight.
So what was good with the film other than the acting performances (barring Zellweger)?
The look and feel of the film was magnificent. The sepia tone color palate, the darkened imagery, it was all pitch perfect for a depression era film. From the scene where the Braddocks are forced to live by candlelight to the scenes of Jim working the docks, the darkened hue is brilliant. It really does suck one into the environment. The buildup is also well done. All boxing films have to suffer through the inevitable comparisons to Rocky (1976) but at no stage would Eye of the Tiger have been appropriate to play as this film staked out its own identity.
And lastly, it's a sports film. I have to admit a soft spot for any film that involves a healthy dose of sporting competition and this one doesn't fail in its 'big hits delivered department' (no pun intended) and the finale is tense, yet fulfilling.

Video


Presented in the film's original theatrical ratio of 2.35:1, this anamorphic widescreen transfer is a pleasure to watch. The image is sharp and crystal clear, the film's color palate is very dull and washed out to best give effect of the depression era so the colors are predominantly earth tones. There are many scenes that take place in darkness or dimly lit scenarios, the blacks hold up very well during these scenes and shadow detail is isn't the best but very close. Universal have done a great job with this transfer, it accurately reflects the tone and feel that Howard and cinematographer Salvatore Totino were after.

Audio


Three audio tracks are included here, we get an English and French Dolby Digital 5.1 track as well as a DVS track which is an 'Descriptive Video Service' track that provides narration for blind people (a handy addition that should be on more DVDs to allow the visually impaired to enjoy the films). For the purposes of this review I chose to view the film with its English track. Much like the image I was impressed with the sound, but does have some room for improvement, I felt that although the dialogue is clear, the scenes that were not boxing scenes lacked a suitable amount of depth, while the boxing scenes were incredible the surrounds blared with the crowds and the punches. It's a strong track that has very little wrong with it, it holds up well and provides a fine accompaniment to the visuals. I'd love to check this film out with a DTS ES 6.1 discrete track, that would be fantastic.
The film also inlcudes optional subtitles in English, French and Spanish.

Extras


SIDE A:
The disc starts off with a collection of promo spots before the menu, you can skip this by pressing the 'menu' button on your remote. The spots included are for Gladiator: The Extended Edition DVD, Law & Order on NBC, Pride and Prejudice and Dolby Digital Sound totaling 4 minutes 1 second.

Aside from the film itself there are no less than 3 audio commentaries, the first of which is with director Ron Howard in his somber can put anyone to sleep droll discusses various aspects of the production from the screenplay to cast and filming, as well as how to convey real life events on screen, the difficulties in shooting the fight footage, etc. Aside from the fact that his voice can put an ADHD kid to sleep, Howard provides a decent commentary with enough information to cover the film's duration that is both interesting and informative.

The next audio commentary is with screenwriter Akiva Goldsman, Goldsman discusses more from a screenwriting point of view in this track, however also covers a lot of ground that Howard covered in the previous track. It's nice to hear about a film from the writer's perspective but at the risk of having a majority of your track made redundant by the previous, is it entirely worth it?

The third and final audio commentary is with co-writer Cliff Hollingsworth. There's no point in repeating myself either so what stated about Goldsman's commentary also applies here.

SIDE B:
Here is were the majority of extras are kept, first up we have a selection of 6 deleted scenes with optional commentary by director Ron Howard, when you enter the sub menu there is a 1 minute 20 second audio introduction by him before you can select any option. The commentary provided on each scene is very brief and to the point Howard sets the scene up and explains why it was cut, he occasionally provides trivia about each scene, there are many silent gaps, it would be nice for Howard to elaborate more on these scenes but the bare minimum is all we get.

The scenes included on this disc are:
- Scene One: this scene runs for 4 minutes 43 seconds and takes place near the front of the film, after Braddock has had his winning fight at Madison Square Garden (before the depression hit), here we get an extension where we meet Promoter Jimmy Johnston (Bruce McGill) much earlier than we do in the final cut, we also get additional dialogue with Joe and Jimmy as they leave in the cab.
- Scene Two: runs for 1 minute 33 seconds, here we get an extension to the scene where laborers are being selected to work the docks, a frustrated man pulls a gun out because he doesn't get work.
- Scene Three: runs for 2 minutes 45 seconds, after the fight at Mount Vernon where Jimmy breaks his hand, we get an extension after his license is revoked, Joe tends to Jimmy's hand and gives him advice that perhaps he should consider quitting altogether.
- Scene Four: this scene runs for 3 minutes 46 seconds, Jimmy tries to convince Mae that he can still work with a broken hand, she helps him cover the cast with shoe polish.
- Scene Five: runs for 3 minutes 8 seconds, here the Braddock family waits at the bread lines for soup and bread.
- Scene Six: runs for 4 minutes 49 seconds, Jimmy sells his shoes at the gym for little money, later he reads FDR's inauguration speech from the paper over a montage of depression era images.

The first of 5 featurettes on this disc is entitled "The Fight Card: Casting 'Cinderella Man'" this piece runs for 22 minutes 57 seconds, here the director, producer, writer and casting person all discuss the challenges of finding actors to play these roles, who they had in mind and how the cast came together. The cast also chime in about their roles and the complexities of playing real people, etc. They also discuss the film's tone and feel from a performance point of view. Overall an interesting piece that brings the viewer about the importance of strong casting.

Next is "The Man, The Movie, The Legend: A Filmmaking Journey" featurette, which runs for 14 minutes 1 second. The filmmakers provide a brief production history on the making of this film, as well as the challenges of capturing the life and times of James Braddock on film, we also look at the film from a production design and location perspective among other things.

Following that is the "For The Record: A History In Boxing" featurette which, runs for 6 minutes 39 seconds. Here legendary boxing trainer Angelo Dundee recalls some boxing history as well as discusses his involvement in the film. However, the duration is mainly used to praise and compliment the filmmakers and Crowe, and other cast and crew praise Dundee. This featurette although briefly covers some boxing techniques and Crowe's training is basically a 'pat-each-other's-back-a-thon' in disguise, luckily Dundee's forcefully funny personality is a highlight otherwise I would have fast forwarded this one.

"Ringside Seats" is next, this featurette runs for 9 minutes 10 seconds and is basically a video commentary by director Ron Howard, producer Brian Grazer, screenwriter Akiva Goldsman and novelist Norman Mailer over Braddock's championship fight versus Max Baer. The group discuss his technique and other interesting boxing trivia throughout the rounds.

"Jim Braddock: The Friends and Family Behind The Legend" is the final featurette on this disc and runs for 11 minutes 11 seconds. The Braddock family tells us about their famous relative. The piece covers their involvement in the film's development and production. Jimmy's son Howard reminisces about his father and the hard times they had to endure, comments are also made about the film and how it reflects Braddock's life. The Family also makes sure to take time in praising the filmmakers for the great job they all did, etc, etc.

Next up is quite possibly the most shameful extra I've ever seen, it's called the Kodak Cinderella Man gallery, I expected a photo gallery but instead I got a 2 minutes 2 second commercial for Kodak, which used some images from the film in it's campaign. What's next, audio commentaries sponsored by Coca-Cola!

Rounding off the disc's extras are some DVD-ROM features, these are mainly web-links.

Packaging


The disc is packaged in a standard amaray case, housed in cardboard slip-cover. The disc itself is double sided, with side A featuring the film and commentaries and side B includes the extras.

Overall


Overall, it's a good film, it may even be a great film but it's not one of the best movies ever. Sorry Larry, you got it wrong. The DVD presents the film with a terrific image transfer and an engrossing surround experience, the extras will keep you busy fort a while, however there was some repetition and I'm tired of people spending their time telling us how great all the filmmakers are! The commentaries were a bit overkill, and could have been avoided by including one well produced track with all the participants. That would have been enough, other than that it's a good DVD package and a descent enough film, fans may want to consider picking up the 2-disc Collector's Edition which appears to be a limited release.
| | | | | |
| --- | --- | --- | --- | --- |
| The Film: B+ | Video: A+ | Audio: A | Extras: B- | Overall: A- |