David Cross: Bigger & Blackerer
R1 - America - Sub Pop
Review written by and copyright: Jeremiah Chin (20th August 2010).
The Show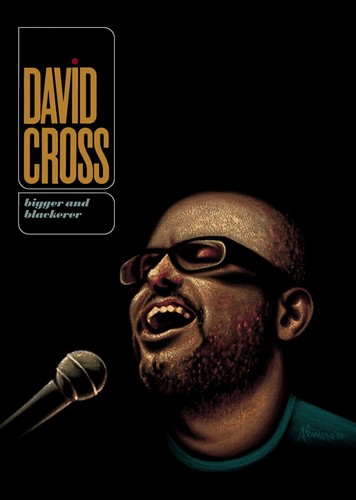 As transferable as comedy may seem making the conversion between standup to sitcom, or vice-versa is much more impossible than it may seem. Some comedians who dominate standup comedy like Mitch Hedberg don't desire the sitcom format and work best in their natural standup environment. Others who are great at comedy in films or TV, like Seth Rogen, just seem to fall flat on a standup comedy stage (as seen in "Funny People" (2009)). Yet David Cross has done a good job of jumping around into hilarious shows like "Arrested Development" (2003-2006) while bringing some good comedy to the stage in his new standup special "Bigger and Blackerer" (2010).

From the Boston stage, David Cross engages in a blend of political comedy, metahumor and drug use, all coming from a huge beard. Opening with a bit by a little kid pretending to be Cross and telling some similar jokes, Cross brings the audience into the show with jokes beyond the standup stage, like a live blogger interrupting his show or a sign language interpreter that doesn't belong. Cross deals with ridiculous ideas and funny topics, talking about religion, racism, Obama, how global warming is meant to hurt orthodox jews, mormons and a whole lot of drugs to pull together a solid standup routine.

David Cross manages to bring a good style of comedy to the stage with a good mixture of insight jokes and deadpan humor with some of the bizarre. His routines on racist license plates, bondage sleep masks and harassing waitresses had me laughing and thinking about them for days afterwards, which is about what you would hope for with a quality standup act. His use of metahumor helps to vary up the standup special with some extra actors to bring things in and add a little bit of sketch comedy flavor to his routine.

What's harder to judge is the directing and formatting of the special since so many standup acts justifiably look the exact same considering your focus is just supposed to be on one person standing on a stage for an hour or so. "Bigger and Blackerer" are reasonably mixed with routine crowd laughing shots to cover transitions or pulled jokes, following the comedian pacing the stage and a few extra angles to add in variety. The shots are all cut together fairly well and it's not a bad looking standup special, it's just difficult to see what would make the special aesthetically unique considering the amount of standup specials there are out there.

Overall, Cross's "Bigger and Blackerer" is pretty hilarious and will inspire some laughs if you've ever considered David Cross funny in any medium. It's hard to really describe the special without ruining any of the jokes or trying to retell them in text when timing and tone are really what help to make people funny. As a fan of David Cross there's some great comedy in the special and maybe you'll enjoy it too. Or you could be a person who doesn't like jokes, sorry.

Video


Presented in a 1.78:1 anamorphic widescreen the special itself has a fairly good quality to it, there's no stretching or real blurring in the visuals, though it's still a little grainy in the lighting making me think it's more about the lower quality of the original cameras rather than the transfer itself. Still it's hard to complain about visual quality on a standup comedy special since so many people will just spend their time youtubing the standup bits they like that are in worse quality than I've ever seen a DVD. Yet for a DVD of a standup special the transfer is nice enough to maintain quality.


Audio


For the audio there's a main English Dolby Digital 5.1 track that bbrings out the jokes clearly and cleanly. It doesn't quite move like a surround sound track for an action movie, but it shouldn't since it's supposed to be replicating the audio of a stage experience or live performance. The audience is well balanced against Cross' jokes and the microphone quality is god enough where you can hear everything he's saying which is about all you would need.
There's also an English Dolby Digital 2.0 stereo English track, though no subtitles.

Extras


The special throws in a handful of extra features of jokes that were cut from the special as well as some extra jokes from elsewhere in cross's work in these additional clips.

"An Existence Predicated Upon Manufactured Necessity" additional clip runs for 8 minutes and 4 seconds where Cross riffs on all the technological advances that seem to have fueled the competition between beer companies.

"Liveblogging!!!" additional clip runs for 3 minutes and 35 seconds and is a meta comedy bit between David and someone liveblogging his show from the balcony which turns out to be more interruption than anything else.

"An Unpopular Stance" additional clip runs for 2 minutes and 15 seconds where cross picks an unhappy person out of the audience and starts talking about Dane Cook.

"The Most Surreal Thing I've Ever Experienced" additional clip runs for 7 minutes and 32 seconds, Cross talks about living in Boston and a guy with Tourette's.

"How to Make Your Own Yogurt" additional clip runs for 2 minutes and 42 seconds, the audio seems a bit off and Cross talks about his mother.

"Unneccesary Bonus Bullshit" additional clip runs for 7 minutes and 11 seconds and compiles some routines from Cross's other performances and older standup routines. There's jokes about self love and electric scissors.

Finally there's an Easter egg you get to from the bonus menu by pressing right while selecting any of the bonus features, highlighted in the monitor. It runs for 8 minutes and 46 seconds and joking about his line in "Eternal Sunshine of the Spotless Mind" (2004) 'I'm Building a Birdhouse.'

Overall



| | | | | |
| --- | --- | --- | --- | --- |
| The Show: A- | Video: B- | Audio: B+ | Extras: A- | Overall: A- |

---
DVD Compare is a participant in the Amazon Services LLC Associates Program and the Amazon Europe S.a.r.l. Associates Programme, an affiliate advertising program designed to provide a means for sites to earn advertising fees by advertising and linking to amazon.co.uk, amazon.com, amazon.ca, amazon.fr, and amazon.de.