The Show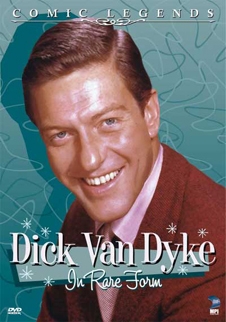 The more I watch the American TV sitcoms and variety shows from the "good old days", the more I have respect for these entertainers. After seeing their different sketches and routines, it´s also easier to understand how these comedians in the different eras were influenced by the comedians before them - eventually carrying that legacy all the way into the modern times. Without the silent era-comedians like Buster Keaton and Stan Laurel there probably wouldn´t be Dick Van Dyke, and without comedians like Van Dyke, there probably wouldn´t be characters like "Mr. Bean" (played by Rowan Atkinson). We are now in the territory that is often called "psychical comedy" (and of course "slapstick"), where the comedian doesn´t necessarily speak at all, but is merely using his body movement and facial expressions, interacting with the surrounding environment and various people (often with characters that just happen to be there). It´s the situation at hand that brings the comedy and it doesn´t have to be hugely connected to any bigger storylines. When the modern comedians are often over-the-top (Jim Carrey), constantly in character (Sacha Baron Cohen) or just way overrated (Will Ferrell), it´s a joy to watch someone like Dick Van Dyke at work in this "Comic Legends"-series from "MPI". Now this is true live comedy.

Dick Van Dyke´s career took off from Broadway, where he got the "Tony Award" in 1960 for "Bye Bye Birdie". The film version followed in 1963 and other famous musicals after that (e.g. "Mary Poppins (1964)" and "Chitty Chitty Bang Bang (1968)"). Van Dyke also did a plenty of work in television, where his own "The Dick Van Dyke Show (1961-1966)" was a much loved program. He also did a successful comeback later with "Diagnosis Murder (1993-2001)" TV-series and was also recently in "Night at the Museum (2006)". Being already 82-years old, the man is still going strong. In the late 1950s, the relatively unknown Van Dyke appeared several times as a guest performer on ABC´s "The Pat Boone-Chevy Showroom (1957-1960)" variety show, hosted by Pat Boone. "Comic Legends - Dick Van Dyke In Rare Form" (where Boone is also a co-producer) is a compilation of various Van Dyke performances (from the "1958-1959" season) in this particular show, all including a new introductions from Mr. Boone himself. This is a pretty good opportunity to see a rising (and quite skinny) comedian doing hilarious pantomime/monologue-sketches, along with some singing and dancing. Six sections are briefly as follows:

1a) Dick Van Dyke and Pat Boone together on stage, showing what is "sitcom". They´re singing, falling out of a chair and doing other slapstick-type routines.
1b) "Sneaking In" routine, where Van Dyke plays a slightly drunken man coming home late at night, trying not to wake up his wife. There´s no dialogue, the prop at the stage is only a chair and Van Dyke is dong all the comedy by pantomiming along with the sound effects-cues.
1c) Dick Van Dyke and Pat Boone singing "You Got to Have Heart" on stage.

2a) "The Tennis Champ" routine, where Van Dyke is pantomiming on the tennis court (again, only using sound effects). The "slow motion" is hilarious.
2b) Van Dyke as Detective McGrew. This time along with some sound effects, there´s a narrator helping Van Dyke to pantomime.
2c) In the "The Pet Cat" routine, Van Dyke is a house cat Tabby, telling the story of his day at the same time as he pantomimes.

3a) Van Dyke at the amusement park. Another "pantomime with sound effects" routine.
3b) Van Dyke at the beach, giving a monologue at the same time as pantomiming.
3c) Van Dyke tries to give up smoking in this innovative routine, also involving a woman this time and a proper setting. Again, he is talking at the same time when acting.

4) Van Dyke and actor Chuck McCann doing their own "Laurel & Hardy"-routine at the restaurant, which is just great. Van Dyke plays Stan Laurel. No monologue or pantomime here, just two actors interacting together in a proper setting.

5a) "Daddy's Little Girls" routine, where Van Dyke plays a new dad again and again, only to notice that his wife is only delivering baby-girls (he´s kind of hoping for a boy). Van Dyke is giving a monologue, while pantomiming at the same time.
5b) This "Babysitting Father" routine works in a similar fashion to the earlier one. This time Van Dyke is alone at home with all his kids and is trying to survive.
5c) Van Dyke does a very funny and psychical "Mailing a Letter on a Windy Corner" routine. There´s a proper set this time and a few other actors, but no dialogue (only some sound effects). This is the homage to the silent films.

6) Van Dyke, Pat Boone and actress Shirley Jones (e.g. "The Partridge Family (1970-1973)") does an "sing and dance" number "Mention My Name in Sheboygan".


Video


The video is presented in 4:3 and taken most likely from the kinescope source ("a recording of a TV program made by filming the picture from a video monitor with 16 mm or 35 mm film camera"). As such, it´s nowhere near todays standards and it does look also somewhat inferior to the other better remastered or preserved kinescope-sources. The B&W (only new introductions by Pat Boone are in colour, since they´re recorded recently) footage is soft, washed out and grainy, with quite a lot of print damage and other artifacts. Some of the footage fares better than others, but don´t expect anything that is considered as "good quality". Still, this is all more or less expected, since the cold fact is that TV-programs shot live (like most of the variety shows and such) are usually taken from the old kinescope source, since it´s the only choice. For the record, "I Love Lucy" in 1951 was one of the first TV sitcoms shot with multiple cameras in film. This wasn´t the case with live TV shows, which used kinescope long after that. The feature runs 76:29 minutes (NTSC) and has 8 chapters. The "single layer" disc is "R0".

Audio


One audio track, English Dolby Digital 2.0 Mono is included, along with optional English HoH subtitles. Some audio moves to the rears with "Pro Logic", but this seems to be more like an encoding-error than real Stereo-source. Old "Van Dyke"-material has heavy hiss on the background, but the audio still could be worse. The new Pat Boone-introductions are of course better.

Extras


-One full episode of "Laugh Line (1959)" runs 29:33 minutes, including the original commercials. This was a short-lived (roughly one season) panel show from NBC, which was hosted by Dick Van Dyke. It also includes the panelists Elaine May (director of "Ishtar (1987)"), Mike Nichols (director of e.g. "The Graduate (1967)" and "Wolf (1994)"), Dorothy Loudon and Louis Nye. The basic idea is that there´s a "living cartoon" - one setting on stage with actors, which is then re-arranged per the wished of the each panellists. When this new "living cartoon" is ready, each panelist will provide the funny punch line for this particular setting (the show includes three). The whole thing is quite humorous, but I also understand why it probably wasn´t a big success in the end. The episode is directed by Seymour Robbie. There are no subtitles for this, nor other extras. The show is in even more rough shape than the main feature, but it´s a really great bonus for the DVD.

-"Sneaking In" -bonus performance (4:49 minutes) is the same routine seen on the actual feature, but probably from the different episode (probably still from "The Pat Boone-Chevy Showroom"). It´s as good as the earlier one, but not very different.

-"Invisible Dog" -bonus performance (0:58 seconds) is a short routine of Van Dyke and an "invisible dog" on a lead, which gets some attention from a lady. Note, that extras don´t have any subtitles.


Overall


"Dick Van Dyke - In Rare Form" is another great addition to MPI´s "Comic Legends"-series, which includes this gifted and funny comedian at the start of his career - doing in it in the "old style" and following his silent film predecessors, but also inventing his own style. Talent is clearly there. The DVD presentation is mainly taken from the vintage kinescope source, but is still enjoyable.

For more info, please visit the homepage of MPI Home Video.
| | | | | |
| --- | --- | --- | --- | --- |
| The Show: | Video: | Audio: | Extras: | Overall: |