The Film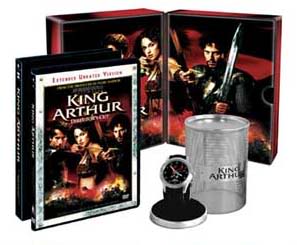 Antoine Fuqua blew me away with his 2001 film "Training Day" a film that earned Denzel Washington his second Oscar (his first for Best Lead Actor, the previous was for Supporting). The film was energetic, intense and featured some excellent performances from the film's stars. It was a film that marked the arrival of Fuqua as a serious player in the industry, although he directed two films prior and many music videos it was "Training Day" that really got people's attention. Mega-producer Jerry Bruckheimer was one of those people and joined with Fuqua to bring the blood and guts epic "King Arthur" to the big screen a film that was at one time in the hands of the maestro of the quick-cut Michael Bay who left the production, this re-telling of the myth would string along a gigantic budget and an International cast that includes Clive Owen playing the title character, as well as Bruckheimer alum Keira Knightley, tough-guy Ray Winstone and the always excellent Stellan Skarsgård to name a few. However despite the massive budget, the amazing cast and a script from Oscar winning scribe David Franzoni ("Gladiator") could save this mediocre at best attempt at epic filmmaking, although the film does have some fine moments but occasional vignettes of coolness do not a solid film make.

Set in 300 AD Britain, under the control of the Roman Empire Sarmatian youths are taken and trained as warriors to fight as Knights for the Roman army. After fifteen years of service to the Roman Empire, Arthur (Clive Owen) and his Knights are to be set free, however they must complete one final task. They must find and rescue a Roman priest and his family, as the Romans are leaving Britain and the priest is in danger from the invading Saxon hordes, Arthur and his Knights reluctantly accept this final challenge, one in which they face much danger from an ever increasing and fast moving Saxon army that they must face or die at the hands of.

Going by my childhood history and having grown up to films such as "Excalibur" and the Disney animated film "The Sword in the Stone" I was more in tune with Arthur as a child and the freeing of Excalibur from the stone, a story in which has been covered a lot in many different mediums, so for this big screen shindig Fuqua decided to focus on the latter events, Arthur as an adult but not yet King. Supposedly this is a more accurate telling of the story or so says the marketing blurbs and sound bites you hear from writers, producers etc. They can say whatever they want to sell the movie, at the end of the day this isn't really a historical epic as one would be led to believe, it's more an adventure film with kick-ass knights, amazing battle scenes and Keira Knightley wearing what appears to be straps of leather so skimpy she may have just as well worn shoelaces for a bra. So how does a film with these elements not live up to the expectations, well it's mainly to do with the story itself, it paints Arthur as a mercenary in the beginning, sure he was under Roman rule to be one but the jump from mercenary to do-gooder is a leap that requires at least some character arc development, the transition in this film is rather quick and unconvincing. The dialogue is another area that suffers on occasion, steeped in one-liners and the genre requirement of at least two 'hero soliloquies' that are entirely forgettable and don't really evoke the emotion they are meant to but rather a slight chuckle instead. In terms of the characters aside from Arthur and Bors played by the wonderful Ray Winstone the other Knights of the Round Table weren't as distinctively different as I'd imagined, they may have all just been one person and the first time I watched the film I found myself confusing one for the other, this is perhaps a weakness in casting. When dealing with several key characters that make-up an ensemble it would seem best to cast strong character actors to fill those roles or take a route much like John Sturges did when casting 'The Magnificent Seven" in looking for established performers that each add something different and unique to the characters to make them stand out, of course the only prominent female character we see throughout this film is Guinevere played by Keira Knightley who is introduced as a weak and tortured character that suddenly leads an army of forest-dwelling people, firing arrows and taking the blows among the men, now I understand her character was written as an empowering female character that is not your traditional damsel in distress but seeing a woman of Knightley's size take a hit to the face with the same force as one to Arthur and still be able to stand up is a bit much in my books. There are other far more believable ways for a character like that to be empowering and impressive, how about writing her character with a shred of intelligence, that's far more powerful than taking a hit to the face isn't it?

This 'Director's Cut' supposedly restores 15 minutes of additional footage not seen in the original 'Theatrical Cut' which includes additional violence in the battle scenes, which is really why you should be watching this film in the first place as the battles are tremendously exiting especially the battle on the frozen lake and the final battle among the burning fields marks two of the film's most memorable sequences, the music and photography are also expertly crafted and add to the raw energy Fuqua was after, if it wasn't for battle scenes this film wouldn't be any fun at all.
"King Arthur" doesn't seem to capture the same spirit of the classic mythology of the boy who would be king, or for that matter no magic either in this telling Merlin is portrayed more as a crazy forest dwelling witch than a magician, well that's no fun! If it wasn't for the over the top battle scenes and the on the edge of your seat pursuit of the Knight by the evil Saxon hordes this film would have been an entire waste, then again it's not a whole lot left to keep it above water either. If you're not planning on taking this flick seriously then it's an ok way to kill a little over two hours, if you are finicky about your epic films I'd say you'd be rather disappointed with this one.

Video


Presented in the film's original theatrical aspect ratio of 2.35:1, this anamorphic transfer is very good. Colors are very well balanced and very rich, with no bleeding. Reds and greens are lush and skin tones are rendered accurately, black levels are bold and well defined as is shadow detail. I was able to detect some minor edge enhancement but it wasn't overly annoying. It's a recent film so there are hardly any flaws.

Audio


There are three audio tracks on this release, a DTS 5.1 and Dolby Digital 5.1 surround tracks in English and one Thai track in Dolby Digital 5.1. For the purposes of this review I chose to view the film with its English DTS 5.1 and I was very impressed. The dialogue is very clear but let's face it you don't add a DTS track to a film like this for the dialogue, the surrounds are immersive and add depth and energy to the visuals, battle scenes are busy with activity that utilize every channel. Your sub woofer will rumble all throughout the action scenes it may as well be a werewolf howling at the moon. Music is wonderfully integrated into the mix and hits highs at appropriate moments but is never overshadows dialogue. This is a mighty impressive track that doesn't let up.
Optional subtitles are also available in Bahasa, Chinese, English, Korean, Malay and Thai, however some of the old English dialogue in the film includes burned in English subtitles.

Extras


Buena Vista have included only a series of minor extras on this release there's a featurette, an alternate ending and a producer's photo gallery. Below is a closer look at each of the extras.

The single featurette on this disc is entitled "Blood on the Land: Forging King Arthur" and runs for 17 minutes 50 seconds. For a brief piece it covers quite a lot of matrial and plays much like an extended EPK, with only slightly more depth than most EPK's require. We get a chance to take a look at the casting process, the design and construction of the large sets, weapons and armor as well as other facets of the filmmaking process. The featurette includes interviews with key personnel inter-cut with behind-the-scene footage and clips from the film.

Next we have an alternate ending for the film presented with optional audio commentary by director Antoine Fuqua, entitled "Badon Hill" and running for 4 minutes 10 seconds, this is rather a darker ending than the one currently used, Fuqua even goes on to say in his commentary that during test screenings people were after a happier ending which is why this one wasn't used.

Finally we get a producer's photo gallery, containing images shot by Jerry Bruckheimer while on the set of the film.

Packaging


The DVD is housed a deluxe cardboard case that opens in half, on one side is a flap that reveals a compartment which houses a "King Arthur" wristwatch in a metal mesh cylinder on the other side a similar flap reveals a compartment that houses the DVD plus a "King Arthur" diary, when reading about the contents I figured the diary was a book with photos and production notes or an on-set diary of sorts but it turns out it's just a black hard bound book with blank pages, I guess you can write about your own adventures or whatever.

The packaging is sturdy and held shut with a magnet imbedded into the hard cardboard, however the exclusive gifts don't make a hell of a lot of sense, a watch? Well it's nice but perhaps a more film related gift would have been appropriate perhaps an Excalibur letter opener? Anyway if you love the film and want to splash out then I suppose this set is for you.

Overall


"King Arthur" may not be the most solid epic film out there it mainly suffers from a loose script but its fun to watch and makes for a good waste of two hours or so. The Buena Vista Korean release presents the film with a decent transfer and booming sound, very few extras were a bit of a disappointment considering the wealth of extras on the R1 version of the 'Director's Cut' that includes a feature-length commentary from the director would have been easy to transfer over to this release, oh well at least this version has a stunner of a DTS track. The LE gift set does includes some nice goodies although film related collectables would have been more appropriate.
| | | | | |
| --- | --- | --- | --- | --- |
| The Film: C | Video: A | Audio: A+ | Extras: C- | Overall: B- |