Operation: Endgame [Blu-ray]
Blu-ray A - America - Anchor Bay Entertainment
Review written by and copyright: Jeremiah Chin (25th September 2010).
The Film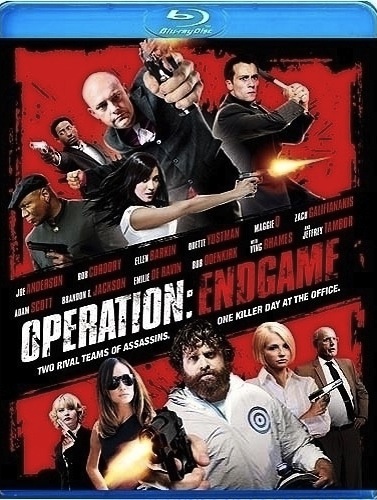 When some people are bored they like to spend money, just for something to do and shake up their lives a little bit. For some this means a shopping spree of new clothes, new movies, new games, just something new to alleviate the boredom that they are otherwise experiencing at that moment. I guess when you have a few hundred thousand dollars lying around and some actors who otherwise might need something to do; movie studios will just green light whatever is sitting around on their desk just for the sake of alleviating their boredom or getting that movie out of the way. "Operation: Endgame" (2009) is one of those movies.

Set in a warehouse that was probably rented on the cheap the movie features a sprawling cast of actors with recognizable names who probably will work for enough money just to get paid and walk away from the movie as secret agents in an underground organization that does the dirty work for the government. The new hire, codename Fool (Joe Anderson) is brought into the organization on the same day that the leader Devil (Jeffrey Tambor) is murdered and a device that will destroy the entire facility is set off. In order to escape the group breaks down into teams that search for some sort of secret exit to the facility while cracking wise with each other about the escape based on their quirky characters.

And that's about all the movie is. An ensemble cast of actors who you probably recognize doing their own stunts and fight scenes in a warehouse for a little less than an hour and a half. And the names included are fairly recognizable from Zach Galifianakis to "Lost" (2004-2010) alum Emilie de Ravin to Ving Rhames, and even Rob Corddry. They're all there just sort of hanging around and following whatever semblance of plot there is. Typically when you have a movie set in a singular location for the entirety it needs some catchy writing to make it interesting, but instead they just give each character a quirk, in the style of a typical heist movie, and lets the actors just dawdle for the next hour and a half.

But this isn't fun to watch. Even though you see all these characters try to kill each other and get into fights, the directing by Fouad Mikati isn't sharp enough to get you into the fight scene or even glance at the bits of gore that could be had as each character tries to kill each other with whatever happens to be lying around the office. Based on how poor Sam Levinson and Brian Watanabe's script is there couldn't have been much direction there to work with for Mikati, but he doesn't want to bother to go beyond the script and every scene just sort of sits flat on one another for the duration of the film.

Round and round the characters go in the warehouse, but where they stop nobody really cares since there's nothing identifying about each character other than a name and a quirk that pushes them through the duration of the film. There's some end plot about a secret conspiracy and the entire movie taking place in real time with the 80 something minutes the characters have before the warehouse explodes, but honestly by 10 minutes in I couldn't bother to care about any of them for the rest of the movie.

Really what I'm disappointed in here is Richard Kelly for getting his name attached to the movie, though the only real reason I can figure is that he owed someone involved a favor and just kind of jumped on board for the sake of helping a friend out. Which I can understand. But the movie, it's just some barely intelligible boring plot about wacky secret agents that don't do much more than say f**k a few times and beat each other up. This is the part where a critic usually tells you something better to do with your time, but honestly this movie is so draining I'm out of ideas.

Video


Presented in a 2.40:1 aspect ratio in high definition 1080p 24/fps with AVC MPEG-4 encoding, "Operation: Endgame" looks just about as low budget as it really is, with some cubicles and a few spare props thrown in with some CG for the screens and graphics for within the organization. It looks to be shot on a collection of high end HD cameras but the transfer and post processing leaves some grain in the backgrounds and doesn't feel super crisp between the medium contrast and mediocre colors.

Audio


The main English PCM 5.1 uncompressed track at 48kHz/24-bit sounds exactly like you would expect for being shot in one warehouse building for the entire production, with some audio that ranges from small echoing noises in scattered scenes to a humdrum soundtrack that doesn't have a big presence in the film's audio track. Really the audio isn't shabby, it just isn't anything to be that interested in since the script is terrible and there's nothing worth listening to.
There's also an English Dolby Digital 5.1 track at, with English and Spanish subtitles.

Extras


As an ultimate show of the movie being made just for everyone to walk away from after the fact, the only special features are some behind-the-scenes featurette and a couple of unrendered alternate shots plus some bonus trailers, all in standard definition dvd quality.

"Behind-the-Scenes of Operation: Endgame" featurette runs for 10 minutes and 29 seconds, a long compilation of behind-the-scenes footage without any commentary, just the comments on set for the movie with some terrible terrible music that just sort of repeats for the full length of the featurette. The only remotely entertaining piece is seeing the stunt doubles in the background and how little they actually look like the actors.

Next is the alternate opening that runs for 2 minutes and 57 seconds which features Fool in the job interview for work and doing miserably.

Alternate ending runs for 28 seconds and just seems to change the final effects reel.

Bonus trailers are for:

- "The Stranger" runs for 1 minute and 44 seconds.
- "Frozen" runs for 1 minute and 50 seconds.
- "I Spit on Your Grave" runs for 1 minute and 4 seconds.
- "Brooklyn's Finest" runs for 2 minutes and 33 seconds.
- "Ultimate Fighting Championship on DVD" runs for 33 seconds.

Overall



| | | | | |
| --- | --- | --- | --- | --- |
| The Film: F | Video: B- | Audio: B- | Extras: D- | Overall: C- |

---
DVD Compare is a participant in the Amazon Services LLC Associates Program and the Amazon Europe S.a.r.l. Associates Programme, an affiliate advertising program designed to provide a means for sites to earn advertising fees by advertising and linking to amazon.co.uk, amazon.com, amazon.ca, amazon.fr, and amazon.de.