The Film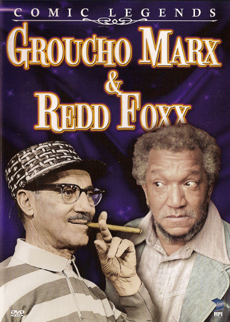 Many famous comedians have done stand-up shows at least some point in their careers. In "Comic Legends", we´ll meet two late American comedians in front of the live studio audience, doing approx. 24 minute-shows for the TV-series "One Man Show". The series was produced by "ABC Films" in the late 1960s, but very little information can be found from it. It´s hosted by Ed Jordan and both of the episodes are directed by Martin Morris.

Redd Foxx was once mostly famous for his dirty nightclub-shows. His controversial topics and the profane language were later put to good use by the other Afro-American comedians such as Eddie Murphy in shows like "Raw (1987)". Later on, Foxx appeared in the successful TV sitcom "Sanford and Son (1972-1977)" and also in "Harlem Nights (1989)", where three generations of black comedians (Foxx, Murphy and Richard Pryor) met. In "One Man Show - Starring Redd Foxx", he apparently performs just before his TV sitcom-days. Obviously this is a TV-show (and the audience is mostly white), so most of the controversy had to go. Foxx still manages to tell some jokes about "blacks", Vietnam War, poverty and "fat women". In the last section he´s also making ice cream cones, telling random jokes at the same time. Foxx is mildly funny, but you get the feeling that this is just the scratch of the surface of his comedian skills and the "real Redd Foxx" somewhere in the dark nightclub would´ve been the ideal place to see him. Now you´ll smile often, but not necessarily laugh that many times.

Groucho Marx with his fake moustaches and the cigar is a true legend. He´s of course best known for the many classics he made with "the Marx Brothers" in the 1930-1940s and later on for his hugely successful TV game show "You Bet Your Life (1950-1961)". "One Man Show - Starring Groucho Marx" is apparently recorded in 1969, during the time when he made a brief "come back" and performed live a few times. Groucho is clearly past his prime (after all he was almost 80 years old!), but gives a decent performance - considering his age. His act starts off with the monologue, but quickly changes to the "Q&A" with the audience. Groucho is a bit slow and his timing is off, but to see the legend at the stage is always a pleasure (even when he looks a bit uninterested a few times). His calm, laconic and sarcastic "I´m above the others" style is of course including a few jokes about women and some of his comedian wittiness is present. In the last part the announcer Ed Jordan interviews Groucho, which is actually quite interesting, since Groucho briefly also talks about his brothers. The episode gives a minor taste of the great comedian that Groucho Marx once was, but sadly the old flame doesn´t really burn anymore. Still, I sincerely hope that I can be at least this witty when I´m pushing 80.


Video


The video is presented in 4:3 and taken from the tape source. There´s some softness and the colours tend to be a bit washed, but the black levels are at least decent and the image is relatively clear. There are also a few "tape source"-related issues. "Single layer" disc is coded "R0". "Starring Redd Foxx"-episode runs 24:01 minutes (NTSC) and "Starring Groucho Marx"-episode runs 24:22 minutes (NTSC).

Audio


The episodes are presented in English Dolby Digital 2.0 Mono and optional English HoH subtitles are included (very nice MPI). The audio is surprisingly good and clean considering the source-material and hiss is quite minor. Not bad.

Extras


One proper extra is included, labeled as "Groucho Archive TV Footage" -featurette, running 9:35 minutes (no subtitles). This excerpt is from "The Hollywood Palace (1964-1970)" TV variety show from "ABC" from March 14, 1964 (episode #11 in "Season 1"). Serving as a guest host, Groucho does brief stand-up comedy, before moving and playing the known character of his, Dr. Hackenbush, meeting the female patient (of course). The segment ends in the "sing and dance"-number with Dr. Hackenbush and the chorus girls (of course). I´m a bit disappointed that the whole episode is not included, but this is still a very nice and welcomed addition (only some years earlier, Groucho moves almost like a young man). Groucho also guest hosted the series in the "Season 2" (episode #52) in 1965.

Overall


If you are like me, into the TV entertainment from the "good old times" in America, "Comic Legends - Groucho Marx & Redd Foxx" should be at least an interesting sample. Unfortunately it´s not that funny and with Groucho, the extra-feature is a much better example of his comical skills than the "One Man Show". Still, I personally hope that "MPI Home Video" keeps releasing these various comedy and variety shows from the American television, since many great performers were on their prime then. They often made (now partly forgotten) TV history.

For more info, please visit the homepage of MPI Home Video.
| | | | | |
| --- | --- | --- | --- | --- |
| The Film: | Video: | Audio: | Extras: | Overall: |