The Show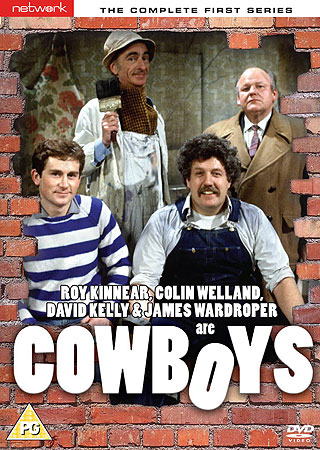 Cowboys: The Complete Series One (Thames, 1980)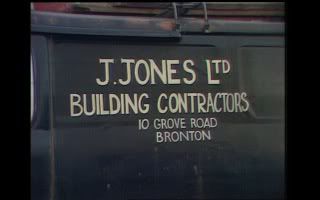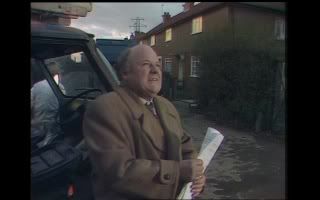 Created by Peter Learmouth – who also created the popular sitcom Surgical Spirit (Granada, 1989-95) – the short-lived and, since its initial broadcast, little-seen situation comedy Cowboys (Thames, 1980-81) combined the comic talents of Roy Kinnear, Colin Welland and David Kelly. Headed by Kinnear as Joe Jones, the owner of a small and less-than-honest building firm, Cowboys featured Welland (a year prior to his Oscar win for the Chariots of Fire screenplay) as 'the plumber's plumber' Richard Geyser (who in episode one complains that he always ends up doing someone else's job and 'only seem[s] to plumb on my holidays') and David Kelly as scatty decorator 'Wobbly Ron'. James Wardroper also appeared as Eric, the firm's young apprentice, and Debbie Linden – as Jones' blonde, busty secretary Doreen – was the only other regular cast member, but she departed after the end of the first series.

Each episode is prefaced by a Chas and Dave-esque theme song, written by respected musician Ray Russell and performed by Joe Brown. Outlining the methodology of the cowboy builders who are the show's focus, the song comically declares, 'Well, you'd better watch out/There's a posse in town/How does it stand?/It'll soon fall down. [Here, the chorus declares: 'Cowboys/Don't trust the xowboys'.] If a job's worth doin'/It's worth doin' wrong/With a nail too short/And a screw too long'. Over the closing credits, the song reminds us that the 'cowboys' are 'Cheap and cheerful when they give you a price/Including the things that they do wrong twice'.

This release contains the six episodes that comprise the show's first series. 'Ripping Out' introduces us to the builders, who have been given the task of modernising a derelict council house; 'Perks' focuses on the Richard Geyser and Wobbly Ron's tendency to 'supplement our income' by helping themselves to a few 'perks': ie, stealing materials and equipment 'off the job'; in 'Remember Honky Stubbs', Jones orders Geyser, Wobbly Ron and Eric to conduct 'unofficial salvage work' in the basement of a building that, unbeknownst to Jones and his crew, is scheduled to be demolished; 'Black Day at Bad Rock' finds the boys contracted to work in an isolated country house, where to Jones dismay they damage a rare and expensive vase; in 'C.L.O.D.', Jones' workmen are enticed by a conman who claims to be a union representative and tries to get Geyser, Wobbly Ron and Eric to sign up; and 'Two Right Casanovas' finds the workmen facing problems with the opposite sex during the company's annual outing.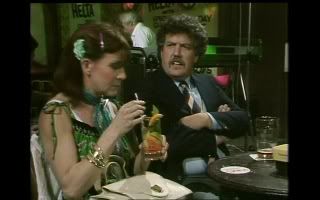 The series features a combination of dry verbal humour ('I like a fella who can lie through his teeth first thing in the morning', Geyser asserts early in the first episode) and broad slapstick, much of which involves Welland – who in this series shows a strong ability to perform physical humour. Although each episode revolves around a different situation, at the centre of the series is the bickering and interplay between the three leads, a classic example of the 'comic trap' (a situation in which characters are thrown together and from which they cannot escape) that is at the heart of the majority of British sitcoms: 'I could get someone else', Jones tells the other men during the first episode; 'Oh, do us a favour', Geyser replies, 'if you could get someone else, you wouldn't be employing us'. The performers are all very good, although Kinnear arguably steals the show with his performance as the workshy and unethical Joe Jones, who consistently refuses to pay his workforce ('I've got a cash flow problem: I don't have a cash flow', Jones asserts in 'Ripping Out').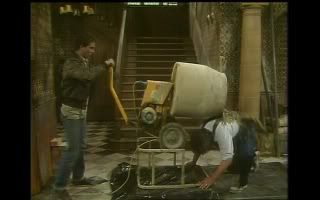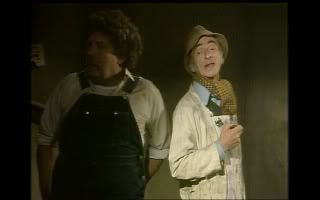 Episodes
1.'Ripping Out' (25:04)
2.'Perks' (24:30)
3.'Remember Honky Stubbs' (25:08)
4.'Black Day at Bad Rock' (24:25)
5.'C.L.O.D.' (25:02)
6.'Two Right Casanovas' (25:15)



Video


Mostly shot in a studio on videotape, with some filmed location inserts, Cowboys looks acceptable but not great. Aside from the aesthetic qualities of video-shot material (blown-out highlights, a low dynamic range and a generally 'flat' look), there are quite a few examples of tape wear throughout these episodes.




The episodes are presented in their original broadcast screen ratio of 4:3, and the break bumpers are intact.

Audio


Audio is presented via a two-channel stereo track. This is mostly clear but inconsistent: audio in the filmed location footage is less clear than that recorded in-studio. However, this seems to be a production issue rather than a problem with this DVD release.

Extras


None.

Overall


Sadly largely forgotten, Cowboys is a good, amusing situation comedy which succeeds largely because of the comic talents of the three lead actors. Hopefully, Network will release the second series of the show. Fans of vintage sitcoms should find much to enjoy in this sage of Joe Jones and his band of 'cowboys'.

For more information, please visit the homepage of Network DVD.
| | | | | |
| --- | --- | --- | --- | --- |
| The Show: | Video: | Audio: | Extras: | Overall: |