The Film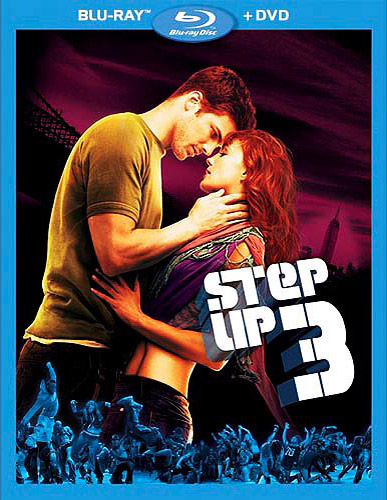 When it comes to dancing, I might just be the whitest guy on the planet, and my views on dance are two-fold. I have zero dancing abilities whatsoever – if I were to have a dance ability rating, it would sink into negative numbers. I also have less than zero interest in learning. I do, however, have a tremendous amount of respect for any talented individual who can. The performers who make up the cast of "Step Up 3" (2010) completely blew me away. I think even Fred Astaire would take notice at the unparalleled feats these guys (and girls) are capable of; it's astounding. I've seen street dancing before, but never anything like the stunts this cast pulls off. Much of it was so spectacular that I forgot I was watching a movie. Actually, I wanted to forget I was watching a movie. That's the main issue I have with director Jon Chu's film. If it's to be taken as a tongue-in-cheek, loosely built narrative designed expressly to showcase insane dance moves, then it works in that regard. If, however, the film is trying to take itself (and its outlandish plot) seriously, then I could say it's one of the most painful pictures I've seen in ages. But no matter how you take it, the bottom line is that the dance rules the roost front and center, so even those of you who don't have the slightest interest in the subject matter will be amazed by the sheer logistics of how they pull off these crazy moves.

The action gets going right from the opening frames when Moose (Adam G. Sevani), taking a college campus tour, suddenly finds himself in the midst of a dance battle with members of the House of Samurai. When he wins, the members remind him that "this isn't over" before he vanishes away with Luke (Rick Malambri), a local dancer who has converted an abandoned warehouse into a dance studio nicknamed "The Vault". There, Moose meets up with Luke's crew, known as the House of Pirates, and he quickly becomes one of their star dancers. They've got a wicked rivalry going with the House of Samurai, run by Luke's former friend, Julian (Keith Stallworth), and they need to win the upcoming World Jam Dance Tournament if they expect to earn enough money to keep The Vault going. Luke thinks he finds the answer in Natalie (Sharni Vinson), a hot little number that catches his eye at the club. But when he discovers Natalie is really Julian's sister, the odds of them pulling off a big win don't look so good anymore.

I tried watching "Step Up 3" as though it was a film that didn't take itself seriously, sort of like a modern version of "Breakin'" (1984). The film features an array of dancers, each unique in their own right, who apparently lived on the streets until Luke let them all into his king-sized dance pimp palace. But who could have possibly built this place? None of them appears to have any money, yet they live in a posh loft that would make professionals envious. Everyone has their own personal space inside, with dozens on boomboxes, dance rehearsal space and a collection of shoes that would make Imelda Marcos look modest. And dance is the answer to all their problems. When members of a rival dance gang catch them off guard, they don't beat them to a pulp, they challenge them to a dance-off. Yes, that fact comes off as hilarious on film as it does on paper. So you really have to decide how you're going to watch the film. Try taking it seriously and you'll find yourself checking your watch every 2 minutes, groaning until the next major dance battle arrives. But if you're able to pretend nothing is supposed to taken for more than face value – and it's all just a skeletal plot on which to drop in big outrageous dance numbers – then you might find yourself able to relax and enjoy what Chu serves up.

Speaking of the big dance battles, that's where the real enjoyment in watching this film comes from. I'll be honest, my brain spent a good portion of the opening trying to tune itself out, but once the first big battle occurred I was glued to the screen. I had heard this film was a guilty pleasure for many people, and this cemented why. The acrobatics and choreography employed here are top notch. Breakdancers pop and lock with incredible precision, lifting themselves off the floor with ease and flying through the air as gracefully as a ballet dancer. Chu directs these scenes with the dancers right in your face, so you feel like you've got the best front row seat to all the action. It's almost like the dance scenes are in a different film because they feel so fresh and alive that it's hard to believe they're part of the laughable plot that came right before them. These guys dance hard, too. The aggression and intensity they put forth through performance is almost tangible – the air becomes electric when these crews are giving it their all to win the World Jam crown. The film might be bad, but these musical numbers will make you remember what the real appeal of this series has always been.

"Step Up 3" has also been released as "Step Up 3D: Make Your Move" on 3D Blu-ray disc for those with the proper equipment. It's obvious that many of the shots in the film were composed specifically with that format in mind, which means that they'll end up looking a little hokey outside of that context. As much as I felt a film like this was the last kind of title that needed that extra dimension, I'll say that the dance numbers would have been that much more impressive had I seen them in that fashion. And from the reviews I've read, it sounds like they come off quite awesomely.

Video


The 1.78:1 1080p 24/fps AVC MPEG-4 encoded image is full of sensory overload moments, producing a picture that's both exceptionally pristine and full of vibrant, living colors. Originally composed for 3D, the 2D image is crystal clear and chock full of details. Many of the dance numbers rely heavily on visuals aides – such as the eye-popping, colorful balloons of Moose's first challenge, the ashy dust that team Red Hook employs during its amazing routine and the clarity of the water droplets among the red dance floor during one of the final numbers. And it's all shown with incredible attention to detail. Everything from the dancers' well-coiffed hairdos right on down to the stitching seen in the fancy footwear is so crisp that it's almost like staring through a window at times. Colors are faithfully reproduced, black levels are inky and rich and white levels are cool and well-balanced. Skin tones and facial close ups are perfectly rendered. I rarely detected a single problem with this image; it's consistently spot-on, ranking up there with some of the tightest, reference quality images I've seen the format produce.

Audio


The default audio track is an English 7.1 DTS-HD Master Audio track mixed at 48kHz/24-bit, and it's a beast. This is a dance movie, so it's going to heavily count on music to make it work. Thankfully, the lossless audio track pumps out enough power to practically shake your house down. There are no less than some 40 songs featured throughout, and they all bring the thunder through your home audio system. What I liked most about this track was that the LFE track is never overpowering. Bass can sometimes be used to boost a track, artificially being elevated to make the track sound like it has more oomph that it really possesses. "Step Up 3" doesn't need to reply on such tricks, as this track is perfectly balanced with a smooth LFE channel that brings the boom without drowning out everything else in its wake. Every speaker in your system will get a workout as hard as the dancers themselves do. The levels are set just right, however, so that once the music stops and the talking stars you don't need to reach for the remote to make out what's being said. It's high energy and high volume, making this easily one reference quality soundtrack to show off your system.
French and Spanish Dolby Digital 5.1 surround sound tracks are also included. Subtitles are available in English for the hearing impaired, French and Spanish.

Extras


There's not much here, but we get a reasonable smattering of supplements for fans of the series. I'm surprised there wasn't an audio commentary track with at least one member of the cast or crew to talk about the choreography that went into making the film. For that matter, I'm surprised there aren't any extra dedicated to that subject, but we do get a slew of deleted dance scenes, short film, featurettes, and more music videos and theatrical trailers than anyone asked for.

DISC ONE: BLU-RAY

"Born From A Boombox: A Luke Katcher Film" (1080p) runs for 11 minutes and 51 seconds. This is the full version of Luke's short film that we see him working on during the film.

"Extra Moves" (1080p) is a 7 minute and 20 seconds sizzle reel featurette featuring a plethora of dancing set to songs from the film.

There are several deleted scenes (1080p) available to watch with optional audio commentary by director Jon Chu. Included are the following, which can be played separately or with the "play all" function:

- "Club Battle" runs for 2 minutes and 27 seconds. These are just some extra scenes from the dance floor at the Pirates' club.
- "Sneaker Montage" runs for 3 minutes and 10 seconds. Much longer footage of the group playing around with all the shoes found in The Vault.
- "Carlos Explains Red Hook" runs for 45 seconds. Just why are they so bad, hmmm?
- "Jacob Tribal Story" runs for 3 minutes and 6 seconds, a guy with a tribal tattoo that has an actual meaning behind it – that's as rare as a unicorn.
- "Capoeira" runs for 2 minutes and 36 seconds. Luke and Natalie try a new approach to their routine.
- "Moose Gets "Sick"" runs for 1 minute and 45 seconds, learn how he got out of that exam!
- "Sad Montage" runs for 2 minutes and 14 seconds. It wasn't that sad.
- "Opening World Jam" runs for 3 minutes and 19 seconds. It's the opening ceremonies of the big event.

A whole lot of music videos (1080p) are included for the following:

- "Club Can't Even Handle Me" by Flo Rida feat. David Guetta runs for 3 minutes and 55 seconds.
- "My Own Step (Theme From Step Up 3D) by Roscoe Dash and T-Pain feat. Fabo runs for 4 minutes and 48 seconds.
- "Already Taken" by Trey Songz runs for 4 minutes and 10 seconds.
- "This Girl" by Laza Morgan runs for 3 minutes and 15 seconds.
- "This Insanity" by Sophia Fresh feat. T-Pain runs for 3 minutes and 41 seconds.
- "No Te Quiero (Remix)" by Sophia del Carmen feat. Pitbull runs for 3 minutes and 22 seconds.
- "Irresistable" by Wisin y Yandel runs for 3 minutes and 23 seconds.
- "Spirit of the Radio" by J Randall runs for 3 minutes and 9 seconds.

"Making of the Music Videos" (1080p) featurette runs for 7 minutes and 16 seconds. This behind-the-scenes footage features the film's cast dancing alongside the artists on the soundtrack, creating each of their music videos.

Bonus trailers are included for the following:

- "Disney Blu-ray promo" runs for 50 seconds.
- "You Again" runs for 2 minutes and 17 seconds.
- "Secretariat" runs for 1 minute and 10 seconds.

DISC TWO: DVD

This is a DVD copy of the feature film. The only bonus features it has are "Extra Moves" featurette, the 8 music videos and "Making of the Music Videos" featurette.

Packaging


The 2-disc set comes housed in a keepcase with a slip-cover that matches the cover art.

Overall


As a film, it's appallingly bad. But as a DANCE film, it's a spellbound riot. Say what you will about this series, but no one can deny that they put together some truly talented dancers who know how to work their magic in front of the camera. Having near-perfect video and audio quality definitely doesn't hurt things, either. The slate of bonus features could have been stronger, but there's enough here to keep those wanting more satisfied.

-------------

Support us by purchasing this disc online at Bluraysforeveryone.com, they specialize in store exclusives and limited editions both new and used, plus have a wide range of new releases and catalogue titles. Join their reward program and earn points towards your purchases. Best of all for overseas customers they are customs friendly and offer great cost-saving shipping options. Check them out for some cool limited editions.


| | | | | |
| --- | --- | --- | --- | --- |
| The Film: C- | Video: A- | Audio: A | Extras: C+ | Overall: C+ |