The Film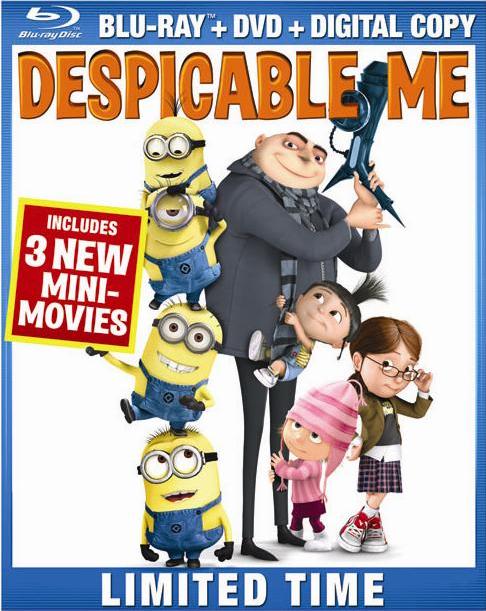 In "despicable Me" there's a really funny moment where the main character Gru (Steve Carrell) is laying out the rules of his home to three little girls he recently adopted. Gru says "You will not cry, or sneeze or barf or fart! No annoying sounds" and in that moment one of the little girls, Agnes (Elsie Fisher) responds with "Does this count as annoying?" and then puckles her cheeks making a popping sound. That moment was so insanely cute and hysterically funny that it was hard not to like this film. I must have watched that moment at least ten times and haven't gotten tired of it yet. The best thing is that "Despicable Me" is filled with many such moments. "Despicable Me" was one of my three favorite animated films of 2010, which includes "How to Train Your Dragon" and "Toy Story 3" (which was hard to top). While it's not on the same league as Pixar's efforts it's still a solid entry in the CG animated genre and marks a good starting point for Universal. This is the first CG animated film the studio has released, and with a cost-effective animation style mixed with a simple story, memorable characters and plenty of laughs, all wrapped together with a shrewd marketing plan combined to create a rather risk free entry that paid off grossing over $500 million against a budget of $69 million.

"Despicable Me" tells the story of Gru (Steve Carrell), a criminal mastermind who's been overshadowed by a new villain on the block, Vector (Jason Segel) has been stealing Gru's thunder lately with some daring and over-the-top heists including stealing the Pyramids. In an effort to make a comeback Gru embarks on a plan to shrink the moon and steal it. The only problem is her doesn't have a shrink ray (a device recently stolen by Vector) or the money needed to build his rocket that will ascend him into space. In an effort to steal the shrink ray from Vector Gru uses a trio of orphan girls Margo (Miranda Cosgrove), Edith (Dana Gaier) and Agnes (Elsie Fisher) as unwitting pawns in a scheme to get inside Vector's hideout. The thing is... the girls profoundly change his attitude, and he ends up loving them.

For years Disney and Pixar have been raking it in with their animated films, mowing down any competition and leaving them in their wake. Dreamworks did a decent job of offering up some resistance and making a few memorable films along the way (nothing as impressive as what Pixar have achieved in my opinion). Animated films are a cash cow for any studio, especially if done right and now with CG technology becoming more and more common and easier to utilize than standard hand drawn animation more and more studios are opening (or buying) their own CG animation studios, Disney has Pixar, Fox has Blue Sky, Sony has Sony Pictures Animation, Paramount currently distributes Dreamworks animated pictures... and now Universal start up Illumination Entertainment have launched with their feature animated debut in grand head turning style. One big reason "Despicable Me" made such a splash was due to it's budget, at $69 million it wasn't nearly the budget of recent films ("Toy Story 3" for example cost around $200 million!) the secret was creating memorable characters that were also simplistic in design and execution. There used rounded edges, no complex fur, hair, or textures. The cartoon style determined the aesthetic of the overall film and the time spared allowed the filmmakers to deliver a film under $70 million. The cost-effective measure allowed Universal to develop a decent marketing launch and invested millions more to penetrate the market with it's minions, which were seen almost everywhere for a couple of months this year. The plan worked and yielded impressive results proving that you don't need to splash $200 million to make a successful animated film.

The success also had a large part to do with the fun story that unfolds, the memorable characters and the thousands of minions that not only were a major part of the film but infiltrated our media throughout the marketing of the film. The film's story is simplistic and features common and easily relatable themes despite the fantastical elements. At the end of the day Gru is just someone that wants to make his mother proud, and also learns some key lie lessons from a group of kids he adopts. Complexity is thrown out the window in both story and style, while it would have been nice to develop a story with more depth the film embraces its simplicity and at the end of the day works. The characters appear wonderfully animated with their eccentric features, and voiced by a cast that helps breath life into the CG forms that appear onscreen. The performances are embraced and captured by the skilled animation crew making these characters seem life-like despite their cartoonish appearance.

"Despicable Me" is a light, fun and enjoyable way to spend 95 minutes, while not as rich or complex as recent Pixar fare, the film is decent entry into the genre and marks the arrival of a new animation house that's capable to delivering solid entertainment.

Video


Presented in the film's original theatrical ratio of 1.85:1 mastered in 1080p 24/fps AVC MPEG-4 compression, the image was created direct from the original digital source material. Universal's Blu-ray presents the film in terrific color and vibrancy in full HD. The image is crisp and beautiful to look at. The first impression you'll get from viewing this disc is that the colors are splendid, bold and rich. Detail looks great showing off every aspect of the animation. Blacks are deep and inky, sharpness is impressive and there were no problems with jagged lines or pixel blocking. the picture was smooth and clean without any noticeable flaws.

Audio


Three audio tracks are included in English DTS-HD Master Audio 5.1 surround mixed at 48kHz/24-bit, French DTS 5.1 and Spanish DTS 5.1 surround. There's also an English DVS (Descriptive Visual Service) Dolby Digital 2.0 surround track as well. For the purposes of this review I chose to view the film with its DTS-HD audio. Much like the image the audio is impressive, dialogue is clean and distortion free. Ambient sounds are subtle and make use of the surrounds that help develop the depth of the sound track. Sound effects and directional effects make excellent use of the sound space and sound natural. The action packed scenes are filled to the brim with excellent surround activity, the bass channel has a deep grunt behind it and the film's score adds a further layer to the complex and rich audio mix. Overall it's a stunning sound track that offers an immersive experience.
Optional subtitles are included in English for the hearing impaired, French and Spanish.

Extras


Universal has packed this Blu-ray set with a 3-discs, the first, a Blu-ray features an audio commentary, a picture-in-picture video commentary, three short films, four featurettes, five text-based recipes, three interactive games, an interactive feature, two video game trailers, there's also some Blu-ray features like Pocket Blu-Mobile features, BD-Live access, news ticker, "My Scenes" bookmarking and is also D-Box enabled. The second disc is a DVD copy of the film with a third disc being the digital copy. Below is a closer look at these supplements.

DISC ONE: BLU-RAY

First up is a feature-length audio commentary by directors Chris Renaud and Pierre Coffin. This is a fairly standard track, the director's joke around a bit and comment on the obvious goings on onscreen. They comment on the animation, characters and at times the story. There's not a whole lot of complex talk about the animation or filmmaking process but fans can get a general idea that the film was certainly fun to make.

Next up is "Gru-Control" (1080p), a minion-hosted Picture-in-Picture video commentary. The minions pop up occasionally as you watch the film, the interruptions are a series of promotional clips created for the film's marketing plan. They essentially act as short films featuring the minions doing funny and silly things. It's mildly amusing and I found myself getting bored of this feature rather quickly. It would have been nice to have included dome interviews with the cast and crew sharing their thoughts on the making of the film...

There are a series of three "Despicable Me Mini-Movies" (1080p) short films that include:

- "Home Makeover" runs for 4 minutes 22 seconds, in this short the minions help Gru transform his house into a kid-friendly environment.
- "Orientation Day" runs for 3 minutes 59 seconds, in this short three new minions join the group.
- "Banana" runs for 3 minutes 45 seconds, the minions fight it out for a banana.

Following that is "The Voices of Despicable Me" (1080p) featurette running for 16 minutes 34 seconds, this behind-the-scenes clip takes a look at the voice casting for the film and what each actor brought to the role. It looks at the recording process and how each actor approached playing the role.

"The World of Despicable Me" (1080p) is the next featurette running for 15 minutes 16 seconds, is the standard EPK clip that takes fans into the making-of process of the film. It features more interviews with cast and crew as they comment on the genesis, production process and the fun they had making the film.

Next up is "Despicable Beats" (1080p), a featurette that runs for 2 minutes 48 seconds. This brief clip focuses on the involvement of rapper/hip hop artist Pharrell Williams and the work he did for the film.

There's also "A Global Effort" (1080p) featurette that runs for 3 minutes 22 seconds, is a look at the International release of the film.

The disc also features five "Miss Hattie's Top Secret Cookie Recipes" (1080p) text-based recipes for:

- Minty Mints
- Choco Swirls
- Coconutties
- Toffee Totes
- Caramel Clumpies

Three "Super Silly Fun Land" (1080p) interactive games can be played using your BD remote, the games are mostly for the kids, adults will likely grow tired of them almost instantly, they include:

- "Feed the Creatures" in this game you throw a ball into the snakes mouth to earn points.
- "Tin Can Alley" this game is like that old carnival game where you have to knock cans down to earn points.
- "Freeze the Minions" the final game has the payer try to shoot the minions to freeze them.

Following that is "Gru's Rocket Builder" (1080p) an interactive feature, you can build a rocket by answering a series of questions correctly. It's novel, fun and informative as well but also mostly for the kids.

Two "Despicable Me" video game trailers (1080p) are also featured:

- "Video game" runs for 1 minute.
- "Minion Mania" runs for 50 seconds.

A series of Blu-ray features also appear in the form of Pocket Blu-Mobile features, BD-Live access, news ticker, "My Scenes" bookmarking and is also D-Box enabled.

DISC TWO: DVD

This is a DVD copy of the film and features some of the same extras as seen on the Blu-ray. The extras included here are the audio commentary, the "The World of Despicable Me" and "Despicable Beats" featurette, the "Gru's Rocket Builder" interactive feature, the two video game trailers, plus there are bonus trailers for:

- "Hop" runs for 2 minutes 29 seconds.
- "Nanny McPhee Returns" runs for 2 minutes 29 seconds.
- "The Little Engine That Could" runs for 1 minute 1 second.
- "Back to the Future: 25th Anniversary Trilogy" runs for 1 minute 17 seconds.

DISC THREE:

This final disc is a digital copy of the film.

Overall


Support us by purchasing this disc online at Bluraysforeveryone.com, they specialize in store exclusives and limited editions both new and used, plus have a wide range of new releases and catalogue titles. Join their reward program and earn points towards your purchases. Best of all for overseas customers they are customs friendly and offer great cost-saving shipping options. Check them out for some cool limited editions.


| | | | | |
| --- | --- | --- | --- | --- |
| The Film: B | Video: A+ | Audio: A+ | Extras: C | Overall: B+ |