The Film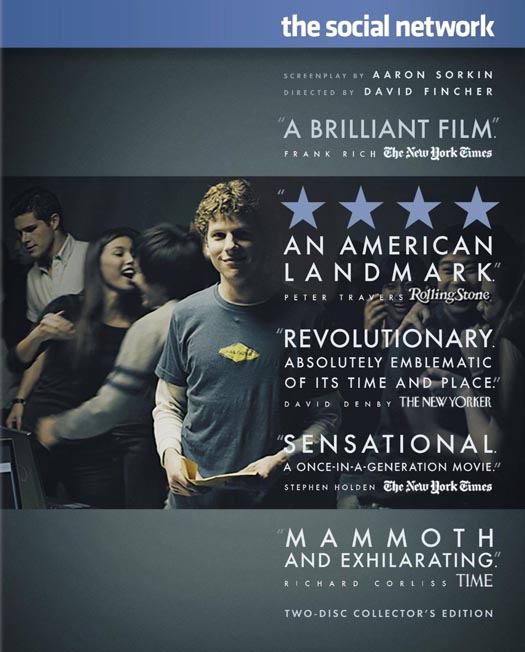 Are you on Facebook? Did you friend me? How come you didn't respond to my post? I see you posted birthday photos on Facebook, why wasn't I invited? Did you get my message? I tagged you in a photo did you see it? Oh yeah I read that in your posts, it's complicated, or are you in a relationship? So who's that you're hanging around with all of a sudden? Facebook stalker! OMG my parents just friended me on Facebook... so many discussion points, so little time. It's insane how in a handful of years Facebook has changed the way we socialize, changed the way we connect and made our online profiles much more important than they really need to be. Of my friends I was among the last to join the networking site, having seen what Myspace had done to a few friends (all of a sudden were obsessed with it and had little time to commit to actual real-life friends... ironic aye?) I was in no hurry to commit to it. However the more I learned about Facebook the more intrigued me, and it's the same for a lot of people, it was the exclusivity that was a major selling factor for me. The fact that I can choose who I friend, on who can see my posts or photos, I can set the rules to my own page and control it. That sense of control was what eventually led to my starting an account with the site. Meanwhile as the membership grew and grew, behind the scenes was an intriguing story of Shakespearean proportions bubbling to the surface. A story of attaining social acceptance, of back-stabbing, of passion and drive, of greed and money and of influence. A story that's as rich and complex as the code built to run the site and be stable for millions upon millions of users. It's a story no one thought would ever matter, or ever make it to the big screen. It's a story that when the news broke of Aaron Sorkin and David Fincher's involvement in, the film world let out a collective "what?" and "Seriously?" the notion of making a movie about Facebook seemed ridiculous , but that's just what's on the surface, delve deeper and you'll find the true themes linked by wire puppeting the characters as we go along. The resulting picture "The Social Network" can be heralded as Fincher's finest work since "Fight Club" (1999) it's a provocative and incredibly well-written modern masterpiece.

"The Social Network" tells the story of Harvard undergrad and computer programming genius Mark Zuckerberg (Jesse Eisenberg) who after a break up and on a drunken revenge kick, develops a website grabbing the profile photos of girls around the Harvard campus and pits them against each other for guys to vote who's hotter... the idea sparks the formation of a new kind of social networking site. Zuckerberg is recruited by fellow Harvard students Divya Narendra (Max Minghella) and twins Cameron Winklevoss and Tyler Winklevoss (both played by Armie Hammer, although Josh Pence technically played Tyler, with his head being digitally replaced by Armie's) to develop a Harvard-based networking site that allows anyone with a Harvard.edu email address to connect with each other. Mark agrees to work on the site, but ends up developing something a lot better, The Facebook. Blowing off Narendra and the Winklevoss twins and spending his time on his own site with soon-to-be business partner Eduardo Saverin (Andrew Garfield) who ends up putting the money needed my Mark to develop the site. Once it's gone live, Mark finds he's developed to most talked about site on campus and soon is being rolled out to other campuses around the States. As the site's popularity increases so do Mark's enemies.

In the hands of a less capable filmmaker this would have at best been a TV movie, in Fincher's hands it's a cinematic tour-de-force. Working with Fincher is akin to running a marathon, he shoots with precision and never settles for anything but the absolute best even if it means doing one hundred takes to get it. To give you an idea of how he shoots during production he shot a total of 268 hours of footage, the total storage size for the footage was 35,060 GB digital data at 4K resolution, the film equivalent would be 1.45 million feet of film. That's a staggering amount of footage, if anything you have to give the most props to the editing crew who assembled this film together and they were given their proper kudos this year by nabbing the Best Achievement in Editing Oscar.

The film is almost entirely a battle of words, and Aaron Sorkin is among the best wordsmiths around, crafting a terrific narrative that immerses the viewers amid a barrage of techno-babble and legalese, wit and timing all play their part and the words are brought to life by the talented young cast of performers. To Fincher's credit he's managed to make a film about geeks that reaches every level of the marketing spectrum, making the film accessible to any sex and any age. The only problem I had with the film's script is that Sorkin's female characters never have any substance, their written as shallow attention-seeking-money-grabbing whores that latch on to our main characters. He's very skilled at crafting scenes of dialogue that feel like a duel to the death, but when it comes to women he tends to fail totally. Fincher does his best with that material but glosses over it and moves on.

Exchanging words onscreen are a plethora of capable young performers led by the incredibly well cast Jesse Eisenberg, who brings a believable spin to Zuckerberg, creating a character rather than mimicking the real person. His cohort played by Andrew Garfield is also pitch perfect and offers the excellent counterpoint to Zuckerberg. Justin Timberlake ironically plays the guy who changed the face of music, Napster's Sean Parker who infiltrates Zuckerberg and ends up leading his hand into the future. While I generally dislike Timberlake's music, his acting of late has been generally excellent and in the hands of Fincher he's on top form in each and every scene. Meanwhile Armie Hammer plays the twins with equal amounts of staunch and intimidation. There are no scene stealers here, everyone does their bit and they do it well.

Fincher is a particular filmmaker, obsessive is another word. He spends about as much time crafting his aesthetic and framing as much as he works with the actors. Each frame is meticulously planned and crafted, from the color palette to the movement of the camera, everything in Fincher's frame is done on purpose, nothing is left to chance. Some may argue that such rigid control is not always a good thing when making a film, but when you know exactly what you want every time then why not strive to achieve that?

Video


Presented in a widescreen ratio of 2.39:1 high definition 1080p 24/fps mastered in AVC MPEG-4 compression. As mentioned in the film review Fincher shot the film on 4K resolution high definition digital on the RED camera, the film's original digital source was used to create this HD transfer. The resulting image is terrifically presented, the picture is crisp, deeply detailed and wonderfully rendered in glorious HD. The sharpness is impeccable, detail is visible on the minutest of props, and right down to the stitching on the costumes, and backgrounds look impressive and the digital photography's clarity helps put the viewer right into the scene whether it be at Harvard, a night club, a law office conference room or the Facebook offices. Colors are muted but accurately presented, skin tones appear natural and black levels are deep and bold. I could not spot any flaws, in short this image is impeccably good.

Audio


Three audio tracks are included on this disc, in English DTS-HD Master 5.1 surround mixed at 48kHz/24-bit as well as a French DTS-HD Master 5.1 surround also mixed at 48kHz/24-bit and an English Dolby Digital 2.0 surround track. For the purposes of this review I chose to view the film with its English DTS-HD audio. The sound mix was simply breathtaking, it's not you're usual mix and is much more subtle than you'd expect. There are moments that bring the audio to the forefront but a lot of the mix is background and ambiance especially with some of Trent Reznor and David Fincher' Oscar winning score. It blends into the film, bringing it life from the background and moving to the forefront in key scenes. It's occasionally creepy but helps create a mood and adds a layer of depth to each scene. The mix is quite clever and doesn't rely on traditional Hollywood conventions, for example on of my favorite moments in the film sees Zuckerberg and Parker at a night club, the character are talking at the top of their lungs because the music is so loud, in most Hollywood film you'd be able to hear the actors without any problems as the mixer would favor the actor's dialogue and the music would be in the background. In this case the music is favored and the dialogue is mixed almost into the background, giving audiences the feeling of actually being in the club. This realism is what they were trying to achieve in both the look and sound of the film and I'd say it was achieved brilliantly.
Optional subtitles are included in English, English for the hearing impaired, French and Spanish.

Extras


Sony has packed this disc with a collection of impressive extras over two discs. The first disc features two audio commentaries as well as BD-Live access. The second disc included the video-based supplements, a feature-length documentary, four featurettes and two interactive features. Below is a closer look at these features.

DISC ONE:

An audio commentary with director David Fincher kicks off the proceedings and anyone familiar with the director and his commentaries will know he's as meticulous in describing how he made the film as he was making it. It can be a lot for the casual film viewer to take in and can verge onto the technical at times, but for film fans and most importantly a fan of the director himself will definitely appreciate the effort he puts into these tracks. He comments on the genesis of the project and what elements attracted him to the script, on working with Sorkin and finding the narrative, character moments and creating a cohesive flow. He comments on the tone of the picture and what he wanted to achieve with the photography, pace, editing and music. He comments on the casts performances and the use of creative license as is the case with films of the this sort, they may be based on actual events but there are aspects of the film and the characters that are change, altered, etc for the sake of the story, tone, themes and so forth. Fincher delves into this film offering a plethora of information for fans.

A second feature-length audio commentary is offered with screenwriter Aaron Sorkin and actors Jesse Eisenberg, Andrew Garfield, Justin Timberlake, Armie Hammer, and Josh Pence, this track is obviously much livelier considering the number of participants involved. Sorkin offers up some insight into the script and writing process as well as working with Fincher to nail down the final version of the script. The cast also comment on their involvement in the film, researching their roles, working to Fincher's grueling schedule among other things. It's another terrific track that offers fans more from other perspectives.

The disc also features BD Live access for those with a profile 2.0 player.

DISC TWO:

The crown jewel of the video-based extras is undoubtedly the "How Did They Ever Make a Movie of Facebook?" A feature-length documentary in four parts that runs for a combined 92 minutes 43 seconds. The feature covers the commencement of the project this segment looks at the development of the film, the read-through and the actors grasping their characters. We get a huge amount of behind-the-scenes footage and see first hand how Fincher works and how involved he is in every step of the process leading up to the first day of shooting. We progress onto the location shooting in both Boston and then to Los Angeles and finally we get a glimpse of shooting on the lot were the interior sets for the film were built. The entire key cast and crew are interviewed as we move along covering the characters, the plot, the benefits of shooting on location among other things. It's a rich documentary that offers viewers an in-depth look at the making-of that should be the standard for most films, I always look forward to the supplements on Fincher's films because he really offers fans an all access look at his process and this piece is no exception.

"David Fincher and Jeff Cronenweth on the Visuals" is a featurette that runs for 7 minutes 48 seconds. Cronenweth has been a collaborator with Fincher for many years, working his way up from camera operator to director or photography having previously shot "Fight Club" (1999) for the director, they re-team again after a few years apart on this project (and are also working on the American remake of "The Girl with the Dragon Tattoo" to be released later this year). The two comment on the look of the film, the photography style and on the importance of crafting the visual aesthetic.

"Angus Wall, Kirk Baxter and Ren Klyce on Post" is the next featurette that runs for 17 minutes 20 seconds. The two editors and sound designer take viewers through the process of piecing the film together, crafting the flow and post-production work getting it ready to the director's exacting standards. It's another insightful piece.

"Trent Reznor, Atticus Ross and David Fincher on the Score" featurette runs for 18 minutes 55 seconds. Here we get a closer look at the crafting of the film's haunting score in another excellent clip that in now way ever resembles a fluff piece, I was incredibly impressed with these supplements and although on paper it may not seem like a lot but once you get into the them there's plenty for viewers to chew on.

The "Swarmatrony" featurette, a short clip that runs for 4 minutes 28 seconds, we get a look at unique instrument used in the making of the music for this film.

"Ruby Skye VIP Room: Multi-Angle Scene Breakdown" is an interactive supplement that lets viewers view this sequence in four different angles the rehearsal, interviews, tech scout, and principal photography.

"In the Hall of the Mountain King: Reznor's First Draft" interactive supplement, here you can watch the regatta rowing sequence with different cuts of the score, early tracks, deleted music and final track.

Packaging


This 2-disc set is packaged in a digi-pack housed in a cardboard slip-case.

Overall


Support us by purchasing this disc online at Bluraysforeveryone.com, they specialize in store exclusives and limited editions both new and used, plus have a wide range of new releases and catalogue titles. Join their reward program and earn points towards your purchases. Best of all for overseas customers they are customs friendly and offer great cost-saving shipping options. Check them out for some cool limited editions.


| | | | | |
| --- | --- | --- | --- | --- |
| The Film: A | Video: A+ | Audio: A+ | Extras: A+ | Overall: A+ |