The Film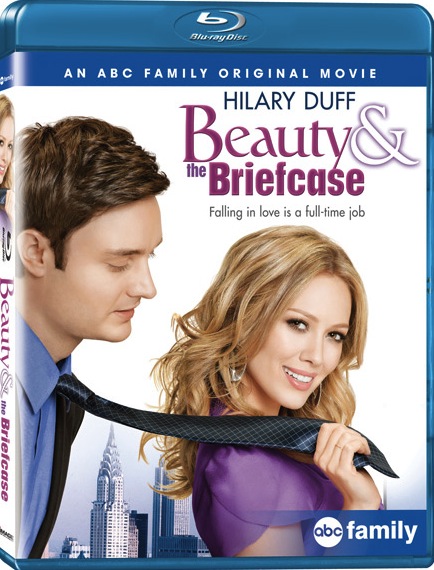 Lane Daniels (Hilary Duff) has big plans for herself. As an up-and-coming writer, she dreams of one day working for "Cosmo" crafting articles about fashion and offering relationship advice to her readers – highbrow stuff, right? One of her articles was recently published in a smaller magazine, and with that little taste of success, Daniels has made it her mission in life to stop at nothing to make her dreams a reality. Those dreams and aspirations don't just pertain to her career though; Lane also has high standards and big hopes for her men, which is why all the possible suitors she passes on the bustling streets of New York City in "Beauty & the Briefcase's" opening montage, just won't do. You see, she has a laundry list of criteria that a guy must meet before she can get serious with him.

Discussing the plot of "Beauty & the Briefcase" is basically inconsequential, but I'll do it anyway. To progress the story so that the movie doesn't end after the prologue, Lane gets an interview – thanks to a photographer friend – with Kate White (Jamie Pressly), editor of "Cosmopolitan" magazine. White gives Lane five minutes to pitch a story, but Lane fails miserably, offering up stale idea after stale idea. Thanking White for her time, a dejected Daniels makes a passing comment about never being able to find a good man in New York, which, because that's not a cliché and over discussed topic, instantly lands her the gig (the twist, of course, is that Lane mentions that all the "good", faithful men seem to be boring business types who have no personality). White sets her new writer up with a temp agency and sends Lane undercover into the business world to find the man of her dreams… blah, blah, blah, in walks bland Tom (Michael McMillian), Lane's new boss and the exact sort of guy that her "Cosmo" piece would focus on. The two hit it off, but alas Tom has a girlfriend. Conflict enters the frame when Lane meets Liam (Chris Carmack), who's supermodel hot and has a sexy English accent. Oh, the drama that ensues. Lane must choose between pursuing her career, and chasing after the possible love of her life – but who (or what) will she choose? The answer hides behind secret door number three, which presents itself in the third act… but you knew that already didn't you, because that's how these things always go, right?

Being critical of a made-for-TV movie like "Beauty & the Briefcase" is perhaps a little silly – okay it's quite absurd. But, at the same time, even when looking merely through the lens of pure entertainment, the film is quite empty and not all that good. It's far from being absolutely dreadful – in that, it's not unwatchable – but that's saying as little as possible. The script, written by Michael Horowitz (his previous credits include a number of "Burn Notice" (2007-Present) episodes) and based on a book called "Diary of a Working Girl" by Daniella Brodsky, reads like someone copy-pasted excepts of "The Devils Wears Prada" (2006) and "How to Lose A Guy in 10 Days" (2003) into an outline for an episode of "Ugly Betty" (2006-2010). It's about as original as, well, any number of workplace-romance-meets-fashion-world projects that seem to have floated in and out of movie theaters in the past few years. Unfortunately, "Beauty" doesn't have the cast of "Prada", the mean-spirited wickedness of "Lose", or just the plain likeability factor that befell "Betty", so its clichéd storyline isn't as easy to overlook. "Beauty" lacks a villain, and so without a Miranda Priestly (or, on that same page, an actress of Meryl Streep's caliber anywhere in sight) to drive the film along like "Prada" does, it stalls. The film's protagonist, Lane, is no Andy Sachs or Betty Suarez. And Hilary Duff is, obviously, no Anne Hathaway or America Ferrera. Outside of the first few minutes the film isn't that funny –although it certainly tries to be – so it fails when even compared to "How to Lose…" (and "Lose" isn't a very good film either, but better than "Beauty").

The only passing point of praise I can offer is that some of the supporting cast are far more capable than Ms. Duff, and that Gil Junger provides competent, if ordinary and TV-ish, direction. The film looks nice and colorful too, which translates well to Blu-ray. But, while it might please the most forgiving fans, even as a piece of pure fluff entertainment "Beauty and the Briefcase" is a mediocre, forgettable entry into the romantic comedy genre. There are better examples of this familiar story out there; proceed with caution when considering "Beauty" for the rental queue.

Video


For the most part Image's 1080p 24/fps high definition transfer (framed in the original 1.78:1 widescreen) is exceptional – unexpectedly exceptional. Colors, like the various canary yellows, satin blue suits, rich reds, and the popping pinks of Lane's outfits and choice home décor, are bright, cheery, and bold. Detail is unbelievable; intricacies in building exteriors are impeccably defined, fabrics are ridiculously textured, and even the stock footage of crowds and taxis navigating the streets of New York City is impressive. Shot digitally with the Sony F23 HD video camera, this 1080-native production is sourced from a completely digital realm and presents a pristine picture without a singe speck or knick to be seen. Noise reduction is a non-issue, as are haloing and sharpening artifacts, aliasing, banding, blocking or compression mishaps. Although confined to a single layer BD-25, the AVC MPEG-4 encode seems free of anomalies thanks to a steady bitrate of about 20 Mbps. Skintones are a bit flushed at times (a stylistic choice, I'm sure), but contrast is otherwise natural and blacks are consistently inky.

And yet, as good as "Beauty & the Briefcase" looks most of the time, the Blu-ray isn't without a couple of problems – one more curious than the other. First, and this is more of an aesthetic complaint and not really related to the Blu-ray itself, I find "Beauty" to be stylistically bland; the movie looks and feels like a product of television and is not the least bit filmic. Yes, that's sort of an unfair criticism – it is a made-for-TV-movie after all, so of course it looks TV-ish. But, the point still stands; television can – and often does – look cinematic. This doesn't. My other complaint is a fault of the Blu-ray and I can't really figure out who's to blame for it. About halfway though the movie – at 43:18 and again a few minutes later at 45:14 – the brightness of the image weavers and suffers from flicker. The picture flips between normal brightness and a slightly darker, noticeably duller, look that is both distracting and odd. It's fleeting and I didn't notice this flaw in any other spot than the two supplied time codes, but it's a curious and slightly disturbing glitch that ought not be there. All things considered this is a great looking disc.

Audio


Sound is delivered via an English DTS-HD Master Audio 5.1 track. Short and sweet: this is a front-focused and dialogue driven mix that, despite lossless encoding, really doesn't wow – and is considerably less noteworthy than the stunning 1080p visuals. While I wouldn't say that the high-def audio is truly terrible – it's really not, considering "Beauty" is a made-for-TV production – there's no denying the complete lack of impressive immersion or bombastic showcase scenes. The film is a romantic comedy, so it shouldn't really come as a surprise that dialog, spread evenly across the front three channels, is the main focus. Still, I'm a bit disappointed that, despite the use of authentic New York locations for exteriors, surround use is limited only to a few passing moments of activity from the inconsequential score. LFE is just about completely absent. And while dialogue is largely intelligible and without issue, seeing nice clarity and prioritization overall, during at least one scene (Jennifer Coolidge's quick cameo) I noticed some slight distortion. Subtitles are available in English for the hearing impaired and Spanish.

Extras


A brief theatrical trailer (16x9 480p, 1 minute 7 seconds) for "Beauty & the Briefcase" is included. There are no other extras.

Overall


"Beauty & the Briefcase" brings absolutely nothing new to the table (big surprise, right?) and fails to really set itself apart from the rest in an already overcrowded market segment. But, there's technically little wrong with this mediocre made-for-TV romantic comedy… if really not much to like about it either. The acting is far from cringe-worthy, direction is boring but competent, and the writing is plain but serviceable. It's just that the film is painfully ordinary and laughably average; I don't think I'll even remember it in a few weeks, other than the fact that it comes off as a "Devil Wears Prada" meets "How to Lose a Guy in 10 Days" clone, and one that is patently inferior to either of those films. Sure, "Beauty" might be a fun distraction for some, but Hilary Duff's latest is never going to be anything of note. Image's Blu-ray release has surprisingly strong video and decent audio, but – aside from a short trailer – no extras. Honestly, there are much, much better options out there in all of "chick-flick" movie-dom; "Beauty & the Briefcase" shouldn't be anyone's top pick. This Blu-ray is a rental at best.
| | | | | |
| --- | --- | --- | --- | --- |
| The Film: C- | Video: A- | Audio: C+ | Extras: F | Overall: C- |