The Film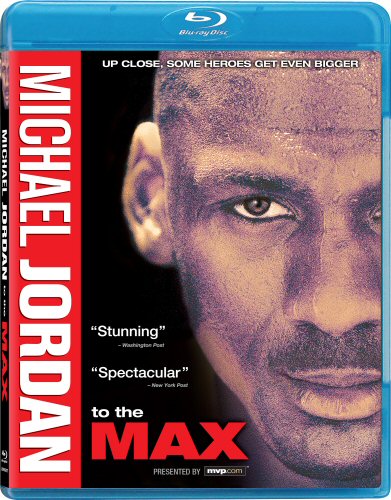 There are few iconic sporting figures in history, Muhammad Ali and Pelé come to mind almost immediately, as does Michael Jordan. Considered one of the greatest basketball players of all time. Michael came into the NBA in the mid-eighties after leading his College team The University North Carolina Tar Heels (UNC) to a championship season. Drafted by the then floundering Chicago Bulls, Michael would soon become the leader of the team. But what made Michael so iconic, so popular? It can be put to a number of things, he's talented, he plays to win, he amazes every time he's on the court, he's a role model for younger players, but he's also charismatic, self giving and an all around nice guy. As an avid basketball fan and life-long Jordan fan I find myself drawn to his personality and nobody plays with Jordan's flair, nobody. MJ rose to further accomplishment having won three consecutive championships with the Bull between 1993-1995, and yet another three between 1996-1998, this documentary captures MJ's last year with the Bulls (1998) most notably the NBA playoffs through to the finals played against the Utah Jazz.

This film was originally produced for the IMAX format, those not familiar with IMAX, it's a specialty cinema with large-scale screens some tower upwards of 8 stories! Most IMAX productions are shot in either super 35mm or 70mm to take advantage of the large-size screen. IMAX's usual fare was of 3D dinosaurs, nature documentaries about larger than life parts of the world (Mt. Everest) or other thrill ride documentaries such as Formula 1, etc. Most recently IMAX has moved away from exhibiting documentaries and changing their business model to show Hollywood films. Whether it was a documentary of a big budget action film, IMAX aimed to put you amongst the action. "Michael Jordan to the Max" was the first IMAX format documentary that focused on a single person, and what better a person who in reality is larger than life but Michael Jordan.

The documentary is pieced together like any other documentary it's made up of blurbs from coaches, players and other celebrities, edited in with footage of Michael playing, photos, and behind-the-scenes video. You can tell that the filmmakers share a love for the game of basketball and for Michael, as they have done a wonderful job putting together this film. They take us right into the 1998 season all the way following Michael as he tries to bow out of the game with one more big win.

The film is often exciting, tense, and occasionally heart-warming, which all make more an enjoyable viewing. Candid interviews with the man himself conducted in a way that afterwards you feel like you know him personally, even if you haven't seen a basketball game or follow the sport you will still enjoy this film, it has everything that the cinematic senses want. Shot on 70mm film the photography looks naturalistic, the colour saturation is beautiful and rich almost like you are watching a live sports broadcast. The score consists of music by Fatboy Slim, Earth, Wind & Fire and Little Freddie King among others and fit the images well. The only downside I have with this film is that it's too short, with a runtime of 46 minutes it goes by rather quickly. But otherwise this is a strong piece, a wonderful documentary made by love and to be enjoyed by fans alike. And what makes this documentary even stronger is that people who have never seen a single basketball game in their lives can also enjoy it.

Video


Presented in the film's original IMAX theatrical ratio of 1.85:1 mastered in 1080i HD with AVC MPEG-4, the packaged states the image as being 1080p but it's 1080i. This documentary has been crafted together using different film elements, the newer aspects of the film were shot on the formats 70mm film, allowing for incredible detail and color saturation. The 70mm footage retains some heavy grain but overall detail looks good. Depth is nice and while the 1080i image holds up it's the other aspects of the film that let the overall image down. The game footage and archival elements are a little soft and sometimes lacking in detail, a far cry from the now HD standard of broadcast with today's games. However, in saying that the footage was a filmed on the highest possible quality elements of the time and for that we can't really fault it that much.

Audio


Presented in a single English DTS-HD Master Audio 5.1 surround track in 48kHz/24-bit. The film is mostly made up of two parts in terms of the audio, the interview footage and dialogue-based footage and the music. however for a film that's made up of those two halves the surround activity is immersive. Dialogue is clear and distortion free, the score is well mixed and adds to the overall depth of the film's audio. The game footage audio helps viewers put themselves amid the action as we hear the roar of the crowd and the swell of the music. It's a solid track.
Optional subtitles are included in English for the hearing impaired and Spanish.

Extras


The Blu-ray features some extras in the form of an audio commentary, a featurette, a sequence breakdown, some stats and a bonus trailer. Below is a closer look at these supplements.

First up is an audio commentary by co-director/producer James D. Stern, co-director/producer Dom Kempf and producer Steve Kempf. This is not often screen-specific instead they share their stories about how the documentary came about, on shooting the footage the needed for the film and also add their own thoughts of Michael and his persona. Overall this is a decent commentary full of interesting and informative stuff.

Following the commentary we have a 20 minute 56 second generically titled "Behind-the-Scenes" featurette that cover the shooting of the opening sequence, the bullet time MJ slam dunk. The featurette consists of interviews with various crewmembers on how the effect was achieved edited with some behind-the-scenes footage of Michael in a green screen room.

The companion extra to the featurette is a short 1 minute 53 second sequence breakdown of the "Bullet time slam-dunk". This shows you a different CGI shot elements used to create that shot.

The disc also features some "Career stats" text info that outlines MIchael career statistics and worth looking at for fans of Michael... but if you're a super fan you probably already know all the stats!

A single bonus trailer is included for:

- "Lionsgate Blu-ray" spot runs for 1 minute 1 second.

Rounding out the extras are bookmarks.

Overall


Support us by purchasing this disc online at Bluraysforeveryone.com, they specialize in store exclusives and limited editions both new and used, plus have a wide range of new releases and catalogue titles. Join their reward program and earn points towards your purchases. Best of all for overseas customers they are customs friendly and offer great cost-saving shipping options. Check them out for some cool limited editions.


| | | | | |
| --- | --- | --- | --- | --- |
| The Film: A | Video: B+ | Audio: A | Extras: C+ | Overall: B+ |