The Film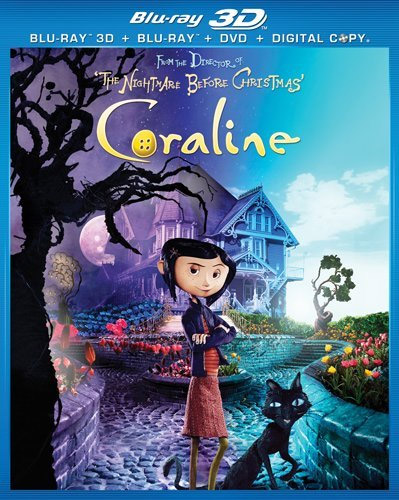 I don't how Henry Selick feels about it, but whenever someone comments about how awesome Tim Burton's "A Nightmare Before Christmas" (1993) is, it urks me a little. Because although Burton came up with the story and produced the film it was Selick who directed it. The film was sold as a "Tim Burton's..." film so it's easy to see why the general movie going public think it was all his doing, but despite this Selick would collaborate with Burton for a second time with "James and Giant Peach" (1996), another animation hit. It was after this film that he broke out on his own. Sadly his mixture of live action and stop motion wackiness that was "Monkeybone" (2001) didn't quite connect with audiences and failed to ingnite the box office and put a spanner in the works. In the meantime he created the wonderful underwater world in Wes Anderson's "The Life Aquatic with Steve Steve Zissou" (2004) and went back to his short film roots with "Moongirl" (2005) which was CG animated as opposed to his previous work with stop motion. Selick finally made his return to the stop motion world this year with "Coraline" a wonderfully dark tale spun by Neil Gaiman. The film was a moderate hit upon release early in the year and hopefully will lead the way to more dark and twisted films from this animation genius.

"Coraline" is named after the film's main character, Coraline Jones (Dakota Fanning) has recently moved away from Michigan. Her mom, Mel (Teri Hatcher) and dad, Charlie (John Hodgman) are self involved and spend their time working on a gardening catalogue. Coraline just wants some attention but can't really connect with her parents. While out exploring, she encounters Wybie Lovat (Robert Bailey Jr.) a neighborhood boy who stalks our heroine, he gives her a doll that opens a strange world for Coraline. Upon the discovery of a secret door in her house, Coraline is transported over into an alternate world where her "other parents" have buttons for eyes and are super friendly, they give Coraline everything she wants, mainly in the form of the best tasting comfort food. After several visits, Coraline's "other parents" want her to stay in their alternate world forever, and want to replace her eyes with buttons, suddenly these parents reveal themselves to be an evil force and will do anything to trap Coraline in this world like they have other children in the past and even go as far as trapping her real parents. With the help of a wily cat (Keith David) and Wybie she must beat the "other mother" at a game and earn her freedom, the freedom of her parents and of the other children she has trapped in this world.

The story of "Coraline" is relatively simple and identifiable, viewers can easily connect to it. It's premise of a child wanting attention and for her parents to listen to her are universal and that's just part of what makes the film so accessible. The ability to escape into an alternate fantasy land is told with incredible visuals, if anything the stop motion animation process has come leaps and bounds since "A Nightmare Before Christmas" and with the help of some CG elements make the process seem much more seamless. The resulting world in which the filmmaker's created is wondrous, dark and instantly engrossing. It will challenge the imaginations of children and re-open your own childhood fantasies (it certainly did for me).

I also found the characters immediately compelling, especially Coraline's neighbours made up of a Russian trapeze artists, Mr. Sergei Alexander Bobinsky (Ian McShane) and an odd pair of ladies, Miss April Spink (Jennifer Saunders) and Miriam Forcible (Dawn French). These supporting characters add a certain zany charm to the film, particularly Mr. Bobinsky, who provides for some humorous scenes with his feats of flexible gymnastics. The two ladies were also able to generate some memorable scenes, I was particularly impressed with the burlesque sequence that took place in the alternate world, but also loved their chemistry and banter.

The film is a dark wonder whose story mirrors that of "Alice in Wonderland" of a girl going through a hole into a fantasy world, but the similarities stop short. Coraline is much more strong-headed character than Alice was, verging on being a brat, and the peril in which she finds herself is far more personal in the end. It might be a little too dark and strange for younger viewers (under 10) but for others it's fair game, this film is truly an animation masterpiece.

Video


Presented in 1.85:1 the original aspect ratio of the film in HD 1080p 24/fps and mastered in MVC 3D compression this image requires 3D Blu-ray player and TV to view. I originally saw this film theatrically and remember the 3D to be quite solid, this image replicates that experience extremely well. The 3D is brilliant, depth is amazingly good and shows off the artistry of the sets created by the talent team of artists and animators that helped create this film. The 3D effect does have some ghosting at times, even with my Tv calibrated to the best possible settings, these moments are few and far between otherwise the 3D image holds up well. The picture is sharp and detailed, colors are fantastic, blacks are deep and combined with the 3D this image is totally immersive and engrossing.

Audio


The audio tracks featured on this disc are in English DTS-HD Master Audio 5.1 surround mixed at 48kHz/24-bit as well as French DTS 5.1 and Spanish DTS 5.1 surround tracks. For the purpose of this review I chose to view the film with its English DTS-HD audio. From the opening moments of the film I was totally engrossed, matching the stunning visuals is this complex yet subtle surround track that manages to immerse viewers into the world of these characters. Dialogue is clear and distortion free and remains mostly front focused but it's the ambiance, sound effects and score that come to life and utilize the surround channels to great effect. The unique production designed sounds add to the overall wonder of the alternate world, the score adds further layers to the depth of the sound. it's a pleasurable sound experience that's worth touting.
Optional subtitles are included in English, English for the hearing impaired, French and Spanish.

Extras


Universal have provided 2-discs release and packed it with extras that include an audio commentary, deleted scenes, a documentary, a couple of featurettes, BD-Live access, D-Box enabled and a digital copy of the film. Below is a closer look at these supplements.

DISC ONE:

First up is the feature-length audio commentary by the film's director Henry Selick and composer Bruno Coulais. I was a little disappointed that Neil Gaiman wasn't included in this track, I would have loved to hear his thoughts on the film the process of bringing it to the screen from his point of view, however this track was enjoyable and informative nonetheless, covering the standard production trivia from the casting, the animation, creating the world and adapting the source material, the characters and music among other topics. The two maintain an acceptable level of conversation and cover a lot, it's worth listening to.

The deleted and extended scenes are presented in a reel that runs for a total of 8 minutes 37 seconds and each scene includes introductions by the film's director Henry Selick. There are 6 scenes included in this reel, the scenes are mostly in finished format and include a dinner scene, a scene with Coraline and her mom talking about school uniforms as Coraline brings in some flowers, Coraline's dad messes around as she's about to go to bed, an extended dream sequence is included from the end of film as the spirits of the three children she saved warns Coraline of further danger, a complete version of the "ribbon mice" dream sequence scene (a sequence that took 66 days to animate! It's included here incomplete), finally there's a montage of short shots that had to be trimmed for time. Selick breaks down each scene and explains why the scenes were cut in each of his introductions.

"The Making of Coraline" is a documentary that runs for 35 minutes 53 seconds, this is an excellent in-depth look at the making-of process that goes beyond the typical EPK fluff that we've become accustomed to over the years. Honestly it's refreshing to see an actual making-of with some substance. We are graced with a decent amount of cast and crew interviews as is the norm for these clips, but also delves deeper into the process and animation as apposed to simply patting each other's backs and telling viewers how great it was working on this film. Personally I never cared for how great the actors think the director is, I'm interested in the actual process of how the film was made, and for the most part we get that here. Viewers will get an understanding of the laborious process of stop-motion animation and the challenges the filmmakers encountered. This feature is definitely worth a look and is broken down into ten chapters that can be viewed individually or with a 'play all' option, the chapters included are "The Evolution of the Story", "Inspiring Design: Character and Art Direction", "Directing the Voice Sessions", "Making Puppets", "Coraline's Closet", "Setting the Stage: How Does Your Fantastic Garden Grow?", "It's Alive", "I've Seen Fire and I've Seen Fog", "The Eyes Have It" and "Wrapping Up Coraline".

"Voicing the Characters" is a featurette which runs for 10 minutes 46 seconds, and you guessed it, looks at the actors who provide the voices for these characters. The cast talk about their involvement in the film as we see them record their performances in the studio, the process, much like the animation was long and spread across some time.

There's an exclusive featurette entitled "Creepy Caroline" which runs for 5 minutes 3 seconds, and features Bruno Coulais and director Henry Selick as we get a cool but all to breif look at the character designs and visuals. There's plenty to expand on here and I wish the disc producers did, this feature would have made an excellent documentary on the evolution of the visual style and the creation of the puppets used to animate but instead we get a very short clip. It's at least worth watching once, otherwise holds little repeat value.

You can also get BD-Live access for profile 2.0 players only, log onto Universal's online portal for downloadable content.

The disc is also D-Box enabled.

DISC TWO:

This disc is a digital copy version of the film.

Overall


Support us by purchasing this disc online at Bluraysforeveryone.com, they specialize in store exclusives and limited editions both new and used, plus have a wide range of new releases and catalogue titles. Join their reward program and earn points towards your purchases. Best of all for overseas customers they are customs friendly and offer great cost-saving shipping options. Check them out for some cool limited editions.


| | | | | |
| --- | --- | --- | --- | --- |
| The Film: A | Video: A+ | Audio: A | Extras: B+ | Overall: A- |