The Film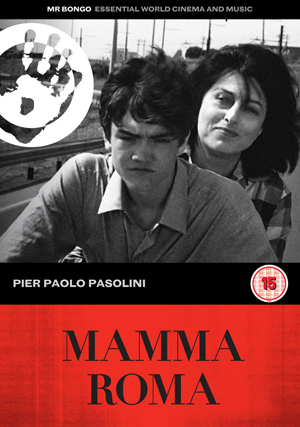 I was somewhat reluctant to see Mamma Roma (1962), as I am not a fan of Pier Paolo Pasoliniís more famous and controversial work, such as SalÚ. Thankfully it is a glorious film with a fascinating story that epitomises the potential of Neo-Realism without losing entertainment value, largely thanks to Anna Magnaniís incredible starring role. It was written in some ways to be a challenge to other Neo-Realist themes of the time and certainly when you consider the style of Il Posto and La Commare Secca, also both released this month by Mr Bongo Films, Mamma Roma is definitely angrier.

Mamma Roma is a prostitute who has managed to save enough money to almost escape the trade. She has a new apartment and a market stall, and feels she can now bring her son to live with her in Rome. Ettore is 16 and has been living in a village, but his mother worries about who he mixes with and thinks she can help him live a respectable life with her in the city. Unfortunately, he definitely mixes with the wrong types there, resorts to stealing to buy gifts for his prostitute (ironic!) girlfriend and canít hold onto a normal job. Mamma Roma does everything she can to keep him safe, but itís a struggle, not helped when her pimp returns and blackmails her into returning to the streets. It is clear that despite her efforts, Ettore would fare better without her. It is a sombre thought that is never spoken, but there nonetheless.

So she is still trapped and can only rely on others like her. In the last act, there is a reference to The Divine Comedy, reflecting that these characters inhabit a tormented circle of hell they canít escape. All of the main characters are outsiders of society, such as prostitutes and thieves and there is a damning indictment of the role of religion in society. There is a lot of religious imagery in the film, and note how the Priest is unable to help her son find work because he has not studied and seems to chastise Mamma for wanting a quick answer. In truth, Ettore needs the job to earn self-respect and she is forced to use underhand methods to secure him one. She cannot even rely on the church.

It may sound like a tough story, and it is, but despite their unhealthy lives, Pasoliniís characters are passionate and vivacious, with fruity dialogue (see the opening wedding scene) none more so than Mamma who has a filthy laugh she uses often! The narrative unfolds in a poetic manner, bridged by two sequences when she is walking the streets. She relates a story as she walks, alone in almost complete darkness, but for companions who listen for a time and are then replaced. It makes for a striking effect. While this is firmly a Neo-Realism film, there is still a theatrical staging to the scenes.

Anna Magnani is wonderful as Mamma. She fills the screen with her personality, but can be soft enough to break your heart when she is quieter and lets the intelligence of her character come through. After the exciting wedding scene that opens the film, Pasolini cuts to her years later, just watching her son at a fairground before explaining her plans to him. At this point, Ettore is in full control, but she unwittingly brings him into Rome as an outsider. He is played by Ettore Garofolo and he is very affecting, with a natural screen charisma, very laid back to reflect his character. With some effort, he comes to life with Mamma, first in a funny dance sequence and when he takes her for an exhilarating ride on the new motorbike she has bought him.

But is it all for nothing? His frustration continually gives way to temptation, yet she will not give up on him. The final scene is quite simply sublime and will keep you thinking for some time.

Video


The 1.85:1 anamorphic black and white image is excellent throughout. First class transfer that does credit to Pasoliniís wonderful imagery.

Audio


The soundtrack is Italian mono, but very sharp and clear. No complaints at all. English selectable subtitles are included.

Extras


None

Overall


Like all three Mr Bongo releases this month, itís a good quality transfer and the only real drawback is the lack of extras. The film itself is stunning and I havenít begun to scratch the surface with this review. It shows Neo-Realism taken to a breaking point, full of metaphor and imagery. The dark plot is not exactly uplifting, but it is very watchable and satisfying. An excellent, highly recommended release.
| | | | | |
| --- | --- | --- | --- | --- |
| The Film: A | Video: A- | Audio: B | Extras: F | Overall: B |