The Film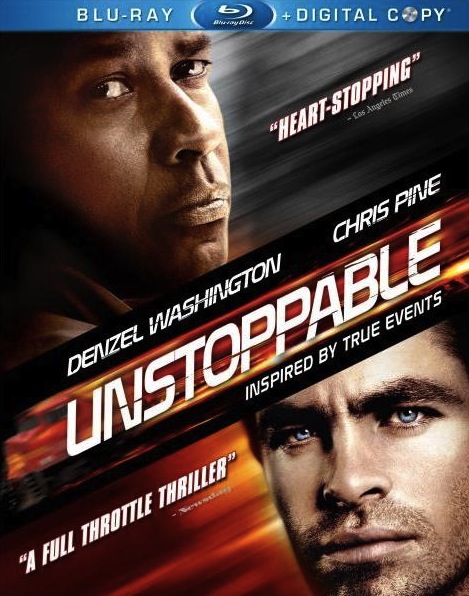 I've been a casual fan of director Tony Scott's work since I first saw "True Romance" (1993) many moons ago, but I wouldn't say he's the type of director who I follow on every cinematic journey he undertakes. I've always viewed him as a second-rate Ridley Scott, his brother, because Tony so blatantly apes from Ridley's entire aesthetic & style. I can't say I blame him much - if there were ten directors I could learn and copy from, Ridley would no doubt be on that list. I can't argue that Tony doesn't make stylish films that can be great to look at, but a lot of his output feels vapid to me; a clear case of style over substance. When trailers for "Unstoppable" (2010) started popping up in front of every single movie I saw in theaters, I had little to no interest in seeing it. I mean, how much action could a movie about a runaway train have? This wasn't some railroad action film in the vein of "Emperor of the North" (1973) or "Runaway Train" (1985); it was two guys trying to stop a train. Yawn. The trailers didn't make it look like more than a loud movie trying to make a plot out of something that makes for an exciting news article, not exactly something that would translate over to a feature film. But I should have remembered that this is Hollywood, after all, so even though the film was "inspired by true events" ("inspired" being that operative key word), the writers would no doubt take any chance they could get to punch up some action. And they do. Anchored by the strength of two solid leads, Denzel Washington and Chris Pine, the film is a lot more fun than I was expecting. And it's not even "leave your brain at the door" fun; it's simply a solid 98-minute thriller featuring some fine performances alongside a half-million-pound train that needs to be stopped.

Right away, it looks like the film might be climbing aboard the Cliché Express, when hotshot new hire, Will Colson (Chris Pine), is employed at the Allegheny and West Virginia Railroad yard and paired up with an old-school engineer, Frank (Denzel Washington). Franks seems to think that Will secured his position as conductor due to nepotism (Colson is a well-known name among the railways), so he doesn't respect him much right out of the gate. Will they ever get along? Meanwhile, one of the local low-intelligence train workers, Dewey (Ethan Suplee), accidentally sets a train carrying DEADLY TOXINS to maximum power when he leaves the control room, essentially firing a missile "the size of the Chrysler building" plummeting toward Scranton, the most populous town in its wake. As the train builds speed, the railroad company tries everything it can think of to stop it, but it soon becomes clear that slowing this behemoth down won't be an easy job. But Frank thinks he knows how, and soon after he's developed a friendly rapport with Will, the two of them set off towards the conductor-less train in hopes that their idea will be able to stop it in time.

There are films that can work with any actors, and then there are films that work only because of the actors in them. "Unstoppable" falls into the later category, mainly thanks to the work of the inimitable Denzel Washington. Did he sell his soul to the Devil to embody such charm, charisma, wisdom and a complete aura of badassness all at once? Washington might be one of the most imminently watchable stars working today. There's something about his screen presence that instantly gives any picture a major shot of gravitas, usually causing it to be far better than it has any right to be. Washington's cool, affable demeanor makes him relatable and grounded in front of audiences. But he also takes plenty of risks in the film world; he's lucky to have avoided being typecast. His portrayal of Frank Barnes as a wise engineer in the twilight of his career is poignant and dignified. Barnes is a lame duck, having received his pink slip already, so he's terse when he and Will first start training. But this is Denzel; you know he can't be mad for the entire movie. I wouldn't call this one of the best roles he's ever played, but his solid performance anchors what could have easily been a forgettable film.

Let's get back to the "inspired by true events" preface. We all know Hollywood loves to make an interesting true life story into a film that often greatly exaggerates the facts. There are definitely parts of this film you can tell have been given the ol' up-the-ante treatment, but a good majority of what you're seeing really did happen. The location was different, taking place in Ohio instead of Pennsylvania, but there was a runaway train with those exact deadly toxic chemicals running free. They even tried to derail it in real life, to no avail. I'm glad that the few instances of fictional action that take place aren't so egregiously outrageous that they stick out. Explosions seem to make moviegoers happy, so I don't have a problem with Scott & co. pumping up the volume, so to speak. The true story is gripping enough as it is, and even though everyone reading this can guess exactly how it will end, as I did, you'll still find yourself gripping the armrest of your couch a little tight when the stakes are high.

Video


I can find little complain about regarding the film's 2.40:1 1080p 24/fps AVC MPEG-4 encoded image. Fox has always been a consistent studio in terms of quality on their new releases, and "Unstoppable" is no exception. Viewers will immediately notice the presence of film grain, which lends the picture a wonderful filmic quality while never becoming distracting or obtrusive. Scott has a very distinct style of shooting, and all of his trademark cinematography and camera work is perfectly displayed here. The dominant color scheme of the picture leans towards more earthy, muted tones, which I felt gave the image a very natural, organic appearance. Fine detail is excellent – you can practically make out each individual hair on Chris Pine's rugged, 5-o'clock-shadowed face. Scott's gritty style is perfectly suitable for the rough, blue collar surroundings of rural Pennsylvania.

This dark palette also works as the ideal backdrop to help other colors pop off the screen with much greater clarity, as the few instances of bright, primary colors practically leap right off the screen. And thanks to Scott's insistence on using as many practical effects and shooting locations as possible, everything feels real – like there's some weight behind it. There aren't any obvious green screen effects to soften the image up. It lacks that "certain something" to make it a perfect transfer, but make no mistake that this is one fine image that will please all high definition enthusiasts.

Audio


Grab your balls and get ready for the film's English DTS-HD Master Audio 5.1 surround sound track mixed at 48 kHz/24-bit because it's a brutal behemoth of a track. When your villain is a train that can't fire guns, and you're Tony Scott (a fan of gunfire), how do you make up for the lack of action in your soundtrack? Simple: you make the train sound like a 25-ton monster barreling down the tracks right at you. The rumbling bass that emanates from the LFE track is enough to make your neighbors think a train is about to burst through their living room wall. Anytime a film's sound is nominated for an Oscar, you should expect the home video release to be appropriately deafening and impressive. The mix for "Unstoppable" is both, with an impressive dynamic range that covers all the requisite bases. I don't really feel like specifics are required here – this is a total reference audio track in every way.
Spanish, French and Portuguese Dolby Digital 5.1 surround sound tracks are also included. Subtitles are available in English SDH, Spanish, Portuguese, Cantonese and Traditional Chinese.

Extras


Fox has included a great deal of supplements here, many well worth taking the time to watch or listen to. Included are a couple of audio commentary tracks, some featurettes, trailers, BD-Live content (for once) and a digital copy. I'd have liked to see a featurette on the real life incident, maybe even with some interviews from the real counterparts to the film's actors. Oh, well.

DISC ONE: BLU-RAY

Director Tony Scott is rarely at a loss for words during his audio commentary. Here he discusses just about anything one could possibly want to know about the production, starting with the development of the script, his desire to keep things interesting throughout by including personal conflict along with the story, location scouting, technical information and a host of anecdotes. It's not the liveliest track I've ever heard, but Scott keeps things moving just quickly enough to never become boring.

"Tracking the Story: Unstoppable Script Development" is a recorded audio commentary of sorts. Let me explain. This is an audio recording of Scott and writer Mark Bomback discussing many of the film's scenes, talking about what works, what doesn't, and making revisions to polish the film up. A very unique feature, this is a great commentary for those are aspiring writers or have an interest in what goes into writing a major Hollywood film.

"The Fastest Track: Unleashing Unstoppable" (1080p) is a featurette that runs for 29 minutes and 41 seconds. This behind-the-scenes look at the making of the film covers all the bases, from script development (which was surprisingly easy) all the way up through casting and production. A lot of focus is given to the film's locations, as Tony Scott wanted to use as many practical locations as possible to maintain a strong sense of realism.

"Derailed: Anatomy of a Scene" (1080p) is a featurette that runs for 10 minutes and 1 second. Did you know this is apparently the first feature film to shoot a train derailment in-camera? Watch this fascinating piece to learn how Scott's crew rigged a half fiberglass-half real train to explode off the rails in PA.

"Hanging Off the Train: Stunt Work" (1080p) is a featurette that runs for 14 minutes and 25 seconds. This looks at the film's stunt work, most of which features stunt men running down the length of the train and doubling for our leads. They keep things as safe as possible, but that's not any easy line of work.

"On the Rails with the Director and Cast" (1080p) is a featurette that runs for 13 minutes and 25 seconds. This roundtable with director Scott, Denzel Washington, Chris Pine & Rosario Dawson feels forced, like a total studio piece. The four waste 13 minutes glad-handing and talking up the film. You can safely skip this.

The film's theatrical trailer (1080p) runs for 2 minutes and 26 seconds.

Bonus trailers (1080p) are included for the following:

- "Fox Digital Copy promo" runs for 50 seconds.
- "Love and Other Drugs" runs for 2 minutes and 12 seconds.
- "Street Kings 2" runs for 1 minute and 7 seconds.
- "127 Hours" runs for 2 minutes and 13 seconds.
- "FX Channel promo" runs for 1 minute and 2 seconds.
- "Machete" runs for 1 minute and 54 seconds.
- "Casino Jack" runs for 2 minutes and 4 seconds.

The now-standard "Digital Copy How To" video clip (1080) is also included, running for 3 minutes and 35 seconds.

This disc is BD-Live enabled and, surprisingly, there is an exclusive bonus feature to be found:

- "Feeling the Heat – Unstoppable Pyrotechnics" (720p) featurette runs for 3 minutes and 2 seconds. Though brief, this piece looks at the film's few explosions as pulled off by Scott's special effects team. It's comforting knowing that watching things get blown up never gets old.

Fox's "IMDb Live Lookup" interactive feature is also included, giving viewers the ability to look up cast & crew members while the film is playing.

The disc is also "pocket Blu" enabled, meaning you have the ability to Wi-Fi transfer the included digital copy directly to your smartphone in addition to being able to "download exclusive bonus features to enjoy anywhere…!"

DISC TWO:

This is a digital copy of the feature film for use with both Apple and Windows devices.

Packaging


The two-disc set comes in a standard amaray keepcase. First-pressing editions come with a slipcover which replicates the cover art.

Overall


I didn't expect much from "Unstoppable" but I ended the film completely satisfied with what I'd seen. Don't go in expecting Scott to re-invent the wheel or anything, but know that this is a solid thriller with some decent action and a solid cast led by two capable male leads. The video quality is excellent, but the audio quality is where this disc really shines. I wouldn't go so far as to say this is mindless fun, but it's certainly an easy viewing with no frills.

-----------------------

Support us by purchasing this disc online at Bluraysforeveryone.com, they specialize in store exclusives and limited editions both new and used, plus have a wide range of new releases and catalogue titles. Join their reward program and earn points towards your purchases. Best of all for overseas customers they are customs friendly and offer great cost-saving shipping options. Check them out for some cool limited editions.


| | | | | |
| --- | --- | --- | --- | --- |
| The Film: B- | Video: B+ | Audio: A+ | Extras: B- | Overall: B- |