The Film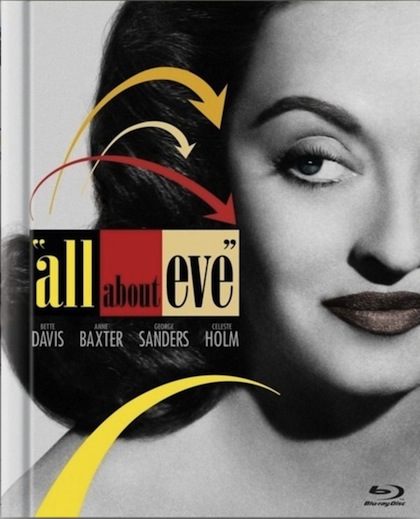 "Fasten your seatbelts; it's going to be a bumpy night."

It's a well known and often quoted fact that "All About Eve" was nominated for fourteen Academy Awards – more than any other picture in Oscar history, until James Cameron's "Titanic" (1997) tied but didn't surpass that number some forty-seven years later. The clever comedy about ambition, star power and the stage didn't outright sweep the Hollywood's most honored ceremony, but it did win six (of the fourteen) well-deserved Oscars in 1951 on its own merit. "Eve" took home Best Picture, Best Supporting Actor (George Sanders), Best Director and Best Screenplay (both Joseph L. Mankiewicz), Best Sound, and Best Black-and-White Costume Design. Four actresses in the film – Bette Davis and Anne Baxter should have been shoe-ins for Best Actress, while Celeste Holm and Thelma Ritter were tipped for Best Supporting – were nominated for their performances. It holds the record for the film with the most female acting nominees, although they all famously lost (Fox's insistence to simultaneously push for two actresses in both categories, instead of focusing on one nominee as was tradition, is generally accepted as what led to the losses). "Eve" sits somewhere on many "best films" lists – including the prestigious AFI Top 100 andIMDB where it currently ranks 85th out of the famed 250.

I've thrown out that heap of awards and listing statistics for one purpose: so that when I say "All About Eve" is truly one of those rare productions that can be called one of the greatest films ever made, you understand that the statement comes without a trace of hyperbole. "All About Eve" is undoubtedly a certified Hollywood classic deserving of any greatest, best, or list-topping accolade thrown in its general direction. The reason for "Eve's" many awards – aside from the film being the right kind of smart, funny-yet-tragically poignant entertainment that it is – is that Hollywood loves films about Hollywood.

But, calling "Eve" a film about Hollywood is a bit of a misnomer. And yet, at the same time, it's not wrong. On the surface the film isn't about filmmaking or tinsel town at all. "All About Eve" is set in the grand world of the Theatre (with a capital "T" and pronounced with an English accent) during the production of Max Fabian's (Gregory Ratoff) play "Aged in Wood; hardly the stuff of a Hollywood exposé. But, at the same time, the parallels between the two artistic spheres are unmistakable and most definitely intended by knowing craftsman Joseph L. Mankiewicz. The screenwriter and director delights in his characters, and the various scenarios he puts them in, that let him make scathing commentary about theatre – and, in a round about way, film – and the types of people whom exist there. Look no further than the sardonic critic Addison DeWitt (George Sanders) as proof of Mankiewicz's intentions. DeWitt is simply placed into the story to act as a vessel through which the screenwriter can funnel his most biting remarks, unashamedly having the character lapse into endless monologues about actors, like Eve Harrington (Anne Baxter) who manipulate anyone to get their way, directors, like Bill Sampson (Gary Merrill, who plays Bette Davis' on-screen love interest and, coincidentally, married her in real life after the film was completed) who love themselves too much, writers, like Lloyd Richards (Hugh Marlowe) who relish in their own written words, producers like Fabian (Gregory Ratoff) who do it for the money and not the art, and even the critic, DeWitt, who offers his flow of commentary seemingly for no other reason because he loves to hear himself talk. Mankiewicz's script is smart, witty, funny and among, probably, the best that have ever been written. The script is great, in part, because it manages the rare feat of being literary and intelligent, and not just endlessly entertaining (although it's the latter too).

Mankiewicz's script for "Eve" is clearly his crowning achievement, but his masterful direction of the film is noteworthy too. Although he always fancied himself more of a writer – and Mankiewicz's stylistic innovations amount to little more than an early use of freeze-frame to lead into a flashback – his directorial touch is confident and sharp. He pulled terrific performances from his actors, adding in the right amount of input, and occasionally offering his own personal experience to enhance some of those performances; both director Sampson and writer Richards have bits of Mankiewicz in them. The fact that he was also able to tame the notoriously difficult Bette Davis, who later noted that Mankiewicz was one of the only screenwriters or directors she ever respected, is reason enough to heap mountains of praise upon him.

Thanks in part to the work of the director, Anne Baxter is delightfully manipulative in the title – but technically not starring – role, crafting a character that's at first too loveable, dotting, naive and sweet to not like, and by the end, so vindictive and scheming that she's impossible to not hate. It's really unfortunate that studio head Darryl F. Zanuck decided to cave to Baxter's own demands and run both of the film's top actresses in the Best Actress category; had he promoted Baxter for Supporting like originally planned, both Davis and Baxter would have surely taken home golden statues.

On that note, Bette Davis as the delightfully jaded and seemingly always drunken stage actress Margo Channing – the films true protagonist despite the title – is inspired. Not only does Davis give her finest and most iconic performance on screen here; said performance seems to come from the actress' own fears, desires, and experiences in the business… which is likely why it's so good. Channing turning forty and realizing that she's in the twilight of her career perfectly mirrors the fact that the then-forty-two-year-old Davis' own star was dimming – or even burnt out. Before "Eve" revived her career, Davis was considered box office poison and thought much too old to be viable as a bankable female star. She had just fallen out with Warner Brothers after a decade-spanning collaboration due to her floptastic nature and diva-ish sensibilities. Both Mankiewicz, in his writing and directing, and Davis in her acting, build on this fact with great success. It's telling that the plot of the film spins around the belief in the effect that two young ingénues – the aforementioned Eve Harrington and a breathy, blonde airhead understudy named Miss Casswell (the magnetic Marilyn Monroe in one of her earliest roles) – have on an aging superstar like Margo Channing. The fact Davis and the others pull it off so well, selling the audience on the conflict, is incredible. When Margo says to her friend and "Aged in Wood" playwright, "Lloyd, I am not twenty-ish. I am not thirty-ish. Three months ago, I was forty years old. Forty. Four-oh – that slipped out. I hadn't quite made up my mind to admit it. Now I suddenly feel as if I've taken all my clothes off", you feel the earnestness and power of Davis' words, as though she too has had a revelation about herself in that line.

"All About Eve" has enjoyed nearly infinite success and a lot of praise over the years (and not only within the industry). The film retains a large fanbase and is considered a cult classic, it has been re-released into theaters many times over the years, and will be remembered for generations to come: the film was one of the first to be placed into the National Film Registry in 1990 when it opened shop. All rightfully so; the film is terrific in just about every way, from direction and writing, to acting, costuming, design, and cinematography (Milton Krasner lost his Oscar, but rightfully to Robert Krasker for Carol Reed's extraordinary euro-noir "The Third Man" (1949)). 20th Century Fox knows that the film is beloved and has thankfully treated it wonderfully on home video. Previous DVD editions of "Eve" were well done, especially the latest two-disc set, but this new 60th Anniversary Limited Edition high-def release is easily the nicest package of the film yet. Presented in a 24-page hardcover Digibook package with remastered picture and sound, "All About Eve" just got, unbelievably, a whole lot better on Blu-ray.

Video


"All About Eve" was painstakingly restored a few years ago for its DVD re-release and I thought, with that disc, the film looked about as good as it ever would. I was wrong. Instead of simply upgrading that already terrific DVD transfer to high definition 20th Century Fox has given "Eve" a further polish for Blu-ray and the results are quite marvelous. The exquisite black-and-white transfer (with an average bitrate of 25.5 Mbps) presents the film in 1.37:1 1080p AVC/MPEG-4 high definition with pillarbox bars on the left and right of the image to preserve the original framing. Contrast, detail, black-level and compression all make the expected improvements thanks to the high-def format. Noise and artifacts are not an issue. The image is richer, has more depth, better clarity, more impressive shadows and a remarkably natural, filmic appearance. Although the picture is brighter, cleaner and crisper than ever before, the Fox technicians seems to have kept their hands off of unnecessary tinkering tools – no obvious signs of DNR or edge enhancement. Notably celebrating its 61st Anniversary this year, the film obviously isn't quite as consistent or sharp as a modern film finished on a DI. Some shots are occasionally softer than others, and the grain level tends to spike in certain scenes. Still, the print is in pristine shape with nary a blemish to be found; even optical dissolves hold up without a single speck. Close-ups are usually soft focus and so the level of fine facial and fabric texture is a little subdued, but medium and wide shots – with few exceptions – retain a nice amount of high frequency detail and crisp grain retention. Really, this is an excellent Blu-ray with a magnificent transfer befitting such a classic film.

Audio


In terms of audio "All About Eve" is very typical for a prestige title from Fox. Typical in that the distributor has outfit the Blu-ray disc with a bevy of audio and subtitle options. Primary tracks come in two flavors: a surprisingly splendid English DTS-HD Master Audio 5.1 (48kHz/24-bit/3.2 Mbps) remix and the original mono in English Dolby Digital 2.0 (224 kbps). Dubs are offered in French DTS 5.1, German DTS 5.1, Castilian DTS 5.1, Italian DTS 5.1, Japanese DTS 5.1 (all 48 kHz/768 kbps), Portuguese Dolby Digital 5.1 (448 kbps), Russian Dolby Digital 5.1 (448 kbps), Spanish Dolby Digital 5.1 (448 kbps), and Thai Dolby Digital 2.0 (224 kbps). An Isolated Score track is also included in DTS 5.1 (768 kbps). Optional subtitles are available in English, Chinese (Cantonese), Chinese (Traditional), Danish, Dutch, Finnish, French, German, Greek, Hebrew, Icelandic, Italian, Japanese, Korean, Norwegian, Polish, Portuguese (Brazilian), Portuguese, Russian, Spanish (Castilian), Spanish (Latin), Swedish, Thai, and Ukrainian. For the purposes of this review I listened to the 6-channel lossless remix.

Simply put "Eve" sounds great in high-def, thanks to an unexpectantly dynamic and robust DTS-HD remix. Dialogue is forceful, clean, and sharp with – save for the opening narration, which is a bit fuzzy – not a single trace of hiss, crackle or popping to be heard for the entirety of the 2-hour-plus runtime. Confined to the front three speakers, and primarily coming from the center as originally intended, dialogue sounds natural and hasn't been pushed to the rears or around the room in a misguided gimmicky and phony attempt to modernize the mix. Instead, the surrounds are used only subtly for Alfred Newman's score – bleeding into the left, right and back very mildly. Newman's score also sees a rather impressive bump in clarity, crispness and depth, with far richer dynamics, that goes beyond simply being spread into the other channels. The music sounds so good, with such a satisfying sumptuousness, that it might be mistaken for a modern re-recording, making it all the more extraordinary that Fox didn't actually re-record the material and was able to pull such greatness from the original elements. The film is talky, classically scored and has not one single second of action effects, but it still sounds grand. Twenty-five year old films wish they sounded this good, so at sixty-one, "All About Eve" sounding as terrific as it does is really quite a nice surprise.

Extras


Most of the extras from the Fox Studio Classics DVD and 2-Disc Cinema Classics SE re-issue have been carried over to the Blu-ray. These include: a pair of audio commentaries, an isolated score track, 4 featurettes, an episode from the now-dead "AMC Backstory" television documentary series, 2 vintage press interviews with the film's leading ladies, 4 vintage Fox Movietone newsreels, and a theatrical trailer. Lost in the transition to high-def are a few photo and image galleries, and a restoration comparison from the DVD's – none of which are a huge loss; the restoration demo is obsolete anyway considering the film had further work performed for Blu-ray. A majority of the extras are presented in 1.78:1 anamorphic widescreen 480i standard definition unless otherwise noted. Fox's typical bookmarks and resume playback functions appear on the disc. The deluxe limited edition packaging includes a 24-page booklet containing essays, photos, trivia and cast and crew bios.

The first audio commentary includes comments from Christopher Mankiewicz (actor/producer and son of "Eve's" writer/director, Joseph L.), actress Celeste Holm, and author of "Pictures Will Talk: The Life and Films of Joseph L. Mankiewicz" Kenneth Geist. All three participants are edited together from separately recorded discussions. Mankiewicz focuses on his father and his father's work – making comments about "All About Eve's" lack of visual style, and the importance of dialogue and character over everything else. Joseph's son also offers some frank recollections of his childhood home – the parties (one of which is mirrored in "Eve"), the arguments between his alcoholic mother and unfaithful father, and the general dysfunction that was the Mankiewicz household. His comments are the clear highlight of the track, although I have to wonder if some of what he says isn't dramatized for effect. Celeste Holm offers some passing comments – mostly praise for the director – but is largely quiet and, except for a few disparaging remarks towards Bette Davis, whom she famously had an onset clash, uninteresting. Kenneth Geist, a renowned biographer, is the most talkative (if not always the most provocative), providing a critical and academic discussion about Mankiewicz's work, talking about the director's influences, the Hollywood climate at the time, the production of "Eve", and some of the conflicts in Mankiewicz's life.

A second audio commentary with Sam Staggs, author of the book "All About 'All About Eve'" is a much more production-focused discussion. Drier, duller, and with more gaps of silence, this is the weaker of the two commentaries. Staggs should have enough information to easily fill the two-hour-plus runtime and then some – after all, he did right a whole book on the subject – but he disappears frequently. When Staggs does talk, about backstage gossip and the usual trifecta of casting, costuming, and character (and, also, the script and theatrical release), it's just sort of bland and boring. A shame, as this track has some interesting information despite its sleepy delivery.

Alfred Newman's stately and classic score is presented sans dialog and effects in DTS 5.1 via an isolated score track. As always these types of features are welcomed by soundtrack and score nuts like myself.

"Directed by Joseph L. Mankiewicz" (16x9 480i, 25 minutes 58 seconds) is a featurette in which critics, film historians, authors, sons Tom (a screenwriter himself, having penned a few James Bond movies in the 70's) and Chris, third wife Rosemary Mankiewicz, and many more discuss the life and works of "All About Eve's" talented writer/director. Mankiewicz considered himself a writer first, director second, which is odd because he won 2 Oscars in each category. The participants discuss his early days in the industry, giving way to a heavy focus on the brilliance of his most memorable picture – "All About Eve" – and the interesting production history of that film. They also briefly brush over some of his other films, including his salvaging of the infamous "Cleopatra" (1963). Part director profile, part "making of" this featurette is a nice compromise between the two commentaries and even offers information not detailed in either track.

"Joseph L. Mankiewicz: A Personal Journey" (16x9 480i, 25 minutes 56 seconds) is another featurette. Obviously taken from the same session of interviews with sons Tom and Chris, Rick Jewell (author of "Golden Age of Cinema: 1929-1945"), and the various critics and academics seen in the first piece above, it strikes me as rather odd that Fox decided to split the two into separate featurettes instead of creating a larger, more comprehensive documentary. "A Personal Journey" chronicles Mankiewicz's troubled upbringing, his rivalry with screenwriting-sibling Herman (who wrote, with Orson Welles, "Citizen Kane" (1941)), and the controversial role her played in McCarthy-era Hollywood, and his tumultuous marriage to Rose Stradner (who killed herself in 1957). A fine companion piece, but I still think it would have been better to present this segment together with "Directed by…" in a feature-length fashion.

"The Real Eve" (16x9 480i, 18 minutes 10 seconds) is a fascinating featurette about a particular real-life case of obsession and betrayal that mirrors the plot of the film. Mankiewicz's "All About Eve" was based on a short story by actress/writer Mary Orr, but that piece was based on something too – a true-life catfight between Orr's friend, actress Elisabeth Bergner (the inspiration for Margo Channing) and an obsessive super-fan named Martina Lawrence (the real-life version of Eve Harrington). This featurette chronicles that story, and is quite an interesting addition to an already attractive supplemental package.

"The Secret of Sarah Siddons" (16x9 480i, 7 minutes 7 seconds) is a featurette all about the Siddons Award – which isn't just a plot device used as a springboard for the film, but is in fact actually a real thing, and has been since the mid-1950's. This piece discusses the life of Siddons, an 18th Century stage actress, and the importance of the award that carries her namesake. Fun fact, Davis was actually nominated for the Siddons in its first year of existence.

"AMC Backstory: 'All About Eve'" (4x3 480i, 24 minutes 24 seconds) is an episode from the now-defunct American Movie Classics television documentary series. The piece is a bit obvious in its TV origins: bumpers teasing upcoming discussion points appear before a lengthy fade-to-black and "recaps" sum up the events discussed so far immediately following the return from what would have been a commercial. Still, the "Backstory" episode – chronicling the moments where fact and fiction blurred during the production of "Eve" – is worth watching, especially for newcomers. The highlight here are the vintage interviews with Davis and Holm (others, like Tom Mankiewicz appear too), while the discussion between the parallels of Davis' on-screen and off-screen personas is just as interesting.

Two vintage press interviews are also included. "All About Eve" stars Bette Davis and Anne Baxter each sit down for their own brief "on set" interview. The pieces – especially the one with Davis – are obviously scripted; enhanced with overwrought drama to drum-up press for the film. Davis' promotional interview (4x3 480i, 1 minute 15 sec) is with Leonard Slater of "Newsweek", while Anne Baxter separately talks with a nameless reporter from "Woman's Home Companion" (4x3 480i, 1 minute 20 seconds).

"Fox Movietone News" (4x3 480i) includes four vintage newsreels including:

- Academy Awards Honor Best Films Achievements (2 minutes 29 seconds)
- Hollywood Attends Gala Premiere of "All About Eve" (1 minute 55 seconds)
- Holiday Magazine Awards (2 minutes 49 seconds)
- Look Magazine Awards (1 minutes 56 seconds)

And, finally, a long-winded theatrical trailer (4x3 480i, 3 minutes 6 seconds) promotes the film's Academy Award wins, and splices in excerpts with Davis and Baxter from their press interviews outlined above.

Packaging


"All About Eve" arrives on Blu-ray from 20th Century Fox in a Limited Edition Digibook package. The 24-page hardcover booklet contains photos, bios and trivia pertaining to the film. The disc itself – a dual layered BD-50 – is housed on the back "page" of the book in a sleeve. Personally, I'm more partial to the style of Digibook used by Sony and Warner – which gives the disc an actual, hub and cradle – but Fox's packaging is still handsome and high class, befitting a film of this stature. The tech specs (which incorrectly denote the Blu-ray as "Region A" when it is in fact Region Free) are merely on a slip of paper affixed to the back of the book by some mild adhesive; it peels off nicely and with ease, although I assume that some compulsive collectors will want to keep the pamphlet as none of the technical and special features information appears on the physical book in any form.

Overall


"All About Eve" is unarguably one of the greatest films to ever come out of classic Hollywood. Bette Davis is stupendous in her most unforgettable role. Mankiewicz direction is masterful, and his script is so sharp, every time you pull an iconic quote from it to interject a particularly pithy barb into everyday conversation you'll surely get a paper-cut. Likewise, the new blu-ray from 20th Century Fox is superb; the beautiful black-and-white academy ratio visuals by Milton Krasner are simply gorgeous in remastered 1080p and the new DTS-HD Master Audio 5.1 mix is both faithful to the source and noticeably more impressive than the older DVD's. Extras are plentiful and worthwhile. The 24-page Digibook packaging is handsome. Having "Eve" in your collection is a must for anyone who wishes to call him or herself a true cinephile, and the new high-def release is the best version to date. A Must Own.

-----------------------

Support us by purchasing this disc online at Bluraysforeveryone.com, they specialize in store exclusives and limited editions both new and used, plus have a wide range of new releases and catalogue titles. Join their reward program and earn points towards your purchases. Best of all for overseas customers they are customs friendly and offer great cost-saving shipping options. Check them out for some cool limited editions.


| | | | | |
| --- | --- | --- | --- | --- |
| The Film: A+ | Video: A- | Audio: B+ | Extras: B+ | Overall: A- |