The Show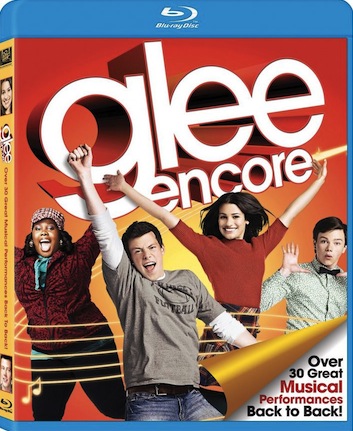 To discuss what "Glee Encore!" is it's probably best to note what it isn't. "Encore" isn't a direct-to-video movie, nor is it a filmed concert of the cast's many tour performances. It's not a specialty release that includes exclusive, never-before-seen musical numbers; a collection of deleted and extended scenes, sneak previews of clips and songs from the currently airing second season, or anything of the sort. (In fact, it doesn't include anything from the second season at all.) What "Glee Encore!" really is then is just a grouping of thirty-plus songs and performances from 17 of the 22 episodes from the FOX series' first season. Nothing more; nothing less, and, every single minute of the seventy-seven that take up the gigabytes on this Blu-ray have been previously released on the high-def format via the excellent complete first season boxset I reviewed last year.

I've said it before, and I'll say it again: despite my misgivings with the first half of season two (and a couple of episode in season one), I really genuinely like "Glee". I'm not ashamed to admit it. The show is fun, funny and often brilliant satire. It's also occasionally touching and truthful. But as much as I like "Glee", the music isn't why I come back to it. The musical aspect of the show is certainly fine and well done, but, to me, it works in the context of comedy, parody and absurdist commentary – not necessarily because it's good, but because the show's writers and creators know that it really isn't. They play with the concept of terrible songs and terrible performances quite often – the first season had "Bad Reputations", an entire episode built around songs that are essentially unredeemable and unmistakably awful; season two has had wonderfully self-aware episodes featuring songs by Justin Bieber and Rebecca "Friday" Black – and also push many of the numbers into terrifically overly-theatrical ridiculousness with clear comedic intention. The show works – mostly anyway, and it certainly works best – when the songs have a tinge of knowing irony to them, either lyrically and musically (as in, the song is beyond bad, and the cast consciously sings it anyway), or within the awkward framework of a particularly twisted story. In other words, not necessarily because these are truly excellent songs sung perfectly. Take, for example, Will Schuester's (Matthew Morrison) mash-up cover of "Don't Stand So Close to Me" by The Police and "Young Girl" by Gary Puckett and the Union Gap. It isn't a particularly strong performance. Series star Matthew Morrison's vocal is average; Zack Woodlee's choreography is simple, and the direction of the number amounts to a slowly revolving camera that doesn't cut away. But, within the context of the story – Schuester sings the song to a lovesick Rachel Barry (Lea Michele) in a failed attempt to explain why her sudden attraction to said choir teacher is inappropriate and just plain uncomfortably creepy – the song is just about perfect. Morrison's performance isn't what makes the moment; the punch line, that Rachel completely misunderstood the point of the song and still intends to continue her stalkerish tendencies, is what makes the entire sequence work. That this performance is included on "Glee Encore!" without the surrounding dialogic context is problematic. Numerous other similar instances abound within this release.

As a collection of the show's greatest musical accomplishments this set also seems not fully realized. Sure, some of the standout moments from the series – moments that are truthfully good vocals, or show-stopping showcases of choreographic genius – are included here, but a startling number are not. Only two cuts from "Pilot" are included; the iconic "Don't Stop Believin" rightfully deserves to be, as it defines the entire series and is hopelessly energetic and endlessly likeable. On the other hand, the pilot's best number – Vocal Adrenaline's marvelously staged take on Amy Winehouse's "Rehab" – is missing from this disc and that seems criminal. A great many missteps like this appear throughout the disc. Every song from "The Power of Madonna" should be included, yet only three of the six are. Each one is an audio and video showcase so the fact that half, including the most sonically impressive, is missing seems odd. Similarly, "Theatricality", the show's Lady Gaga themed episode would be a logical choice to pull numbers from, but that episode's biggest and best piece – a stripped down, four-minute duet of "Poker Face" between mother Shelby (Idina Menzel) and daughter Rachel – is nowhere in sight. Entire episodes, most notably the Joss Whedon-helmed "Dream On", get the shaft despite featuring some of the series' most awesomely absurd moments, headlined by the boisterous Bryan Ryan (Neil Patrick Harris). How every single one of NPH's numbers was overlooked is a curious question that I cannot answer; it's an impossibly dumb oversight for certain though. Zack Woodlee's crowning achievement from season one, a six minute masterpiece featuring Vocal Adrenaline front-man Jesse St. James (Jonathan Groff) belting out Queen's "Bohemian Rhapsody" in a meticulously framed set, is shockingly absent. Again, why it's not here is anyone's guess, but of any one number, it's the one that really ought to be included on this disc because it is by far one of the best things ever shot for the series. A case could be made that all of these oversights are intentional – that the powers-that-be decided to put the focus on the New Directions as a whole, and not the extraneous side characters and their antics –but that theory seems directly disproven by the presence of certain guest stars and cameo characters, like April Rhodes (Kristin Chenoweth), who do get screen-time.

The fact is: this whole release seems a bit pointless. Fans who own the complete first season already have ALL of the songs from that season on their Blu-ray and DVD copies. The wonderfully useful "Music Jukebox" feature on those discs allows direct scene access to the various numbers – even the short ones, and those sung by the supporting characters and guest stars. The A/V qualities of this Blu-ray are identical to the stupendous 4-disc set of the series proper. There are no extras to entice buyers and none of the material from the second season – half of which is already on DVD – has been included here although it really should to have, and could have, been (and had it, I might see a point for this disc's existence as some sort of preview of things to come). "Glee Encore!" delivers what it promises – 30-plus songs and performances from the show – and it looks and sounds good while doing it. On those grounds I can't fail this release. It just seems utterly needless. Unless you have a ton of disposable income and love "Glee" more than anything, including yourself, this is a pass.

The list of songs and performances included on "Glee Encore!" are as follows, broken down by original episode order (the way the disc presents them):

From "Pilot – Director's Cut":
- "On My Own"
- "Don't Stop Believin'"

From "Showmance":
- "Gold Digger"
- "I Say a Little Prayer"

From "The Rhodes Not Taken":
- "Alone"
- "Somebody to Love"

From "Vitamin D":
- "It's My Life/Confessions Part II" [Mash Up]

From "Throwdown":
- "No Air"
- "You Keep Me Hanging on"

From "Wheels":
- "Defying Gravity"

From "Ballad":
- "I'll Stand By You"
- "Don't Stand So Close to Me/Young Girl" [Mash Up]
- "Lean on Me"

From "Hairography":
- "Imagine"
- "True Colors"

From "Mattress":
- "Smile"

From "Sectionals":
- "Don't Rain on My Parade"
- "You Can't Always Get What You Want"

From "Hell-O":
- "Gives You Hell"
- "Hello"

From "The Power of Madonna"
- "Vogue"
- "Like A Virgin"
- "Like A Prayer"

From "Home"
- "Fire"
- "One Less Bell to Answer/A House Is Not A Home" [Mash Up]
- "Beautiful"

From "Bad Reputation":
- "Run Joey Run"
- "Total Eclipse of the Heart"

From "Laryngitis":
- "Jessie's Girl"
- "Rose's Turn"

From "Theatricality":
- "Bad Romance"
- "Beth"

From "Journey to Regionals":
- "Faithfully"
- "Any Way You Want It/Lovin', Touchin', "Squeezin'" [Mash Up]

Video


This release is simply selected clips from the various episodes already available on Blu-ray so it makes sense that it looks almost exactly like the earlier release of season one – accept without the faint banding and artifacting that occasionally showed up and was the result of cramming 22 episodes onto four discs. The first season looked terrific; "Glee Encore!" does too. Shot on 35mm film, the series transfers to Blu-ray via a 1080p 24/fps AVC MPEG-4 encode with mild, natural film grain, attractive colors and strong contrast. The image is sharp, detailed, offers good blacks, and is free of annoying anomalies like digital noise reduction or edge enhancement. A 1.78:1 widescreen aspect ratio preserves the original framing of the HDTV broadcast.

Audio


Again this is pretty much identical to the first season Blu-ray. An English DTS-HD Master Audio 5.1 track delivers clear, well-prioritized sound. "Glee" is one of the best sounding shows on television – it better be; it is a musical after all – and Blu-ray does wonders with sound design, improving over the broadcast and DVD's nicely. As this release focuses entirely on music it provides the most demo-worthy and impressive moments from the show, and isn't hampered by the occasional moment of soft dialogue. As I noted in my review of season one, songs from earlier episodes tend to be more front-focused, while latter the episodes' and their musical numbers become increasingly over-produced. The result is that the later episodes sound more polished, but the first songs sound more natural as though a high school glee club might actually sing them. The series' reliance on auto-tuning for some of the actors and sequences is all the more evident in high resolution audio due to the increased clarity, and is even more evident when certain less vocally-talented members of the cast are teamed up with co-stars (and guests like Kristin Chenoweth) who don't use auto-tune because they have such well trained voices that they don't need to. Subtitles are available in English, Spanish, French and Portuguese.

Extras


Unsurprisingly there are no extras. Well, no, that's not entirely true: the disc does include the option to "shuffle" the songs, but calling a playback option a supplement is like listing "chapter selections" as a bonus feature. That's not an extra – it's a basic function of the format.

Packaging


"Glee Encore!" comes to Blu-ray on a single-layer BD-25 packed inside a plain eco case. Inserts for the various "Glee" albums, a Wii Karaoke game based on the show, and an episode track listing are also included. The art on the disc makes it look like a vinyl record, which is sort of grotesquely cute.

Overall


I almost don't want to give this disc a score because, on its own merits, it's not a bad Blu-ray and offers exactly what it promises – the musical numbers for the season in sterling 1080p video with pitch-perfect DTS-HD MA 5.1 sound. But "Glee Encore!" is essentially a non-release; it's redundant, unnecessary, and pointless. "Encore's" entire existence is made irrelevant by a special feature that is included on the full season sets – the "Glee: Music Jukebox" song indexes – and so I really see no reason to recommend this or even passably give a rental nod anywhere on this review. "Glee Encore!" is for fans only and even then I still can't really justify the suggestion. Stick to the full season releases.
| | | | | |
| --- | --- | --- | --- | --- |
| The Show: C- | Video: A | Audio: A | Extras: F | Overall: C |