The Film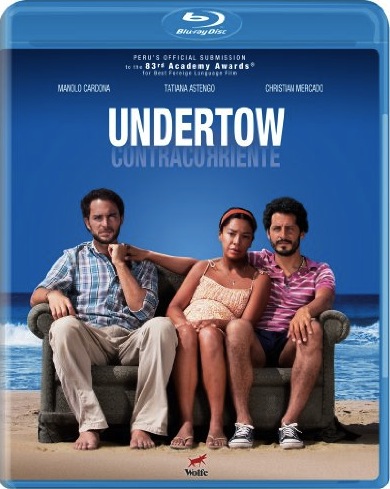 "You're a coward who thinks being a man is having a wife and kids. There are a thousand ways to be a man, and you are none of them!"

The elders in Miguel's (Cristian Mercado) intensely traditional and profoundly religious costal fishing village expect the quiet and unassuming man to one day join their ranks. His supple young wife Mariela (Tatiana Astengo) is pregnant with a their first child. Beneath the mounting pressures of both prospects the awkward and uncomfortable fisherman hides a dark secret. Miguel is maintaining a torrid affair with a well-to-do painter who visits the seaside yearly for inspiration (and sex). Miguel's secret is on the verge of being exposed, and that could mean disaster, not only because an affair looks bad to the elders, and could destroy his marriage, but also because said painter is a controversial outsider – a proud gay man. Rumor and gossip take hold, and before long the village is abuzz about stories of Miguel, or "Mico", and his scandalous rendezvous with the artsy Santiago (Manolo Cardona). Meanwhile, Miguel tries to desperately hold onto his marriage and the prospect of having a child with a woman he needs to convince he still loves.

Javier Fuentes-León's "Undertow" was Peru's official entry into the 83rd Academy Awards in the Best Foreign Language Film category. The film – also known as "Contracorrtente" – has enjoyed quite a bit of praise on the festival circuit, taking home some 45 awards including top prizes from Sundance and Outfest. Despite those accolades I was apprehensive about the prospects of reviewing this disc because the synopsis and oddly Anglicized trailer sell the film as just another hopelessly ordinary, formulaic, cheaply made gay film. And one thing queer cinema doesn't need is another crappy, poorly acted, predictable project that has no budget.

At first glance the over-arcing plot of "Undertow" and the themes that Fuentes-León explores within the framework of his story are hardly the stuff of mind-boggling originality. The idea behind the film traces back to one of the director's first film-school scripts, where a woman, hiding in another room of the house, mistakenly overhears her husband's argument with his lover, who happens to be the town prostitute. Although moving on to other scripts, Fuentes-León kept returning to his first short film, tinkering and shaping it into a more developed feature about his personal struggles as a gay man. The end result of his rewriting process is "Undertow", a film that shares little with the original concept outside of one scene that involves a misheard conversation from another room.

"Undertow" boils down to a fairly familiar story of a man's struggle with his own sexuality and the complicated love-triangle that forms between that man, his wife, and his male lover. It's a plot that's been done before and will be done again a thousand times over. And if a tired, dime-a-dozen, dare I say cliché storyline was all that Fuentes-León offered viewers, I wouldn't be as enthusiastic about "Undertow" as I am. I recommend the film because it offers something more – setting it apart for the endless glut of similarly themed counterparts – with a delicately handled twist on said formula that in other hands could have spelt disaster. I don't really feel bad about spoiling the bit that makes the film special, because pretty much everywhere you look the film is advertised as a "ghost story". One of the main male characters dies (to kept some of the mystery alive I won't reveal who) at the tail end of the first act, and with that development writer/director Fuentes-León dives into his dialogue on human sexuality, self-perception and self-acceptance, and most perhaps interestingly, what "being a man" really means.

There are a few things about the film that I don't like, but they're mostly secondary and don't even begin to ruin what is an otherwise surprisingly strong film. The guitar-fueled score by Selma Mutal Vermeulen is repetitive and grating. Many of the supporting cast members – unprofessional locals – give less than convincing performances. And the 16mm photography, although aided by the picturesque locations of costal Peru, is a bit too rough, flat and lifeless in daylight and too dark at night (although this might have more to do with the troubled Blu-ray transfer than the source). However, the three leads are terrific. The two men are excellent, but Astengo is particularly impressive. She plays Mariela – a role that could have easily swung towards bitter, unlikable, jealousness – with the right amount of hurtful understanding. And Fuentes-León's direction is quite something.

There is an arcane (and wholly incorrect) assumption in most societies that masculinity is directly tied to a sort of husband/father/protector/provider figure and that anything homosexual, because it often diverts from normative dogma, is naturally feminine (and thus seen as weak, and not desired in leaders of patriarchal societies). What "Undertow" rightly proposes is that such an assumption is too simple because it ignores the complexities of reality. Unlike so many other films in the genre, "Undertow" explores this touchy subject smartly. Fuentes-León uses the would-be-gimmicky-but-somehow-isn't "ghost story" to frame some wonderful scenes that deal with Miguel's internal game of tug-o'-war. I'm particularly impressed with a fight between 'Taigo and "Mico" one the beach. Every word in that sequence – pertaining to the ultimate question of what it means to be a man – hits like a blow to the chest, perfectly timed with the actual bit of fisticuffs the two engage in, reflecting instantly back on Miguel's personal demons. Much later, a simple scene in which Miguel and Santiago walk down main street hand-in-hand for the first time (they were previously unable to because of social constraints; constraints that no longer apply because one of them is a ghostly figure only visible to the other) communicates a wordless understanding: these are Miguel's first steps towards self acceptance. It's moments like those that make "Undertow" a different kind of film; the subject matter may be familiar and frequently explored elsewhere, but rarely is it handled as interestingly.

"Undertow" is a film that lives and dies by its supernatural twist. Without it, the film would just be another needless entry into an overly explored subgenre that's full of more awfulness than goodness. And that ghostly twist could have been a horrible crutch, if not completely ridiculous and campy, in the hands of another filmmaker. But somehow, probably because for once both the acting and writing is strong, the much-discussed subject at the center of "Undertow" seems unique.

Video


Wolfe Video's 1080p 24/fps high definition 1.78:1 widescreen AVC MPEG-4 encoded transfer of "Undertow" is rife with issues, while still managing to score a few points in the plus column. The transfer is free of signs of overzealous digital noise reduction and artificial sharpening. Colors are strong with the beautiful Peruvian beaches and saturated fishing villages showing off some natural lushness. Shot on a mix of Super16 and 16mm film "Undertow" looks (appropriately) grainy… and that'd be fine if it looked the least bit filmic. But regrettable faults keep the beautifully framed sun-drenched cinematography by Mauricio Vidal from looking as best as it probably should. The coarse grain is frequently poorly compressed and more often resembles ugly noise. Aliasing, banding and artifacts are less of a bother but still noticeable from time to time. Banding is most severe in underwater shots. (Some of these issues are perhaps a side effect of compressing the film down to a single layer.) The image is flat overall, lacking convincing depth, and has weak, limited contrast in many scenes. Blacks are generally unimpressive, appearing only fair (and sometimes even a bit gray) in daylight and exhibiting mild to severe crush at night. The most disappointing aspect has to be detail, which is often wanting. In parts, the film looks like an upconvert from standard definition, with absolutely no fine detail and a debilitating, irritating softness. Surely, the film looks decent to even good in more than a few scenes, but I'm kind of shocked that such a new release is so astoundingly mediocre in most moments. At its worst "Undertow" looks like a good SD upconvert; at its best, well… something actually resembling a proper Blu-ray.

Audio


Fear not dear readers, the Dolby Digital logos that appear on the packaging and disc are but thoughtless mistakes on the part of the art department at Wolfe Video. This Blu-ray includes not one, but two lossless Spanish DTS-HD Master Audio tracks in DTS-HD MA 5.1 surround (48kHz/24-bit) and DTS-HD MA 2.0 stereo. For the purposes of this review I listened to the 5.1 mix, while sampling the stereo in a few key scenes. High-def audio codec not withstanding "Undertow" still only sounds reasonable and is generally subdued due to the low budget, dramatic slant of the production, but both mixes fit the decidedly low key material just fine. Surrounds are reserved but with the 6-channel mix you do get some subtle musical underscore at irregular intervals in the rears making it an, admittedly slight, improvement over the 2.0 offering. Bass is essentially absent on either mix, directionality is kept at a bare minimum, and dynamics aren't particularly impressive. Still, for a mostly talky drama, this mix works. Dialogue and subtle ambient effects (what little there are) are clear and precise, and always intelligible. The disc is authored with non-removable English subtitles hardcoded onto the film.

Extras


The Blu-ray release of "Undertow" includes a couple of interesting special features, but the supplemental package is hardly substantial. Four featurettes, a series of deleted scenes, the theatrical trailer and a handful of bonus trailers scratch the surface, offering only occasional substance. Supplements are encoded in a mix of high definition and standard definition.

Definitely worth watching is "Undertow: a Look Inside" (1080i, 17 minutes 48 seconds). The featurette is an extensive, often informative discussion with writer/director Javier Fuentes-León, who offers his thoughts on the film in perfectly spoken English. He talks about the personal aspects of the story, the origins of the project, the script, the characters, casting and themes. The only downside to this excellent piece is that it makes most of the following featurettes seem second-rate.

The next featurette, titled "Interview with Cristian Mercado" (anamorphic 1.78:1 480p, 5 minutes 26 seconds) is exactly that. The actor discusses his character and the film in a brief interview that isn't nearly as deep or interesting as Fuentes-León's. Presented in Spanish with English subtitles.

Another actor-focused featurette follows much the same pattern as the first. The piece, called "Interview with Tatiana Astengo", has the actress talking about her character and answering questions about the story and themes of the film. Presented in Spanish with English.

The last featurette, "Behind-the-Scenes" (anamorphic 1.78:1 480p, 11 minutes 7 seconds), is a bit pointless really. Aside from some brief, uninteresting BTS footage this standard EPK offers nothing new. The thoughts on casting and writing, stories about "Undertow's" origins and filming, and themes and characters are covered better elsewhere by Fuentes-León in his superior, standalone interview. Presented in Spanish with English subtitles.

Also of interest is an exhaustive deleted scenes reel (non-anamorphic 1.78:1 480p, 23 minutes 18 seconds) that unfortunately plays in one continuous chunk of occasionally worthwhile material. Was any of the cut material needed to tell the story? No, but many of the scenes – some of which are mere extensions of moments in the final cut – add bits and pieces of context that is nice to see. Truthfully, not all of the scenes are satisfyingly deep… in fact some of the extended cuts are ridiculously short. However, overall the additional focus placed onto Miguel's character adds depth and more than make up for the time spent on the extraneous junk. A lot of the excised material deals with Miguel's Uncle and the fairy tale that is interwoven into the village burial rituals. Sadly, all of the deletions are encoded in window and pillar-boxed SD leaving a tiny postage stamp of an image in the center of your screen. Presented in Spanish with English subtitles.

A subtitle-light theatrical trailer for "Undertow" (anamorphic 1.78:1 480p, 2 minutes 23 seconds) finishes off the film-centric supplements.

A PSA for GLADD (non-anamorphic 1.78:1 480i, 32 seconds) called "Hazte amigo y aliado" with the gorgeous and hilarious Sofia Vergara of "Modern Family" (2009-Present) is also included. Note: it's in Spanish without subtitles so non-Spanish speakers are out of luck.

A handful of forced bonus trailers auto-play before the menu. A spot called "Pay to Play" (1080p, 50 seconds) is a pointless anti-piracy promo. "A Marine Story" (1080p, 2 minutes 8 seconds) looks like a forgettable modern military-expose – a film that, despite dealing with DADT, seems to bring little to the table in a subgenre already overcrowded by less-than-stellar entries. Admittedly, I haven't seen it. I have seen "8: The Mormon Proposition" (1080p, 2 minutes 18 seconds) and it's a pretty solid documentary on California's anti-gay-marriage bill. The same trailers can also be found in an "extras" submenu, which also includes spots for two additional Wolfe releases: "David's Birthday" (non-anamorphic 1.78:1 480i, 2 minutes 8 seconds) and "Plan B" (non-anamorphic 1.78:1 480i, 1 minutes 19 seconds).

Although the disc lacks bookmarking, it is authored with the resume playback function, which worked perfectly on my PS3.

Packaging


"Undertow" arrives on Blu-ray courtesy of Wolfe Video. The film is pressed onto a single layered BD-25 and comes packaged inside an unusual, thicker Blu-ray keepcase that I've never seen before (it's somewhere between an older non-eco Elite and the fatty Amaray used in the UK.) The rear artwork is filled with technical errors, including the aforementioned incorrect audio codec information.

Overall


"Undertow" is the tale of a Peruvian fisherman's journey into the murky depths of his own, complex, sexuality. The film's brilliance manifests mostly in a unique supernatural twist, which sets it apart in a sea of other examples in queer cinema that explore similar themes. Alas this Blu-ray release by Wolfe Video is troubled: video is substandard, audio subdued but fitting, and extras slim but somewhat informative. "Undertow" is worth a look but really on the quality of the film alone.
| | | | | |
| --- | --- | --- | --- | --- |
| The Film: B | Video: C- | Audio: C+ | Extras: C | Overall: C |