The Film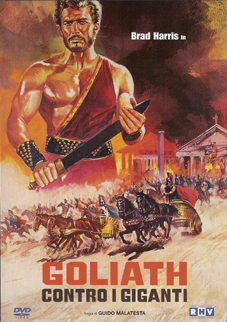 Italian "Peplums" ("Sword and sandal" movies) in their original 2.35:1-ratio, and in good quality, have been rather rare on DVD. We can only start guessing the reasons for this, but where the various Italian sub-genres are well presented on DVD, peplums and war-films have been rather neglected. Among the heroes (sometimes the original Italian name was changed in the English dub/title to confuse many fans) like Hercules, Maciste and Samson; Goliath was also another "muscle man" that appeared on the screen during the 1960s. The name was taken from the Bible, but in the films Goliath was just a hero with the unusual strength and sword handling, battling against the evil tyrannies and fantasy monsters - while meeting many beautiful women along the way. In peplums, the hero was often also a trusted leader and could eventually move big masses. The appeal on these often lower budget - but well crafted - movies relies on the fact that they include many aspects touching that certain "little boy" inside of most of us; the lead actor was a hero with a capital "H" - a "good guy" fighting against the injustice as much as anything else. Plenty of action and sword fights were set in the ancient mythology or history and a good amount of fantasy-elements in the form of different monsters and other strange opponents were thrown in. This mix of adventure, action and fantasy wasn´t something that would be remembered in the serious film studies, but they were good and silly entertainment for both the younger and more mature audience. They were not for the "too serious" people, that´s for sure.

Guido Malatesta directed "El Alamein (1958)" and he also did several peplums and other adventure films that featured Maciste/Colossus, Samoa, and Tarzana - among the various gladiators and barbarians. Malatesta actually did not finish "Goliath Against the Giants AKA Goliath contro i giganti (1961)", but more on that in the "extras"-section. The film opens with the scenes showing the partly destroyed city and soldiers that are fleeing in chaos. Goliath (Brad Harris) and his army are finally victorious after 5 long years and are about to return home. The victory celebration is about to end rapidly when the assassins are trying to ambush Goliath in his tent, but they´re no match for the power and speed of our hero. One of the assassins reveals that behind this evil plan is King Bokan (Fernando Rey), who has gained power by force in Goliath´s hometown. He rules the city with an iron hand and is ruthless to any opposition. Innocent men and women are thrown into the mysterious ravine and everybody´s scared. Stunned Goliath will start his journey back the next day, and have to cross the seas, since only he can save his people. The core of the story tells about the journey, which is far from easy; Goliath will have to face the huge sea monster, Amazonian female warriors, a hairy monster in the torture chamber (!) and eventually also the "giants". We see storms, deserts, gladiators and lions, and plenty will happen before Goliath and Bokan are ready to face each other. Beautiful Elea (Gloria Milland) is found from the island and she is not what she appears to be. Hate turns into love, though.

Based on the plot, it would be fair to expect some solid peplum-entertainment, but unfortunately the film is not a complete winner. The main problem is pacing, which is lacking many times during the film. There are good action-scenes yes, but everything in-between is missing dynamics, suffering from slowness and rather wooden acting. Even the action tends to suffer in the process, since it just "happens" and something different happens after that, and not all of them are well connected. Some characters are also introduced, but after a while they kind of disappear or at least don´t add anything really significant to the story. All of this aside, the film offers plenty of nicely executed action and good set pieces. Some highlights include the "storm/monster sequence" and the end melee in the city. In one of the scenes soldiers surround Goliath, who has to fight himself out of the circle. These kind of moments definitely raise the film above the average, showing the strengths of the whole genre.

American actor Brad Harris is one of the familiar names in peplums. "Goliath Against the Giants" was one of his first lead roles. The muscular actor also appeared in the other genres in Italy after peplums, when his fellow actors like Steve Reeves (the king of the genre all the way from "Hercules AKA Le Fatiche di Ercole (1958)"), Reg Park, Gordon Scott and Mark Forest mainly stick to the adventure territory. In the film, Harris walks the film through rather than showing any spectacular acting (partly because he was just starting his career), but he´ll get the job done eventually. Let´s face it; these actors mainly had to look strong and handle the sword along with stunt scenes in a decent way - real acting was another story. Harris was also back in "Hercules (1983)" (not in the lead role, though) and "The Seven Magnificent Gladiators AKA I Sette magnifici gladiatori (1983)" during the brief "peplum/fantasy"-revival from Italy during the 1980s. In that time he also did some TV-work, working longer than other peplum lead actors - apart from Gordon Mitchell (who kept working to his death in 2003 and appeared in over 100 movies) and Cameron Mitchell (who also continued acting to the 1990s). Acclaimed Spanish born actor Fernando Rey (from e.g. "The French Connection (1971)", "French Connection II (1975)", and "The Desert of the Tartars AKA Il Deserto dei Tartari (1976)") gives a solid "villain"-performance.


Video


Italian "Ripley's Home Video" has released some quality stuff before and this one is no exception. The film is presented in Anamorphic 2.35:1 and the print is very good. The transfer is most likely remastered, since it´s almost without any film artifacts or print damage. Some darker scenes are a bit dark (partly because of the original cinematography, I assume) and there are minor grain and edge enhancement issues - along with some line shimmering, but nothing that would make you unhappy with the presentation. There are some shots of the riding men near the end of the film, and they seemed like stock footage (perhaps from another film?). All in all, fans should be quite pleased. "Single layer" disc is coded "R2" and it has 15 chapters. Film runs 91:45 minutes (PAL) and is using Italian credits. Note, that there are some mistakes on the back cover: the disc is not "R0", not in the 1.85:1-ratio or not using a "DVD 9" (dual layer) disc.

Audio


If the transfer is pleasing, the same can be said about the audio. The disc has English Dolby Digital 2.0 Mono and Italian Dolby Digital 2.0 Mono-tracks, but unfortunately there are no subtitles at all (which made the Italian track a bit useless for me). English track is a pretty good Mono-track for the film of this age. The dialogue might be slightly muffled, but overall it´s clean and without mentionable background noise. You can hear some hiss only if you turn the volume high, and even then it´s quite minor. English dub is not perfect (apparently Harris didn´t dub his own voice), so dialogue is sometimes rather "off" compared to the lip movements. By sampling the Italian track, it´s a minor step forward by offering a somewhat clearer sound than the English one.

Extras


Italian theatrical trailer (no subtitles - 3:46 min) is included and it´s in good shape.

The main extra is "A Talk with Gianfranco Parolini" -featurette, running 18:03 minutes. This is the interview with the co-writer/production designer Gianfranco Parolini, which is in Italian, with optional English subtitles. This is a funny and interesting featurette, since Parolini is a real character. He tells about his early career when he was writing cheap thriller novels, and how he was e.g. one of the assistant directors (uncredited I assume) in "Cleopatra (1963)". Parolini quickly moves into peplums and tells how the editing background helped him to shoot the bigger action scenes and many set-ups in a short time. One interesting note is that the original director of "Goliath Against the Giants", Guido Malatesta, was actually fired and it was Parolini who finished the film. Apparently Malatesta couldn´t keep the "storm scene" under budget (he wanted a big boat set-up), so Parolini stepped in and shot the scene by using 3 different pieces of the boat, along the miniature and clever editing. Parolini also tells how Brad Harris broke his leg partly because of the too-dangerous stunt by Malatesta. He talks about Sergio Leone and how he visited his pompous set in "The Colossus of Rhodes AKA Il Colosso di Rodi (1961)". Parolini looked the set and the countless extras, and asked from Leone: "What the f**k are you doing?". It´s hard to say how much "more" Parolini adds in his stories and he clearly has a lot of self-confidence, but at least he´s not dull. He also talks about films that he directed, e.g. "Samson AKA Sansone (1961)", "The Ten Gladiators AKA I Dieci gladiatori (1963)", "If You Meet Sartana Pray for Your Death AKA Se incontri Sartana prega per la tua morte (1969)", "Kommissar X" (Agent Joe Walker)-movies, and "Sabata"-trilogy. Now he´s planning to do a "100% feminine" film after all these macho-films. Remains to be seen, I would say.

4-page booklet is in Italian, including cast & crew list, some notes about the transfer and brief "Goliath In Movies"-notes. Based on this, the character appeared in 6 movies during 1959-1964.


Overall


For a long time I have waited for quality peplum-releases, and "Ripley's Home Video" has delivered at least a couple of them (the other one would be "Samson AKA Sansone (1961)"). The film leaves something to be desired, but is still quite easily recommended for the fans of the genre.

This DVD is available at Xploited Cinema.
| | | | | |
| --- | --- | --- | --- | --- |
| The Film: | Video: | Audio: | Extras: | Overall: |