The Film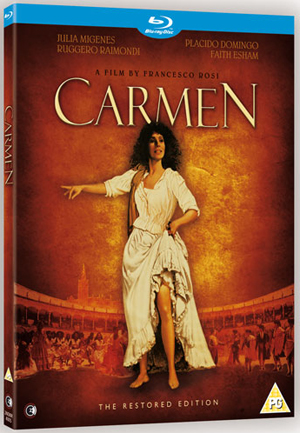 I am not a huge fan of opera, having only seen one (the movie version of Madame Butterfly). In my teen years (in 1984, when this film was, I was a mere 16 years old), opera was not high on my list of music choices. However, in later years, thanks to some persistent friends, I finally achieved an appreciation for opera; or at least Puccini's operas. Obviously, I was aware of Carmen, and some of the arias are very well known to me; but I had never had the opportunity to see this film version.

All I knew of the story was what I read on the back of the box: "In Seville of 1820 a naïve soldier Don Jose falls under the spell of sensual temptress Carmen. He deserts from the army, gives up everything to be with her, only to be spurned in favour of the toreador Escamillo. His desperate plans for her to return are met with further humiliation and Carmen's taunts lead to a dramatic finale."

Before I criticise any elements of the film let me say that I enjoyed the experience. Bizet's music is fabulous and the story engaging. However, for me, there were elements which greatly reduced my enjoyment of the piece. Firstly, as amazing as Placido Domingo's voice is, he's not really a film actor. His 'rabbit-caught-in-the-headlights' style of wide eyed fear/anger/desperation/love rapidly becomes tiresome. The makers could just as easily have used a cardboard cut-out of Don José with Domingo's vocals and the effect would have been the same. However, the same could not be said for Julia Migenes, who kept me watching. Her diminutive presence carries the entire film and her vocals are superlative (once again from a casual opera lover).

Francesco Rosi's direction is excellent, managing to expand the limitations of a stage show for the big screen, which is a real bonus to a film like this.

Carmen is never going to appeal to a wider audience than those who already love opera, and I'm not sure this film would convert any non-opera lovers either; but it is a wonderful achievement.

Video


Presented in 1.66:1, HD 1920x1080p. I never saw the original version (be that cinema or dvd/vhs releases) so I can't comment on improvement, however, I can say I was very impressed with the picture for a film that is now 27 years old. This is the Restored Edition; and it's easy to see why they have described it as such. Blacks are deep, while colours are excellent. The picture is sharp for the most part, with only the occasional scene a little soft-focused during a couple of close-up shots. Absolutely no dirt or grain was evident anywhere throughout the film.

Audio


Three different audio options are available here. DTS HD Master 5.1, PCM 2.0 and Dolby Digital 5.1. All are in French with English subtitles. I watched the film with the DTS HD track, and found the sound to be a fuller, richer, track than the others available. But, in all cases, I was disappointed at the lack of use in the rear speakers; everything was coming out of the centre and side speakers. I, personally, would have thought that on a film so heavily reliant on music, the restoration team would have made more use of the entire range of speakers.

Extras


The extras on offer here are a little sparse, in my opinion, with only scene access and two featurettes present.

Carmen: A Shooting Diary (47.35) (HD) incorporates new interviews with the Director, Producer and Julia Migenes, with behind-the-scenes footage from the other featurette presented here. It's actually quite an interesting piece with some entertaining anecdotes from all involved. Once again, Julia Migenes, is the most interesting to watch.

A PROPOS DE CARMEN (12.07) (SD) is the worst kind of featurette in my opinion. Not only has it not been re-mastered, but it's one of those pieces where there's absolutely no interaction with the people being filmed. I was thankful it only ran for 12 minutes. Even more annoying is the fact that most of the footage had been used in the new 'Shooting Diary' featurette, so I'd seen it all.

Overall


As I stated at the beginning of this review, I'm not a big opera fan, but I am someone who appreciates it. What I am is a lover of good music, and that is something that cannot be faulted in this production. For anyone who already loves this film, I don't think you would go far wrong upgrading to this blu-ray version.
| | | | | |
| --- | --- | --- | --- | --- |
| The Film: C | Video: B | Audio: C | Extras: E | Overall: C |