The Film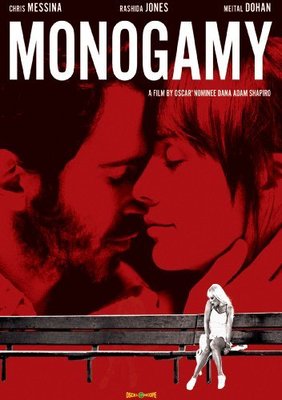 Theo (Chris Messina) and Nat (Rashida Jones) are three months away from getting married. But, as their day of joy approaches, the happy couple begins to realize that they aren't as cheery as they ought to be. The pressures of planning have got both of them down; the fact that Nat's wedding-planning mother has basically steamrolled any of their ideas is taking an even bigger toll on them. Instead of talking it out, and thoughtfully discussing any of the issues either may have, both Theo and Nat retreat into their own worlds. Nat, a struggling indie-musician, dives into her music and the prospect of an upcoming show. Shortly after finally working up the courage to perform, an accident leaves Nat confined to a hospital bed, away from her future husband whom she needs. Unfortunately, Theo – a bored wedding photographer by trade – has found a bit of happiness as a "Gumshoot", a sort of detect-ographer who's hired by clients to take candid snapshots of them from afar, and is too wrapped up in his own mind to really pay attention. Theo's new business is quite a hit; people love his pictures (a lonely old man is overjoyed by the images of his interactions with neighbors who obviously care for him) and the emails in response to his online ad keep pouring in.

Soon, a woman going by the screen name "Subgirl" (Sarah Burns and Adam Pally) that bicker and fight like they're enemies in a battle of words, and his jaded, married buddies (Ivan Martin and Zak Orth) who constantly tell him how unhappy they are.

The odd thing about "Monogamy" is that it's the smaller scenes – the brilliantly subtle, throw away dialogue between Messina and Jones, the petty fights between the various couples having their pictures taken on their wedding day, and the uncomfortably hilarious exchanges between Martin and Orth about their marital misery – which work best. The larger, should-be-more-intriguing mystery thread involving Subgirl and her dates play out in a sort of painfully slow and uninteresting way. The thriller aspects of the film don't necessarily fail because of filmmaker Dana Adam Shapiro's direction – he makes with some interesting stylistic choices in cinematography (the handheld, crudely focused camerawork perfectly articulates Theo's view of the world through the lens of his Leica) and with editing (a montage of voyeuristic sex inter-cut with a spoken-word tap-dance performance) – but instead, at least I think, because the suspense of the "thrilling mystery" dies in its predictable and unoriginal twists and reveals . The more intimate moments are also more captivating because the performances are so raw. Messina and Jones (especially Jones, who discards her comedienne persona entirely and does some respectful dramatic work in a smallish role) are excellent. With Shaprio's documentary-like approach to filming scenes and "writing" dialogue – both of which exude a natural, almost unrehearsed quality – the central couple's key scenes are among "Monogamy's" strongest elements.

Shapiro wowed with his debut documentary "Murderball" (2004), but doesn't quite excite with his latest, a notable departure from his earlier work because it's narrative fiction (despite the verité underpinnings and convincingly portrayed, realistic characters). The film has things about it that are worthy of praise – performances, direction, and cinematography. Where "Monogamy" suffers is in its somewhat labored script, built upon a plot that isn't terribly original, culminating in a resolution that you'll see coming about halfway through. Overall the film is worth a look, but I have to say that I was a little disappointed with the end result.

Video


This is actually one of the better-looking DVD's that I've watched recently. The 1.85:1 anamorphic widescreen transfer supports Shapiro and cinematographer Doug Emmett's rugged, documentary-like, verité aesthetic expertly. Bathed in warm tones, softer natural colors, and slightly tweaked contrast with inky blacks and gentle blooming whites, "Monogamy" has an appearance not unlike a summer day. The picture is a little rough around the edges, although still plenty detailed, with a grainier texture and subtle (blurry) changes in depth-of-field as Theo's camera pops in and out of focus. But the print is in pristine shape – coming from a digital source – and the transfer exudes a filmic quality with no evidence of edge enhancement or other unwanted anomalies.

Audio


Oscilloscope offers listeners the choice between two audio mixes: Dolby Digital 5.1 surround or 2.0 Stereo (both in English). The talky film – which defaults to the lesser Stereo – is front-heavy and quiet, but sounds slightly less restricted via the 5.1 mix. Dialogue is clean and well balanced, while the song and score cues make appropriate use of the full 6-channel spread. Optional subtitles are available in English.

Extras


The best "extra" on this release might be the packaging, which is a bit disappointing. Oscilloscope Labs usually have Criterion-grade (or at least close to Criterion-grade) supplements on many of their films, but not here. Make no mistake, the multi-panel digipak is really, really nice – like all of Oscilloscope's eco-cardboard books – offering an essay, an excerpt from the director's upcoming book, and some gorgeous artwork, but the actual special features on the DVD are a bit lacking. In place of more interesting features like an audio commentary, Q&A or documentary you'll find a music video, deleted scenes, outtakes, theatrical trailer, PDF screenplay, and bonus trailers for other Oscilloscope releases. Not exactly thrilling stuff.

Firstly, Shapiro's original screenplay is available in its entirety in PDF format via a download from DVD-ROM.

The music video (1.78:1 widescreen, 3 minutes 27 seconds) is for a tune called "You Don't Know (Nat's Song)" as sung by Rashida Jones, with Bummer and Lazarus. It uses a hodgepodge of film clips and is kind of like a glorified trailer, but I generally like the song.

A deleted scenes reel (1.85:1 widescreen, 3 minutes 18 seconds) includes a few curios, mostly focusing on Theo and Nat's relationship. The three scenes don't amount to much and could have stayed in the final film.

The outtakes (1.78:1 widescreen, 6 minutes 53 seconds) are a mix-n-match of proper outtakes – line slip-ups, flubs, goofs – and some interesting b-roll with the crew stepping in for the cast during rehearsals and tests with a Steadicam. Jones lets her comedian side show, making the outtakes a bit more digestible, but this is disposable, surface-level stuff all the same.

"Monogamy's" original theatrical trailer (1.85:1 widescreen, 2 minutes 10 seconds) is also included.

And finally, "Oscilloscope Releases" houses bonus trailers for five recent films from the distributors library. These include:

- "Howl" (1.85:1 widescreen, 1 minute 45 seconds).
- "Wendy and Lucy" (1.78:1 widescreen, 1 minute 37 seconds).
- "The Exploding Girl" (1.78:1 widescreen, 1 minute 46 seconds).
- "The Messenger" (1.85:1 widescreen, 2 minutes 17 seconds).
- "Meek's Cutoff" (1.33:1, 2 minutes 25 seconds).

Packaging


Dana Adam Shapiro's "Monogamy" debuts on DVD from Oscilloscope Laboratories as spine number 29. The dual layered DVD-9 comes housed in a multi-paneled digipak made of 100% recycled material. The disc slides into a sleeve within an eco-cardboard case, which then is encased by a sturdy slipbox. The inner panels of the digipak contain an excerpt from Shapiro's upcoming book "You Can Be Right Or You Can Be Married" and an essay by film critic Amy Taubin. "Monogamy" is marked as Region 0 and should be playable around the globe, although note that the video content is encoded in NTSC format.

Overall


"Monogamy" treads familiar ground and isn't quite the brilliant narrative debut I was expecting from documentarian Dana Adam Shapiro. But the film is worth seeing, not exactly for the story (which isn't much) but definitely the acting (Jones and Messina are terrific), cinematography, and smaller moments that can be brilliantly truthful. The video and audio are more than adequate, but I'm a bit disappointed that – and this is the first time I've ever said this about an Oscilloscope release – the supplemental package is so bare and boring. Worth a look.
| | | | | |
| --- | --- | --- | --- | --- |
| The Film: C+ | Video: B | Audio: B- | Extras: D | Overall: C+ |