Last American Hero (The)
R2 - United Kingdom - Second Sight
Review written by and copyright: Samuel Scott (18th August 2011).
The Film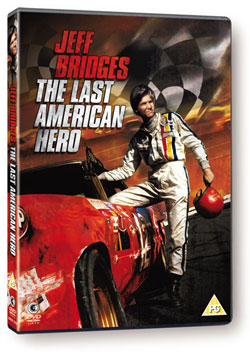 Films that are loosely based on the true stories of people from underpriviliged backgrounds or of people being general underdogs going on to become successful sporting heroes are two a penny. Usually these films have some relation to Disney and include Coach Carter (Samuel L. Jackson), Glory Road (Josh Lucas), Remember the Titans (Denzel Washington) and Invincible (Mark Wahlberg). Usually these films relate to sports like basketball, american football, football and ice hockey but very rarely do we get a similar film related to motorsport racing. In fact, whilst the more imaginitive racing/car related films have a history of popularity, from The Cannonball Run to Death Race 2000 to The Fast and the Furious, the racing films that strive for seriousness are few. 1966's Grand Prix was one such film I enjoyed focusing on the lives of formula one drivers though this isn't based on a true story. I entered The Last American Hero knowing that I enjoy this particular genre and looked forward to watching it.

The Last American Hero is loosely based on a series of Esquire articles written by Tom Wolfe, telling the true story of Junior Johnson, a moonshine smuggler who became one of NASCAR's first champions and an American sporting hero. After Junior crashes into a police blockade whilst delivering his father's moonshine, the police arrest Junior's dad and he gets a one year prison sentence. To raise some cash to help his family, Junior enters a demolition derby, and then a stock car race. Realising he has a natural talent, he progresses on the stock car circuit until he meets a promoter (played by Ned Beatty) who gives him his break on the NASCAR circuit.

When I first hit play, the first scene put me off slightly. I felt like I had just put on a random episode of The Dukes of Hazzard, except this time Bo and Luke were driving a black car instead of The General Lee. Whilst I enjoy The Dukes of Hazzard TV show, I was looking forward to something different with this film. Thankfully, after the opening scene, I got what I was looking for. Jeff Bridges is excellent as the overly cocky racer who knows he has talent, forcing himself on to the stock car circuit as an independent driver by winning local and regional races. Ned Beatty is great in his role as the promoter and Gary Busey suits his as Junior's brother (even if his screen time is rather limited). Yes the story is sometimes contrived and yes, it is obvious what is going to happen, but this is an enjoyable racing film with spirit and determination with good performances all round and some fun and well shot racing scenes.

Video


Presented anamorphically in the original aspect ratio of 2.35:1, the picture quality is above average for a catalogue title of this age. Colours are good, black levels seem accurate and details seem to be sharp. There is a small bit of damage and some grain but nothing to cry about.

Audio


The only option included is an English Dolby Digital 2.0 Stereo track. Seperation is minimal and practically non-existant leading me to believe it is a mono track that has been enhanced in parts. There is minor background hiss but audio levels are consistent and dialogue clear. Considering the type of film, I would've loved to see a new 5.1 track for the music, the engines of the cars as they fly around the track and general atmospheric reasons (such as crowds). No subtitle options have been included.

Extras


A missed opportunity means no extras at all. A retrospective look at Junior's career would've been a welcome addition.

Overall


An enjoyable race movie with good performances and good picture quality, let down slightly by the mediocre audio and the exclusion of any extras.
| | | | | |
| --- | --- | --- | --- | --- |
| The Film: B | Video: B- | Audio: C- | Extras: F | Overall: B- |

---
DVD Compare is a participant in the Amazon Services LLC Associates Program and the Amazon Europe S.a.r.l. Associates Programme, an affiliate advertising program designed to provide a means for sites to earn advertising fees by advertising and linking to amazon.co.uk, amazon.com, amazon.ca, amazon.fr, and amazon.de.