The Show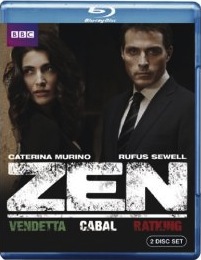 Here in the States the adventures of Detective Aurelio Zen (Rufus Sewell) were carried across the airwaves via PBS, in a special programming block they like to call "Masterpiece Mystery!" Before the powers that be canceled him (more on that in a moment), Zen – a cool, espresso drinking, woman wooing, debonair detective from Italy – was part of the BBC's New School of detectives who feature so prominently in that two-hour block. "Zen", the series and the character, is very much like the other modern crime solvers in the same block: "Wallander", and even Steven Moffat and Mark Gatiss' "Sherlock" (2010-Present). Frankly, all three of these new detectives, and the respective thrillers that carry their name, are a welcomed departure from the slight stodginess of Agetha Christie staples Hercule Poirot and Miss Marple (who are certainly fine viewing for some, but, if I'm honest, not me; I find their oft-stuffy murder mysteries solved in the drawing room quite tedious).

Based on a series of best-selling books by British crime novelist Michael Dibdin, "Zen" shares quite a bit in common with the Holmesian update from Moffat and Gatiss (whom skillfully adapt their "Sherlock" from the original source material, with a rather smart reworking for modern times). But Zen has perhaps even more of a connection with Swedish export Kurt Wallander, as adapted for television by the BBC with Kenneth Branagh in the lead role. The similarities are easily explained: Left Bank Pictures, the same people behind Branagh's series, brought "Zen" to screen too. From the similarly far off European settings – Sweden and Rome, in that order – to the stream of geographically out of place Anglicized accents, both shows have the same sort of aesthetic, offering a strange smashup of Continental and Isle.

I've heard some complaints about the varying accents, but even though Sewell and most of his other co-stars speak in their native tongue – completely "un-Italianized" as Sewell puts it in the supplements – I didn't find the delivery of dialogue off putting. Only a few of the cast members speak with noticeable Italian intonation – fittingly, most of them women – leaving most of the accents a cohesive mix of U.K. dialects. I ask the complainers: what would have been an acceptable alternative? Have Sewell and co speak actual Italian – with subtitles and everything? No. The show was produced with an English speaking audience in mind, so that would have been counterproductive. Horribly fake, over emphasized Italian-English? That'd probably be more horrifically offensive – playing into stereotypes – than anything. And undoubtedly as equally distracting, if not even more so, than the unaffected bit of Yorkshire, Scots or whatever else slipped in as filmed.

The Venetian detective at the heart of "Zen" is a suave figure: a more progressive protagonist, complete with slick 21st century senilities, solving crimes in sunny Rome and the surrounding countryside (all captured beautifully by Tony Miller, who frames and lights the series as through part travelogue, part neo-noir). Zen – shortened from Zeno, and having little to do with Buddhism – is, as another character describes him in the first episode, a man of "scrupulous integrity". He's an outsider; always staving off the contemplation of caving to the corruption that surrounds him and his more easily persuaded Roman colleagues. He's a good man, with a strong conscience and ethics. Ethics that are constantly tried under pressure from his hot-blooded boss, Captain Moscati (Stanley Townsend), and the often-contradictory orders from the government, as delivered to him by a mysterious man named Colona (Ben Miles). Confused by who he can trust, Zen often finds himself working instead with Gilberto (Francesco Quinn), his old P.I. friend, and informant Angelo (Garry Cooper) – people he knows he can trust because they will never be swayed by money and promises of power, unlike his oft-corrupt colleagues. In the off hours, Zen also balances his time between three women: his soon-to-be ex-wife, Mara (Julie Cox), Moscati's flirtatious secretary Tania (former Bond girl Caterina Murino), and… his dotting Mamma (Catherine Spaak, and boy did she age well. She looks as good as she did in "Take a Hard Ride" (1975), if not better).

Unlike Sherlock Holmes, Zen's not always two-steps ahead of his adversaries, and as Sewell notes in the supplements, the character almost seems to "solve cases by accident." The slightly comic air that surrounds the cases – and the sometimes sudden, "oh, of course" moments that the character experiences – come off as lighter fluff. Sure, the show can be a bit predictable, and isn't quite the "Masterpiece" the programming block boastfully proclaims, but all appropriately so: the cases fit the tone, and the tone, and characterizations are lighthearted. I found the humor of "Zen" to be a nice alternative to the sometimes depressing, if well written, "Wallander"(2008-Present). I suppose both series reflect the cultures from which they're born. The Swedish Wallander, always downtrodden and grumpy, witnesses horribly violent crimes on a day-to-day basis, under gloomy gray skies. It makes sense then that his TV series keeps things relatively serious, more focused on emotionally powerful and purposeful characterization and has little, if any, joy to its journey. "Zen" is different; decidedly unpretentious and meant to be viewed as exciting, fun, entertainment.

The series – with its flood of food, fine suits, and fast cars, parade of political corruption, and reverently resolute religiosity – has the sensibilities of the Italian culture baked into it too. "Zen" was filmed on location the city in which Dibdin's original stories take place, furthering the believability of plot and aesthetic. Zen's doting Mamma who always makes sure he has a stomach full of her finest cooking, and the bombardment of beauties who throw themselves at him, both playoff as wonderfully escapist fantasy – perfectly idealized of what one hopes awaits in Italy.

Rather astutely adapted by writer Simon Burke, the teleplays for "Zen" manage to capture the essence of Dibdin's source material, but streamline the tangled web of mystery into a more coherent mass for the visual medium. "Zen", like "Wallander" and "Sherlock", takes form in the currently popular broadcast format of three 90-minute episodes per season. And in many ways then, largely because of the expanded runtime, "Zen" and its three episodes – "Vendetta", which involves an assassination, "Cabal", concerned with an apparent suicide, and "Ratking", about a kidnapping – seem more like a collection of feature films rather than a mere television show.

The lengthier runtimes grant room for slow moving, but more natural character arcs, and the mysteries seem far less contrived when given proper time for setup, investigation, and the eventual reveal. One of my biggest complaints with American crime television, and the police procedural in particular, is that the formula is too tightly packed in the usual 42-minutes. "Zen" doesn't fall victim to many of the faults inherent with that format, and instead slowly lays out its clues in-between lengthy lapses of side-plots more concerned with the characters rather than the cases. Zen's burgeoning romance with Tania seems far less contrived in this lengthier format too. The slightest flicker of flirtation only amounts to their first date by the end of the first episode. The second – set months after the first adventure – picks up with their relationship much further along, little clues dropped throughout the next 90-minutes hinting at the developed romance. And the third, the ultimate climax of their love-story arc, comes to a satisfying conclusion that doesn't feel forced because it's had the appropriate time to develop over three separate films.

It's no secret that the current TV landscape is absolutely littered with investigators improbably similar to Aruelio Zen. As I've noted the top Venetian member of Rome's Murder Squad is very much like "Sherlock" and "Wallander", and even DCI John Luther from "Luther" – all good, and even great, modern detective/mystery shows with comparable male protagonists. And truthfully then, I'm not really too surprised by the BBC's decision to cancel "Zen", with many other similarly themed alternatives to choose from. What I will say that I'm a bit disappointed that Sewell, who is so supremely underrated (it's a crime he isn't in more), won't get to continue on in the role. He's simply excellent – playing the charismatic but cunning man with a heart of gold perfectly. "Zen" is an undoubtedly well-written series and is just great fun to watch, so for that reason too I'll miss it. But, even without the prospect of future televised adventures, "Zen's" three feature-length episodes – each essentially a 90-minute movie – aren't something to dismiss.
BBC/Warner's high def package includes three episodes across two discs (two episodes on disc one and the third episode on the second disc):

- "Vendetta" - Detective Aurelio Zen is sent to a remote village to re-investigate a murder, which may spark a political scandal. Zen is under pressure from politicians and the Chief of Police, but he would rather be spending time with Tania, the Chief's beautiful new assistant. Meanwhile, a recently released gangster seeks revenge from those who wrongfully imprisoned him years ago, and he has Zen – the arresting officer on the case – is in his sights.

- "Cabal" - The death of a famous aristocrat, Umberto Ruspanti, leads Detective Zen into the shadowy world of The Cabal – an organization more powerful and secret than the Mafia. The Ministry wants a quick verdict of suicide, but Zen's not so sure. Meanwhile, Zen's estranged wife asks for a divorce, the Murder Squad may have a mole, and the Chief has a heart attack.

- "Ratking" - Zen works against the clock to recover the kidnapped Ruggerio Miletti, a wealthy industrialist with strong ties to the ruling political party. The involvement of the manipulative Miletti family, and a beautiful grieving widow, complicate matters for the detective. Could there be more to the case? Meanwhile, the new Interim Chief has it out for Aurelio, and Tania's ex-husband does everything he can to get rid of Zen.

Video


Shot digitally in high definition, the three adventures of Aurelio Zen transfer to HD home video quite well, but aren't completely without fault due to an at-times problematic interlaced source. The 1080i AVC MPEG-4 encoded transfer accompanying each episode is (as seems normal for BBC/Warner discs) post-converted from its native 50Hz to 60Hz for North American release. Unfortunately, this conversion, amplified by the interlacing, has resulted in some noticeable shimmering in certain scenes (most severe in slow pans), and gives an occasionally off-putting sense of unnatural motion to the series' action.

Framerate issues aside, filmed on location in Rome (and throughout the Italian countryside), "Zen" offers an attractively shot 1.78:1 widescreen image, fittingly tinted towards an antiqued almost-sepiatone and frequently sporting a warm glow. The production nicely balances its use of lavish interiors and picturesque, postcard-perfect exteriors, evoking the pure essence of the city and its surrounding landscape. Cinematographer Tony Miller (and the three directors) makes effective use of canted angles, and handheld camerawork, as well as noir-inspired lighting, to create and enhance mood. Colors are warm, if slightly limited in variety. The picture has ample depth and nice contrast – whites run a little hot, and usually fall victim to a blooming effect, while blacks are overall strong, and delineation decent (But both can be a bit noisy in spots. One of the more severe examples of these odd noise spikes appear in the shadows during a conversation Zen has with the Colona in an underground car park about twenty minutes into "Vendetta").

The level of detail on display is downright astonishing, with strong definition in Zen's fine Italian suits, intricate brickwork of the old buildings and knobbly cobbled streets, dense countryside foliage, and Sewell's ruggedly stubbled, craggy pored façade revealing the sort of intricate texture that one has come to expect from newly minted HD. Faces are occasionally a little smooth due to a selective use of filters, but even in those diffused moments the surrounding fine object detail is still very impressive.

"Zen" isn't without a few distracting blemishes, but it still looks very, very good on Blu-ray.

Audio


I can accept something like "Top Gear: The Complete Season 16" arriving on Blu-ray with a lossy two-channel audio track. It's essentially a documentary series, and believably broadcast and mixed with the plainest of sound. Even if Jeremy, James, and Richard don't sound all that impressive, I'm not too upset. But "Zen"? I'd have expected a multi-channel DTS-HD High Resolution – or at the very least a six-channel Dolby Digital – mix for the should-be-better sounding Blu-ray debut of my new favorite Italian detective. And true lossless would have been even more preferable over those options.

Alas (even though the thriller absolutely calls for a more robust container), "Zen" is just like "Top Gear": English Dolby Digital 2.0 (admittedly, at a relatively high 448 kbps bitrate) track and all. And, whereas "Top Gear's" problems came from the relatively tame dullness of not much substance to its mix – dialogue reproduction was practical and clear, and music appropriately filled dead spaces (and was properly balanced under narration), but both still resulted to a relatively simple aural experience – "Zen" has a nicely active mix, more befitting of its dramatic and narrative-driven framework. It's just; said mix is forced to juggle too much, too often, in such a limited space. Dialogue, effects, and music seem to be competing for room on the stage and one of them always loses terribly, caving under the lack of the dynamic range needed for support. "Zen" is hardly a disaster in terms of audio, but it is a bit of a disappointment. BBC has offered high-res audio on their Blu-rays before; why are they suddenly – five years into the life of this format – outfitting their HD discs with lossy Dolby Digital? Optional subtitles are available in English.

Extras


"Zen" may make his way to Blu-ray via two discs, but only with one special feature unless you count some bonus trailers. A making-of featurette on disc two is decent, but the bonus material starts to look more than a little anemic once you realize that this 30-minute piece is meant to complement what are essentially three feature-length films. A making-of for each episode or, perhaps more realistically, episode-specific audio commentaries would have been a nice addition. Video is encoded in a mix of 1.78:1 widescreen standard definition and high definition where noted.

DISC ONE:

…And speaking of excellent detective fiction on TV these days, a bonus trailer for the sublime 21st Century update to the Sherlock Holmes mythos, the simply titled "Sherlock" (1080i, 1 minute 54 seconds), appears upon startup of this disc. The familiar animated "BBC America" promo (1080i, 1 minute 17 seconds) plays before the menu too.

DISC TWO:

A bonus trailer for the BBC's latest adaptation of "Hamlet" (1080i, 2 minutes 14 seconds), is forced before the menu on disc two.

The only other extra on this disc is a featurette called "Zen: An Italian Adventure" (480p, 31 minutes 27 seconds). The extended EPK piece is a cut above most others of the same ilk, if only because it provides a decent amount of behind-the-scenes footage. Typical of these EPK things, film clips abound and some of the interviews feel a bit forced and phony. Oh well. At least most on hand to explain – including Sewell, Murino, and Miles, actor Francesco Quinn, director Jon Jones, producer Michael Casey, and many, many others – occasionally offer something of substance, however sugary, with their words. There's talk of Dibdin's books, the characters, the differences in cultures (and the mashing of accents), the niceties that come with shooting on location, and the retro, neo-noir look of the series (which was inspired by artists as wide ranging as painter Edward Hooper and Alfred Hitchcock to even, of all people, Dean Martin). "An Italian Adventure" is a promo-y puff piece, but one that offers slightly above average puffery and can prove to be informative in small spurts.

Packaging


BBC/Warner's release of "Zen" presents the entirety of the series – three, 90-minute episodes – on two dual layer BD-50 blu-ray discs. The Blu-ray release is packaged in a plain Viva Elite case. "Zen" is region free.

Overall


"Zen" isn't a particularly game-changing addition to the undebatably overcrowded male-TV-detective/mystery/thriller subgenre, but the three episode series has a strong cast and is well made on location in Italy. The scripting is neatly handled and the stories have a nice unpretentious quality about them. It's a shame then that the show got the axe by the BBC earlier this year, and that Aurelio Zen won't be back on the streets of Rome, solving crimes with style, anytime soon (not unless someone else picks up the series' production costs, anyway). I really liked the character, and thought that the under appreciated Rufus Sewell was excellent in the title role. BBC/Warner's Blu-ray release of "Zen" has somewhat troubled but mostly great video, uninspired two-channel audio and just one, far too brief, extra. Worth a look, but simply due to the above average quality of the series and not so much the actual home video release.
| | | | | |
| --- | --- | --- | --- | --- |
| The Show: B | Video: B | Audio: C | Extras: D | Overall: C+ |