Shiver AKA EskalofrŪo
R2 - United Kingdom - Second Sight
Review written by and copyright: Neil Bray (17th September 2011).
The Film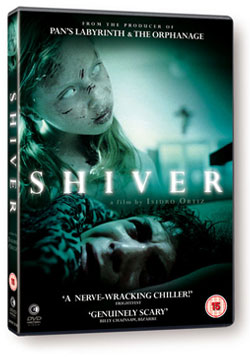 Iíd never heard of this film and so I sat down to watch it with no preconceived idea of what to expect; and I was pleasantly surprised by what I found.

The story centres around a young boy called Santi (Junio Valverde) who suffers from photophobia; a disease which means that even the smallest amount of sunlight can cause severe disfigurement to his skin. In an attempt to alleviate his suffering and give him a better quality of life, his mother decides to move them to a remote Spanish village which gets very little sunlight. Unfortunately, not long after they arrive animals, and then people, start turning up dead.

This film does a masterful job at misdirecting the viewer and litters the script with numerous red herrings designed to make you think something which isnít true; and, as such, keeps you mesmerized trying to figure out whatís going on. There are some truly creepy images throughout the film and the tension steadily builds.

When the identity of the killer is revealed itís a real surprise; and it was something Iíve not seen in a film before. But, shortly after there is another twist in the tale....and then another. All this makes for a truly entertaining film which ultimately feels like a long episode of The X-Files.

All the actors are really good and likeable, but special mention should go to Junio Valverde who makes his character of Santi an absolutely joy to watch. I wouldnít hesitate to recommend this film to any lover of suspense/horror films.

Video


Presented in 1.78:1 ratio, this release has a very good picture. One of the better DVDs Iíve seen recently. Itís not perfect though: some of the night time scenes are a little too dark to clearly see whatís going on; but the picture is clean and surprisingly sharp.

Audio


A slightly disappointing Dolby Digital 2.0 Stereo track is the only option here. Itís in Spanish with removable English subtitles. There are a few pretty decent jumps in this film which could have been greatly enhanced by a 5.1 track. Nonetheless, the stereo track does a pretty decent job and the dialogue is always clear.

Extras


None

Overall


A very special movie that deserves to be seen by a lot of people. Iím really surprised this hasnít been snapped up for a Hollywood remake (given that they canít seem to do anything else recently). Very well acted and well directed; with some genuinely surprising twists in the plot. Recommended.
| | | | | |
| --- | --- | --- | --- | --- |
| The Film: B | Video: B | Audio: C | Extras: F | Overall: B |

---
DVD Compare is a participant in the Amazon Services LLC Associates Program and the Amazon Europe S.a.r.l. Associates Programme, an affiliate advertising program designed to provide a means for sites to earn advertising fees by advertising and linking to amazon.co.uk, amazon.com, amazon.ca, amazon.fr, and amazon.de.