Oz and Hugh Raise the Bar: Series 1
R2 - United Kingdom - Acorn Media
Review written by and copyright: Neil Bray (19th September 2011).
The Film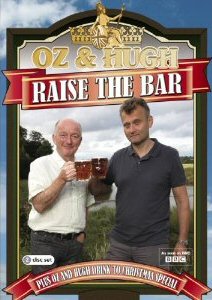 Oz Clarke and Hugh Dennis are on a mission to revive the good old British pub. It sounds a little dull to be a television series, however the witty and sarcastic humour these two serve up in meaty portions makes this series a pleasure to watch. The series flows like a comedic "Edwardian Farm" road trip. If you liked Victorian Farm, Edwardian Farm, you will enjoy this.

Along their way around England, Wales, Scotland and Ireland in their quirky camper van they delve into the origins of many of our historical beverages and get to visit many local breweries and distilleries as they try to amass local drinks through challenges, to serve up in their Pub for the one night showdown between the two of them.

Who would have thought that vineyards exist in Morecombe or that Sussex produces better Champagne than France, well I won't spoil all of the many interesting bits from these budding "Ernie and Wise" characters as they produce a splendid and insightful plethora of facts and follies about our nation's favourite tipples.

Oz Clarke sometimes comes across as a bad loser and Hugh Dennis plays his witty "outnumbered" calm through the whole series, especially at Christmas when he gets a little hot playing "Snap Dragon", but overall a wonderful and unusual road trip for all to enjoy.

Disc 1 contains the first two episodes and the Special Features.

Disc 2 contains the final two episodes.

Video


Presented anamorphically in 1.78:1 aspect ratio. This is an extremely good picture: very sharp, clear and vibrant. This is particularly noticeable on the many exterior locations where the pair are driving through the best of British countryside. Interior shots are still very good for a TV broadcast, but the exteriors really show the quality of this DVD set.

Audio


A simple Dolby Digital 2.0 stereo audio track is the only option which is perfectly serviceable for this kind of show. Of note is the fact that in the frequent scenes in which there is a lot of ambient noise (after what pub isn't noisy), the dialogue is still very clear and volume levels never seem to fluctuate.

Extras


The first extra available is the Christmas Special episode (Oz & Hugh Drink to Christmas) which follows an identical format to the other episodes, but focuses on Christmas themed drinks and also incorporates the game of "Snap Dragon" mentioned in my review above.

The only other extra is a biography for both Oz and Hugh. This is a text only feature detailing their careers – pretty much a waste of disc space in my opinion.

Overall


This is the sort of show that I always find strange to be released on DVD. Don't get me wrong, it's an enjoyable show; but I can't see any re-watch value. I'm sure there are people who will disagree. If you saw this on TV then this release is nicely presented here, and if you didn't, then it's worth a watch; especially for the extremely evident love of all things British.
| | | | | |
| --- | --- | --- | --- | --- |
| The Film: C | Video: B+ | Audio: C | Extras: D | Overall: C |

---
DVD Compare is a participant in the Amazon Services LLC Associates Program and the Amazon Europe S.a.r.l. Associates Programme, an affiliate advertising program designed to provide a means for sites to earn advertising fees by advertising and linking to amazon.co.uk, amazon.com, amazon.ca, amazon.fr, and amazon.de.