The Film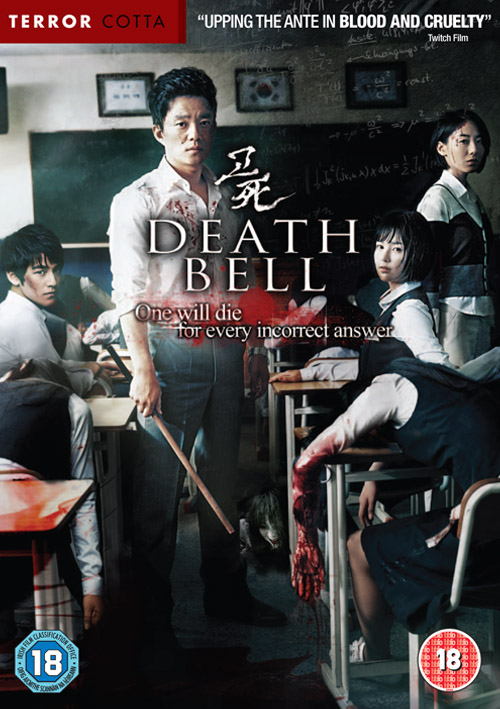 About ten years, somebody gave me a tin copy of Tartan's Battle Royale DVD for my birthday. At that point, I was still in my teens and hadn't really discovered non-English cinema yet but Battle Royale absolutely blew me away and as the years passed I became a huge fan of Tartan's "Asia Extreme" range, especially for the horror content like A Tale of Two Sisters and The Ring. Unfortunately, Tartan left the market for a couple of years and recently came back as Palisades Tartan, but outside of their fantastic 8-disc Vengeance Trilogy R1 set, their releases have been lacking the previous oomph opening the market for another company to jump in. Terracotta are an independent company and have released quite a few Asian films to the UK market and become well known for their Far East Festival but they have now started a new range for which Death Bell is the premiere release - Terrorcotta. Is the first release in this new range good enough to take the reigns...?

The synopsis from Terracotta reads:
Students at an elite high school, preparing for mid-term exams, are held captive and forced into a series of sadistic games. The students find themselves plunged into a deadly test where they are picked off one by one and held in impenetrable traps where they must rely on the amazing intellects of their classmates to be released, every time a question is answered incorrectly, a classmate meets their torturous, grizzly death. When it emerges that the students are being picked off according to a pattern, pupil Kang Yi-na understands exactly how much time she has to stay alive and figure out the mysteries of who is imprisoning them and what is the ghostly presence that stalks the school and seems to bind them all together, before the Death Bell rings for her. Starring controversial, K-Pop sensation Nam Gyu-ri as Kang Ni-ya and Kim Beom ('Boys Before Flowers').

Despite it's stylish and lush technique, Death Bell is unfortunately the defination of average. Trying it's best to utilise the best parts of other horror films such as the 'games' of Saw, the gory and original death sequences of Final Destination, the classmates environment of Battle Royale and the 'ghost girl' of every other Asian horror since the turn of the century we get a mish mash of horror that quite simply isn't as good as the films it is trying to recreate. Also average is the cast with no performances particularly standing out as great but also none standing out as being poor. Dialogue is pretty standard for the genre and the structure of the plot follows a rather formulaic route with nothing to shout home about.

The music used throughout the film wouldn't have been my first choice but the end choices are acceptable and did add to the atmosphere and overall feel. The way the film was edited was a bit "MTV" style at times but there were some nice tracking shots and some interesting angles adding to the fear in particular scenes.

The one thing that does stand out for me in the film was that although it wasn't a big budget horror, it still managed to include some very good special effects and geniune terror through these effects. The whole wax candles scene certainly made me squirm the twist at the end was better than I had expected when it came to the closing act. For this reason, I am awarding a C+ rather than a flat average C for Death Bell.

There is also a second movie and Death Bell was good enough to make me want to check it out although I doubt I will go out of my way to track it down.

Video


1.78:1 non-anamorphic. Yes, that's right... non-anamorphic. In 2011. There are ghosting and combing effects throughout due to the progressive transfer also adding to the underwhelming picture quality. Thankfully, saving it slightly, are the colours and how the darks and the reds appear on screen with a reasonable amount of sharpness.

Audio


A couple of options here. We get the choice of both a Dolby Digital 5.1 track and a Dolby Digital 2.0 track, both in the original language of Korean. I opted for the 5.1 track and the surrounds were used to reasonable effect. LFE was a little light at times but the atmospheric and terror tone of the film came across quite well. Optional English subtitles are included and were clear, concise and easy to follow.

Extras


We start off the extras with a couple of music videos:
- Music Video 1 (3:54)
- Music Video 2 (4:05)
Although there are two of them, they are not selectable individually from the extras menu. They play without the option of subtitles which is unfortunate, making them uninteresting to me personally but the style of music is something I may have enjoyed had subtitles been included.

Next up, we have several "Making Of"'s for:
- Special Makeup (14:12)
- Music (5:46)
- Film (32:40)
All are made up of interviews with various members of cast and crew and behind the scenes footage. All are by the book featurettes and some interesting tidbits are to be found including having to use 8 hour make-up application on cast members for dead bodies instead of the usual dummies that take two months to construct. This was due to budget constraints. Also, crew working on special effects watched over 150 horror movies in order to come up with ideas for their own death scenes. Director Yoon Hong-Seung knows exactly what film he has made here and is obviously proud of his efforts, coming across as a wholly professional individual with ambition. These featurettes are all worth a watch and a welcome addition to the package.

"What is Terracotta Festival?" featurette (2:28) is basically an advert for Terracotta's annual Far East film festival and boy, does it look like a fun, interesting and very personal festival experience that I know I would love to attend. I'm definately going to keep an eye out for 2012's details.

Next up, some weblinks under the heading "About Terracotta".

Some trailers play at disc start-up:
- "Hansel & Gretal"
- "Big Tits Zombie"
- "Breathless"

and some bonus trailers are viewable via the extras menu:
- "Big Tits Zombie"
- "The Detective"
- "Hansel and Gretal"
- "The Fox Family"
- "Revenge: A Love Story"

We end the extras with a UK trailer running two minutes, twelve seconds.

Overall


High end of average horror film taking the best parts of some great movies but not doing those parts to quite the same standard but still doing them justice. The picture quality leaves a lot to be desired but sound is good and the extras package worthy of viewing. Hopefully the next film in this new Terrorcotta range (Revenge: A Love Story) will receive a better transfer and be a better film. If you're a fan of horror you could spend your money on a lot worse than this and I would recommend you rent this to see if you like it before buying it. If you find it at a nice price point, pull the trigger.
| | | | | |
| --- | --- | --- | --- | --- |
| The Film: C+ | Video: D+ | Audio: B- | Extras: C+ | Overall: C+ |