The Film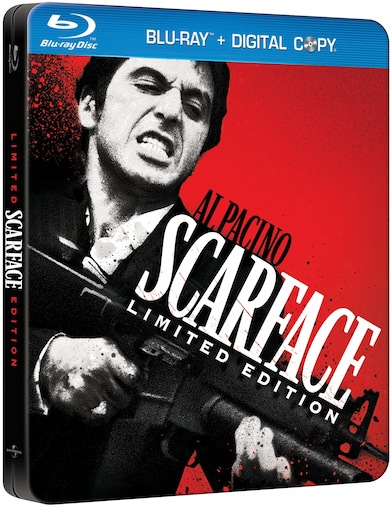 What more could possibly be said of Brian De Palma's epic criminal masterpiece, "Scarface" (1983), that hasn't already been written a hundred different ways a thousand different times? Almost anyone with a mild affinity for cinema has seen this classic of the gangster genre. It's endlessly (exhaustingly) quoted by fans and in films and on television. Even people who haven't seen the film can probably quote a line or two. That's when you know a film has reached a point of total saturation, when it's completely ingrained in the cultural lexicon. I'm willing to bet many of the people who quote it (usually incorrectly) have never sat down and properly digested all 3 hours of the film. And, really, shame on them because they're missing out on one of the most indulgent, self-destructive, macho, ambitious and dangerous characters in all of film: Tony Montana. Whenever Al Pacino makes another one of his recent, lazy pictures, just pop this in to remind yourself why he's so revered today. This film would have been NOTHING without his performance, and that's no hyperbole. Everything he brings to the role, every small nuance in his performance, his mannerisms, are what makes Montana one of the most enduring characters in cinema. He lives the life that many people can only dream of living, minus, you know, the part where we get killed shortly after attaining such wealth & power.

Do I really need to recap the story for you? Ok, here it is, quick & condensed. Tony Montana (Al Pacino) arrives as a Cuban immigrant to the pastel nightmare of early 80's Miami. He gets his hands dirty for a few friends and – BANG! – the guy's dealing dope on the streets, picking up "a mil here, a mil there". Tony has big plans, though, and the way he sees it everyone is either in his way or out to get him - except, of course, for his right-hand man, Manny (Steven Bauer). He quickly grows tired of his boss, Frank (Robert Loggia), giving him orders, so, naturally, he relieves him of his duties and begins an astronomical ascent to the top of the drug food chain. We're treated to musical montages of flashy cars, big houses, and even bigger piles of coke, while E.G. Daily's "To The Limit" pumps through the speakers. Montana feels like he's indestructible, but nobody can burn that bright for that long, and it's only a matter of time before he pisses off the wrong people in this organization where killing is as routine as talking.

"Scarface" wasn't the most well-received film of 1983. In fact, most critics lambasted it for glorifying violence and drugs. Hell, Leonard Maltin only gave it a ½ star! At least Roger Ebert recognized De Palma's genius, awarding the film 4 stars and putting it on his list of the year's best films. Coincidentally enough, screenwriter Oliver Stone had quite the cocaine problem at the time, so it would be natural to assume some of that glorification was intentional. It wasn't just Stone's love of the drug, however, that had an influence on the script. Miami was in the midst of some serious drug wars, and the kind of violence seen in the film was wholly indicative of the problems facing the city in the early 80's. In some ways, the reality was actually worse. So bad, in fact, that the Miami city council wouldn't allow De Palma to shoot the film there, leaving Los Angeles to be bathed in primaries as a substitute for Miami's colorful palette.

There's a well-known story about the violence and subsequent ratings drama surrounding "Scarface" which I'll repeat here since it's still a great story. De Palma submitted the film to the board and received an "X" rating… three times. Finally, he brought in some narcotics officers who testified that the film was accurately portraying how the criminal underworld operated, so the board relented and awarded De Palma the "R" rating. Well, he figured if the third cut of the film was going to get an "X" rating, and now it's "R", then the first cut should've passed as well. Besides, nobody at the studio knew the difference between the cuts except for him. So, he went back to his original cut of the film and submitted it to the studio, who released it being none-the-wiser. Many of the cuts I've read about that were requested sound minor, but I can imagine them greatly changing the impact that the film had, and continues to have, on viewers.

Since those days of 1983, the film has become a cultural behemoth. It's all over posters, bath towels, bobble heads and every other piece of crap that companies can merchandise to consumers eager to snap up everything with Montana's face on it. And that only further proves how much acclaim it has garnered in the nearly 30 years since its release. Coincidentally enough, in recent weeks Universal Studios announced they would be making a new, updated version of "Scarface" (there was also a 1932 version directed by Howard Hawks). And you know what? $10 says they hire some up-and-coming hip hop artist to play the lead because there's some magnetic draw this film has for rappers. I'm sure most fans of this film will remember Universal's reviled special edition DVD that contained a ton of new bonus features… all focusing on hip-hops love of Tony Montana's story. The only people who gave two craps about that were the ones interviewed and maybe a couple of their fans. Then the unthinkable came, and Universal actually asked De Palma how he'd feel about them re-releasing the film into theaters with an all hip-hop soundtrack provided by artists who were influenced by it. He wisely turned them down, though I'd prefer to think he used stronger language to make his point clear. That would've been some of the worst revisionist cinema since anything George Lucas has done to his own franchise. De Palma more than got it right the first time, and he clearly knows it's better to leave well enough alone. After all, this is Tony Montana, and to paraphrase him, you don't "f*ck-a wit de best!"

Video


Fans of this film have had to make due with some truly terrible presentations throughout the years, so this 2.35:1 1080p 24/fps VC-1 encoded image should please almost everybody. I say "almost" because there are still a few deficiencies that prevent it from being superb, but more on that in a bit. This is a film that is bristling with primary colors in almost every scene, and they absolutely pop on the screen. Some shots have less depth than others, but the mis-en-scene of the picture means that we're often treated to a great amount of detail in every frame. This is easily the sharpest the image has ever looked, although at times you'll spot some edge enhancement. I've grown accustomed to seeing this film look less-than-perfect for years now, so it doesn't tend to bother me as much. As I said, this is certainly the sharpest, most crisp presentation seen yet, but it also appears that there has been some DNR applied to the image, leaving some surfaces with that dreaded waxy look. This isn't nearly as bad as some of Universal's more recent hatchet jobs, but it's definitely there and it may definitely bother some people. I think your average home video viewers won't think twice about it, but serious videophiles will bemoan its presence. Don't let any of the negatives scare you away, though. This is a really splendid picture, looking better than we've ever seen it before.

Audio


I know there are some who don't like the English DTS-HD Master Audio 7.1 surround sound track mixed at 48 kHz/24-bit because of the added gunfire effects that sound a little too modern in this vintage film. And they're right, although most viewers aren't likely to notice them unless they heard the original mix (and remember it) back in '83. It doesn't bother me any. I expect "Scarface" to have some balls, and let's face it, the only scenes that are going to pack a decent punch for your surround sound system are those involving gunfire. Dialogue is perfectly balanced, even during some of the film's most quiet moments. Giorgio Moroder's beautiful electronic/synth score has never sounded better, pumping through the front channels in fantastic clarity. This is a score I wished they'd included with the Blu-ray, because from the opening notes up through the end of the picture, it's a wonderful composition. Complementing Moroder's notes is a hilariously dated selection of 80's tunes, a few of which were done by a young Elizabeth Daly. Get excited, because all your favorite hits - "Take it to the Limit", "She's on Fire" – blast through every channel, making you feel like you're back in a 1983 Miami nightclub. They're cheesy, but a memorable part of the film for any viewer. The LFE track jumps to life during some of the music, but it gets the best workout during the raid on Montana's compound. When Tony's little friend says hello, you're going to feel it almost as much as the bad guys do.
There is also an English DTS 2.0 surround track included, as well as French and Spanish DTS 2.0 mono tracks. Subtitles are available in English for the hearing impaired, French and Spanish.

Extras


The extras included here on "Scarface" for its Blu-ray debut are a mix or old and new. There's a new documentary on the film, along with some old featurettes and deleted scenes. Also new to this release are two U-Control tracks (though one was used on a previous DVD before). The film also includes a download code for a digital copy that can be used on Apple, Android and Windows devices. Very generously, Universal has also included the original film, "Scarface" (1932), on a DVD inside the package. The attractive Steelbook case is rounded out with 10 art cards.

DISC ONE: BLU-RAY

"Picture-in-Picture" is a U-Control interactive feature which, when turned on, will pop up a small window on-screen featuring interview clips with the film's cast & crew to discuss something anecdotally relevant to the scene shown. Some of these clips are culled from the bonus materials, but there's also some information here not found anywhere else on the disc. It's highly informative and a great alternative way to enjoy the film if you've already seen it a few dozen times.

"Scarface Scoreboard" is a second U-Control interactive feature, but all this one does is keep an on-screen tally of how many F-bombs and bullets fly during the film.

"The Scarface Phenomenon" (1080p) is a multi-part documentary that runs for 39 minutes and 32 seconds. It can be watched all at once, or in three individual segments:

- "Say Hello to the Bad Guy!" runs for 11 minutes and 22 seconds. The film was highly controversial upon release, and this takes a look at what critics around the country were saying when it hit theaters. The film's almost-X rating is also discussed.
- "Pushing the Limit" runs for 13 minutes and 31 seconds. The film features a great deal of violence, much of which was considered extremely shocking when it debuted. And, to this day, still shocks viewers new to the film.
- "The World and Everything in It" runs for 13 minutes and 39 seconds. Since its release, the film has become a global phenomenon. See how much it has influenced pop culture and entertainment, and learn how easy it is to market anything with Montana's face or dialogue on it.

To be completely honest, this new documentary was terrible. How can they expect fans to take it seriously when they're interviewing local Fox News airhead Jillian Reynolds about the film? Have they ever heard her speak? I'd rather stick my head in a burning oven full of bees and poisonous snakes than listen to her endless droning. You know what they should have included? The best bonus feature this film has ever seen, "The Making of Scarface" documentary that was found on the original Universal Collector's Edition DVD. It ran for around 90 minutes (if I remember correctly) and was utterly fascinating. I kept my old DVD just to insure I can always watch it. People actually had to waste time and money on this new doc, when I'm sure the old one could have been repurposed for this release with ease. Puzzling.

A reel of deleted scenes (480p) runs for 22 minutes and 29 seconds. These are rough, but it's interesting to see what De Palma wanted to leave on the cutting room floor.

"The World of Tony Montana" (480p) is a featurette that runs for 11 minutes and 38 seconds. Former narcotics agents discuss what life would have been like for the Tony Montanas of 1980's Miami's drug-fueled culture.

"The Rebirth" (480p) is a featurette that runs for 10 minutes and 8 seconds. Producer Martin Bregman discusses how he came to produce this remake of the 1932 classic. De Palma needed a hit coming off the failure of his last picture, and Pacino loved the idea of remaking a film he admired.

"The Acting" (480p) is a featurette that runs for 15 minutes and 5 seconds. This is a film that employs a stellar cast in every key role, and now you can learn how and why these actors were selected for their roles.

"The Creating" (480p) is a featurette that runs for 29 minutes and 34 seconds. This lengthy piece looks at the film's behind-the-scenes production, learning how the filmmakers crafted sets and composed shots that are now iconic. We learn a great deal about shooting locations (and their problems), how scenes came together, the ratings drama, production design and a lot more.

"The Making of Scarface the Video Game" (480p) is a featurette that runs for 12 minutes and 5 seconds. I'm not a gamer, but it looks like they amassed an impressive voice cast for this 2006 video game. Think of it like Grand Theft Auto, but with Tony Montana as the lead.

"Scarface: The TV Version" (480p) is a featurette that runs for 2 minutes and 48 seconds. See some comparisons between the theatrical cut and the heavily-edited for TV version, which surprisingly retains much of the film's intent despite lessening its impact tremendously.

Universal's "My Scenes" bookmarks feature is available, and it might actually come in handy for nailing down your favorite scenes in this 3-hour epic.

The disc is D-Box Motion Code enabled for those who have the required home theater gear.

BD-Live functionality is also present, although no content specific to the film is available as of this writing.

You can also use the pocketBLU app with this disc. I'm not sure what the remote app can do that my remote can't, but this is another useless Blu-ray feature that Universal can't seem to stop pushing. Meanwhile, they clearly couldn't be bothered to include teaser and/or theatrical trailers on this damn release.

DISC TWO: DVD

How can you top an extra as awesome as this? The original 1932 version of "Scarface", starring Paul Muni, has been included here. This is the exact same disc that was issued a few years ago, only now it's included here alongside its more famous film incarnation. The two movies might seem like they only have a name in common, but many themes and situations are mirrored, making this a fascinating film for "Scarface" (1983) fans to explore.

An alternate ending is included here as a supplement.

Packaging


Did you think Tony Montana was going to make his debut on Blu-ray in some cheap plastic case? F*ck that! "Scarface" arrives in a 2-disc Steelbook case that's quite attractive. The crimson case features artwork of Tony on the front along with his insignia on the back. Inside, both discs are housed on one side using an overlapping design. Tucked away in the front are a series of 10 art cards selected online for this release. An insert included in the set contains the download code to use for obtaining your digital copy of the film.

Overall


It's a classic now available on Blu-ray. Stop reading and buy the damn thing!
| | | | | |
| --- | --- | --- | --- | --- |
| The Film: A | Video: B | Audio: B+ | Extras: A | Overall: A- |