The Film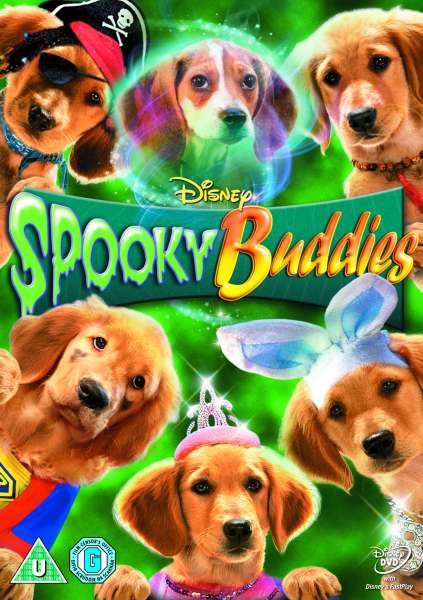 Disney are well known for their direct to video output these days as they are for their cinematic offerings, mainly thanks to the appeal of DVD/Blu-ray compared to VHS and parents buying the Disney 'tag' as a surefire way of getting a bit of peace and quiet when their kids are doing their nut in. The 'Buddies' series of films have become some of the most well known of Disney's DTV output and "Spooky Buddies" is the twelfth of the series in 14 years following "Air Bud", "Air Bud: Golden Receiver", "Air Bud: World Pup", "Air Bud: Seventh Inning Fetch", "Air Bud: Spikes Back", "Air Buddies", "Snow Buddies", "Space Buddies", "Santa Buddies", "Treasure Buddies" and "The Search for Santa Paws". So are these just invariable cash-ins on the Disney name, or are these worthwhile features that are fun for both parents and children alike?

The synopsis for "Spooky Buddies" from Disney reads:
The quintet of irresistable talking puppies, Disney's lovable "Buddies" are back for a ghoulish good time in a fantastic all-new Halloween-themed adventure, "Spooky Buddies". Overflowing with trick-or-treat action, the 'Buddies' films are favourites of family and kids of all ages. "Spooky Buddies" continues the overwhelmingly popular franchise that features the adorable talking puppies, with action, laughs and fast-paced adventure. In this latest movie c aper, the lovable canine clan find themselves in a mysterious mansion, with no less than the fate of the world hanging in the balance as they must stop a dastardly warlock from his plans for world destruction.

So where to start? Well, the storyline isn't particularly great with a script that feels as though it has been used for many Disney Channel Halloween episodes and just changed slightly. The dialogue can be rather annoying, with kids using gangster ("Yo dawgs, check dis") talk despite being of an obvious good background, living in a typical 'Disney' middle-class neighbourhood and being good friends with the local cop. Such good friends in fact, that one thing the cop did really annoyed me, kids film or not. He gave Billy (Skylar Gisondo, "Halloween" remake) a scepter from the crime files saying it was OK to give him evidence from a cold case?!? Of course, the scepter is integral to the story so I guess it can be forgiven.

The casting of the kids is reasonably good and although none of them are great, they all put in adequate performances and will probably cruise through their lives in TV movies for Hallmark or the like. Unfortunately, the voice casting felt rather poor. Sometimes off-kelter and out-of-place, the biggest offender was G. Hannelius, the voice of Rosebud. The casting of the adults was just as bad, especially Harland Williams who was horribly miscast as baddie Warlock Warwick. Rance Howard as the graveyard guy and owner of cursed dog Pip was probably the best actor on show and even he seemed to just phone-in his performance.

On to the best bit of the feature, the special effects. Whilst the mouth movements of the buddies sometimes looked poor, the rest of the special effects were generally quite good. The ghost version of 'Pip' was of particular note looking of similar quality to the ghosts from 1994 film "Casper" (which still holds up well today). There was also a nice special effect to do with a dog farting, which, admittedly, made me laugh and rewatch that segment. Some of the effects though are probably a little to scary for the youngest of kids, such as the Howloween Hound, and although children will undoubtedly love this outing of the 'Buddies', adults won't, so you'll want to make sure your kids can handle the mildly scary parts or you might end up having to watch this with them.

Video


Disney have provided "Spooky Buddies" with an anamorphic transfer in the original aspect ratio of 1.78:1 and it is mighty good and the best part of this disc. I spotted no visible damage and the clarity and sharpness between the many dark colours throughout the feature was excellent. Not reference material, but very good.

Audio


Three tracks have been provided here, English (original language), Dutch (dub) and French (dub), all in Dolby Digital 5.1. The ambience throughout was good and the surrounds added well to the atmosphere. Horror films aimed at adults often overuse the LFE for cheap scares but "Spooky Buddies" is just right for what it is. A great audio track. Subtitles have been provided in Dutch, English, English HoH and French.

Extras


The extras start with a nice little play on MTV's flagship show "Cribs", although this time it's called "Digs" and we are shown around Rosebud's home. The segment runs just under four minutes and is entertaining enough to watch through. This might be lost on the younger kids though.

Next up is a "Monster Mash" music video lasting just under three minutes. It's been Disneyfied and mixes three of Disney's newer stars singing and rapping along with scenes from the fancy-dress party in the main feature. It's not as upbeat as your usual Disney musical outing which makes for a refreshing change, but the rapping did spoil it for me.

Also included on the disc is a sneak peak into "Treasure Buddies" lasting just over four minutes. Starring Richard Riehle and the usual kids and puppies, "Treasure Buddies" will be the next "Buddies" film released on DVD in the United Kingdom and is essentially more of the same. This short featurette tells us enough to let us know that if you liked previous 'Buddies' installments, you'll likely dig this.

The main extras end with what is essentially a four minute advert ("Discover Blu-ray 3D with Timon & Pumbaa") aimed at getting kids to scream until their parents give in and upgrade to 3D. This introduction has some good humour to it and it was fun to watch for Disney faves Timon & Pumbaa.

The extras end with a bunch of bonus trailers which play on disc start-up and are also available from the main menu, and not the extras menu:
- "The Lion King" (1:14)
- "African Cats" (1:10)
- "Treasure Buddies" (0:54)
- "Lady & the Tramp" (1:13)
- "Disney Rewards" (0:22)
- "Club Penguin" (0:35)
- "Secret of the Wings" (0:50)

Overall


Kids will love it, adults will not. If your kids will watch this alone and won't get scared to easily, pick this up and get yourself 85 minutes of peace. The extras won't really keep them entertained and are a little underwhelming by Disney's usual standards but picture and audio quality is good.
| | | | | |
| --- | --- | --- | --- | --- |
| The Film: D+ | Video: B+ | Audio: B | Extras: D+ | Overall: C |