The Show

Morecambe and Wise: Two of a Kind - Series One (1962)

(Please note that despite being labelled as 'series one', this release in fact seems to contain the episodes from the second series of Two of a Kind.)




John Eric Bartholomew (Eric Morecambe) and Ernest Wiseman (Ernie Wise) had worked together as child performers in the years surrounding the Second World War, but it was in the late-1960s and early-1970s that their work as comedians hit its peak with their popular BBC series The Morecambe & Wise Show (BBC, 1968-77). Their long-standing working relationship, on stage, radio and screen, evidenced itself in a warmth and chemistry that few double-acts could match. Their first radio show, You're Only Young Once, had been broadcast by the BBC in 1953, and their first television series, Running Wild (BBC, 1954), ran for just six episodes. Running Wild was heavily criticised at the time of its original broadcast, and although no episodes of the series remain in existence Louis Barfe suggests that '[i]t seems likely that the series was nowhere near as bad as had been made out, merely mediocre' (Barfe, 2008: 147). Following the critical failure of Running Wild, Morecambe and Wise 'found themselves having to rebuild their reputations almost from scratch' and vowed 'never again to go along with advice they didn't agree with, no matter how exalted or experienced the adviser' (ibid.: 148). For a while, they retreated into variety shows such as Sunday Night at the London Palladium (ATV, 1955-67, 1973-4); after a number of such appearances, Morecambe & Wise's agent Billy Marsh approached Lew Grade and proposed a new series featuring the pair. However, although Grade 'agreed that they'd come a long way from Running Wild, [he] did not think they were worth the risk' (ibid.: 149). Nevertheless, after Marsh approached the BBC with a similar proposition, Grade reconsidered and commissioned Two of a Kind (ATV, 1961-8).

For Two of a Kind, Morecambe and Wise's writers were Sid Green and Dick Hills, both of whom were former teachers. Louis Barfe suggests that in Two of a Kind, Morecambe and Wise's act conformed to the 'classic double act of straight man and idiot', but over the years 'the dynamic of their on-stage characters would later change and become more complex and rewarding' (ibid.: 150). Earlier in their career, the pair had apparently sometimes switched roles, with Eric taking the role of the 'straight man', and this state of flux (in terms of which of them would be defined as the 'straight man' and which of them would be defined as the 'buffoon' in the act) would continue throughout their careers: in their later BBC series, Ernie arguably took on the role of 'buffoon' as much as Eric, and the effect of this was a deeply comic unpredictability. Nevertheless, as Louis Barfe notes, whether the sketch demanded him to be the straight man or the buffoon, 'Eric's role in the partnership [was] as a disruptive agent', disturbing his stage partner's plans or interrupting and undermining his monologues (ibid.).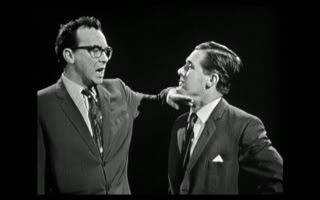 Two of a Kind got off to a shaky start, with Sid Green and Dick Hills taking some time to learn how to write for the show's two stars: an early point of contention was Green and Hill's tendency to overfill sketches with too many comic characters, and later they would learn to focus more closely on Eric and Ernie's stage personalities. Nevertheless, once it found its feet the series proved to be very popular, leading to Eric and Ernie's first feature film, The Intelligence Men (Robert Asher, 1965). Eventually, in 1968 Morecambe and Wise left ATV for the BBC; this was the opposite of the trend at the time for comedians to start working at the BBC and then 'jump ship' to ITV for more money (ibid.: 231). Their BBC show, The Morecambe & Wise Show, offered an expanded time slot, which allowed more space for their music hall-derived mixture of comedy and musical guests. The introduction in the second series of a new writer, Eddie Braben, enabled an expansion of the comedians' scope: aside from the sketches and monologues that were also present in Two of a Kind, Morecambe and Wise's BBC show incorporated elements of situation comedy.




Nevertheless, much of what viewers praised in Eric and Ernie's BBC series is present in Two of a Kind, and this ATV-produced series introduced many of the catchphrases and running gags that continued through the later The Morecambe & Wise Show. For example, Eric and Ernie's monologues, familiar from their later BBC series, are in place: their to-the-audience pieces where Ernie's solemn comments are undercut by Eric's lighthearted parody of ignorance. For example, in the second episode Ernie tries to talk about science but is continually undercut by Eric. 'It's not really your cup of tea, is it?' Ernie tells Eric. 'I don't like tea anyway', Eric responds; and as Ernie continues his monologue, Eric distracts the audience with his famous and much-loved paper bag trick. Most strikingly, the sixth episode contains a precursor of the famous 1971 sketch from The Morecambe & Wise Show in which Eric plays the piano in front of Andre Previn (who he introduces as 'Andre Preview'). Elsewhere, in the fourth episode, there is also a hint of Ernie's famous 'plays what I wrote' when a po-faced Ernie presents a scene from Julius Caesar which is interrupted by Eric's failure to know either his role or, more fundamentally, his lines.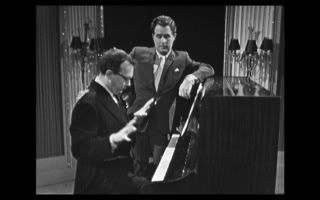 Like the later BBC series, Two of a Kind features the traditional variety format, with sketches and comic monologues interspersed with performances by musical guests such as the Kaye Sisters, Kenny Ball and his Jazzmen and the Beverley Sisters. In fact, from the outset these episodes have a very clearly-defined structure: each episode opens with a parody of a well-known television genre or programme, followed by a comic monologue in which Eric undercuts Ernie, which is followed by a sketch, which is followed by a second musical number, and so on.

Some of the parodies of specific television programmes are very well done. Episode two opens with a parody of the then-popular American import show The Flintstones (Hanna-Barbera, 1959-66), 'The Flintrocks'. Episode four begins with a parody of Supercar which is reminiscent of the Peter Cook and Dudley Moore's famous 'Superthunderstingcar' sketch from the 1966 series of Not Only… But Also (BBC, 1964-70). Elsewhere, there is some great wordplay which is enhanced by the duo's impeccable comic timing: for example, in one sketch the pair dress up as characters from 'Alice in Wonderland'. 'I'm Alice', declares Ernie. 'There's a town like you', Eric adds. 'A town like me?', Ernie asks. 'Yes: Crewe', Ernie declares.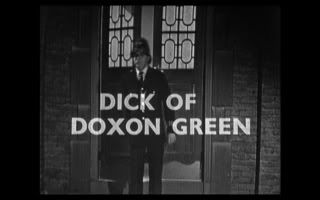 Disc One:
Episode One: 30/6/1962 (25:26)
Episode Two: 7/7/1962 (25:31)
Episode Three: 14/7/1962 (25:30)
Episode Four: 21/7/1962 (25:23)
Episode Five: 28/7/1962 (24:37)
Episode Six: 4/8/1962 (25:28)
Stills Gallery (11:06)

Disc Two:
Episode Seven: 11/8/1962 (25:05)
Episode Eight: 18/8/1962 (25:23)
Episode Nine: 25/8/1962 (25:51)
Episode Ten: 1/9/1962 (25:22)
Episode Eleven: 8/9/1962 (24:51)
Episode Twelve: 15/9/1962 (25:18)
Episode Thirteen: 22/9/1962 (24:59)


Video


The (monochrome) episodes are presented in their original broadcast screen ratio of 4:3. The series was shot on videotape in a studio environment, so the episodes have a harsh, sometimes ugly appearance to them. Nevertheless, their presentation on this DVD release is good, and the break bumpers are intact. However, there is some noticeable tape damage: for example, there is some quite severe damage during the opening titles of episode two.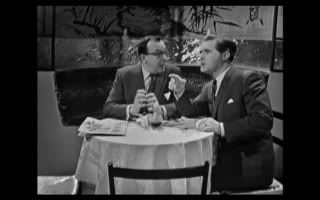 Audio


Audio is presented via a two-channel mono track. This is mostly clean, but due to the age of the materials there are some dropouts during a few of the episodes. Sadly, there are no subtitles.

Extras


Disc one includes a stills gallery containing images of Morecambe and Wise during their appearances on Sunday Night at the London Palladium, Saturday Spectacular, The Jo Stafford Show and Two of a Kind.

Overall


Two of a Kind is an excellent release for fans of Morecambe and Wise. The series is arguably the equal of their later BBC programme The Morecambe and Wise Show. Perhaps one of the few criticisms that could be levelled against Two of a Kind is due to the brevity of the episodes: so much of each 25 minute-long episode seems to be taken up with musical performances from Eric and Ernie's guests, with each show containing three musical numbers. However, this is a minor grumble, and this release comes with a very strong recommendation.


References:
Barfe, Louis, 2008: Turned Out Nice Again: The Story of British Light Entertainment. London: Atlantic Books

Oliver, John, 2003: 'Morecambe, Eric (1926-1984) and Wise, Ernie (1925-1999) Biography'. [Online.] http://www.screenonline.org.uk/people/id/573767/


For more information, please visit the homepage of Network.

This review has been kindly sponsored by:


| | | | | |
| --- | --- | --- | --- | --- |
| The Show: | Video: | Audio: | Extras: | Overall: |