The Film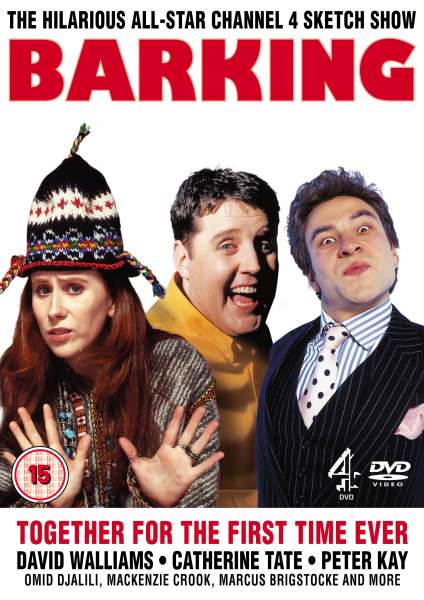 A lot of people don't realise how much history the simple sketch show is steeped in. Starting with origins in Vaudeville, it all started as a way of bringing together smaller acts into one larger show. It came to the UK by way of the stage, most notably by Cambridge Floodlights, before becoming popular in radio shows like It's That Man Again. It finally became popular on television however, with thanks to the world renowned Monty Python gang, eventually moving into it's own sub-genres, such as satirical slams from Not the Nine O'Clock News and even impression shows. In more recent years, we've seen many of these shows focus on recurring characters, like The Fast Show, Little Britain, The League of Extraordinary Gentlemen and Barking.

The synopsis for Barking from Acorn Media reads:
You donít have to be barking to enjoy this DVD Ė but it certainly helps! In 1998, in a town not far from you, the up and coming comedians of the day got together and wrote an hilarious sketch show for Channel 4. The result was Barking. These comedians further developed these characters and ideas and are now big stars, writing and starring in their own shows and regularly touring nationally. But it all started here for Mackenzie Crook, David Walliams, Omid Djalili, Peter Kay, Dave Lamb, Rhys Thomas, Catherine Tate, Marcus Brigstocke, Matt Lucas and many more.

A lot of the cast from Barking have since gone on to have good careers. Mackenzie Crook hit it big as Gareth in the BBC's hit comedy The Office with Ricky Gervais, David Walliams and Matt Lucas did Little Britain, Omid Djalili was in the massively successful Hollywood movie The Mummy and has had several shows of his own, Peter Kay became the most stand-out stand-up of the decade with sold out venues around the country and made Phoenix Nights whilst Catherine Tate had a self-titled show on the BBC and co-starred in long running sci-fi show Doctor Who. The real question is, did the talent from all these well established comedians shine through at the start of their television careers?

Well, as far as sketch shows go this is as hit and miss as any other but it's safe to say, these comedians are good, even if they don't always hit the mark. One of the biggest surprises for me was seeing David Walliams as an eccentric random guy in London getting up to all sorts of daft exploits. Not a surprise in that it was funny, I'm a fan of Walliams, but a surprise in the way we see many of this character's traits used for different characters in Little Britain (such as "a-a-aaaaaah"). I'm a big fan of Peter Kay's stand-up and a huge fan of Phoenix Nights so seeing him here was also rather good, although this is far from the standard he is capable of.

Overall, if you're a fan of the comedians involved and like sketch shows, this is worth a look but it's a 50/50 hit and miss ratio.

Video


Barking is presented in the original aspect ratio of 1.33:1 and looks just like I imagine it did 1998. Clarity is good and although I doubt any work has been done to the quality, it has no damage and more than adequate.

Audio


Just one option here, English Dolby Digital 2.0 Stereo. There is no damage to the track and no background hiss. Volume levels are consistent and dialogue always perfectly clear. Seperation could've been used a little more as it's rather minimal, but like the picture, more than adequate. Optional English subtitles have also been included. White and clear, the subtitles are well placed and move at the right pace.

Extras


None.

Overall


The hit/miss ratio in the sketches is about 50/50 but it's good fun seeing some of the early work of now established comedians. Picture and sound is of very good quality.
| | | | | |
| --- | --- | --- | --- | --- |
| The Film: C+ | Video: B | Audio: B | Extras: F | Overall: C+ |