The Film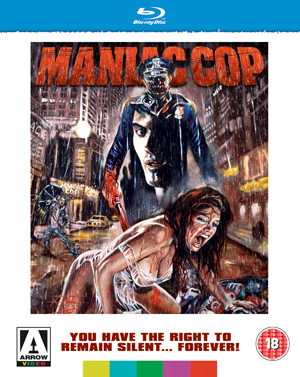 Maniac Cop. Say that to yourself a couple of times. Isn't that just a cool movie title? There were lots of its kind in the '80s. Predator; Robocop; Terminator; even Exterminator! That was one of the earlier ones, but still, those titles alone evoke memories of grown-up ultra-violent fantasy cinema that sounded even better when you were a kid and not allowed to see them, but you did anyway, even if you had to wait for a Friday night TV showing to sneak downstairs and watch it with the volume right down. The 18 certificate was a target not a warning, and you know what? Despite the violence, those films were far more innocent than the run of miserable and forgettable torture-porn horror we're suffering at the moment. To add insult to injury, today's kids are drowning in multimedia only aimed at them and have nothing to aspire to, with bloodless Terminator and Die Hard sequels getting 12A ratings anyway. Where's the fun? The daring sense of abandon?

Luckily we grown-up kids can capture the nostalgia again with releases like this. In truth, Maniac Cop is only average, but the story is simple enough to help your imagination fill in the short-fall: innocent people are being murdered, for no reason at all, not even a serial killer pattern. And to make it worse, witnesses claim the killer is a police officer. Panic sets in and soon Jack (Bruce Campbell) is implicated when his wife is killed following her finding out he was having an affair. Now he, his cop girlfriend Theresa (Laurene Landon) and the unpopular detective Frank (Tom Atkins), who broke the story to the media, have to prove that the Maniac Cop is in fact supposedly deceased and disgraced hero Matt Cordell (Robert Z'Dar).

As you'd expect, the film opens with a murder and it's straightforward nasty stuff. A couple more follow suite and get more outrageous (e.g., suffocating in wet cement!). The Maniac Cop is a big imposing fella and he doesn't have to move much to scare the crap out of his victims or us. There are a couple of poorly paced lumpy moments when Theresa and Frank catch up with him though. Director William Lustig clearly struggles to inject excitement while trying to keep the killers face hidden. Luckily it picks up again following an attack on a police station where Jack is being held and the final act is a heck of a lot of fun because we can see Matt Cordell (not to be confused with last year's X-Factor winner. That would be awkward!) in daylight and his low budget make-up is a satisfying mix of hilarious and horrific. Exactly what you want from a movie like this!

Bruce Campbell is a bit more subdued than in the Evil Dead films and he's not a great actor, but he's still reliably Bruce Campbell and that makes Maniac Cop 20% cooler than if he wasn't in it. Tom Atkins too is great value. Most will know him from his small but memorable Lethal Weapon role and he strikes a good balance between being a dedicated hero and a nutty loner (the "you don't smile" moment is a highlight!). I wish veteran Richard Roundtree had more to do as the Commissioner, but still, like Campbell, at least he's there.

Even if you haven't seen it, you probably already know what to expect from Maniac Cop. Aside from a couple of cracking lines and crazy but welcome plot developments trying to turn Cordell into a Michael Myers with a badge, the script is predictable and basic, like the rest of the production. But it's great fun and it'll make you want to dive into the hopefully still trashy sequels.

Video


Presented at 1.78:1 1080p (AVC MPEG-4), the image overall looks pretty good considering the age, but it is an inconsistently grainy and damaged print. Colours are washed out, but that dirty New York neon cheap look is typical of the era anyway. I don't think you really want this sort of film to be cleaned up too much, so the Blu-Ray gives it just the right boost to make it watchable.

Audio


Like the video quality, audio is typical of the films age. The English LPCM 2.0 Stereo track might have been interesting if it could have been remixed to 5.1, but then again, there isn't much to work with. For instance Jay Chattaway's cheesy score is well suited, but I doubt it would benefit from an upgrade. English subtitles are included and are unlocked.

Extras


"Doomed Detective: Tom Atkins on Maniac Cop" featurette
"Lady of the Night: Laurene Landon Remembers Maniac Cop" featurette
"Scripting a New Slasher Super Villain: Larry Cohen on Matt Cordell" featurette
TV Spots
2 Theatrical Trailers

Extras are intriguing, if not thorough. Tom Atkins has some rambling anecdotes (he also gives an odd introduction to the film, be warned, with a spoiler of sorts!) and Laurene Landon relates how she got into acting and this part in particular, which is interesting because she doesn't come across as well as she does when she's acting in the film. It's a good insight to how the business sometimes works. The best interview is with Larry Cohen, where he talks about the franchise and his other movies, which are often similarly low budget shockers, like Q The Winged Serpent. Also included are two trailers and TV spots.

Overall


Maniac Cop is a film of its time and this release does little to try and change that, thank goodness. It's not a clever film, it's not even that well made, but it is outrageous fun and should be embraced. And Hollywood should take note that maybe audiences don't always want photo-real CGI, Oscar worthy casts and insightful metaphors. We just need a big bastard with a knife, daft dialogue and producers with a "don't give a damn" ambition.
| | | | | |
| --- | --- | --- | --- | --- |
| The Film: C+ | Video: C- | Audio: C- | Extras: C+ | Overall: C+ |