Red Psalm AKA Még kér a nép
R0 - United Kingdom - Second Run
Review written by and copyright: Jon Meakin (2nd November 2011).
The Film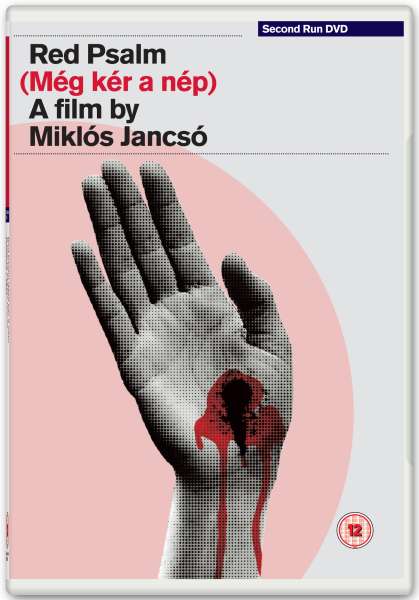 I must admit straight from the start that it's difficult for me to put Red Psalm into context. My knowledge of 19th century peasant uprisings in Hungary is limited! But that doesn't stop me appreciating the astounding craftsmanship and passion of director Miklós Jancsó.

The film flows beautifully. Made up of just 26 shots, editing is at a minimum, yet the camera feels like it is a graceful observant, whereas other examples of editing within the shot by using position and focus can sometimes feel aggressive and contrived, like they had to force events to fit where the camera was. This is very much the other way around and it is astonishing how well it works.

You might be thinking that such a task is easy if the cast and location is small and easily managed, but this is not the case. There are probably about a dozen principal cast members with recurring specific roles, but there are a huge number of extras, especially for the army and many of those are mounted while the depth of focus can even change to be tight and personal, or wide vistas. The drama is not limited by method either, with several shootings and a building being set on fire. With the gunplay, there is a small compromise due to the lack of edits. They are bloodless. Victims fall to the ground without wounds, which can give the impression we are seeing something staged, especially when the story is so abstract that it isn't impossible for someone to reappear you previously thought dead!

Red Psalm is essentially a musical with much of the narrative driven by song. They give the film as a whole a rhythm, while the content of the songs is passionate and emotional, as the determined peasants seek to make a stand against the army trying to force their politics. Mini dramas form in between, such as protecting the church (and then not…), an emotional suicide or the officer ordered to shoot the farmers, but can't help himself become intoxicated by their manner and cause. It may take several viewings to understand fully what transpires, but you can expect to become intoxicated yourself.

Video


Red Psalm is an old film, but it looks fantastic on this release in an anamorphic 1.85:1 presentation, with only the slightest marks noticed. Miklós Jancsó's photography is bright and the sense of depth tangible. His focus pulls never fail to amaze considering the scale of the sets and the intimacy of the drama.

Audio


The audio track is remastered mono in Hungarian with a solid presence and is clear throughout. English subtitles are selectable.

Extras


Only one extra on the disc, but it's one worthy of note. It is the third part of Miklós Jancsó's Message of Stones documentary series and runs at a substantial 54 minutes. His study of Jewish culture has been somewhat neglected, so it is to Second Run's credit that they make the effort to include it here. There is also a 20 page booklet included in the case with thorough essays on Red Psalm and cinema of the time.

Overall


Cinema can transcend subject and while you might not think you have and interest in Hungarian politics, Red Psalm is by anyone's standards an incredible film and is worth experiencing. Meanwhile, this is an excellent presentation that should be welcomed by fans of Miklós Jancsó's work.
| | | | | |
| --- | --- | --- | --- | --- |
| The Film: B- | Video: B | Audio: C | Extras: C- | Overall: B- |

---
DVD Compare is a participant in the Amazon Services LLC Associates Program and the Amazon Europe S.a.r.l. Associates Programme, an affiliate advertising program designed to provide a means for sites to earn advertising fees by advertising and linking to amazon.co.uk, amazon.com, amazon.ca, amazon.fr, and amazon.de.