The Show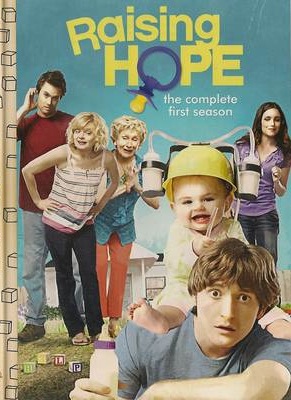 Jimmy: Remember that girl I got pregnant that murdered all those people?
Marcus and Javier: Yeah.
Jimmy: They executed her. I got stuck with the baby.

Meet the Chance family. Jimmy (Lucas Neff) is a listless twenty-something who still lives at home with his parents. When brand new baby Hope is dropped into his lap, the guy, lost in permanent arrested development working for his dad cleaning pools, really has no idea what to do. His mom, Virginia (Martha Plimpton), and dad, Burt (Garrett Dillahunt), can relate: they were teenage parents who kinda did a crappy job raising their son and don't want him to make the same mistakes they did. But the Chance's all love each other anyway, happily living what Jimmy describes as a lower, lower, lower middle class life under a roof owned by Virginia's loopy grandmother affectionately called Maw-Maw (Cloris Leachman). And although Virginia tries repeatedly in the pilot episode to convince her son to give up his daughter for adoption before all of their lives are collectively ruined, by the end of the family's first 22-minute adventure each member accepts that they're in it for the long run. They'll try and raise Hope the right way and maybe do something good in their lives for once.

"Raising Hope" is the latest white-trash comedy from "My Name is Earl" (2005-2009) creator Greg Garcia. Let's not have any pretension here; this is still a sitcom… if a much more palatable single camera one. The story lines are fairly simple, not always original, and pretty predicable. Character relationships are predestined by the formula; at some point Jimmy and Sabrina (Shannon Woodward), the cute checkout clerk at the corner grocery who befriends our awkward young dad in the first episode, will eventually get together. And then maybe break up. And then get together again—it's that Ross and Rachel thing, like always—before the series ends some years down the line. The ratio of flat jokes to actual laugh-out-loud moments is more favorable towards the good side during the course of the season, but that's not to say that all of the gags and jokes work all the time. "Hope" isn't particularly interesting on an intellectual level—although it is surprisingly relevant in today's economic and socio-political climate as one of the few shows to feature characters who are believable members of the so-called 99 Percent—and it most certainly isn't one of the greatest series to ever grace the small screen. But it's quirky characters, funny one-liners, and absurdist faux-low-brow comedy make for a potent, ultimately hilarious, combination that comes together forming one of my favorite sitcoms currently offered by the broadcast networks (second only to "Modern Family" (2009-present) in my mind, and tied with "Community" (2009-present)).

Family and friends have labeled me as an effete snob when it comes to my TV tastes because, as a general rule, I don't watch "god awful" sitcoms. And it's true; I am a snob. I just can't do the canned laughter. I can't do multi-camera, or one-sided soundstage sets. And I prefer a serialized narrative—something with a certainly level of continuity and providing a sense of wholeness to seasons and smaller arcs—which is why I gravitate towards hour-long comedy's and dramas (largely on cable). And yet, mostly because they're not alike and quite a few of them are clever, I've slowly added several of the more unconventional sitcoms on the air to the season pass on my DVR. I do so because these shows are easily digestible in short bursts, during downtime when I have twenty-odd minutes to spare. Three seasons ago I added the double dose of Greendale "Community" College and mockumentary-style "Modern Family", while last year the laugh-track-free "Raising Hope" got the vote (and this year it's "Suburgatory" (2011) that gets a probationary pass, mostly 'cause its "Mean Girls" (2004) meets "Stepford Wives" (1975) vibe is a nice paring of creepy and funny). I admit, it's sort of refreshing to be able to breeze through my entire week of sitcoms in a little over an hour on the DVR; its even more refreshing that, not only are these series funny, but all of them have (an at times exceptionally loose) long-form narrative too.

What I like about "Raising Hope" most is its terrific cast. It's a truly great ensemble, with newcomer Neff showing of a strong comedic sense and Dillahunt revealing a startlingly well groomed funny side I didn't know he possessed (he was, after all, an evil emotionless Terminator in "The Sarah Connor Chronicles" (2008-2009) and there was nothing funny about that character). Plimpton plays Virginia perfectly, giving her the right balance of blissful ignorance and classiness as tasteless as the pack of cigarettes she burns through in an episode, but then she also allows the character to have the warmth of a caring mom and wife who only knows how to show the most undying love to those she cares about. Woodward crafts the many neuroses of Sabrina in a way that's all kinds of likable. Leachman plays it batty and clearly loves every minute of it. And the supporting cast, namely Kate Micucci as Shelley, a dead-toothed girl who runs a daycare for dogs, babies and old people, is just wacky fun too. They way that they all interact with each other is so refreshingly unpretentious.

It sort of goes hand in hand, but there's another reason the show is as good as it is: the quality scripts. The quirky characters who populate the world of "Hope" wouldn't be anything without the cast, but the actors also wouldn't have the characters to play without the well-written and weirdly heartwarming trashiness that seemingly only Garcia can craft in a way that is inoffensively funny. Exactly like he did with "Earl".

I don't want to say that the series is underrated, because it really isn't. The show has had positive buzz from critics since its debut and both Leachman and Plimpton were nominated for Emmy's this year. Clearly, it's a good show and some people know it. I just hope that "Hope" finds a bigger audience in its second season (which has been just as good as the first, by the way) and that Fox continues to give the show support while it grows.

"Raising Hope: The Complete First Season" includes 22 episodes on three discs. The episodes are:

"Pilot"—Jimmy learns that he is a father and decides to keep the baby girl despite the grumbling of his parents.

"Dead Tooth"—Jimmy tries to find a babysitter when he decides to get a real job, only to end up meeting an old fling who complicates his intentions of getting closer to Sabrina.

"Dream Hoarders"—When Hope begins to crawl, the family must baby-proof the house and find new places to store their belongings. They soon discover that Virginia is a hoarder and has been saving junk in the storage shed. Meanwhile, Jimmy makes frequent unnecessary trips to the grocery store to see Sabrina.

"Say Cheese"—Jimmy realizes that he doesn't have any photos with Hope, so he organizes a family photo shoot that very quickly falls apart. Jimmy, Burt and Virginia all flashback on similarly catastrophic photo shoots throughout the years, and realize that they've never had a good family portrait taken.

"Happy Halloween"—Jimmy offers to go to a Halloween party with Sabrina when her boyfriend Wyatt (Ryan Doom) can't make it. Meanwhile, Burt tries to play tricks on his son and Virginia takes her grandmother and granddaughter trick-r-treating.

"Family Secrets"—Jimmy is faced with a decision: should he keep or get rid of the stuff that Hope's mother had in prison? When his own mother says that he needs to protect Hope from the truth, Jimmy comes to a realization that his parents must be hiding something from his childhood and plans to find out what.

"The Sniffles"—Virginia panics when Hope catches a cold. The family has no health insurance, so she makes drastic measures to prevent others catching it. Meanwhile, Jimmy gets a second job in order to take his daughter to the doctor.

"Blue Dots"—Jimmy decides to put Hope in an expensive daycare. During the vetting process Jimmy and Virginia learn that a mistake in Burt's past landed him in a sex offender registry. The family decides to take matters in their own hands and deal with the law (and clear up Burt's record) themselves.

"Meet the Grandparents"—Jimmy decides to invite Hope's other grandparents, Dale (Greg Germann) and Margine (Valerie Mahaffey), to Thanksgiving dinner. When they kidnap Hope, he soon realizes he made a huge mistake in forgetting that they are the parents of a girl who was a murdering sociopath.

"Burt Rocks"—Realizing that his father had to give up his dream of becoming a rock star to take care of his family, Jimmy decides to give Burt a chance at reliving his glory days with help from Burt's music idol Smokey Floyd (Jason Lee).

"Toy Story"—Jimmy finds out about Burt's annual Christmas scheme where he buys up all the stock of the season's most wanted toy and resells it for a profit to other parents. Meanwhile, Virginia wants the family to be a part of the living nativity scene at their church to gain the respect of the members and will do anything to make it happen.

"Romeo and Romeo"—Jimmy befriends another single dad named Justin (Brandon T. Jackson) and they set up a play date for their kids. Virginia doesn't think it's a good idea because she is the man's housekeeper, but Jimmy decides to invite Justin over for dinner to convince his mother otherwise.

"A Germ of A Story"—When Sabrina reveals to Jimmy just how unsanitary his house is, the entire Chance family starts getting obsessed with cleaning and even kick Maw-Maw out of the house because the crazy old bat is basically nothing but decay and disease.

"What Up, Cuz?"—Virginia's world is thrown for a loop when her cousin Delilah (Amy Sedaris), thinking her crazy old grandmother has most certainly has passed away by now, comes to visit with intentions of claiming her share of Maw-Maw's meager estate. To make matters worse, she still has feelings for Burt.

"Snip Snip"—Sabrina and Virginia learn secrets about each other, prompting one to blackmail the other into keeping quiet. Meanwhile, the family votes in favor of Burt getting a vasectomy, and Jimmy is in charge of getting his dad to the doctor and making sure he goes through with it.

"Cultish Personality"—After going through a spiritual quest, Burt's nephew Mike (Skyler Stone) returns with a wife (Mary Lynn Rajskub) and her other three husbands in tow. Burt attempts to fix the relationship between his brother Bruce (J.K. Simmons) and Mike.

"Mongooses"—Or is that Mongeese, Burt wonders? The Chance family goes to see a lawyer to set up a living will to protect Hope, and Burt is insulted when Jimmy chooses Sabrina over him for custody of the baby. Meanwhile, Sabrina is overcome with emotion by the news, and Maw-Maw thinks mongooses are infesting the attic.

"Cheaters"—Maw-Maw has a crush on a married man she met at Shelley's daycare. Meanwhile, Jimmy takes Sabrina on a road trip to see Wyatt after she suspects he might be cheating on her.

"Sleep Training"—Virginia and Burt try out a sleep-training book on Hope. Meanwhile, a whole new world opens up to Jimmy when his new girlfriend introduces him to a special beverage.

"Everybody Flirts… Sometimes"—The family learns that Burt sometimes flirts with clients, namely bored housewives like Gwen (Kerri Kenney), to get a bigger tip. Everyone is eager to try his technique for their own gain, but they all fail miserably. Sabrina and Jimmy compete to become Barney's (Gregg Binkley) favorite employee, and Virginia's advances lead to her being stalked by a coffee shop employee.

"Baby Monitor"— When Hope's baby monitor picks up a conversation between their neighbors, Virginia and Burt decide to meet the troubled couple and help them through their problems. Meanwhile, Howdy's Market has a commercial competition with their rival store. Neither goes as planned.

"Don't Vote For This Episode"—The family flashes back to Jimmy's 18th birthday when Maw-Maw, in her last days of lucidity, kicked them out of the house, causing Jimmy to take solace at the grocery store and forcing Virginia and Burt to finally face the facts and grow up.

Video


I watched the first season of "Raising Hope" in broadcast-quality HD, so it's a little disappointing that there's no Blu-ray option from Fox. But aside from the typical lack of crystalline detail and applicable resolution, the transition to the lesser format isn't as jarring as I'd thought it'd be. "Hope" is a nicely shot show—for a sitcom—and it admittedly doesn't look terrible on DVD. Clean, colorful, with realistic skin tones and natural contrast, it transfers from the source pretty well in anamorphic 1.78:1widescreen.

Audio


The English Dolby Digital 5.1 track is fairly basic. Dialogue comes intelligibly from the center, and the few effects there are channeled through the fronts. Faint rear activity comes clearly from the occasional bit of music placed into a montage or from a source like a radio, and the theme song. Optional English, Spanish and French subtitles are also included.

Extras


The three-disc set offers a number of special features, including the original unaired pilot, audio commentary on the broadcast pilot, an extended version of the season finale, three featurettes, a gag reel and deleted and extended scenes. Of course, there are a few bonus trailers too. The commentary, original pilot and extended finale are worth your time; most everything else is not.

DISC ONE:

Lucas Neff, Martha Plimpton, Garrett Dillahunt and Greg Garcia sit down for an audio commentary on "Pilot". This is a giggly track full of self-deprecating comments and amusing rips on their own continuity errors, the other more technical commentaries out there, and even the people—like Garcia's mom—who listen to these tracks. It's a fun time, with a nice balance of humor and actual information about the casting, the original pilot, the reshoot six months later and the differences between the two versions, the logistics of certain scenes, and random anecdotes about the episode, like the fact that Dillahunt learned to play guitar on Plimpton's rendition of "Danny's Song" featured toward the end other episode.

The original unaired network pilot (anamorphic 1.78:1 widescreen, 22 minutes 19 seconds) is also included. It's sort of strangely similar to the broadcast version but just different enough to not work nearly as well. In the original pilot Kate Micucci, who plays Shelley in the regular series, played Jimmy's cousin who lives in the house with them. The Sabrina character didn't exist yet. In her place is a nameless waitress, who even has the same "are you crazy man with a baby in shopping cart" conversation with Jimmy. Howdy's grocery isn't anywhere to be seen. At the same time, many scenes appear in the broadcast version unchanged. But even in those scenes he editing rhythm seems different… and something feels very "off" about the unaired pilot. Its still an interesting watch nonetheless.

The first disc also has pre-menu bonus trailers for:

- "Fox TV on Blu-ray and DVD" (anamorphic 1.78:1 widescreen, 1 minute).
- "FX" promo (anamorphic 1.78:1 widescreen, 1 minute 1 second).
- "Sons of Anarchy" promo (non-anamorphic 1.78:1 widescreen, 31 seconds).
- "Wilfred: Season One" on Blu-ray and DVD (anamorphic 1.78:1 widescreen, 32 seconds). On a side note, "Wilfred" is also a really funny show. Really messed up, and very strange, but definitely worth watching.

DISC TWO:

There are extras on disc two.

DISC THREE:

"Don't Vote For this Episode: Extended" (anamorphic 1.78:1 widescreen, 26 minutes) is an extended episode. The season finale grows by four minutes and change and I suggest watching this one over the shorter cut for the grosser bits trimmed for broadcast.

"Adorable Stars: Meet the Hopes" (anamorphic 1.78:1 widescreen, 6 minutes 25 seconds) is a superfluous EPK featurette with Greg Garcia and the cast talking about Baylie and Rylie Crecut, the twins who play the little tyke at the center of the series.

"Moments with Mrs. Chance" (anamorphic 1.78:1 widescreen, 4 minutes 30 seconds) is a featurette collecting all of Virginia/Plimpton's best lines and gags from the season. Skippable; it only exists to pad the supplements.

The last featurette, called "Taking Chances: Shooting the Finale" (anamorphic 1.78:1 widescreen, 11 minutes 29 seconds), is a bit more palatable than the others, but still has that promo-y feel and isn't particularly informative. Greg Garcia and the main cast talk about shooting the final episode of the season, which Garcia wrote and directed, and what it's like ending their run with what amounts to an origins story.

The gag reel (anamorphic 1.78:1 widescreen, 5 minutes 40 seconds) is loud, overlong, annoying fluff. Again, skip it.

And lastly a deleted and extended scenes reel (anamorphic 1.78:1 widescreen, 19 minutes 39 seconds) featuring 21 scenes excised from season one is included. There's nothing particularly memorable about these. We see a longer version of the execution that is discussed in the pilot commentary, more random moments of short-lived lucidity from Maw-Maw, another scene with Smokey Floyd that didn't make the cut, and the fate of Mike and his polygamous brother husbands ending in a parody of this video, among other things.

Packaging


"Raising Hope" comes to DVD from Fox Home Entertainment with 22 episodes spread across three dual layer DVD-9 discs. The first season is packaged in a single-spine clear Amaray keep case, with each disc mounted on a flip hub.

Overall


Those who liked the first few seasons of "My Name is Earl" will welcome Greg Garcia's "Raising Hope" like a familiar friend. The show is a surprising sitcom that's actually funny, sort of interestingly relevant, and even a little heartfelt. The main cast makes an excellent ensemble. Even if it's a little predicable, the writing and jokes are pretty sharp (certainly sharper than most half-hour sitcoms on the air right now). Fox's DVD release includes above average AV for the format and a couple of extras that fans will want to check out. Recommended.
| | | | | |
| --- | --- | --- | --- | --- |
| The Show: B+ | Video: B | Audio: B- | Extras: C | Overall: B |