The Film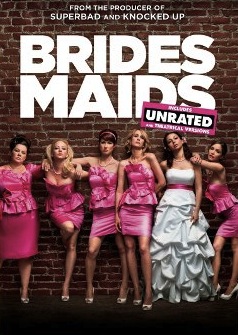 For years, former Groundling's member Kristen Wiig lurked in the background of movies from "Bridesmaids" producer Judd Apatow. Whether playing the passive aggressive assistant afraid of Katherine Heigl's baby-bump in "Knocked Up!" (2007), or the yoga instructor not the least bit impressed by Jason Siegel's nonsense in "Forgetting Sarah Marshall" (2008), she's always been memorable, making an impression in her few scenes sprinkled throughout already funny films. While Wiig's been an integral part of the "Saturday Night Live" (1975-present) cast since 2006, and is one of the few bright spots in an otherwise dark and dully uninteresting time for Lorne Michael's late night sketch show probably past its prime, she hadn't really made the transition to features in any meaningful sense until this year. Sparingly cast in small supporting roles in smaller indie comedies from Miramax, taking turns in both Greg Mottola's underrated "Adventureland" (2009) opposite Bill Hader and Mike Judge's less favorable "Extract" (2009), again she proved capable and surprisingly funny. But it wasn't until this summer that Wiig got her big break. First appearing as the blind, foul mouthed, reformed Bible thumping love interest of Simon Pegg's character in "Paul" (2011) where she totally stole the show, and then making her debut as a formidable lead in "Bridesmaids".

In "Bridesmaids", which she also co-wrote, Wiig plays Annie, a detached Milwaukeean baker who's definitely hit bottom. At least, that's what her lonely divorced teetotaler Mother (Jill Clayburgh)—who attends AA meetings, despite never having a drinking problem, for the company—has told her. Annie was forced to close her upstart bakery in the recession, and her boyfriend left her shortly after. Nowadays she's a clerk at a jewelry store, maintaining a f**k-buddy relationship with a man-child (Jon Hamm) who treats her like crap, and sharing an apartment with a pair of rotund roommates who not so secretly want Annie to move out. The one good thing in Annie's dreary life is lifelong best friend Lillian (Maya Rudolph), who's always been their for her through the sometimes good and mostly bad.

But Annie soon fears she'll lose her BBF forever, when Lillian surprises everyone with the announcement of her engagement. Annie's anxieties worsen when Lillian's newer friend Helen (Rose Byrne), a wealthy and beautiful icon of everything Annie self-consciously feels she's not, takes over the party planning even though Annie is—in name—the Maid of Honor. Although finding herself a new nemesis in Helen, Annie makes fast friends with Lillian's other bridesmaids: the groom's bullish sister Megan (Melissa McCarthy), naïve newlywed Becca (Ellie Kemper) and cynical mother of three Rita (Wendi McLendon-Covey). And she even awkwardly sets her sights on a new beau, Officer Nathan Rhodes (Chris O'Dowd), a task that proves to be a little more difficult with her neuroses constantly getting in the way. Are things finally looking up for Annie, or is her mom wrong and she's only begun her decent toward the bedrock? Turns out, a bit of both.

One part gross-out comedy, which uses its "R" rating well, and two parts palatable romantic sitcom, "Bridesmaids" is a very funny and unquestionably good movie. It's been labeled many things, chief among them "this year's best comedy"—I don't know about that—and "the female version of 'The Hangover'" (2009)—a comparison that might be more apt than some realize. The comparison is appropriate not just because of the similar theme and bachelor(ette) party plot, or because both films proved absurdly successful at the box office, but because I think both films have been slightly overrated. I waited almost two years before seeing "The Hangover", finally caving to the billionth person to tell me I had to watch the funniest movie ever. Don't get me wrong, the movie wound up eliciting a few hearty belly laughs from me, and it is, without question, funny. As is "Bridesmaids". But neither of them is stunningly clever, neither script is quite as joke-loaded as I'd assumed, and in the case of "Bridesmaids", the film proved to be a little more focused on characters and emotional plot than I expected.

Screenwriters Wiig and Annie Mumolo, and director Paul Feig are interested in actually telling a story amidst all the gross out gags, silly slapstick, and raunchy "R" ratedness. And they manage to do so surprisingly well. "Bridesmaids" is an odd film that can sell you a scene where one minute the characters are puking and pooping their food-poisoned guts out, and the next actually having an honest conversation about the fear of losing someone close, as they move on and you… don't. The screenplay is full of should be disconnected, would be awkwardly handled tonal shifts and tender moments that in other hands could spell disaster for comedy. But under the masterful guidance of Feig and the smart maneuvering of his excellent ensemble, it all somehow works. The film manages to entertain on several levels, even presenting a predicable but somehow satisfying love story for Annie and her Irish cop that rises above its rom-com roots just enough to not make you sick. The cast is brilliant. Wiig takes the lead role like an already seasoned pro, and her supporting cast each manage to make their characters memorable in their own way. Of particular note is Melissa McCarthy who, like Wiig did all those years ago, commands the screen from the rear. I expect in a few years she'll be leading her own film (perhaps sooner rather than later, considering her recent Emmy win).

That's not to say "Bridesmaids" is perfect. The film is—and this is true of almost all Judd Apatow productions—a little long at just over two hours. Pacing is a problem in the first half; the plot is more than a little slow to get going. Certain gags—especially one involving Annie repeatedly breaking traffic laws to get Rhodes' attention—play out to the point where they're just not funny anymore. And the included "Unrated" extended cut only makes every minor flaw worse, dragging a handful of problematic scenes into excruciatingly repetitive territory. One of the sequences unique to the "Unrated" cut features Annie on a date with a single father, where she's forced to spend a few minutes alone with his creepy kid. It goes too far and is mostly just sad, clobbering the already beaten protagonist with meanness, and isn't particularly funny.

In the end, "Bridesmaids" is an amusing, surprisingly heartfelt, and just plain good film. It may not be the best comedy I've seen this year—I'm always hesitant to make such claims with two months still on the calendar (and a handful of titles I somehow missed in theatres)—but it's certainly one of the better comedy's to debut in 2011.

Two versions of the Film are featured: viewers can choose between the "Theatrical" (2 hours 4 minutes 51 seconds) and an "Unrated" (2 hours 10 minutes 13 seconds) cut of "Bridesmaids". Differences between the two versions aren't particularly notable and amount to an addition of roughly six-and-a-half minutes to the overall runtime of the "Unrated" cut. A complete rundown of the differences is noted in detail here. I preferred the "Theatrical" version of "Bridesmaids", which is already a little too long and just made pointlessly longer in its "Unrated" form.

Video


Both cuts of "Bridesmaids" are seamlessly branched on a single DVD-9. The film is presented in 2.40:1 anamorphic widescreen. This is a good-looking DVD—if obviously not a jaw-droppingly sharp as a Blu-ray—with vibrant colors reproducing cinematographer Robert Yeoman's naturally warm photography. The source from a 2K DI is pristine, with no print defects or evidence of edge enhancement or DNR.

Audio


"Bridesmaids" is a front focused affair with clear dialogue and a sparing use of music—like a cover of the Violent Femmes' "Blister in the Sun" by Nouvelle Vouge—to fill in the gaps during the dreaded relationship montages. The DVD includes mixes in English Dolby Digital 5.1, Spanish Dolby Digital 5.1 and French Dolby Digital 5.1 surround and English Descriptive Video Service 2.0 (only available on the theatrical version). English, Spanish and French subtitles are also included. The disc sounds, like most modern comedies, good but not great.

Extras


Universal supplies a decent but could be better collection of supplements including two versions of the film, an audio commentary, gag reel, blooper reel, deleted and alternate scenes, and a few bonus trailers. All video is encoded in anamorphic widescreen.

Director Paul Feig, co-writer Annie Mumolo, co-writer/actress Kristen Wiig and cast members Maya Rudolph, Melissa McCarthy, Wendi McLendon-Covey and Ellie Kemper offer audio commentary on both cuts of the film in a track loaded with estrogen—and lots of laughs. Feig guides the rowdy bunch through what he attempts to make a sort of serious, but still fun discussion on the genesis of script, filming certain scenes and the chemistry of the ensemble. He's not totally successful with the talk falling to fits of giggling, thoughtless asides that have little to do with the film, and a couple of moments where the cast begin pointing out things they like on screen. But Feig is quick to course correct when the track gets too jumbled, and although the absence of Rose Byrne—apparently off shooting another film when they recorded this track—is unfortunate, this commentary is worth a listen. Sure, like most commentaries of the Apatow School, you won't learn a whole lot about actual filmmaking or even the making of this particular film. But it's a fun time all the same.

Like all Apatow productions "Bridesmaids" includes a standard gag reel (2.40:1 widescreen, 3 minutes 37 seconds), "Line-O-Rama" (2.40:1 widescreen, 12 minutes 10 seconds) punchline blooper reel and an assortment of deleted, extended & alternate scenes. The gag reel and "Line-O-Rama" bloopers are skippable for all but the most loyal fans. Some of the excised material is definitely interesting though.

Three deleted scenes (2.40:1 widescreen, 7 minutes 51 seconds play all) have been included:

- "Blind Date with Dave"—Annie has a disastrous dinner date with a man called Dave, played by Paul Rudd!
- "Bonjour"—Annie watches a video of Lillian and Helen enjoying their trip to Paris.
- "Last Chance"—Annie asks Don (Michael Hitchcock) for her old Jewelry store job back.

Six extended and alternate scenes (2.40:1 widescreen, 8 minutes 39 seconds play all) have also been included:

- "Meet Gil & Brynn"—an extended scene with Annie and her roommates Gil (Matt Lucas) and Brynn (Rebel Wilson).
- "Judy on Barb"—2 alternate scenes of mom Judy prattling on about "that whore Barb", Annie's stepmother.
- "Ham Slacks"—an extended scene between newlywed Becca and cynical mother of three Rita talking about what happens after the spark goes out the relationship, and the sort of gifts Becca can expect on Mother's Day.
- "Becca Pukes Again"—an extended scene with Becca vomiting, again, at the swanky bridal store.
- "Split the Rent: Breasts"—an alternate scene with Annie and her roommates, where she tries to get Brynn to pay her part of the rent. Unpredictably, the conversation turns toward Annie's supposed jealousy of Brynn's large breasts.

Get more of Don and his Diamonds with "Cholodecki's Commercial" (1.78:1 widescreen, 1 minute 7 seconds), a fake commercial for the fictitious Jewelry store in the film.

Although a trailer for "Bridesmaids" hasn't been included, the disc comes loaded with the following pre-menu bonus trailers:

"Fast Five" on Blu-ray and DVD (2.40:1 widescreen, 32 seconds).
"Bring It On: The Musical" trailer (1.85:1 widescreen, 1 minute 3 seconds).
"Honey 2" on Blu-ray and DVD (2.40:1 widescreen, 31 seconds).

Packaging


"Bridesmaids" arrives on DVD from Universal Home Entertainment, who packages the single DVD-9 in an eco-case with a cardboard slip-cover in first pressings. The film was also made available in a DVD/Blu-ray combo pack same day and date, in both DVD and Blu-ray cased options.

Overall


"Bridesmaids" is a funny, occasionally tender, very "R" rated comedy that is a buffeting of styles and tone, well handled by director Paul Feig. It's one of the better comedies I've seen this year, but I'll admit, I'm a little disappointed that it isn't as gut-bustingly hilarious as I'd heard it was. It's a good movie, if not a great one, and Universal's DVD is about what you'd expect for a new-to-disc release. It looks and sounds acceptable given the inherent limitations of the standard def format, and has a few extras worth checking out. Recommended.
| | | | | |
| --- | --- | --- | --- | --- |
| The Film: B | Video: B | Audio: B | Extras: B- | Overall: B |