The Film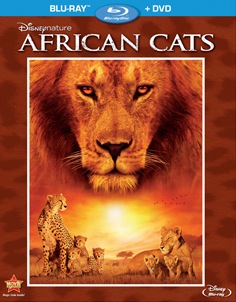 I'd like to get inside the brain of whoever thought it was a good idea to have Samuel L. Jackson narrate a G-rated Disney documentary. Just a few minutes in there would be all I need to find out whether it's one of the oddest, most blissfully innocent places in the entire universe, or just the mind of one of the greatest trolls to ever work in the movie industry. The decision to have Jackson narrate "African Cats" is a strange one considering his largely R-rated filmography, made even stranger in light of his recent gig as the much-more-fitting audio book narrator of disgruntled dad Adam Mansbach's so-called children's book for adults, "Go the F*** to Sleep". Jackson's characteristic delivery of dialogue, although memorable, seems better fit for spewing vulgarities and waxing philosophy with a forceful badassness. And decidedly not fit for providing the narrative omnipresence of a Disney documentary about, let's face it, kitties.

Filmed entirely within the Maasai Mara Nature Preserve in Kenya, "African Cats" tells the story of three feline families. Layla is the oldest and most experienced lioness of the southern River pride ruled by Fang, a fierce warrior given his name because of a tooth, which dangles from his mouth (a reminder of a particularly violent tussle with another male encroaching on his territory). Layla is dying, the many years of hunting having left her old, tired and too weak to continue much longer. In her final days she fears for her 6-month old cub, Mara, who she hopes will be adopted by her sister lionesses before the Wildebeest herds move northward with the changing of the seasons, which the river pride must follow or starve. But north, across the river infested with killer crocodiles that don't fear the big cats and home to currents that can sweep even mighty Fang away, lies a grave danger. Most dangerous of all is Kali and his four sons, who are Fang's greatest enemies on the plain. In between the two feuding prides is Sita, a new mother of five cheetah cubs. Sita is quick on her feet and a capable hunter, but as a single mother without a pride or pack, she must leave her partially blind and inexperienced cubs open to attack from predators on a daily basis. It's a dangerous gamble for Sita. Leaving them unprotected leaves her babies vulnerable; but the helpless cubs need the food she brings back from each kill in the tall-grass to survive.

In a lot of ways this is a pretty tame, spectacularly G-rated documentary. Sita's hunting of an antelope, which she bites into just off scree, is skillfully framed as to just skirt the boundaries of tasteful violence. The tone is generally carefree and light, with cubs playing in the grass, mewing and purring and growling like bigger kittens. And the animals are wholly anthropomorphized (would you really expect anything different from Disney) through carefully pieced together stories that give the animals some substance of character and almost a "voice". In short, its the typical family fare. At least, the first third of "African Cats" is anyway. But the latter reels morph the documentary into something else entirely. The first half-hour slowly eases the viewer into the life in the Maasai Mara, before quickly twisting its focus for the next 58 minutes into a taut tale of loss and hardship. In short, "African Casts" is captivating, beautifully shot, and fantastically sad.

Shot over the course of two and a half years, using state of the art camera equipment, directors Keith Scholey and Alastair Fothergill capture some amazingly powerful footage: Sita's loss of two cubs to hungry hyenas in the night, an even more sorrowful moment as Layla finally lie down and die, and an astonishing sequence as two young male lions are nearly eaten alive by a pair of fearless crocodiles are just a few of the emotionally eviscerating highlights from the film.

The brutality and honest depiction of the harsher realities of life in nature points to a new trend for DisneyNature; one that I think is positive. "African Cats" is confirmation that the House of Mouse's documentary arm has grown—perhaps slowly matured—into something far greater than its earlier features first promised. Looking back, their first outing, "Earth" (2007), although decent enough, was little more than an inferior "Planet Earth" (2006), complete with repurposed footage and poorly rewritten voice-over. "African Cats" is something much more, and definite proof that the studio can produce not just good, but great documentaries.

Jackson's narration—and cheesy delivery of fun-but-awkward punnery like "Frang the protector demands the lion's share"—is the one weakness of DisneyNature's latest project. "African Cats" is otherwise an excellent documentary, with awe-inspiring visuals and an unflinching narrative. Clearly, it's a hard life on the Serengeti, and "African Cats" shows it all, complete with cruel deaths and surprising sadness.

Video


Disney's impeccable 1080p 24/fps AVC MPEG-4 high definition transfer is, in a word, gorgeous. The 1.78:1 widescreen image, sourced from an unexpectedly consistent HD source, is vibrant and tack-sharp. The black spots of a cheetah and the fuzzy fur of her sickeningly cute cubs, the hazy sweltering heat of the savanna, the intricate hairs in a lion's mane, stripes of a zebra's side, the buzzing files hovering overhead a (presumably stinky) Cape buffalo, the cracked and worn hide of an African Elephant, the near-tactile texture of the wide array of flowing grasses of the Masai Mara plain, and the organically artistic patterns of wildebeest herds running in chaotic formation, expanding across the park in the tasteful, wide aerial shots—all perfectly defined and flawlessly rendered on Blu-ray. Nearly every moment of "African Cats" is so stunningly beautiful that I found myself wanting to pause the disc and just marvel at the exquisite framing and pure, awesome, level of detail. Faults? I have two written in my notes. The scant nighttime material—I'd say a good 95 percent of the documentary is shot in daylight—is weaker than the rest of the film, suffering from light noise and a genuine loss of detail within the stifling shadows, which cloak every shot taken after dark. And exactly one shot—a moment with Sita against a sunset—has faintly banding in the scarlet sky. But, those relatively minor problems are easily overlooked. Most of "African Cats" looks spectacular.

Audio


The English DTS-HD Master Audio 5.1 surround track (48kHz/24-bit) is superb. Simply, "Cats" is one of the best sounding documentaries I've ever heard. Of course, as expected, Jackson's narration—although one of the weaker aspects of the documentary—comes through loud and clear, dominating the track with a crisp authority. And composer Nicholas Hooper's score, although manipulative and disappointingly derivative of his work on the Harry Potter pictures, is also a highlight, both for its clarity and brightness. Directionality is also well done. But perhaps most surprising of all is the power and weight of the mix, afforded by the thunderous LFE, and the intensely immersive use of the surround channels. Roars, stampeding hooves, hyena cackles, cries from the cubs, chirping birds, a torrential rainstorm with reverberating claps of thunder, and the other subtle sounds of the Serengeti populate the mix with a wonderful and unexpected energy. "African Cats" also includes English Descriptive Video Service 2.0, French Dolby Digital 5.1 and Spanish Dolby Digital 5.1 tracks, with optional subtitles in English, French and Spanish.

Extras


Like most DisneyNature documentaries, "African Cats" arrives on Blu-ray with few meaningful supplements. The two-disc release includes a Blu-ray of the film with an excellent picture-in-picture track, two lesser featurettes, a throwaway music video and several bonus trailers. All content is encoded in high definition on the Blu-ray disc. A second platter includes the film and a smaller collection of extras in standard definition.

DISC ONE: BLU-RAY

The only worthwhile special feature on the disc is the "Filmmaker Annotations" (HD) picture-in-picture track. The track is excellent and definitely worth watching. It's found, like most Disney picture-in-picture experiences, in a subsection of the play menu and not the special features menu. The feature—which requires a Profile 1.1 BonusView-equipped Blu-ray player to view—places video commentary, behind-the-scenes footage and text trivia throughout, in small picture-in-picture boxes on the lower corners of the screen. The commentary by the filmmakers of "African Cats" and leading experts on the animals and environments shown in the film is insightful and the text trivia is perfectly in synch with the video, providing welcomed context that's refreshingly relevant to the production and subject of the documentary. Although some of the content might be better fit for a standalone featurette, the simple and clean annotated interface presents most of the material exceptionally well. Universal (whose poorly implemented U-Control is one of my least favorite things about the Blu-ray format) could learn a thing or two from Disney and their techs. Just terrific.

Unfortunately, the rest of the extras leave much to be desired.

The first featurette, "Disney & Nature" (1080p, 3 minutes 37 seconds), talks about Disney's conservation projects, but is basically a not-so-thinly-veiled commercial for their theme parks.

The second featurette is called "Save the Savanna" (1080p, 4 minutes 42 seconds). The piece offers a short look at the fundraising related to the release of "African Cats", and notes all proceeds from the film's first-week ticket sales went directly to the African Wildlife Foundation and their quest to preserve the savanna. It's less shameless than the first featurette perhaps, but still pretty skippable.

The disc also includes a music video for "The World I Knew" by Jordin Sparks (1.85:1 1080p, 4 minutes 24 seconds), which features Sparks taking a late-night walk on the savanna inter-cut with plenty of film clips. Insufferable.

An extensive collection of pre-menu and sneak peek bonus trailers have also been included:

- "Disney Studio: All Access" promo (1080p, 1 minute).
- "DisneyNature's Chimpanzee" (1.85:1 1080p, 1 minute 58 seconds).
- "The Lion King: Diamond Edition" on Blu-ray and Blu-ray 3D (1.66:1 1080p, 1 minute 20 seconds).
- "Disney Digital Copy" promo (1080p, 1 minute).
- "The Lion King: The Broadway Musical" promo (1080p, 32 seconds).
- "Disney Parks" promo (1080p, 30 seconds).
- "Tinkerbell and the Pixie Hollow Games" (1080p, 40 seconds).
- "Pirates of the Caribbean: On Stranger Tides" on Blu-ray and Blu-ray 3D (2.40:1 1080p, 1 minute 10 seconds).
- "Cars 2" on Blu-ray and Blu-ray 3D (2.40:1 1080p, 1 minute 37 seconds).
- "Treasure Buddies" on Blu-ray and DVD (1080p, 1 minute 2 seconds).
- "Lady and the Tramp: Diamond Edition" coming soon to Blu-ray (1080p, 1 minute 22 seconds).

DISC TWO: DVD

The second disc in this set is a full retail DVD-9. It presents "African Cats" in 1.78:1 anamorphic widescreen 480i/p with English Dolby Digital 5.1 surround sound, English DVS 2.0, French Dolby Digital 5.1, Spanish Dolby Digital 5.1 and subtitles in English, French and Spanish. The disc includes the two featurettes and bonus trailers found on the Blu-ray.

Packaging


It's worth noting that "African Cats" arrives on home video in a BD+DVD combo pack without a comparable DVD-only release alongside. And interestingly, Disney currently has no plans to offer a separate standard definition SKU, even at a later date. The two-disc release is packaged in an Amaray "clasp"-style keep case with a cardboard slip-cover in first-pressings. Alternatively, the film is also available in DVD-sized packaging with the same two discs. Inside the case are a pamphlet and code for the Disney Movie Rewards program and a letter from Patrick J. Bergin, CEO of the African Wildlife Foundation. The dual-layered BD-50 is confirmed region free. The DVD-9 is locked to Region 1.

Overall


Jackson's narration is cheesy and, at times, filled with awkward puns. But, overall, "African Cats" is a terrific documentary from DisneyNature—easily one of their best. The Blu-ray release offers gorgeous video, a superb soundtrack and an interesting picture-in-picture supplement. Recommended.
| | | | | |
| --- | --- | --- | --- | --- |
| The Film: B | Video: A | Audio: A | Extras: C | Overall: B |