The Film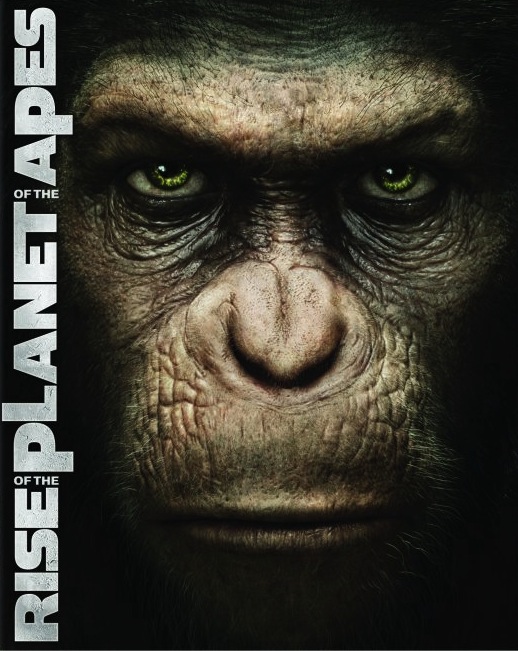 Up until last year I had only ever seen the original "Planet of the Apes" (1968), and I had seen that years ago. The pre-eminent thing I'd heard of the "Apes" series had been how the budget had been slashed and slashed and slashed for the subsequent sequels. As such, I didn't really expect much from it. Then, last year, my partner and I sat and watched the entire series of films (on VHS no less!). I was actually astounded at how good they (mostly) were, and how they all strove to say something about our society as humans then and now. It is a bonkers series, no doubt about it – the second film ends with the entire planet blowing up after a nuclear warhead is set off by a bunch of religious nutters who worship it (hmmm...) – but there is some serious intelligent thought behind it all. "Planet of the Apes" is a stone-cold cinematic classic and my favourite of the sequels is easily "Conquest of the Planet of the Apes" (1972) – where the slave apes, led by the hyper-intelligent Caesar, throw off the shackles of slavery and revolt against their human masters. There is some barmy sci-fi in there, but the film is really aiming to say something and seems to carry a real anger inside it.

The news that Fox were, once again, aiming to restart the "Apes" franchise filled me with more than a little trepidation. But then I began to hear great things about the script and how they were using "Conquest" as a jumping off point (rather than throwing out the baby, bathwater and logic as Tim Burton did). The end result; with a fairly great cast, astonishing performance capture from WETA and honest intelligence, is really very, very good.

The film begins in the jungle, as a family of chimpanzees are hunted and captured. I think it's important to note here that no real apes or people in ape costumes were used for the entirety of the film. Every single ape is a performance captured digital creature and they look astonishing. Though some of the other visual effects come across a little hokey, the money has been spent in the right place with the apes. These captured apes are brought to San Francisco where they are used for medical drug trials – in this case, a possible cure for Alzheimer's developed by brilliant bio-chemist James Franco. One female ape, "Bright Eyes", shows particular promise with the drug not only working but enhancing her cognitive functions too. However, she rampages through the facility and Franco's experiment is shut down. It is only afterwards they discover Bright Eyes was only trying to protect her child – a child Franco takes home. Franco and his father, once a pianist now deteriorating with Alzheimer's himself (John Lithgow), name the baby ape Caesar (Andy Serkis) and Franco raises him as his own son. Caesar grows into an intelligent, active young ape confused about his place in the world.

It is only when the adult Caesar, in the act of protecting Lithgow, attacks a neighbor and is placed in an animal shelter that the film really gets going. The shelter is run as more of a prison by Bryan Cox and his evil twerp of a son, Draco Malfoy... i mean Tom Felton. It is here that the majority of Caesar's arc takes place, as he experiences firsthand the cruelty and callousness of humans towards apes – as he feels abandoned by Franco and as he witnesses fellow apes being carted off to the biotech lab where Franco works. Caesar first takes control of the apes, and then plans the breakout and ensuing revolution.

Director Rupert Wyatt ("The Escapist" (2008), this being only his second feature film) keeps the pace up and helps to really make Caesar the star. There's a reason I haven't named any of the human characters – because I can't remember their names and they barely matter anyway. To a studio flick aimed at restarting a franchise, Wyatt brings a number of deft, intelligent touches – the leaves falling as the apes move through the trees and the cutting across large swathes of time. There are some holes in the story (and considering the number of hands the script went through, it's not a big surprise) but they only become apparent afterwards, if you really think about them. For the rest of the film, you are fully engaged in this smart story of a young revolutionary who helps raise his people up against their callous and fearful oppressors. He just happens to be an ape.

Video


Presented in the film's original theatrical ratio of 2.35:1 mastered in HD 1080p 24/fps using AVC MPEG-4 compression codec. There's only one word to describe this transfer - wow! As expected from a recently released film this transfer is jaw droppingly good. There's some softness in a few scenes but it seems to be intentional, the remaining picture is crisp and clean, no dirt or artefacts to be seen. The detail is astounding, from the small imperfections in the human character features right down to the fur and creases in the skin of the CG created apes, and the fact these characters stand up to the scrutiny of a full HD transfer and still look realistic and believable is a testament to the fine work done by Weta Digital (who has deservedly earned another Oscar nomination in the Best VFX category). Background depth is excellent and the sets and locations look terrific, colors appear balanced, skin tones natural, black levels are deep and inky, light grain adds some weight and gives the overall picture a filmic look. No compression problems or edge-enhancement to be seen, this is a pristine image.

Audio


Four audio tracks are featured in English DTS-HD Master Audio 5.1 surround mixed at 48kHz/24-bit, English Audio Descriptive Dolby Digital 5.1 surround for the visually impaired, French and Spanish Dolby Digital 5.1 surround as well. For the purposes of this review I chose to view the film with its DTS-HD audio track and much like the impressive picture we get a loud, aggressive and complex surround track that truly immerses the viewer. Dialogue is clear and distortion free, ambient and environmental surrounds make excellent use the sound space, the action scenes are were this track shines. The action is aggressive, featuring a wall of sound with heavy bass that adds layers to the mix. The film's score also booms in and creates a great atmosphere for the action to unfold.
Optional subtitles are included in English for the hearing impaired and Spanish.

Extras


Fox has packed this disc a load of extras that includes two audio commentaries, a series of eleven deleted scenes, a collection of eight featurettes, a scene breakdown, an art gallery, theatrical trailers, bonus trailers, BD-Live access as well as a DVD copy of the film that also features a digital copy version of the film. Below is a closer look at these supplements.

DISC ONE: BLU-RAY

The first of two feature-length screen-specific audio commentary is with director Rupert Wyatt. Wyatt is wonderful to listen to, he's passionate and offers up a lot of information for fans of the film. He takes is through the script, on helming a big budget franchise picture, on working with the cast and shaping the story. He takes viewers through the challenges of the film and on working with visual effects among other things. There are a few silent gaps, but not too many, it would have been great to have included other key crew or cast members as well.

The second feature-length screen-specific audio commentary is with the screenwriters Rick Jaffa and Amanda Silver. is an engaging track that takes viewers through the writing process for the film, the writer comment on their inspirations for the story as well as characters, their development and on starting the project over from a prequel standpoint. They comment on shaping the story and getting it to a point they were happy with, this includes some discarded ideas and elements that didn't work. This track is definitely worth listening to.

There are eleven deleted scenes (1080p) that can be viewed individually or with a 'play all' option, these scenes are mostly unfinished and some are of just the actors in motion capture suits, the scenes are titled in a way that's evident what they're about so no need to explain any further what the scenes are about, they include:

- "Alpha Gets Shot" runs for 40 seconds.
- "Will's Meeting With Lab Assistants" runs for 1 minute 11 seconds.
- "Will Discovers Caesar Has Solved Puzzles" runs for 1 minute 58 seconds.
- "Caesar Plays with Bicycle" runs for 1 minute 8 seconds.
- "Caesar Questions His Identity runs for 1 minute 16 seconds.
- "Caesar Bites Off Neighbor's Finger" runs for 35 seconds.
- "Rodney Gives Caesar a Cookie" runs for 1 minute 16 seconds.
- "Rocket Gets Hosed by Dodge" runs for 40 seconds.
- "Caesar Destroys the Lab and Koba's Attempted Revenge on Jacobs" runs for 1 minute 25 seconds.
- "Caesar Pushes Helicopter" runs for 46 seconds.
- "Koba With Shotgun" runs for 58 seconds.

"Mythology of the Apes" (1080p) is a featurette that runs for 7 minutes 11 seconds, is a look back at the original film and it's mythology it established as well as re-launching the franchise with this new film and the inspiration they drew upon.

"The Genius of Andy Serkis" (1080p) is the next featurette which runs for 7 minutes 48 seconds, this clip takes a closer look at Andy Serkis and his motion capture performance as Caesar and also a look at how the technology works and how it's applied to the visual effects for the film created by the talented Oscar winners at Weta Digital.

"A New Generation of Apes" (1080p) is the next featurette which runs for 9 minutes 41 seconds, this clip takes a look at the groundbreaking new way these apes are brought to life, from the motion capture, to the performances and creating the look of the animals in CG.

Next up is a scene breakdown (1080p) which runs for 1 minute 34 seconds, this clip presents a scene that can be viewed three ways that viewers can toggle between using the remote. You can view the scene's early animation, performance motion capture and the final scene as seen in the film.

Following that is the "character concept" art gallery (1080p) that features a collection of seventeen images for six of the ape characters from the film. Viewers can toggle through the art, this feature is neat for fans that want a look at the design of characters but could have benefited with having an audio commentary from the design crew.

Next up is "Breaking Motion Capture Boundaries" (1080p) featurette that runs for 8 minutes 43 seconds, here we get more on the motion capture techniques and how it was utilized for this film, an interesting thing to note is that the motion capture wasn't just done on sound stages but also on set while filming the climactic Golden Gate Bridge sequence that had hundreds of apes storm the bridge. We get some great interviews and behind-the-scenes footage from the production.

"Composing the Score with Patrick Doyle" (1080p) featurette runs for 8 minutes 7 seconds, this clip takes a closer look at the work of the film's composer that has created the score. Doyle takes fans into his process of creating music for a film, the inspirations and the motifs for each sequence.

"The Great Apes" are a series of short featurettes (1080p) that can be viewed individually or with a "play all' option, these clips take a look at the apes featured in this film and offer fans a look at their habits as experts offer some background on these animals, they feature:

- "Chimpanzee" which runs for 6 minutes 6 seconds.
- "Gorilla" which runs for 6 minutes 52 seconds.
- "Orangutan" which runs for 7 minutes.

There are a collection of theatrical trailers as well, and they can also be viewed individually or with a 'play all' option, they include:

- Theatrical trailer 1 runs for 2 minutes 11 seconds.
- Theatrical trailer 2 runs for 2 minutes 26 seconds.
- Theatrical trailer 3 runs for 1 minute 51 seconds.

The disc also features a series of bonus trailers (1080p) for:

- "Machine Gun Preacher" runs for 2 minutes 28 seconds.
- "Immortals" runs for 2 minutes 4 seconds.
- "Another Earth" runs for 2 minutes 11 seconds.
- "There Be Dragons" runs for 2 minutes 24 seconds.
- "FX Networks" runs for 1 minute 2 seconds.

There's also BD-Live access for profile 2.0 players, the Fox portal grants viewers access to some exclusive content such as trailers and also an exclusive featurette "Ape School" runs for 2 minutes and takes a look at the stunt crew learning how to act like apes.

DISC TWO: DVD

This disc is the DVD copy of the film and also features a digital copy of the film for portable devices.

Packaging


Packaged in a 2-disc Blu-ray keep case housed in a cardboard slip-case.

Overall


The film review was originally published on the blog Rockets and Robots are Go! by Andy James. The A/V and supplements were reviewed by Noor Razzak.
| | | | | |
| --- | --- | --- | --- | --- |
| The Film: B+ | Video: A+ | Audio: A+ | Extras: A | Overall: A- |